G-20 VS COP15 / Global
City-off
Chile's first female president, Michelle Bachelet, was tortured as a student under Pinochet's rule and lived in exile for nearly five years. As her term comes to an end, Monocle talks to the popular leader about male chauvinism and how she dodged the global financial crisis.
Two major summits, the Group of Twenty and the COP15 United Nations Climate Change Conference, aim to achieve world-changing goals this year. And if breakthroughs come, the cities that host them will become synonymous with that success. As Bretton Woods and Kyoto know, these things stick around for a while. The political stakes are higher in Copenhagen, where 200 countries will gather in December to negotiate a pact against global warming. They will be dependent on decisions made in Pittsburgh: the world's largest economies will be there to address the ­financial crisis and how they could fund new climate policies. monocle went to see what the cities have planned, and how organisers and delegates are managing hard times and environmental concerns.
G-20 Summit
Pittsburgh
24-25 September
What's it all about?
Twenty leading industrial nations meet to discuss the global economy.
What's the best way to arrive?
By air. The dignitaries will fly in to Pittsburgh International Airport. Many will be shuttling to and from New York, where the UN General Assembly is holding a session the same week.
How many people will attend?
About 1,500 delegates from 21 countries plus the EU and twice as many journalists. You might have thought countries would trim their delegations in these times of austerity, but the turnout is expected to be about 5 per cent higher than at previous summits. The extra people are, ironically, mainly climate change experts.
Any invitation politics?
Spain and the Netherlands don't officially belong to the G-20 but got special invitations from Obama. A five-country Nordic alliance that wanted to join in too was not so lucky.
Where will they all stay?
Organisers are trying to put everyone up in hotels in the city centre. But if you're not one of the big cheeses there's a chance you will be farmed out to places near the airport or to Oakland, the heart of the student scene.
How will delegates get around town?
Every country, and the EU representatives, will be swinging through town in motorcades – each with "rolling security perimeters" surrounding them. Locals will find their city centre, known as the Golden Triangle, closed off to traffic.
What's the hospitality like?
Heads of state dine at the Phipps Conservatory public gardens, while their spouses tour the Warhol Museum and the suburban farm of Teresa Heinz, wife of one- time presidential hopeful John Kerry.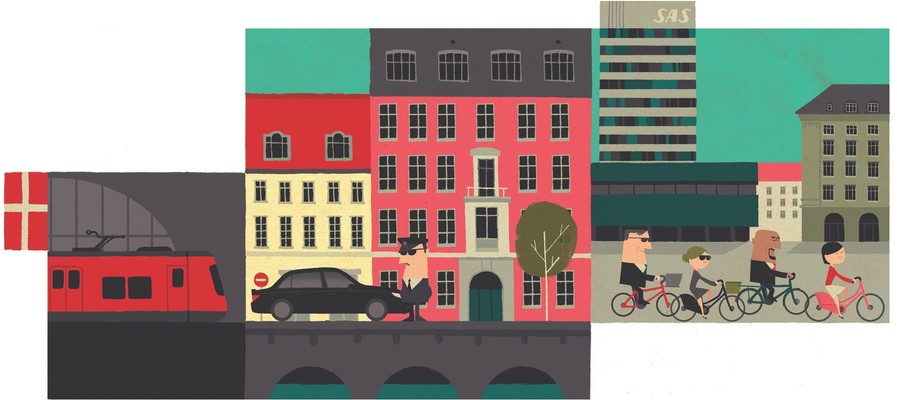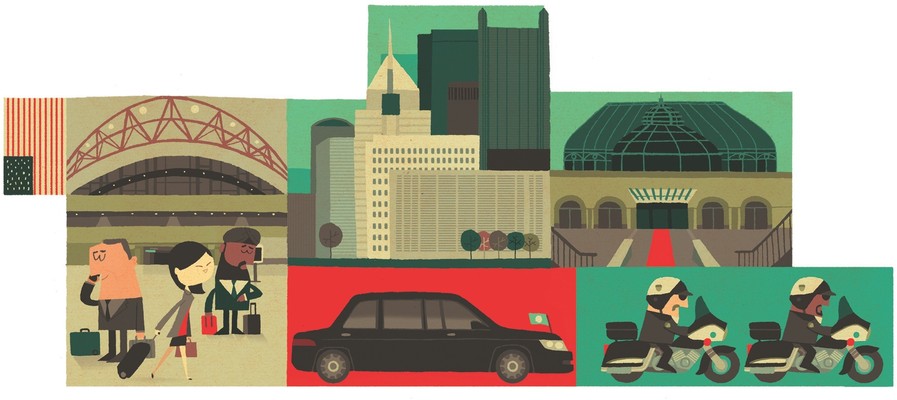 Any special efforts being made? The David L Lawrence Convention Center is the world's first Gold LEED (Leadership in Energy and Environmental Design) certified meeting space, and still the largest. They will be serving fruit and vegetables harvested from a rooftop garden; all the waste will be composted afterwards. The building has a system that informs guests how much power and water they used.
What's the overall cost? The event could cost up to $20m (€14m) to stage, with Washington picking up the bill for security.
What's in it for the city? This is Pittsburgh's big moment. The summit will be Obama's first as host and it's the first time a G-20 leaders' meeting has been held outside a national capital. With a population of 310,000, less than a third of Copenhagen's, the city has revamped its infrastructure for the occasion.
What's in it for the world?
World leaders may leave Pittsburgh with a preliminary plan for financing climate programmes and further agreement on banking reforms. But a repeat of London's unprecedented pledge of $1.1trn (€700bn) for global development is unlikely.
COP15
Copenhagen
7-18 December
What's it all about?
The UN trying to reverse global warming.
What's the best way to arrive?
The Danish government is encouraging all relevant interested parties to pitch up. But at the same time, the clean green Danes are so keen to limit the environmental damage caused by the summit that they have set up cyber centres around the world where people will be able to participate without physically making the journey to the conference – but please remember to switch off the computer once you've finished. Those who are travelling to Copenhagen are being encouraged to arrive by train and special rail fares have been agreed (although that's tough if you are coming from Delhi). If you really must fly, then the Danish government will off-set the resulting emissions by investing in carbon-reducing projects overseas.
How many people will attend?
Some 12,000 to 15,000 environmental groups, politicians and UN officials will be arriving in town.
Any invitation politics?
The UN decides who can participate. Apart from that, cash-flow problems are the only thing that might stop some key countries from attending – the president of the Maldives has had to pull out because his country cannot afford the trip.
Where will they all stay?
The Danes have been working to more than triple the number of certified green hotel rooms available in Copenhagen. They have also arranged for overflow accommodation next door in Sweden. Malmö has 1,400 certified green rooms to offer. Delegates can also opt for cheap flats, summer- houses, houseboats or even a free room in a Danish family home. It all depends how little you want to pay.
How will delegates get around town? One third of Danes commute on a bicycle, and when attending COP15, you can do the same – free bicycles are at the delegates' disposal. Fares will be waived for all public transport. VIPs who are determined to travel by car will have use of a fleet of different eco-friendly vehicles and limousines run on hydrogen, fuel cells, electrical and second-generation bioethanol. Tell this to the US and Russian delegations.
What's the hospitality like? Forget about cold bottles of Evian and Perrier – at COP15 the participants will be served tap water and Fairtrade tea and coffee. At least 65 per cent of the food will be organic and food miles on all produce will be kept to a minimum.
Any special efforts being made?
Instead of spending DKK4m (€537,470) on goodie bags and gifts for VIPs, the money will fund masters programmes for 11 overseas students to study climate-related subjects in Danish universities.
What's the overall cost?
Unlike the G-20 summit, COP15 is going to take over the whole city – it's not just a cordoned-off area for a global elite. The scale and diversity of the event makes it impossible to say exactly how much it costs to organise but it ain't cheap. Cost for logistics and PR alone is estimated to be at least DKK250m (€47m).
What's in it for the city?
For a start this is the Danish capital's chance to show itself off as a global leader of green cities. But that's not enough. The idea is that the city will go down in history as the place where the world faced up to the reality of climate change and agreed to do much more to stop it.
What's in it for the world?
Getting a global treaty for reducing carbon emissions is the only chance the world has to avoid new wars and mass emigration that will be unstoppable if drought and water shortages continue to worsen. But targets are one thing. Meeting them another.