Paris office / Paris
Office colony
Paris-based architects Ciguë were tasked with turning an apartment from a design disaster into a space suitable for three firms to work in. They went one step further and made the bespoke furniture too.
The idea was inspirational, but the starting point was anything but. When the ­architects at Ciguë were called in to create a slick shared office space for three companies in the heart of Paris, they were confronted with the challenge of restoring architectural harmony to a once glorious classical building hacked apart by over-zealous 1970s designers.
Out of these dated, dowdy apartments had to come a calming and contemporary workplace. The team knew there was nothing else for it: the drop ceilings had to go as well as everything else that went with them. "It was really quite ugly," recalls Ciguë co-founder Hugo Haas as he shows Monocle round the finished space, now a gently unfolding network of office zones spread over 100 sq m of pale oak parquet floor and with windows overlooking the striking, steel-encased façade of the Ministry of Culture's newest wing. The brief for the renovation was clear: the unlovely apartments had to be turned into a place where three distinct businesses could work alongside each other yet retain their own identities. Three individual offices were to be created around one large communal zone with a shared table and kitchen. The main question for Ciguë, a team of young Paris-based architects, designers and carpenters, was how to preserve the boundaries between the private and public space without "hiding" each business away from each other.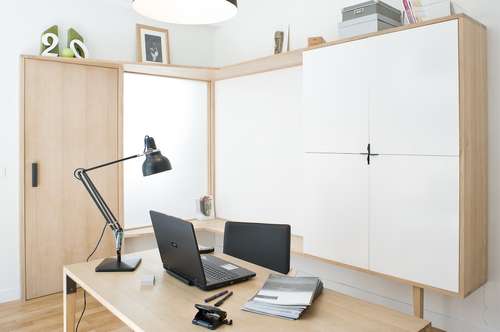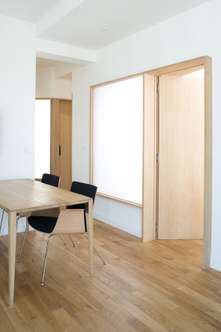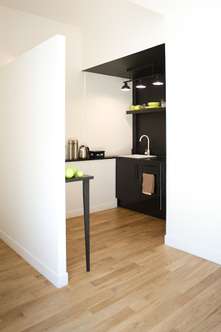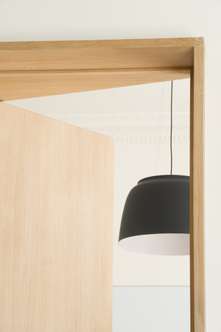 Their answer? The doorways of traditional Chinese houses, whose balanced door and window shapes appealed to Haas and his colleagues as a means of sensitive divisions. "It was certainly a starting point," he says, whispering so that the clients aren't disturbed. They didn't, he emphasises, want to give way to the "ugly" glass partitions that have become ubiquitous in standard offices. "We wanted to make it more intimate," he says.
This desire for a cosiness, a kind of professional domesticity, is clear throughout the space. Although the white walls, white boards and scant furnishings make for a cool and calm spaciousness, there are touches – for example, the soft leather handles on overhead cupboards and elegant Habitat lamps – which lend a more homely air. Versatile shelving is used in one office for philosophy texts, in another for pot-plants, and, in one ­instance, for an American football trophy. The oak doors, with their connection at right-angles to translucent window panels and the oak benches running around the sides of the rooms, recall a comfortable, modern apartment. And where Ciguë differ from other architects is that, not content to sit back and let others do their work for them, they crafted these pieces in their workshop in the Paris suburbs and delivered and ­installed them themselves. (They also made two of the pale oak tables).
One of the most important features for Haas is the floor, which he and his colleagues looked hard for before finding the perfect material and treatment. "I think the parquet gives off a classic, Haussmannian feel while the rest of the office is very contemporary," he says. "The thing is if you varnish it, it becomes really shiny and you don't really want to touch it or mess it up. In the end we ­decided to just wax it, so the light works gently on it. That's all you need. It's a beautiful material."
The entire project, completed in around three months, cost their clients €180,000; not such a staggering price given that much of the furniture is ­bespoke. Haas admits, however, that the budget was tight.
Ciguë was formed in 2003 when its six youthful members were at Paris's prestigious architecture school at La ­Villette. What started with a scale model of the Pompidou Centre for their coursework has gradually grown into a thriving design firm, which has been commissioned for projects as diverse as Romanian chalets, Parisian massage cabins and London benches. The team are currently working on a number of projects, including the restaurant furniture for Paris's cutting-edge artists' residency, the 104, and tables on which to display the September collection for Merci, the capital's charity couture fashion store.