Issue 29 / Global
Observation
Our editor-in-chief Tyler Brûlé takes a look back at what's been happening at Monocle over the last eventful, and often surprising, year. But far from kicking back and going into hibernation, there's a host of new things we're working on for the next year.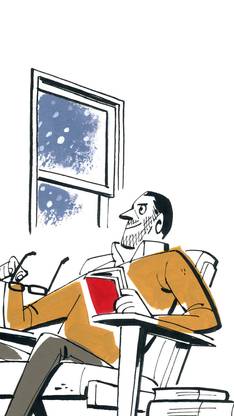 In the world of monthly magazines (or 10 times a year in the case of Monocle) Christmas comes two months early. As we send the last few pages off to press and count the minutes until we can crack open that magnum of Laurent-Perrier to celebrate our biggest issue ever, it should be lightly snowing outside, there should be a cosy glow in windows up and down our street and everyone should be humming a favourite carol. As it's the end of October in an unseasonably warm London, however, it doesn't even feel like Halloween.
That's not to say it's not festive around our headquarters at 20 Boston Place. Given the special metabolism that media brands tend to create, we've developed our very own season that allows most of us to venture off for a few weeks before returning to produce our February issue. During our double issue break at the start of summer, I thought I'd use this autumn period to take two weeks off and rest-up at the Chiva-Som or Lanserhof and then spend a few days in Kyushu sampling a favourite ryokan or two. Things turned out rather differently as I spent early October in a Swiss clinic having my knee seen to and the three-week break in Asia has turned into a speech in Austria, a working week in Tokyo (I'm still squeezing in a night each at the Fujiya and Tawaraya ryokans), a party with J. Crew in New York, another speech back in London and then a party tour to Geneva, Milan and Paris followed by the launch of our new special-edition BlackBerry back in London (if you're a London-based subscriber you should have your invite by now). A few days later it will be time to celebrate the start of Christmas properly when we settle in for a good old-fashioned roast beef dinner at The Berkeley in Knightsbridge.
The past year has brought many positive surprises to Monocle and perhaps the biggest has been the steady growth for both our retail business and our advertising bookings. A year ago we started with our small store in London's Marylebone and now we've expanded to Los Angeles and just launched a new, and radically improved, shopping website. At the moment we're in advanced discussions for a space in New York and are also aiming to be in Tokyo and Hong Kong in 2010 as well. The latter move will also ­involve us expanding our editorial reach by establishing a bureau and also bolstering our advertising team – it's perhaps not too surprising that Asia's the region that's growing fastest both in circulation and advertising terms, so thank you Hong Kong, Singapore, South Korea and Taiwan for your extraordinary support. As we get closer to our third anniversary there'll be a few more announcements about additions and changes to the editorial mix but be ­assured that it all involves considerable ­investment in expanding our network of foreign correspondents, making more films for our website, creating another album (Monocle Live: volume 1 has just gone on sale), adding more audio programmes and ­increasing the number of special supplements and city surveys we produce.
In case you devour this entire issue before you're properly off on holiday then stay tuned to monocle.com as we'll have a series of different programmes to keep you entertained over the holidays, including our super cosy Winter Series we're producing in association with Ralph Lauren. We'll also be checking our inboxes occasionally, so feel free to drop me a note at tb@monocle.com or my assistant Alex at ajm@monocle.com.
Thank you very much for all your support, correspondence, tips and encouragement over the past 12 months. On behalf of all of us in London, New York and Tokyo, have a Merry Christmas, relaxing holiday and healthy New Year.
For more from our editor-in-chief, read his column in the FT Weekend