Culture / Global
Culture
Briefing
Originally published in 1947, this English translation of Hans Fallada's German classic offers a bleak glimpse into daily life under the Nazis. Told through a thronging cast of sub-proletarian swindlers and survivors, the story centres on the unlikely dissidents Otto and Anna – a couple suddenly mobilised against the regime after their son dies.
Books
Fiction
Alone in Berlin - Hans Fallada
Originally published in 1947, this English translation of Hans Fallada's German classic offers a bleak glimpse into daily life under the Nazis. Told through a thronging cast of sub-proletarian swindlers and survivors, the story centres on the unlikely dissidents Otto and Anna – a couple suddenly mobilised against the regime after their son dies.
Literary history/art history
The Infinity of Lists - Umberto Eco
Lists is a beautiful companion to Eco's earlier examinations of two artistic poles, On Beauty and On Ugliness. Eco's argument, that we list our knowledge to hang onto it in a universe of unknowable infinity, is illustrated through art – from Pompeii frescoes to Damien Hirst installations. Eco's emollient way with facts and philosophy is convincing and his choice of sources enlightening.
Travel memoir
501 Minutes to Christ - Poe Ballantine
Collected largely from Ballantine's more recent essays for The Sun (a monthly ad-free North Carolina magazine of essays, fiction and photography), 501 Minutes is a vibrant memoir of the writer's penniless existence bouncing from homelessness in New Orleans to dog-sitting in Colorado. Ballantine's tales of keeping sane are reminiscent of Kerouac and Hunter S Thompson.
Fiction
Lovers in the Age of Indifference - Xiaolu Guo
A hairdresser has a one-night stand with a hitman, a couple in Chongqing try to sell their baby on the internet. In this captivating book of short stories from author of bestseller A Concise Chinese-English Dictionary for Lovers, Guo's characters strive for human warmth while their narratives give a cultural insight.
Biography/photography
The Velvet Underground - Edited by Johan Kugelberg
"New York Art" is the significant subtitle of this absorbing and accessible celebration of the definitive New York band; the Velvets were the white heat at the centre of an artistic fire in the city between beat poetry and Andy Warhol's reign as svengali extraordinaire. Beyond being a beautiful band biography, it contextualises a moment of great influence. Lou Reed, Jon Savage and unlikely fan Václav Havel annotate the stunning photos, flyers, sleeves and rarities.
Correction In last month's issue, in a review of Vitali Vitaliev's Life as a Literary Device, we erroneously described the author as a Polish émigré. In fact, Mr Vitaliev was born in Ukraine and was a political defector from the USSR. We apologise for this mistake.
Music
Electro
Hot Chip - One Life Stand
On their fourth album the London electro outfit's musical inspirations recede from glitchtronica into old-rave into 1980s synth-pop; any further back and they'll be hiring Rod Stewart's lungs, pluralising their name and adding a collective proposition for real. It's West Coast soft rock meets the Pet Shop Boys' deadpanning of classic pop choruses. One Life Stand is Hot Chip's best record yet: it's charming, single-strewn, addictive and affirmative.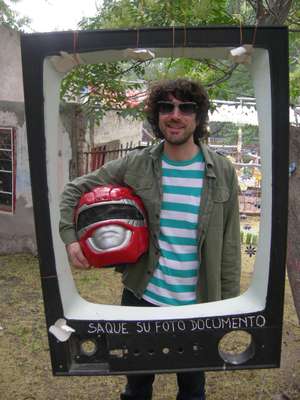 Alt-rock
Thao with the Get Down Stay Down - Know Better Learn Faster
Thao Nguyen is a prolific, spiky-riffed, acid-tongued critic of the un-fairer sex. On this reconvention with two blokes by the name of the Get Down Stay Down, the San Franciscan puts her big-words-for-a-pretty-lady to the best use yet: Thao and co experiment sonically across raucous shout-alongs, country-flecked workouts and tight-jeaned NYC guitar rock. It's a little bit Karen O with a touch of Chrissie H.
Dream-pop
Beach House - Teen Dream
Beach House will be three albums old with this release, but after holing themselves up in a converted church in upstate New York to record, the Baltimore twosome's focus is brand spanking new. "Teen Dream" is 10 tracks of dreamy, lovelorn indie pop. Vintage synths and an organ back Alex Scally and Victoria Legrand as they explore young love, loss and heartbreak in arrangements that evoke Lambchop's loveliest falsetto moments.
Film
Documentary
Seperado! - Dir: Dyl Jones, Gruff Rhys
Seperado! follows Super Furry Animals frontman Gruff Rhys through the plains of Argentina on his search for a long-lost relative. He croons through the nether-regions of South America such as the Welsh colonies of Patagonia (there was a wave of emigration in the 19th century as the Welsh fled the iron hand of the English). This film is as whacky as his music but it's also funny and touching. — tm
Comedy
Micmacs à tire-larigot
Dir: Jean-Pierre Jeunet This new film from the director of Amelie and Delicatessen, Micmacs skilfully transforms a tale of revenge into a funny and charming film, avoiding every cliché even after 30 years of filmmaking. Unexpectedly inspired by Toy Story and Mission Impossible, Jeunet builds a troupe of quirky outcasts who mastermind a plot of poetic retribution against the arms dealers whose wares were responsible for lead character Bazil's bizarre hardships.
Art
Contemporary
Whitney Biennial
New York, 25 February to 30 May, 2010 The ever-authentic Whitney Biennial and the ever-estimable curator Francesco Bonami ask 55 American artists to take stock of the last two years, simple as that. The show's title, 2010, ably reflects the anxiety and optimism of the present and how contemporary art can comment on very recent history. Bonami on the Biennial: "The biggest challenge I've found about curating a biennial is to escape the temptation to make everybody happy, and to think about the show as if it isn't a biennial. I have noticed that artists seem to be seeking a more intimate way to address the world and produce art. You don't need millions to create a work of art."
01. Jesse Aron Green, still from 'Ärztliche Zimmergymnastik', 2008.
Three more Monocle shortcuts:
OK GO, Of the Blue Colour of the Sky Listen! These LA-ites have had Prince on repeat for, like, ever. No bad thing when they've got the songs to pump the funk and the curiosity to deconstruct some of that bass-slapping into brainiac boogie. Exhilarating.
Mayra Andrade, Storia, Storia The sophisticated, samba-soaked follow-up to the Cape Verdean's debut is the sum of its parts – French, Brazilian and Senegalese riffs sway on the breeze.
Midlake, The Courage of Others Before Fleet Foxes had even heard of plaid came these Texans and their close harmonies and neat plucking. This folk-rock gem recalls going on a Wicker Man set visit with the original line-up of Genesis.
Who cares who's first? In praise of slow media
News organisations can learn a lot from social networks but they need to remember the power of analysing events in the cold light of day.
"Where were you when you heard about the assassination of JFK?" This was a stock question for a generation who were still attempting to make sense of shared shock, putting that thunderbolt into context. It was "were you in 'Nam?" for the everyman. Or perhaps it was just a cool new chat-up line with a veneer of consideration; the caring, sharing 1963 version of "do you come here often?". Either way, it was a shared news event broken by radio and TV bulletins that travelled word-of-mouth, in the old-fashioned, pre-social networking sense. This same seismic-shock-as-global-news-event could be applied to the death of the Princess of Wales, Al-Qaeda's destruction of the World Trade Centre and, more recently, the death of Michael Jackson.
A common thread in these events is that the abiding memory, the "where were you?" moment, was captured by ordinary folk. What, a few years ago, we called "citizen journalism" has been going on for years. While the Parisian car-crash was unsurprisingly shot by a paparazzo, the footage of JFK was shot by Abraham Zapruder, who had a clothing firm; much of the most compelling footage of 9/11 was shot on camcorders; the 2007 London bombings and the Asian tsunami were defined by amateur footage; Jackson's demise was broken by the celebrity gossip website TMZ.com, run on tip-offs from doormen, drivers and members of the public in the "Thirty Mile Zone" around LA's studios that gives the site its name. In fact, these aren't instances of citizen journalism because they're not journalism; they're just the capturing of the moment, the journalism – paid for and considered, you hope – comes later.
Up until Jackson's death, radio and TV broke the stories while newspapers provided the analysis. But 9/11 may have been the last big news story to be broken by traditional media – how can anyone compete with instant? What's the point in a news channel devoted to boasting it's "first!" when it's not?
Here on paper, in the traditional media, it's easy to distrust Twitter and its pals, to regard the Godzilla of Facebook and its Godzooky of an offspring with a haughty stare and much of the time we're right to. But these are just the naff names given to software that was inevitable, has become usable and should be far more useful to the mass media – the struggling commercial broadcasters, the electoral machines that need an oil change, even the rolling news channels that roll too slowly – than they are to the proto-slang-toting kids on the top decks of buses.
Happily, Monocle's mandate is different. We have time to think and take a long, healthily sceptical view of the trendy lot of it. We are likely to catch the instant on anything other than paper but we'll reserve our judgement until it's in black and white. "Where were you when you heard the news?" Looking forward to a trip to the newsstand.