Natural icon / Siena
Drawin them in
Emilio Giannelli's satirical cartoons on the front page of 'Corriere della Sera' unite the nation in laughter. He has become untouchable by Italy's highly litigious politicians, including Silvio Berlusconi, who dare not mess with him.
When it comes to comedy, Italian humour often resorts to slapstick and scantily clad showgirls to entertain audiences. Yet all Emilio Giannelli needs is a few precise pen strokes to get people smiling. Since 1991, Giannelli's cartoons have appeared on the front page of ­Corriere della Sera, Italy's top-selling newspaper, and over the years millions of people have had a private laugh at the subjects he has lampooned – most days, the country's politicians are the target.
Providing comic relief to his fellow Italians comes naturally to Giannelli. "My mother said that I was born on the last day of carnival and for that reason I've never taken life too seriously," he says, talking to monocle in a cosy study at his Tuscan country home.
From here he discusses the day's topics with his editors on the phone before working on his drawing board in the evenings. In his spare time he tends to an olive grove in the grounds of his house. Now 74, the veteran satirist dominates Italian print media and has published 23 volumes of his cartoons, many of them have become bestsellers. While Giannelli is not alone – Italian television is full of comedians doing over-the-top impersonations of politicians – few hit the spot as eloquently as he does in print; his drawings often borrow a Latin phrase or historical reference to drive home a point.
"He makes fun of those in power in such a way that it gets people thinking too," explains Ferruccio de Bortoli, Corriere's editor in chief.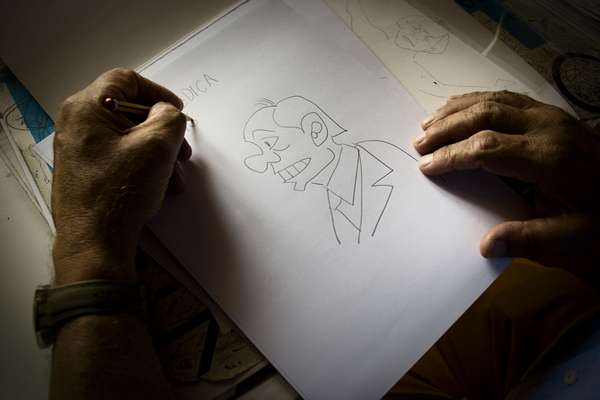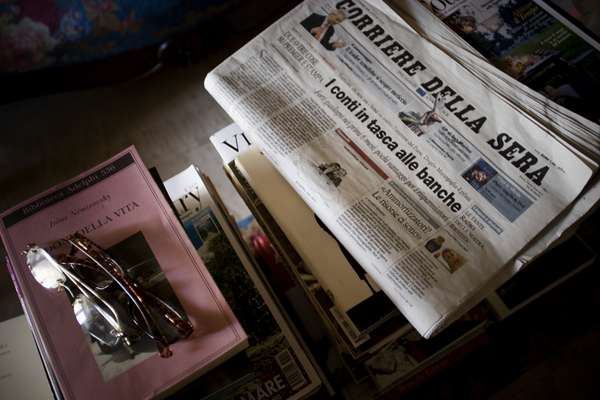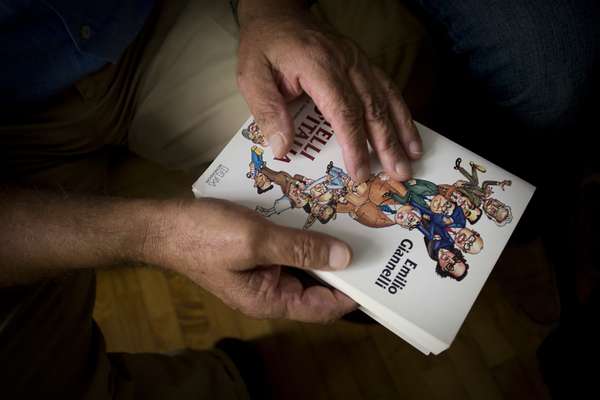 As lead cartoonist for the country's newspaper of record, he holds a certain amount of influence over public opinion and those in power keep close tabs on his work. To stay impartial, Giannelli has never joined a political party and avoids TV appearances. He only takes four days off a year but, he says, he'd happily retire to tend to his olive grove if he saw "young and capable people in power" (Prime Minister Silvio Berlusconi is 73, while President Giorgio Napolitano is 84).
Though he gets a kick out of crafting clever punch lines, Giannelli believes that, first and foremost, he's performing a sort of civic duty. "The role of satire is to always be on the side of the weak and show the misdeeds of those in power," he says. His editor de Bortoli sees him as the vox populi. "Most days Giannelli acts as our first editorial and sets the tone for the rest of the paper."
Born in Siena, Giannelli doodled from an early age, often making caricatures of classmates and teachers. Despite his love of drawing, he studied law and worked in the legal department of local firm Monte dei Paschi di Siena, the world's oldest surviving bank, for 38 years. But like a nagging itch, he'd sketch in his free time and submit the odd cartoon to newspapers. "My wife calls me an addict. If I don't draw cartoons, I go into withdrawal."
Since 1980, he's been a regular in Italy's newspapers, both on the left and right of the political spectrum – even the Vatican's own newspaper, L'Osservatore Romano, has reprinted his work. He was also the first cartoonist to be granted page one placement in Corriere, which has a daily circulation of 620,000.
In a country plagued by public sector corruption and notorious for the "Clean Hands" political scandal in the early 1990s, he rarely finds himself short of material. Prime Minister Berlusconi is a recurring subject, usually shown in raised heels, as a result of his short stature, or as an illusionist trying to ward off his legal problems with the judiciary.
Given that Italy is a country where the prime minister is also a billionaire businessman and controls much of the media, there is often huge pressure on the press that leads some to shy away from criticising Berlusconi. "It's not that censorship suddenly has increased," says Giannelli. "Censorship starts before, it starts by focusing on other topics."
Italian politicians are particularly prone to filing libel suits at the slightest whiff of criticism. Berlusconi has a small army of defence lawyers and recently said he had spent nearly €200m on legal bills in his lifetime.
Giannelli, however, is not fazed by this. "I've never had a suit brought against me. After all, it would be a shame for someone who happens to be an ­attorney," he says.
A quick sketch:
Emilio Giannelli's CV
1936 Born in Siena
1948 Publishes first sketches in a Catholic newsletter promoting after-school activities. "It had a print run of 60 copies"
1962 Takes a job in the legal office of Monte dei Paschi di Siena bank. Ends up running the department before retiring in 2000
1991 Hired by 'Corriere della Sera'. Becomes first cartoonist in newspaper's 134-year history to appear on the front page
2006 Receives Ischia Prize for his political satire. Awarded to him by Italian president, Giorgio Napolitano
2009 Publishes 'Meno male che Silvio c'è' (Thank goodness for Silvio), his 23rd volume of cartoons