Flights of fancy / Canada
Easy to bear
In the first of a new series looking at some of the world's more niche (read quirky) airlines we take a trip with the plucky Bearskin Airlines.
Bearskin Airlines covers the boreal vastness of northern Ontario and Manitoba. With more than 100 daily flights, the Bear services 17 destinations, linking far-flung northern mining towns and wilderness travel outposts such as Flin Flon and the Pas with the southern cities of Winnipeg, Thunder Bay, Sudbury and Ottawa. It also expects to add Montréal this year.
It was founded as a charter flyer in the 1960s – its de Havilland Beavers and Otter aircraft were fixed with floats or skis depending on the season. For many years the Bear was the vital link to remote First Nation areas not accessible by road. In the late 1970s, as resource towns boomed and paved airfields were built, Bearskin added wheeled commuter craft and quickly became the region's main airline. Passengers are a mixed bag of aboriginal leaders, government officials, geologists, foresters and adventure seekers.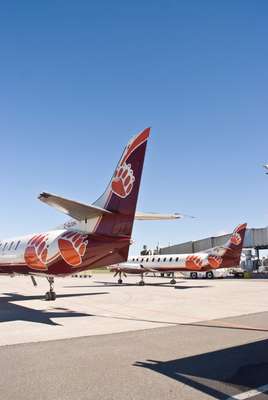 The economic viability of servicing Canada's north is a never-ending challenge for carriers. Bearskin survived a brush with bankruptcy in the 1980s, when it was forced to pay for petrol with cash and company credit cards. But it has survived and thrived by staying small and responding quickly to its customers' needs. It now employs 250 people. "Essentially, what we're selling is time," says Ron Hell, Bearskin's director of marketing and sales. "Air Canada carries as many in a day as we do in a year. But we know many of our customers personally. We learn how critical scheduling is to them. They could drive or take the train, but we can get them in and out of remote communities or cities in the same day. We've found our niche."
A few years ago Bearskin completed its evolution into a regional commuter carrier when it sold off its routes servicing First Nation communities, and added connections in the populous south, including Canada's hi-tech development corridor at Kitchener-Waterloo, where Research in Motion (RIM), creator of the BlackBerry, is based. RIM is now one of Bearskin's biggest clients.
But Bearskin's plucky, frontier spirit remains – you need only look away from your PDA and out the window to be reminded of the company's roots. The landscape below remains as harsh and wild as ever.
Origins: Bush pilot and store owner John Heglund launched the airline in 1963 as a charter flyer. He named it after the native community at Bearskin Lake, which he serviced from his base at Sioux Lookout. Current president Harvey Friesen acquired control of the airline in 1972.
Company motto: "Let the Bear take you there!" Who could refuse such an offer.
Uniforms: Counter staff wear orange fleece vests, well this is Canada.
Magazine: Bear Country promotes the region. Not to be confused with a very different type of men's magazine.
Fleet: Bearskin now flies 14 sleek 19-seater Fairchild Metroliners (above).
Cabin design: Despite size of aircraft, more space than on larger planes.