Fashion / Global
Fashion
Briefing
Norwegian outerwear firm Norrøna opens its first retail outlet in Oslo and Kitsune pops up in Tokyo.
Fresh and clean
Oslo [Norrøna]
Known for its design-led, weather-protective gear for the avid outdoorsman, Norrøna has opened its first shop, in Oslo. The store is decorated in black and white to contrast with Norrøna's colourful aesthetic, while the shelves and rails are all moveable, highlighting the brand's dedication to functionality. Managing director Jørgen Jørgensen wanted the space to match the firm's design philosophy: "to be as clean as possible, with all the necessary details".
Norrøna's shop tactics:
Convenience:
The shop has a service centre where customers can come and have their Norrøna products repaired.
Gatherings:
A section of the store has been set aside for events and product launches.
Diversity:
Norrøna also stocks specially selected brands, including footwear by Keen and watches by Nixon.
Pasta brand Barilla has forayed into another business where Italians excel: shoemaking. Emanuela Barilla, the youngest member of the dynasty, has purchased a stake in Alessandro Oteri's high-end womens' footwear firm and hired a former Ferragamo manager to oversee a retail rethink. "Barilla wanted to support something not only made by hand," says Oteri, "but made in Italy, just like pasta."
alessandroteri.com
Get loose
Copenhagen [LIBERTINE-LIBERTINE]
Danish brand Libertine-Libertine is the new projectof ex-Won Hundred and Acne designers Rasmus Bak, Pernille Schwarz and Peter Munch Ovesen. Their debut collection, which is in stores now, features their takes on elementary classics in casual menswear, with a looser, more relaxed cut. Libertine-Libertine plans to keep its operation small, but is set to expand into women's wear later this year.
libertine-libertine.com
Catch of the day
Venice [BARENA]
Venetian brand Barena was set up by Sandro Zara in 1961, taking inspiration from local fishermen. In 1993, Zara was joined by Massimo Pigozzo, who heads up the design of Barena's well-constructed, utilitarian garments, like this slouchy cotton cardie. Barena is still essentially a family firm; Sandro's daughter Francesca is creative director and son Giovanni is on sales. Sandro, 68, is still il capo though. "Sometimes he jumps in with the craziest idea and we try to reject it. But in the end we usually have to say, he was right!" says Francesca.
barenavenezia.com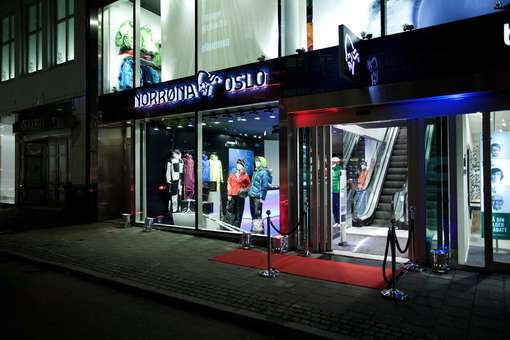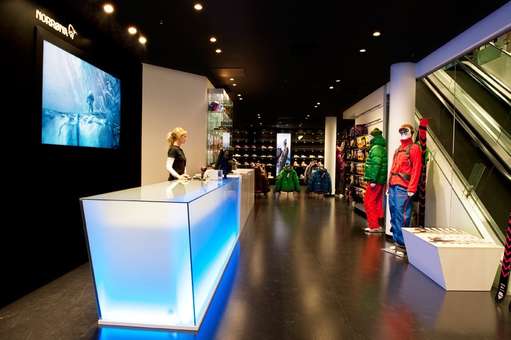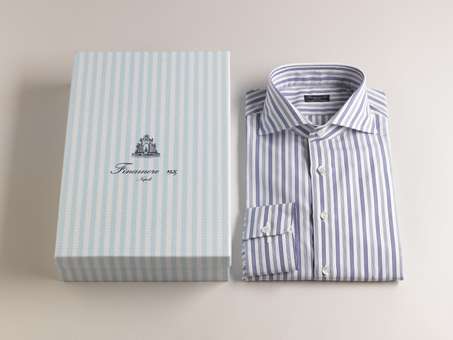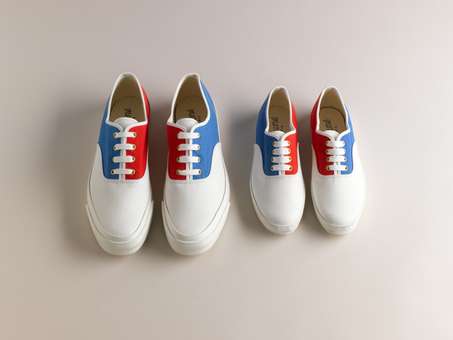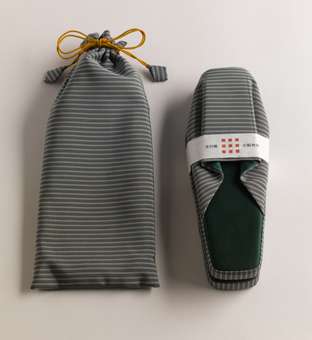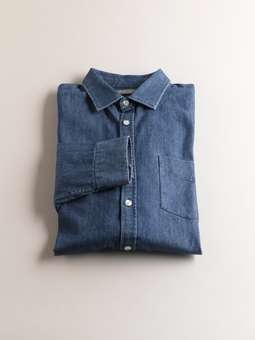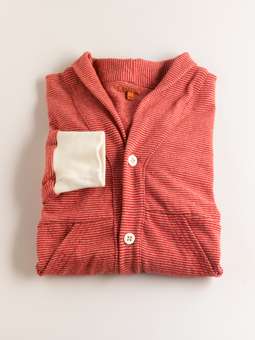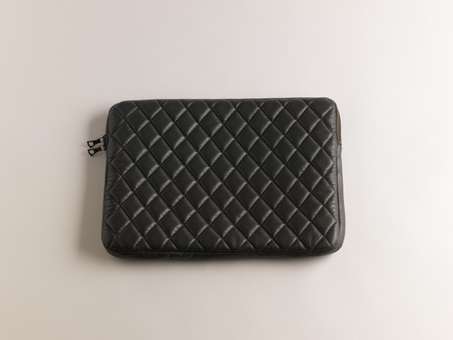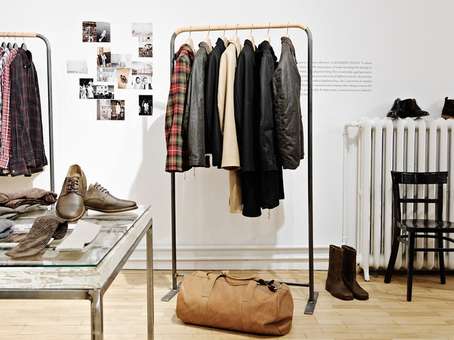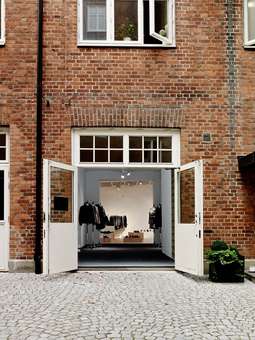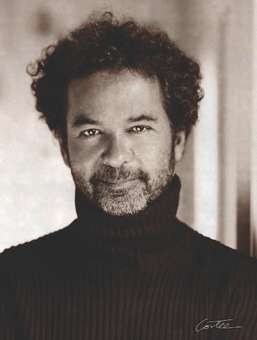 Tricolore treat
Tokyo [KITSUNE]
On 11 February, Kitsuné will pop up a shop above Montoak bar in the Omotesando area of Tokyo. Open for 12 weeks only, Masaya Kuroki – the boss of the Paris-based label – has designed these tri-colour sneakers, produced exclusively for the store. Well worth the air miles.
kitsune.fr
Silky skills
Naples [FINAMORE]
For four generations, the Finamore family workshop has kept alive the Neapolitan tradition of sewing garments entirely by hand. Made from high-grade cottons and silks sourced from Swiss and Italian mills, bespoke dress shirts come in an endless variety of collars ­– spread and button-down – while the ready-to-wear label offers traditional, slim and casual fits. The brand does soft, unlined seven-fold neckties as well as a smart range of boxer shorts and solid colour pyjamas in Irish linen.
finamore.it
Star of stripes
Kahoku [ABE SANGYO]
Founded in 1919 in Kahoku, Japan, as a sandals dealer, Abe Sangyo began the wholesale manufacturing of sandals in 1971. Its hand-made silk kinu haki (indoor) striped slippers are an updated version of a Yamagata valley-born Japanese classic, keeping alive traditional methods.
abesangyo.jp
Good goods
Malmö [TRES BIEN]
Located in Sweden's third city of Malmö, Très Bien opened last year, and is already giving its Scandinavian competitors a run for their money. Stocking APC, Our Legacy and Gitman Vintage, the two brothers in charge, Hannes, 28, and Simon, 25, are reputedly the youngest shopkeepers in the world to have Comme des Garçons on their rails.
tresbienshop.net
Très Bien favourites: Hannes Hogeman, co-owner and buyer
Visvim penny loafer:
"Visvim in the store is a dream come true. The penny loafer comes with an actual penny and a Goodyear-welted sneaker sole in beautiful navy blue."
Woolrich Woolen Mills' trail parka:
"To combine a more dressed-up look with a classic relaxed parka is a winner. Takes the wind and the rain and makes you look good."
MHL nylon duffel:
"I love the idea of updating classics, and to make a traditional duffel in a windproof, technical fabric feels great."
Engineered Garments shawl collar sweater:
"We really respect EG. Made in NYC and a feeling for detail like no one else."
Church's suede navy brogue with red brick sole:
"Church's is Church's. I could go on forever with superlatives but I won't."
Q&A - Remo Ruffini
President, Moncler
Outerwear brand Moncler recently announced two new collections. Visvim's Hiroki Nakamura is in charge of men's Moncler V, while the Sacai brand will design women's collection Moncler S.
Alongside your existing collaborations and now Sacai and Visvim, how are you trying to diversify the Moncler brand?
Moncler Gamme Rouge, which has couture roots, and Moncler Gamme Bleu, which is noted for its strong tailoring, are distinct from Moncler S and V in terms of style and distribution.
How pleased are you with the performance of these link-ups?
I'm very pleased. I think reminding the consumer about the brand's roots, with references to heritage, is the right direction to take.
Moncler is traditionally a winter brand, how are you trying to boost year-round sales?
The concept is very simple: you always need to begin with the Moncler jacket. It works year-round as you start with the classic puffy jacket that is then progressively lightened to become a summer rain jacket.