Football World Cup / Nuremberg
Poised to strike
In this issue, for our World Cup series, we visit Puma, the sports brand that has become most associated with African football. As the competition heads to the continent, will Puma be the PR victor?
It's a crisp, clear winter morning in ­Herzogenaurach, near Nuremberg in south-eastern Germany, and the new 50,000 sq m Puma HQ is gleaming in the sunlight. Down the road, literally, sits the new headquarters of Adidas. The two companies were founded in the 1940s by rival brothers (Adolf "Adi" Dassler created Adidas; Rudolph Dassler, Puma). And they have been in competition ever since, along with Nike, for global football brand domination. Puma is officially No 3 (Adidas is No 1). But it has a built-in advantage over its rivals in the battle for the multi-million-euro market surrounding this year's World Cup in South Africa. "For us," says Filip Trulsson, senior manager at Puma's team sport division, "it's like football's coming home."
Puma has been closely involved with African football for more than a decade, kitting out Morocco and Cameroon in 1998 and Egypt the following year. Crucially, the tie-up with Africa enables Puma to define what Trulsson calls its "point of differentiation" from its rivals. "The image of Adidas is that of an authoritative coach," he says, "while Nike is all about entertainment. At Puma, we focus on inspiration. We're a little more on the outside, and that allows us to have more freedom in the way we approach things."
This outsider status allows Puma to play the maverick card in a way Adidas, an official partner of football's world governing body Fifa, never could; it also enables Puma to emphasise its "good fit" with the African teams, widely perceived as plucky underdogs who play with joy and spontaneity, in contrast to the overpaid prima donnas of the European nations.
"I can see what Puma are doing," says Jeremy Kent, the chief executive of marketing consultancy Brand Counsel. "They're positioning themselves as the Rocky Balboa of football. In building an alliance with Africa, they're able to portray themselves as the challenger brand.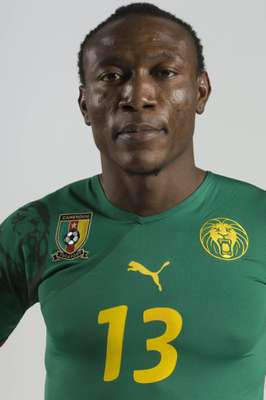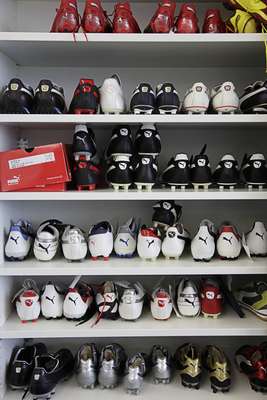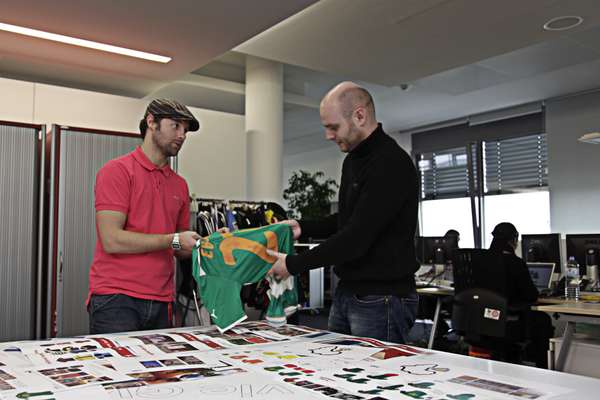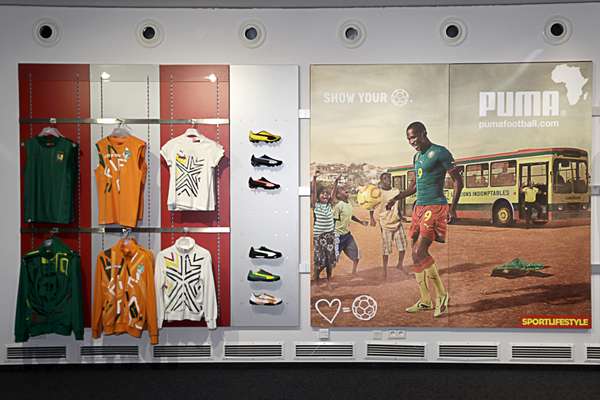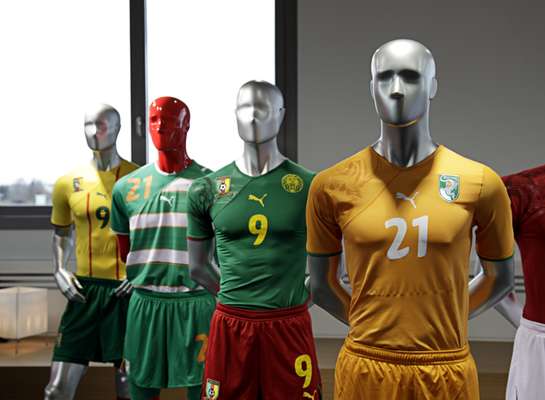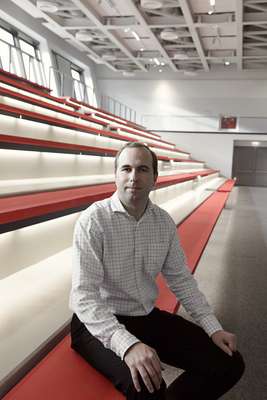 "It allows them to be more daring and surprising – they can generate a sexier buzz while tapping into the undeveloped African market. I think it's a canny move," he adds.Puma now makes kits for 12 African teams in total. In the 2006 World Cup in Germany, the firm endorsed all five African qualifiers; in 2010 it's behind four (Côte d'Ivoire, Cameroon, Algeria and Ghana; as well as Uruguay, Switzerland and reigning champions Italy. Adidas also has 12 teams, including South Africa and Nigeria, and Nike nine).
Meanwhile, Africa's first generation of superstar players has emerged, including Didier Drogba (Côte d'Ivoire and Chelsea) and Samuel Eto'o (of Cameroon and Inter Milan). "We've watched this African rise," says Terence Parris, Puma's European marketing manager, "but we've got a head start on our rivals because we've been involved in African football for a long time."
"For the first time, we're sort of favourites with this tournament, from a marketing perspective," says Parris. "Our time has come and we've got to make sure we do it well."
There is a lot at stake. Not just the potentially giant revenues from sales of World Cup merchandise (for commercial reasons, Puma is not willing to reveal how much it pays to a national football federation). "The World Cup is like a window to show the world who you are. It will set the tone of Puma over the subsequent four-year period," says Trulsson. The company began its preparations for 2010 "pretty much at the end of the last World Cup," he says. Internal workshops were held on overall strategy, while external consultants worked on new cushioning technologies and stud configurations for Puma's boots. Meanwhile, senior designers Darren Barry and Christof Nix were sent on an inspiration mission to Cameroon and Ghana and returned with the keywords that would drive Puma's design strategy: "raw" and "instinctive".
"Everywhere we went, we saw kids playing on makeshift pitches," says Barry, brandishing photos featuring kick-abouts on rubble-strewn waste ground. "It was a hive of colours and smells," he continues, "with fans spending hours painting themselves up, and running round the pitch chanting and drumming. There was no money, but tremendous enthusiasm."
Their impressions were worked into Puma's African kits – by a team headed by Puma's senior product line manager Sébastien Thiney – and are displayed at the HQ on mannequins striking mid-match poses. There is an asymmetric line across the right shoulder "to evoke the warrior"; a traditional Ghanaian cross-hatch weave, the kente, transferred to shirts and boots in Puma red; boot-­webbing inspired by the binding on African drums; shin-guards shaped like tribal war masks; and badge-symbols to engender national pride, such as a trumpeting elephant for Côte d'Ivoire. "Almost giving each team their own brand identity," says Trulsson.
But perhaps the most incontrovertible sign of Puma's connection to the continent is that, during the World Cup, the firm will, for the first time in its history, modify its corporate logo, to include a map of Africa, which fortuitously happens to share the same broad outline. "While we were on our research trip, we were having lunch with Cameroon's president [Paul Biya]," says Barry, "and at one point, he said, 'Puma is Africa.'" (Cameroon shirts are the international bestseller for an African team but Ghana's are set to close the gap in 2010).
This will be Puma's World Cup clarion call at a time when all three top brands are feeling the effects of the global downturn. (Puma's 2009 third-quarter pre-tax profits were down 21.6 per cent to €98m, Adidas' were down 30 per cent at €213m and Nike's down 2 per cent to €164m).
"There's a lot riding on the tournament, for sure," says Trulsson. "Today, lifestyle companies like H&M and Zara are trying to get their slice of the sports market, and we're stepping into their territory. So a World Cup year gives us a unique platform to flex our muscles and display our authenticity. It's as much about perception, a clarification of where Puma is coming from and what we stand for, as it is about selling shirts."
Expected Fifa revenue from 2010 World Cup: €2bn
Six official Fifa partners: Adidas, Sony, Coca-Cola, Hyundai, Visa, Emirates Price of Puma World Cup replica shirts: €70 (they are made in Europe, Asia, Africa and South America)
Estimated revenue of World Cup-winning team's kit sales: €50m
Date by which Pelé predicted (in 1977) that an African team would win the World Cup: 2000
Revised date he offered when this failed to occur: 2010