For our series investigating the secrets of success, Monocle visits Austrian company Doppler, Europe's biggest manufacturer of quality umbrellas. Its top product has been handcrafted in the same way since the 1940s.
At the Doppler factory in Braunau, a quiet town in rural Austria near the German border, Maria-Luise Desch cuts fabric into eight or 10 pieces, all exactly the same size. At the other end of the smallish factory floor, Johann Erlinger painstakingly carves slits into a rod of chestnut wood that will become an umbrella's shaft and handle. Desch has been working here for 24 years; Erlinger for 31.
"Having experienced employees is key to achieving the quality we're looking for," says the owner of Doppler, Hermann Würflingsdobler. In a timewarped workshop piled with fabrics and old sewing machines, Desch, Erlinger and the team produce 40,000 Doppler Exklusiv umbrellas a year using fine German wood, Italian fabric and British metal parts.
Producing umbrellas in a high-wage country by hand at a pace that can be described as relaxed seems an unlikely anachronism in today's global economy. For Würflingsdobler, this luxury is at the heart of his brand's success. His grandfather (pictured top) started Doppler in 1947 with just one member of staff. Today the company employs 160 people, has offices worldwide and has built up a wide range of ­different products, such as sun and garden umbrellas.
Despite the expansion, patience and personal service remain at the core of the family business, and these umbrellas are rarely thrown away. "Some complain that small parts of their umbrella break after 20 or even more years," says Würflingsdobler. "We fix them and send them back."
Brand pillars
01 Tradition
Time-tested quality
The secret of the company's best umbrella is simplicity. The design and materials used have hardly changed since the company was founded. The materials are carefully handled through 45 different stages of production.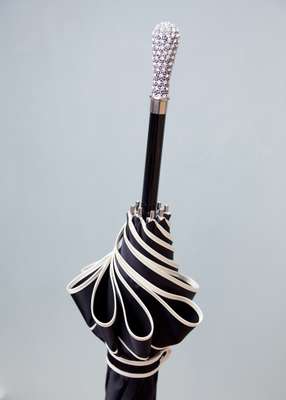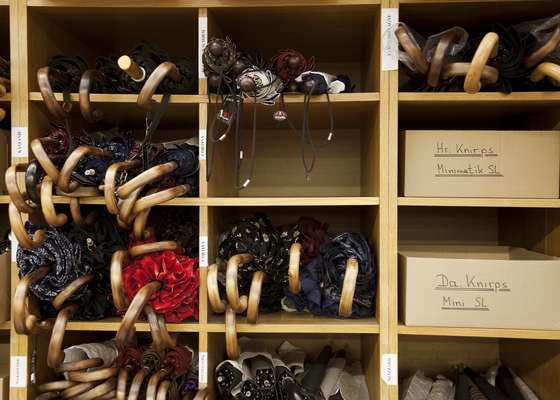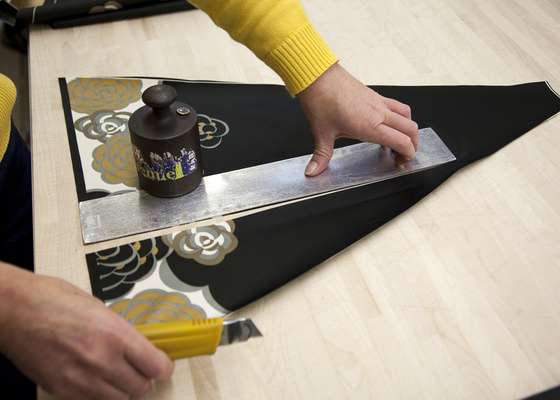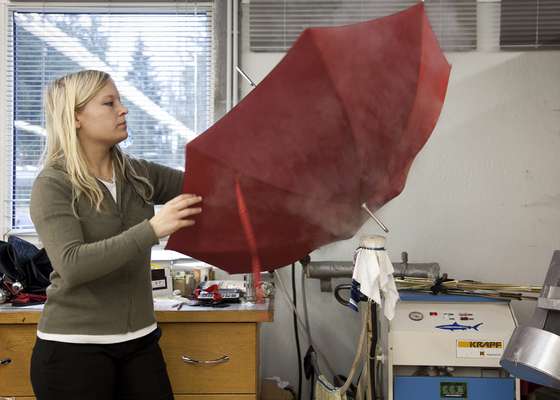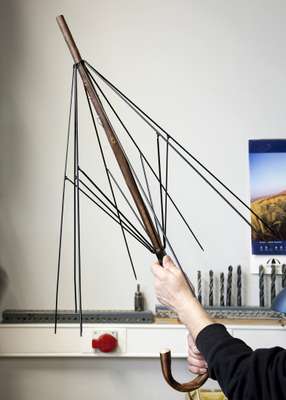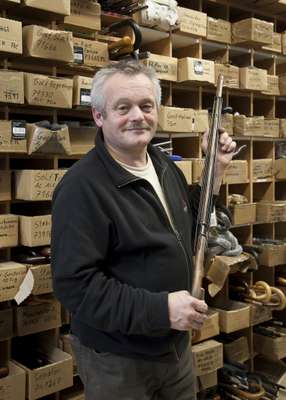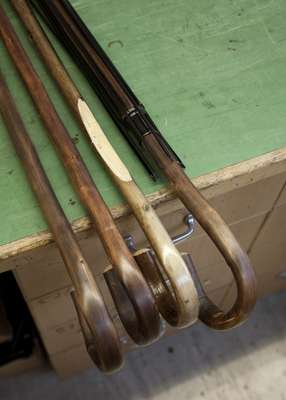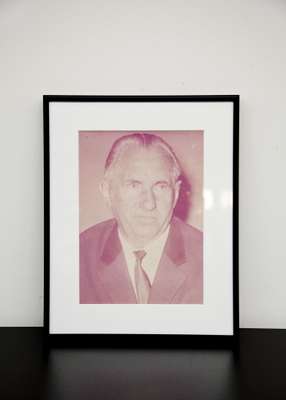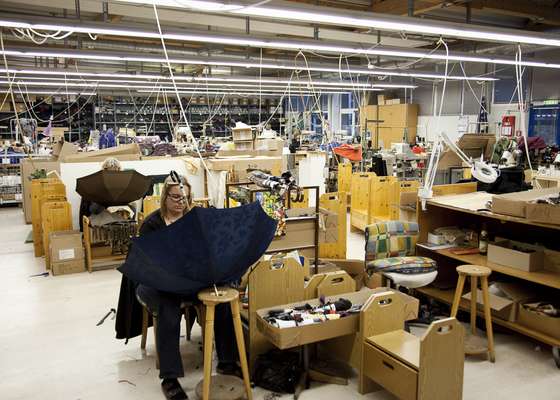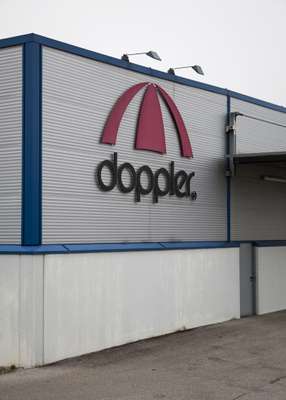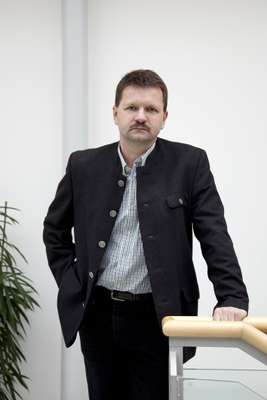 Brand diversification
Apart from top-line Doppler Exklusiv, the company also markets small high-tech umbrellas by Knirps, the slightly cheaper Doppler brand and the high-volume Derby. It has licensing deals with s.Oliver and Bugatti and produces umbrellas for BMW and Volkswagen, among others.
History in making
Production techniques at the company's headquarters have also remained more or less the same – the factory floor being dominated by a few ancient-looking Pfaff sewing-machines and hissing steam presses. However, most of the work here is still done by hand.
Built to last
The Exklusiv umbrellas come in 120 different versions with fabrics such as authentic Austrian loden. The shaft comes in chestnut, maple, beech or bamboo and there are options for leather, lacquered or steel handles. All materials are tested for endurance.
Preserving old crafts
Being an umbrella-maker used to be a skilled trade in Austria but now there is no longer any formal training on offer. At Doppler, the knowledge of how to cut, sew and carve is passed on from one generation of workers to the next.
Individual products
A Doppler umbrella is a product you are meant to keep all your life – so why not put your name on it? Customers can have their monogram embroidered on the fabric or their name engraved on a metal plate on the shaft. You can also order a custom-made umbrella – in your favourite colour, for example.
Quality of life
The main reason for Doppler being in rural Braunau is the skilled staff. "Our employees have grown together with the company," says Margit Würflingsdobler says. "We couldn't move anywhere else or we would lose these qualified workers." There's no way she can imagine moving the firm to a big city. Also everyone would miss the quality of life in the countryside. "There's so much nature here," she says. "People go hunting, hiking and cycling." For shopping, Munich is one and a half hours away, Passau and Salzburg only an hour away.
Pride in heritage
Staff often stay for decades at Doppler. "Compared with other jobs in this area working for us is clean and comfortable," says Margit Würflingsdobler. Alternatives here are working on a farm or in an aluminium plant. "Also people like the friendly atmosphere in our firm," the owner's wife adds. She hopes to keep Doppler in the family, where it has been for three generations. "Our son is 24 and daughter 21. We don't know whether they will actually one day take over – but we certainly hope so."
1947: Umbrella company Ernst Doppler & Co is created in Braunau, a village that has 16,000 inhabitants today
1990: Subsidiary company Derby Umbrellas is launched in Hong Kong
1992: New, expanded headquarters built in Braunau
2004: Launches joint venture in Slovakia to produce sun umbrellas
2005: Acquisition of competitor Knirps
Q&A: Hermann Würflingsdobler
How important is it for Doppler to keep its regional roots in rural Austria?
I feel a personal closeness to our employees who have been working for 20, 30 or even 40 years with us. Also we believe that the Made in Austria label contributes essentially to the image of Doppler brand.
What makes Austrian-assembled Doppler umbrellas different?
The love of detail and a quality you can feel. Once you hold one of these umbrellas in your hand you simply know what it is about. It's impossible to achieve this combination in Asia – thank God!
Are you trying to preserve a beautiful but doomed tradition, or do you see a comeback of handicraft?
We like think it is the latter and even hope to see rising numbers as soon as the economy in eastern Europe will bounce back.
How hard is it to find good staff?
There were 140 applications for our latest open position – people are even coming over from Germany, which was unheard of some years ago.