My last meal / Tokyo
Master Shibatayama
The almighty Master Shibatayama, a former Grand Champion sumo wrestler, chooses a traditional Japanese restaurant in Shinjuku for his Last Meal. He runs a sumo school in Tokyo and is the author of several books on regional sweets, which are his weakness.
"The tastes that you acquire at the age of five, you will never forget. I grew up the son of a farmer in Hokkaido. My mother worked alongside my father so it was my grandmother who did the cooking: we ate a lot of milk, potatoes, pumpkins, corn and beans.
I used to hate it at the time and wanted more meat. Since then I've travelled and eaten many different foods. But now I miss my grandmother's food. When you reach a certain age, your palate goes back to the original tastes that you acquired when you were young.
My life changed when I moved to Tokyo at 15 to train as a sumo wrestler. It was communal living in a man's world and it was a big shock. There were up to 40 men living together and we cooked and ate twice a day. The food of sumo wrestlers is chanko nabe, a stew rich in protein, and whether we liked it or not, we ate it once a day. The second meal was anything from Chinese gyoza to pasta.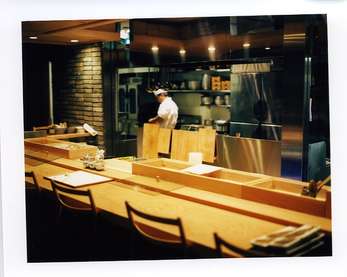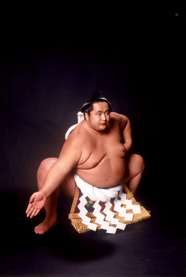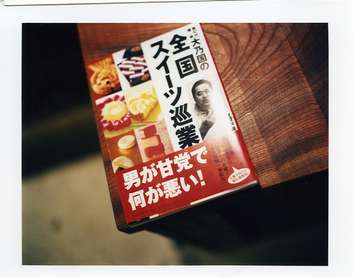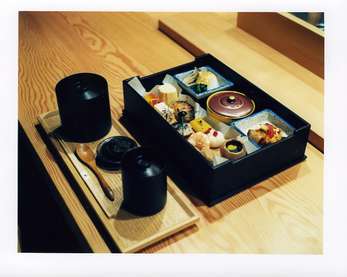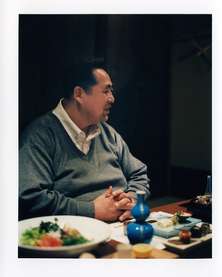 We became big from sumo practice not just eating. Our exercise balanced out the food. When I arrived at the age of 15, I was 185cm tall and 83kg. I peaked at 25 at 209kg and now I'm around 168kg. At the sumo stable there were very strict rules. We had to learn how to prepare and serve food to seniors and we would get into trouble if we placed our fingers on bowls the wrong way. It is a tough life.
The sumo world is not so bad now but when I was younger the seniors would use violence and hit us with their fists. We survived day by day. The only time I had to myself was sometimes just before going to bed, for the last five or 10 minutes of the day, when I would look up at the sky and think of my home town and my family.
When I later became a sumo Grand Champion, I travelled widely around Japan and often received many gifts of regional sweets specialities and I started to keep a file on them. I'd always loved sweets. As a child, we grew azuki beans so my grandmother would make anko paste for homemade sweets. But my favourite treat was when my mother went into town to buy a 'cream pan' cake, normally for someone's birthday. At times I had real cravings for sweets and my love for them has continued into later life.
After retiring at the age of 28, I set up my own sumo stable in Tokyo. A few years ago, I appeared on a TV programme with a cookery teacher and made a roll cake. It was very popular and it was then I started to put together books from the sweets files I'd kept from my sumo champion days. My third book on sweets will be published this year.
If I really was having my last meal, I'd consider eating alone in order to fully ­appreciate the food. In Japan, you are traditionally not meant to talk while eating. But on reflection, I'd be happy to have my family by my side – my wife and two teenage daughters. When I eat, I like conversation that is cheerful and enjoyable – about anything positive and definitely not work. The perfect meal is about good food in good amounts and if I find myself thinking three hours has passed in a flash, that's a sign of a wonderful dinner.
I often come to this restaurant ­because the food is high quality 'ryotei' style, seasonal and beautifully presented. I like the tofu, which they specialise in here, but for my final meal I'd probably want something a bit more simple: tamago kake gohan [raw eggs poured on rice]. It's simple and basic but very tasty. Just like the kind of food I had as a child on the farm in Hokkaido."
Born Aoki Yasushi but known as Onokuni during his wrestling days when he was a yokozuna Grand Champion – the highest ranking position in professional sumo – today 47-year-old Master Shibatayama runs a sumo stable in Tokyo.
On the fourth floor above the neon lights and crowds of Shinjuku is a serene retreat with tatami floors and sliding screens: Yamato Raku, one of a chain of nine restaurants. The tofu comes from the owner's factory in the Adachi area of Tokyo, where they keep 10 tanks of yuba – fine layers of tofu skin – 3,000 pieces are produced a day.
Salad with baby leaves, Kyoto carrots, Japanese ginger and watercress; a clear shrimp soup; three different types of yuba; turnip in a crab sauce; red miso soup; dessert is "anmitsu" – namafu, azuki bean paste, cubes of agar jelly and sweet sauce.
The secret behind sumo wrestlers' gargantuan frame may not be one that average-sized diners are keen to emulate. But chanko nabe, the signature dish that fuels their girth-expanding growth, can be very healthy in modest portions and is increasingly popular.
The one-pot body-building broth contains large amounts of protein-rich chicken, fish, tofu and vegetables with a "dashi" soup base. It is its consumption in vast quantities, combined with a tough exercise regime and afternoon naps, that creates the famously large sumo physique.
For 70 years, former sumo stars have been opening chanko nabe restaurants after retiring from the sport. In 1937, former wrestler Yokoteyama opened the doors of Kawasaki Chanko, Tokyo's first such restaurant. Since then, the dish has become increasingly adored, with a string of restaurants serving the hearty stew across the capital.
Three top chanko nabe restaurants:
Kawasaki Chanko, still in family hands after 73 years, remains the original father of chanko nabe restaurants.
Tomoegata, named after its champion founder, is filled with sumo memorabilia.
Waka in Roppongi offers a contemporary take on nabe chanko as perceived through the eyes of its former sumo wrestler owner Masaru Hanada.