Training lodge / Hakone
Nature's teachings
Dai Nippon Printing's new training centre, by architect Kenya Ishihara, was designed to inspire its employees. With a spa and views of Mount Fuji, it seems more like a retreat than a place of work but with this incentive we bet the staff never miss a training day.
Rows of anonymous grey desks, strip lighting and windowless box rooms: an unwritten corporate rule has long dictated that training centres should embrace unimaginative design in a non- descript setting. But a recently opened training centre in Japan has thrown the rulebook out of the window with the creation of a space that embodies a new generation of corporate design.
Set on the forested volcanic slopes of Hakone with close-up views of Mount Fuji, the building was commissioned by Dai Nippon Printing, a major printing company established more than 130 years ago. And there is not a dimly lit corridor in sight. The open architecture of Kenya Ishihara and imaginatively functional office furnishings by designer Taiji Fujimori combine to create a work space that is as modern as it is serene. Both ­designers are based in Tokyo.
A winding path with a fence fashioned from a swirl of twigs guides visitors past forests of cypress, cedar and "himeshara" trees to the underground entrance of the L-shaped building. Against a backdrop of open sunlit spaces, the building houses two training areas, 56 single rooms, a restaurant and hot spring onsen.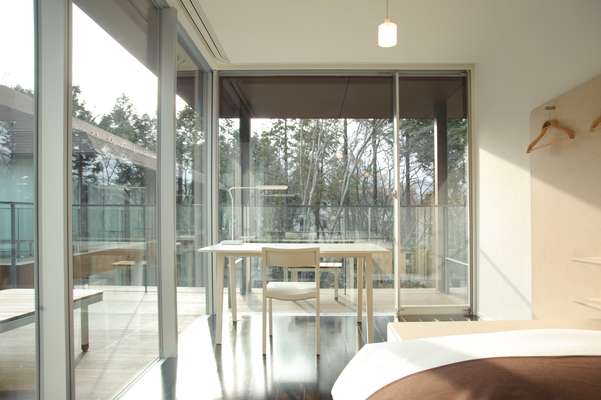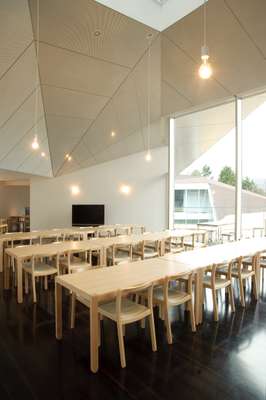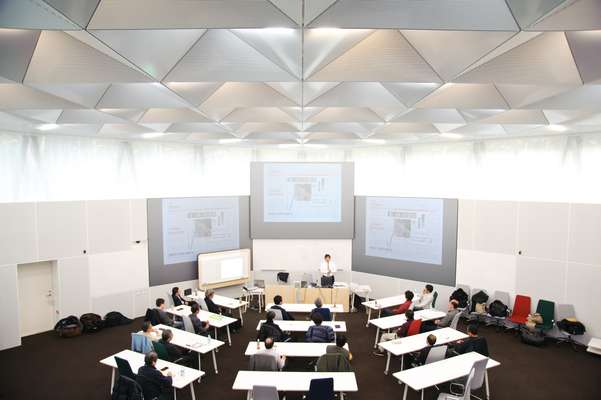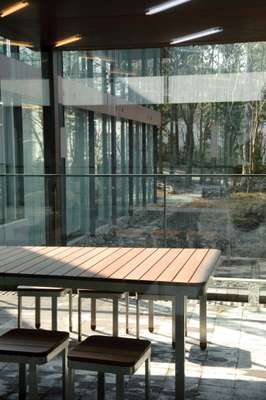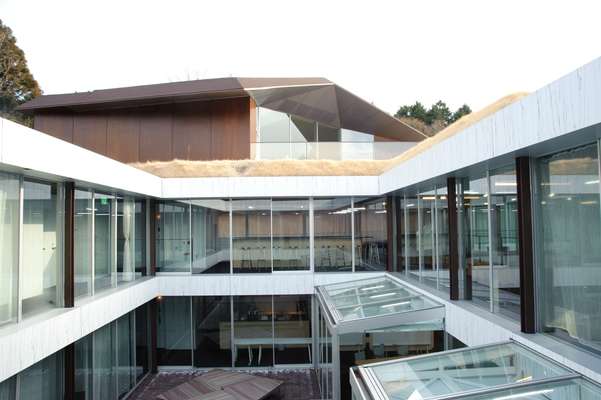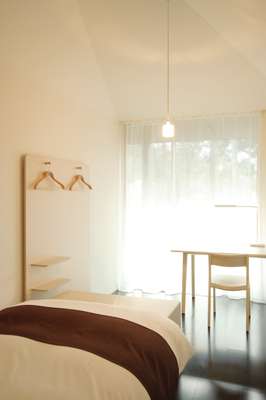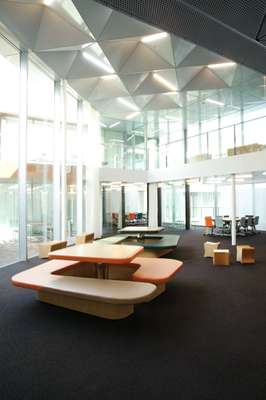 Centre stage is the lobby, where light pours through a double-height wall of glass framing forest views. Angular walls in the main training area create a triangular effect and there's a strip of windows level with the treetops above the three corner projector screens. Chairs provide splashes of colour – from red and orange to bottle green – while ­irregular quadrilateral wooden tables invite discussion and reflect the shape of the building. Conventional partitions are undetectable: instead, furniture is light and on wheels, so temporary boundaries can be made when necessary.
Use of curtains also provides fluid ­divisions. Designer Yoko Ando of Nuno created four diaphanous fabrics with delicate white threads and organic motifs that ­reflect the surrounding forest and transparency of the building. Giving Monocle a guided tour, furniture creator ­Fujimori explains: "Office spaces are generally very rigid. I wanted to get rid of conventional boundaries and create a soft environment where people could find ­inspiration and peace of mind.
"The interior is a landscape in itself and I am always trying to find new ways of working within it." His words are confirmed by the presence of three off-duty salarymen with trousers rolled up sitting in a courtyard hot spring footbath during a seminar break.
The building is home to few horizontal lines. Ceilings comprise dynamic triangular points that gently echo Mount Fuji's peak, and are made from noise-­absorbing ­perforated white metal, with mini Dan Flavin-esque strip lights ­attached. Bedrooms are as white, modern and minimalist as a design hotel (minus TVs and room service). Corridor walls are etched with delicate tree markings reminiscent of traditional charcoal sketches.
The top-floor restaurant, complete with light plywood tables, opens onto a large terrace with Mount Fuji views. Given Hakone's status as a Japanese pleasure mecca, the tension between ­relaxation and inspiration was a careful consideration: from large windows to gaze out of to functional training rooms.
Architect Ishihara says: "The building's experience should be inextricably linked with its surroundings. I hope visitors will enjoy different experiences whenever they come, with the changing of the seasons and different vegetation."
The new training centre joins other DNP buildings in the area, including a ­traditional ryokan inn with tatami floors and underground karaoke rooms and a smaller training centre built by the same architect in 2003 without integrated accommodation.
"We visited numerous training centres around the company before opening this building and we found that all the rooms looked the same," says Haruhi Yokoyama, DNP ­architect and assistant general manager of the technical and engineering division. "With Hakone Training Center Number 2, we wanted to create a new working ­environment that made people want to come back again and again. And so far, it seems to be working."
Since establishing itself as Japan's first full-scale printing firm in 1876, Dai Nippon Printing has become a household name. Its services have diversified to include packaging, printing magazines and books, electronic components and information media supplies. With more than 38,000 staff, the provision of training – in inspiring surroundings – is clearly top of its agenda. Since "Hakone Training Center Number 2" opened its doors last June, more than 1,000 staff have visited. The centre is also available for hire by DNP's 30,000 customer companies.
Employee verdict
Sumio Iwanami (44)
Assistant general manager of education and training department
"I come here once a month to take seminars and it's very different from conventional venues. With all this open space, I feel like I'm taking a seminar in the middle of nature. It's a very inspiring setting."
Takajyu Nogi (49)
A general sales manager in publication printing operations, taking part in a seminar on sales
"It is very different being here compared to daily office life. It's extremely peaceful and makes me want to sit quietly and reflect on my life. It's giving me confidence to go back to the city with fresh ideas."
Fujimori, who studied under Teruaki Ohashi, set up his three-staff furniture design practice in Meguro 11 years ago. New projects include the recent launch of a series of office furnishings as well as a paper project exhibited at Roppongi's Axis gallery and the interior redesign of the dining area at Tokyo Zokei University.