Defence / Global
Defence
Briefing
Marines are told to get some real muscle, shark-skin technology for subs, China joins the international effort to tackle piracy, and new RPG protection for vehicles.
Wrong-shaped soldiers
Afghanistan —
MARINE TRAINING
US soldiers and marines are known for working hard on their biceps and six-packs. But apparently all that effort has been in vain (except perhaps when strutting their stuff on the beach). The muscles they have been growing are not the right ones.
What they really need in today's battlefields "isn't big arms", says George Solhan, a senior director at the Office of Naval Research's (ONR) Expeditionary Manoeuvre Warfare and Combating Terrorism department. The "core" muscles around the hips and back are the ones today's fighters really need to avoid injuries from the heavy loads carried at high altitudes and in intense heat in places such as Afghanistan.
The average load consisting of body armour, weapons, ammunition, a radio, water, food and batteries for sensor and communications systems weighs from 28.6kg to 59kg, depending on the mission.
Solhan has proposed restructuring physical fitness programmes to focus on the right muscles. He also says the marines are eating the wrong kind of food, including bulk protein shakes favoured by weightlifters, when what they need is balanced protein foods.
His team is developing a dietary supplement that could help soldiers fight heat exhaustion by inhibiting precursor enzymes released in the offset of hyperthermia.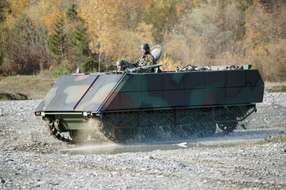 01
Slow squaddies
Some UK forces have seen the opposite trend, shunning fitness training to the extent that 3,860 soldiers were declared unfit to deploy because of obesity in mid-2009.
02
Overweight nation
US Center for Disease Control figures state that 35 per cent of the 31 million Americans between 17 and 24 could not meet military service requirements, mostly because of obesity.
03
Mental strength
The Pentagon hopes that a new Comprehensive Soldier Fitness programme will help soldiers fight stress and keep their minds strong. In 2009, 238 active and reserve soldiers took their own lives – a record year.
---
At the shark end
Australia —
SUBMARINES
"Shark skin" swimsuit technology, held responsible for a spate of world and Olympic records, could find a new application as an ultra-efficient outer coating for submarines.
Speedo pioneered low drag bodysuits by replicating the dermal denticles that cover the surface of a shark's skin. These trap a thin layer of air bubbles to smooth flow around the shark's body. Now Australia's Defence Science & Technology Organisation is examining whether the same approach could reduce hydro-dynamic drag and marine growth on the Navy's next generation submarines.
Scientists believe the technology has promise, although work is continuing to understand how such a coating would affix to sonar-absorbing tiles that clad the submarine's outer hull.
---
Slim chance
Switzerland —
VEHICLE ARMOUR
Switzerland's RUAG Land Systems has launched a new armour package that offers vehicles better protection against rocket-propelled grenades without adding as much bulk as existing systems.
The new package, known as SidePRO-RPG, was launched in London in February. It is still a form of "statistical armour" – which means it cannot guarantee to stop every hit. But RUAG claims that it is more effective, offering 75 to 86 per cent protection, compared with the more traditional bar armour RPG protection packages, which can only offer roughly 65 per cent.
Only inches deep, it is also far thinner than bar armour, which can add a couple of feet to the width and length of a vehicle.
With the new armour, the vehicle can get down narrower alleyways and turn around in dense urban areas with less chance of accidentally destroying houses in the process.
---
Hands on deck
Italy —
DISASTER RELIEF
Italy's cash-strapped Navy has been reining in its sea-time in recent years. So it was a surprise when it fielded its new aircraft carrier, ITS Cavour, for the relief effort in Haiti. It has since emerged that Italian industry – including Fincantieri, Finmeccanica and the ENI energy enterprise – funded 90 per cent of the cost (up to €200,000 a day).
---
China has been invited to take over co-ordination of the 40-country anti-piracy effort under way in the Gulf of Aden. Until now, China has had a low-key, independent presence in the region. This will reduce its regional "freelancing" and tie it neatly into the multinational effort.