April's attractions / Global
Inventory No. 32
A sleek wooden locomotive toy and a smart Danish bike helmet are among the picks for this month's shopping guide, but we start with a look at a stunning boutique hotel in the Netherlands.
We've found the perfect Maastricht retreat in this intimate nine-bedroom hotel. Run by Martijn Zenden and his family – his brother is celebrated footballer "Bolo" – they turned to fellow Dutchman Wiel Arets to renovate the hotel, which formerly housed a public swimming pool and health club. Service is flexible – the obliging hoteliers will accommodate guests' check-out and meal times. After a soft opening in August last year, they finished its last five bedrooms and extra studio apartments a block away from the hotel last month. Rooms are kitted out with Wiel Arets chairs and tables, Alessi bathrooms and bespoke beds by Auping to match the Bouroullec Brothers' Slow chairs; the rest of the furniture is from Vitra. The Zendens and Arets have developed an "invisible" television, which masquerades as a mirror, and instead of the typical soulless hotel gym, the swimming pool is in an atmospheric converted medieval vault.
zenden.nl
Best room: The "Wow" room is what other hotels might call a presidential suite. Its patio offers idyllic views of the river Maas and guests are keen on its white Corian bathtub, which is, unusually, in the middle of the bedroom.
---
1.
Toy train
When the Milwaukee Express arrived on our desk, we put aside work, pulled on our conductor's cap and let out a throaty "all aboard!". Made by Swedish firm Our Children's Gorilla, the wooden train set is crafted by hand. The wood comes from recycled railroad sleepers (pine for the wheels, oak for the carriages and birch for the locomotive).
ourchildrensgorilla.com
---
2.
Lamp
Designed by Danish duo Kasper Rønn and Jonas Bjerre-Poulsen of Norm architects, this new Milk lamp is a modern twist on the traditional Scandinavian milking stool. Manufactured by Copenhagen's &Tradition it's sure to brighten your day.
andtradition.com
---
3.
Soaps
The paper used to wrap these new soaps from Compagnie de Provence is a treat for packaging fans. Complete with origami instructions to get you folding, the colourful Pantone-esque range of eight new fragrances includes rose, fig and cherry.
compagniedeprovence.com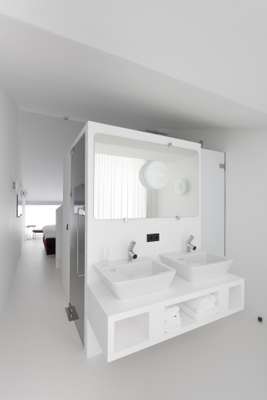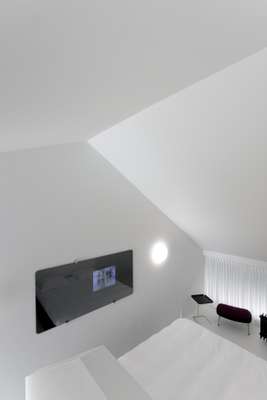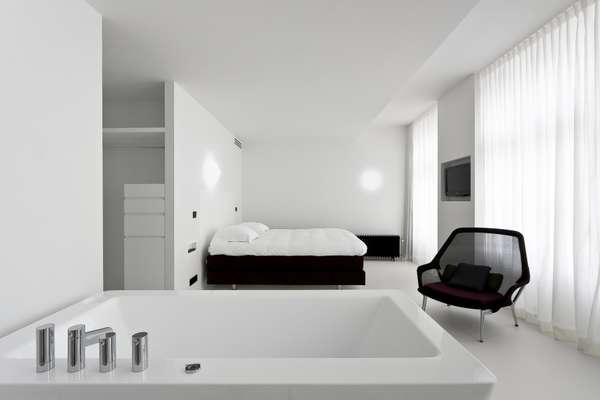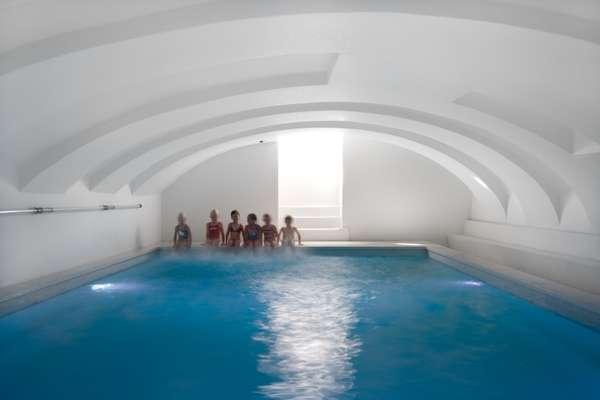 ---
4.
Coat hanger table/hook
Köln-based designer Eric Degenhardt has come up with the perfect storage solution. The bent wire "Saucer" coat hook doubles as a handy shelf for keys, mobiles and loose change. Manufactured by German Schönbuch, it is also available in white and coral.
eric-degenhardt.com
---
5.
Uka nail oils
Uka beauty salon founder Kiho Watanabe has nailed it with her new range of oils to keep cuticles and fingertips in check. All balms are organic and made from Moroccan Argan oil and the roll-on applicators can be used on lips or as a perfume.
uka.co.jp
---
6.
Haircare products
Shampoos that don't lather? Without foaming agents or any other chemicals, Kiwi Lucy Marr's haircare range is one of the few brands living up to its claim to be completely natural. Lemon verbena and baobab extracts will make locks look luscious.
sansceuticals.com
---
7.
Carafe and cups
A trademark of the Design Incubation Centre at the National University of Singapore, d.lab proves beautiful design can also be a science. This set of carafe and cups is the result of in-house experimentation with a "selective laser sintering [SLS] process", producing a delicate but strong 1mm-thick polyamide vestibule.
designincubationcentre.com/index/dlab 8: Bottle stoppersLegnomagia has been creating quality homeware with a witty arts and crafts twist since 1978. Designed and made in Italy, these colourful avian-themed "tappi da bottiglia" are crafted from maple wood and hand-finished with bees wax and non-toxic pigments.
legnomagia.it
---
8.
Sfera cutlery
We've had our eye on Kyoto's Sfera for a while. The firm has fingers (or forks?) in many pies – from sweets to furniture and collaborations with Sweden's Claesson Koivisto Rune – andits latest cutlery range is another hit. Made from Japanese boxwood – traditionally used to make decorative combs – the creamy colour and silky texture make these utensils almost too good to eat with.
ricordi-sfera.com
---
9.
Candle holders
With degrees in product design and typography, designers Lina Meier and Sara Keranen-Gramner decided to combine what they do best in creating these "Mysigare". Available in an array of colours, they are inspired by Dadaism and woodcut fonts from the same period. These playful birch plywood letters can be used with tea-lights and regular candles to set the scene for a "font-astic" dinner party.
studioyra.com
---
10.
About Blank notebooks
The perfect antidote to even the most congested writer's block, these notebooks are a minimalist masterstroke from Korean designer Seungho Lee. With no logo or design details, they're a blank slate for you to decide which is front, back, top or bottom, and the Japanese opaque acid-free paper with subtle white guide-lines is also very easy on the eye.
itsaboutblank.com
---
11.
Bowl
Florence-based leather maker Paolo Carandini works solo from his Via de'Macci workshop – an area still buzzing with craftsmen. His signature open-top containers, such as this fish-patterned tray, are fashioned from Tuscan leathers and the more unusual and expensive goatskin parchment.
paolocarandini.com
---
12.
Yakkay bike helmets
Danish brand Yakkay's bicycle helmets get a sartorial thumbs up with headwear ranges such as "Tokyo" and "Paris" resembling flatcaps and bonnet shapes rather than dowdy cycling headgear. Their replaceable covers, in different colours and patterns, mean that cyclists can pick one to match their look. Rounded ear straps and steel buckles guarantee perfect head adjustment and adhesive foam circles help air to circulate and cool you down while on the road.
yakkay.com; bobbinbicycles.co.uk
---
13.
Leather dog items
R Horn's, a Viennese purveyor of leather goods, has added a line of handcrafted accessories to serve man's best friend. Made from Italian calfskin, the set includes a stylish double-seamed leash and collar plus a medicine kit for when your pooch travels long-haul. For walks through the Wiener Prater, there's a case with collapsible water bowl and separate pouch, which holds disposable bags for when nature calls. They conveniently clip on to the leash.
rhorns.com