My last meal / Suffolk
Margaret Howell
For her last meal, British fashion designer Margaret Howell would choose a venue and menu as simple and quintessentially English as her eponymous clothing brand – a picnic on a windswept beach near her weekend home on the English coast.
"I came here to Suffolk for a holiday when my children Miriam and Edward were young and we stayed in a pretty little cottage for a week. All the time I was daydreaming about having a cottage here, a traditional old cosy one. The house I bought was designed in the 1960s by Rudy Mock – it came up for sale later, at a time when I was becoming interested in mid-century design. I bought it as a second home, when Miriam and Edward were off my hands about eight years ago, from a schools inspector from Croydon. She had good taste in furniture but it had bright blue ceilings and geriatric handles everywhere. My son Edward said 'you should hang on to those Mum'.
Having a picnic up here on the coast is much more meaningful to me for my last meal than a restaurant or something. I always come here for a decent walk and a picnic. I'm good at making tasty picnics from the leftovers of the previous night's supper. I'm not really one for a sandwich. I take lunch to work in London as well, I'd hate to buy food every day that someone else has made. I'm not one of those people who won't cook just because it's for one, living alone. I cook a proper meal and enjoy having a glass of wine with it. For this picnic, I'd poach the locally caught kipper in water with a bay leaf for about five minutes. They've a very strong taste, kippers. That's why they're nice with just lemon and bread and butter. I like the simplicity of it.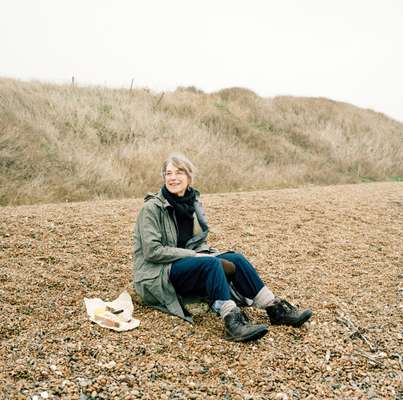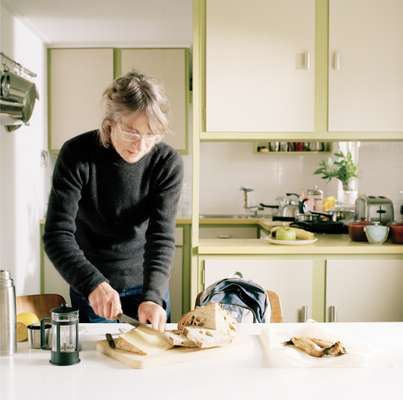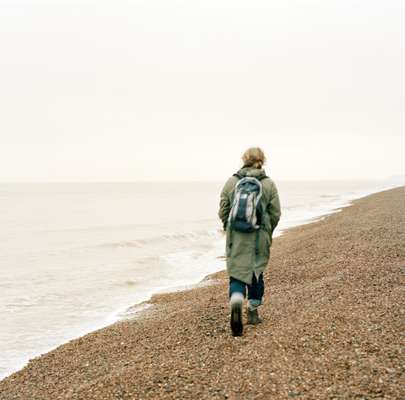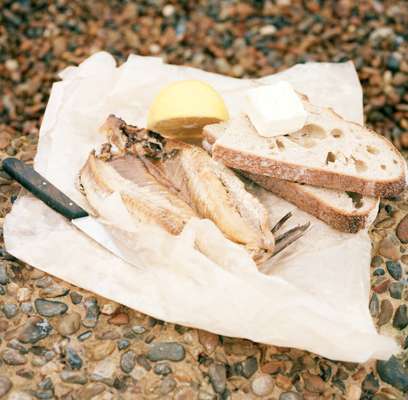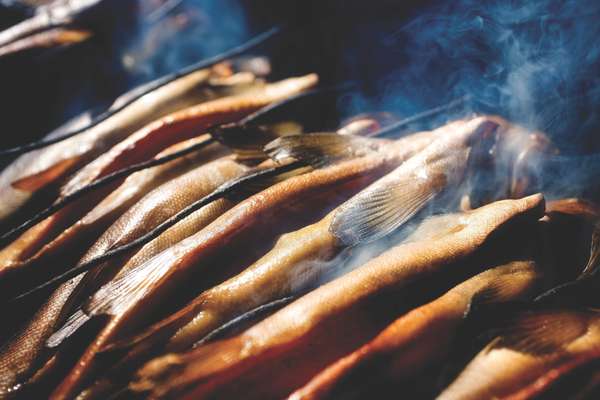 We do most of our business in Japan. I've always presumed it's because of the quality of the clothes and the Englishness. The team of people there come over twice a year and our design team go there twice a year. It's through going to Japan so often that I've learnt to appreciate the simplicity of food. They'll serve just one vegetable ­incredibly well and they still respect seasonal and fresh food.
I have a small-ish house in London, and a small-ish house here. I come up here from London when I have gaps really. I think that when one is away from one's normal workspace you empty your head of all the everyday things you're doing and you get ideas. I do see myself as a country person ultimately.
I was brought up in Surrey and moved to London when I was 19 to study fine art at Goldsmiths. I thought I'd never like London then. I lived with an eccentric old painter-landlord who liked having art students around. When my husband and I split up towards the end of the 1980s I moved to Lewisham [an area in south London]. I have more friends up here than I do in London now, for parties and things. We have nice get-togethers. At the moment I don't feel ready to leave London completely. I don't type and I can't do emails at work. If I was computer literate, I'd be more likely to be based here.
I find walks quite cleansing – I walk every day, even in London from Charing Cross station to the office at the Wigmore Street shop. On my walks up here, you see all the tankers coming in from China going to Felixstowe, they're all sorts of shapes and sizes on the horizon. At night the sea is alight, there's another world out there waiting to go into dock.
I like to have a swim up here before breakfast. I did last year right up until the end of October, though I do get numb fingers. It's very wild, there are tremendous waves but there's something so nice about battling against it and then finding a nice spot to take shelter for a picnic. When you're really hungry, when you've been walking or swimming, that's when you appreciate the simple things."
Born in 1946, Margaret Howell set up her label as a studio producing men's simple shirts in the 1970s. Four decades later, stores across the world stock her high quality, lived-in-look men's and women's collections. Howell has made a name for herself in the product design world too, having collaborated with Ercol and Anglepoise. Margaret Howell the brand currently has over 60 retail outlets in Japan, and six shops in Europe.
An hour-and-a-half's train journey from London's Liverpool Street station, Howell's home is in a village outside Woodbridge, overlooking a busy shipping lane on the Suffolk coast.
A poached kipper, caught in nearby Lowestoft and smoked locally, with brown bread and butter, cheese, a pear and fresh cafétiere coffee brewed in situ.
Perfect catch
Kipper smoker
Pinney's of Orford is one of Suffolk's leading fish smokehouses and supplier of local kippers. The firm was set up in 1959 when Londoner Richard Pinney moved to Butley Creek and began to restore the 19th-century oyster beds. At the same time, in a smokehouse on the creek, Pinney started smoking trout and salmon. Fifty-one years on, Pinney's uses the same smokehouse for its kippers, mackerel, sprats and salmon. "They're constantly smoking fish there," says Pinney's Scott Carter back in the Orford shop.
The smoking process begins with the fish being salted or brined, then they are hung up over oak logs on a low smouldering heat. Small fish will be in there for roughly 12 hours; whole fish such as salmon can take two days.
The company also benefits from the original oyster business. "They pull out 20 dozen every day, all year round. Native oysters are seasonal because as you pull them out they take their eggs and reproductive organs with them. Pacific oysters like ours just spit them back out in the water," says Carter.
While the fishing industry is suffering elsewhere in Britain, business here is strong. According to Carter, "The reason it's so successful is that local people are doing it who have the knowledge. Bill for instance: his father started it and he's now the owner. He still goes out fishing every day on his boat Jolene."