Hat maker / Global
Turning heads
Mühlbauer in Vienna creates headwear in the age-old way. The business was saved from the brink of collapse by the brother and sister owners and their designs are now sold internationally.
Tucked away on the first floor of a non-descript residential building in central Vienna's Schwedenplatz is an atelier housing an old-school hatter and milliner. "We are crazy to make hats like this again but the results are totally different by hand. Most industrially made hats are put straight into a press, which destroys the materials," says 41-year-old co-owner Klaus Mühlbauer.
Klaus runs Mühlbauer, a family firm that was founded by his great grandmother, Julianna, in 1903. Today its styles, including two-tone Panama hats and hunting-inspired hackensacks, along with its craftsmanship and imaginative designs, have made it a global success.
Aside from making hats for fashion designers such as Anne Valérie Hash, Temperley London and Wunderkind, actors and actresses such as Brad Pitt and Meryl Streep are also big fans, while film and television stylists flock to Mühlbauer to pick out choice pieces.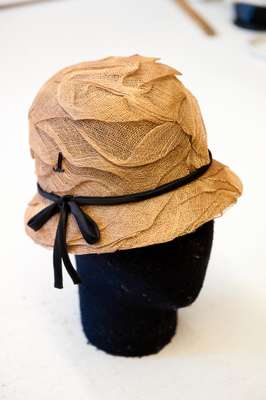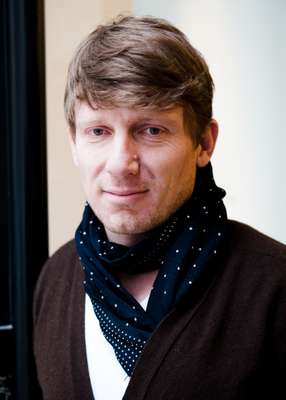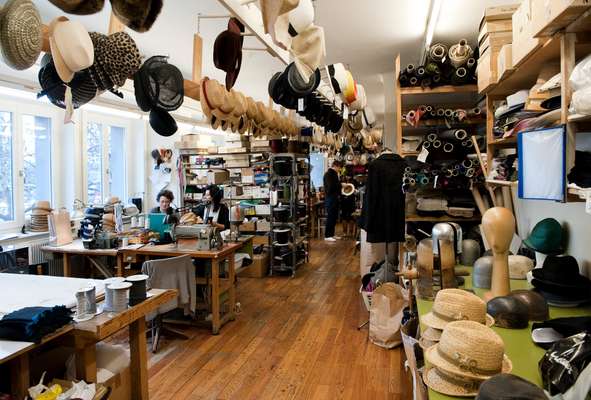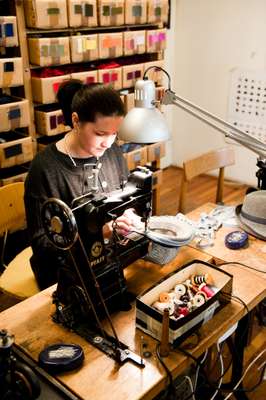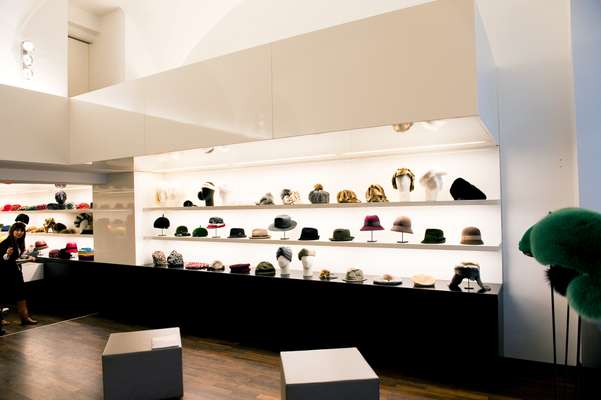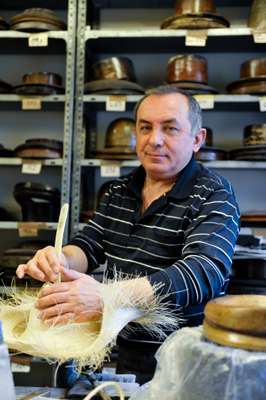 Klaus and his sister Marlies design over 70 hats for each collection. The hats are handmade in exactly the same way as they were 100 years ago by his personally trained staff of 12, many of whom have been with the company for over a decade. The team uses only the best materials, including felt made from the finest rabbit fur. For this year's spring/summer collection, Klaus bought the last stock in the world of a rare Italian straw (paglia). "We sold the hats much too cheap," he reflects.
Mühlbauer's emphasis on manual production means that each hat can take up to 15 hours to make. Pre-cut materials from the stock room are first tied and hammered onto one of the hundreds of larch moulds that line the atelier shelves next to where hatter Grujica Petrovich sits. This process is called blocking and creates the shape of the hat.
Petrovich, who has plied his trade for over 38 years, places the moulds into an oven before cleaning or "finishing" the hats' surfaces with a brush. Then he takes them to the milliners down the corridor where ribbons, linings and intricate detailing are sewn on by hand.
"Originally hat making and millinery were two different professions. The hatter would block and finish the surface and the milliner would just finish the hat with decorations in the more creative part of the process. Hardly anyone makes hats like this anymore," explains Klaus.
However, things were not always so rosy at the firm and its current success is thanks to fourth-generation owner Klaus's vision. He saved the company from financial ruin when he took over in 2001 and thrust it into the international spotlight. "Business broke down. At the end of the 1960s young people didn't want to wear hats. Followed by the popularity of the perm in the 1980s, it was a difficult time for hat makers, who all started to disappear. My parents' challenge was to find different ways for the six shops they had in Vienna to survive. So they started retailing ladies' clothes in their shops with only a little corner in each selling hats. That was doing well until H&M came here," says Klaus.
Once in charge, Klaus closed down four of the clothing stores and brought the focus back to what the Mühlbauers excel at – making exquisite hats. He launched the firm's first seasonal collection in autumn/winter 2002 and took it to Paris, Milan, New York and Tokyo where it piqued buyers' interests. Within three years, Mühlbauer was stocked in the best shops, boutiques and department stores in 18 countries, including Le Bon Marché in Paris and Tokyo's Isetan.
To meet growing demand, the firm is looking at restructuring production, while preserving quality and craft. They are considering opening more shops in Europe, the US and Asia and an online store is set to launch in June. Klaus reflects on why Mühlbauer has struck a chord with customers. "The special thing about us is our tradition and story that sits within a strong contemporary fashion context," he says.
01.
Borsalino
Milan
For the gold standard in Italian hat-making turn to Borsalino where there are classic designs aplenty and craftsmanship is guaranteed. Galleria Vittorio Emanuele II, 92, Milan
borsalino.com
---
02.
Cappeleria Viarani Elvira
Torino
The Piemonte region's oldest established hat shop and manufacturer sells brands such as Lock, Stetson and Marzi. 27, c. Vittorio Emanuele, Torino
viarani-cappelli-torino.com
---
03.
La Cerise sur le Chapeau
Paris
Have a hat handmade by master milliner Cherry Bentz in this 6th arrondissement workshop where each piece is made on aluminium moulds using a technique called "à la pédale". You can choose the colour of felts for winter or straw for summer and also the ribbon bands. 11, rue Cassette, Paris
lacerisesurlechapeau.com/fr/
---
04.
CA4LA
Tokyo and London
Pronounced Ka-shi-la, this Tokyo-based hat brand employs over a dozen designers who create everything from berets to baseball caps. CA4LA has 18 shops in Japan and one in London. 23 Pitfield Street, London, N1; Harajuku Komiya Bldg 1F/2F, 6-29-4, Jingu-mae, Shibuya-ku, Tokyo
ca4la.com
---
05.
Sombrerería Mil
Barcelona
Hours can be whiled away trying on hats in this Barcelona shop selling year-round headwear. There's a choice selection of Panamas, cosy fur-felt trilbys from brands such as Goorin Brothers and Betmar New York. Fontanella, 20, Barcelona
sombrereriamil.com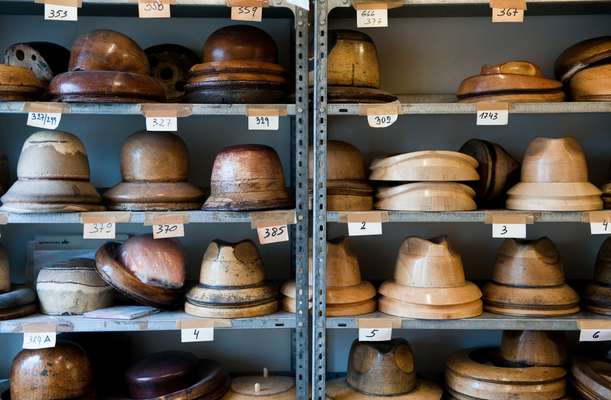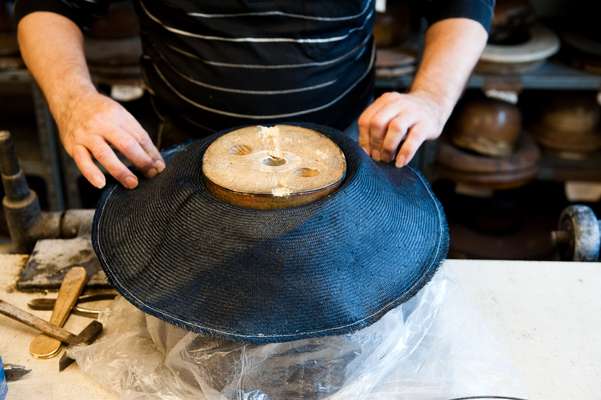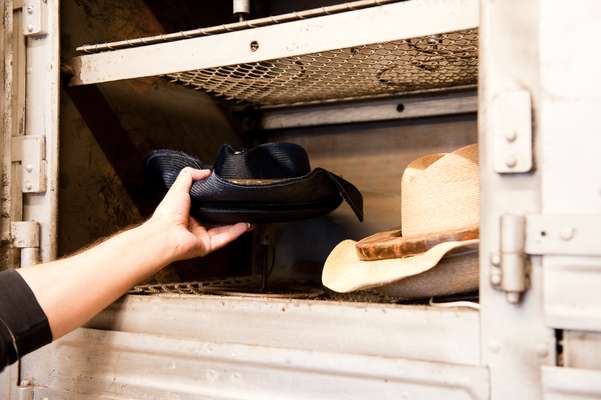 01.
Hat moulds
Hundreds of wooden hat moulds line the shelves of the Schwedenplatz atelier. One mould can be used for three different hat sizes.
02.
Blocking
Fur felt or straw cones are placed on wooden moulds and fixed with cords and nails. Felt is steamed and stretched before it is blocked by a hatter.
03.
Into the oven
Once the hat has been blocked it is placed in an oven on the mould for up to three hours at a temperature of about 70C to 80C to firm its shape.
04.
The decoration
Ribbons, linings and other decorative details are attached by hand by the milliners. This process is called trimming.