Tableware / South Korea
Bowled over
In a part of South Korea that is so remote it doesn't even make it on to the map, 84-year-old Lee Bong-ju has been busy reviving the tradition of making beautiful, unique Korean bronzeware.
Lee Bong-ju makes elegant cutlery and bronze dishes and bowls, likes to drive his silver Hyundai saloon quite fast and, at age 84, is South Korea's "Intangible Cultural Asset No. 77". His workshop and showroom is in the pristine rice and grape-growing region of Mungyeong, in the middle of the peninsula, overlooked by rugged mountains. You won't find Mungyeong on an average map; Lee chose the location for the purity of the air and the absence of neighbours who might complain about noise.
Lee's spoons are in the Korean style, long-handled and broad-bowled, because Koreans don't lift rice or soup bowls to their mouths, unlike the Chinese and Japanese. Both the utensils and his dishes are finished in a luxurious white-gold hue, quite unlike the typical bronze utensils made in other parts of Asia. They are designed by his wife, Sa Jun-ja, as are most of the products. Their prices reflect the care in their making and the costs of ­materials: they are 78 per cent copper and 22 per cent tin. A Korean TV documentary in 2002 claimed that this alloy helps to preserve food.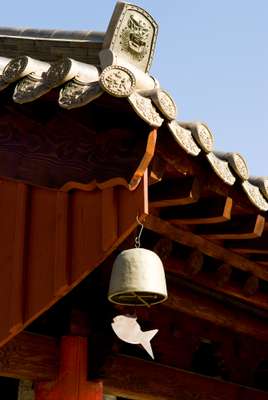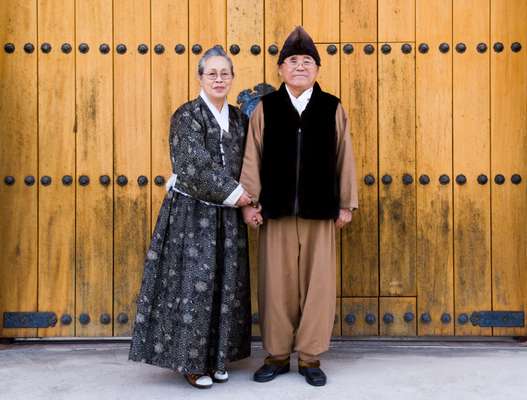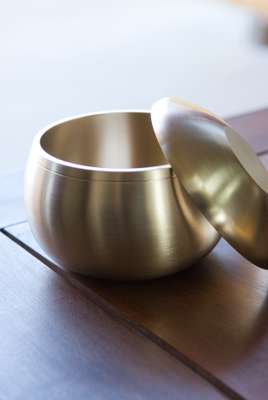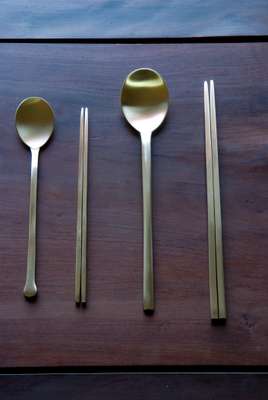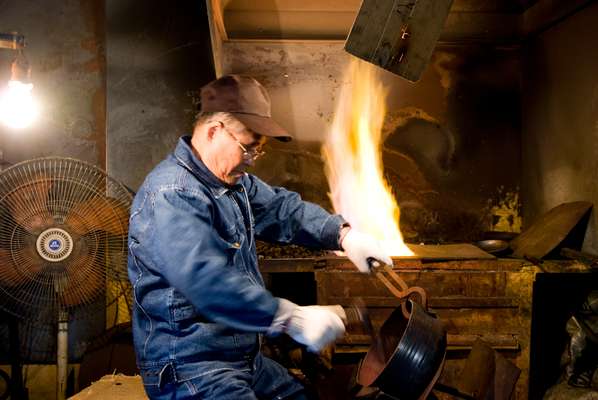 Lee does not come from an artisan family. "In my North Korean town there were 22 bronze workshops, which were mostly making musical instruments," he says. "But my family were poor farmers. With the start of the Korean War, I moved to the South and with the help of my mentor began making bronzeware." He has no fond memories of those times.
"I was constantly kicked out of premises, at least eight times, partly because of the noise of my trade but also because I was from the North, and South Koreans don't like northerners."
Lee's business began taking off in the 1980s with the rise of South Korean living standards and a revived appreciation for traditionally crafted utensils. As business grew (he employs about 20 staff) he introduced machinery, though many products are made in the traditional way. The alloy, which is melted in a pit, is then poured into small dishes. Once hardened into black discs these are then pounded into shape. To detect any flaws, this process is conducted under the light of a single bulb. The final items are buffed to a sheen.
Bronze tableware's popularity in Korea is relatively recent; until the late 20th century the alloy was chiefly used for musical instruments or wedding dowries of water vessels and chamber pots. Lee proudly explains that he single-handedly revived the tradition of quality bronzeware, developing ergonomic utensils that are bought by restaurants and hotels, and even served the first President Bush and Britain's Queen Elizabeth on their respective Korean state visits. In 1983, he was accorded the status of "Intangible Cultural Asset". Coincidentally, the day we meet is the regular monthly gathering of Intangible Cultural Assets in Mungyeong village. The artists come to see Lee. "They're all in their seventies and eighties," he says, "but I'm the oldest." The other Cultural Assets include a wood carver, musical instrument maker, temple bell caster and silver worker.
Lee leads the way to lunch in his sleek car. We arrive at a mud-walled restaurant serving delicious home-style cooking. So many dishes fill the table I don't know where to start. But there are no rules, except for one: "Don't lift your bowl," says Lee.
These cutlery designers have stood the test of time thanks to their focus on classic form and function.
01.
Gense (Sweden)
Founded in 1856 by Gustav Eriksson, Gense produces its silverware in Eskilstuna. The Pantry collection, designed by Henning Seidelin in 1968, is popular in Denmark. Its Focus de Luxe stainless-steel cutlery relaunched in 2006.
gense.se
02.
Tsubame Shinko (Japan)
Tsubame Shinko is over 60 years old. One of its latest collaborations is with Osaka-based design studio Graf to produce Sunao, a collection of curved silver cutlery.
tsubame-shinko.co.jp
03.
Pott (Germany)
Pott, which is 106 years old, started producing cutlery in 1932. Inspired by Bauhaus and Werkbund, mid-century designs still define Pott's outlook today. Produced in Mettmann, Pott cutlery appears in museums worldwide.
pott-bestecke.de
04.
David Mellor (UK)
Britain's best-known cutlery brand. Born to a Sheffield toolmaker, Mellor, who died in 2009, found his aesthetic after visiting Sweden and Denmark in 1952.
davidmellordesign.com
05.
Cutipol (Portugal)
Family business Cutipol dates back to 1919 and produces its cutlery at a factory on Caldas das Taipas-Guimarães. All collections are designed by third generation José Joaquim Ribeiro.
cutipol.pt
06.
Georg Jensen (Denmark)
A 1957 collaboration with Arne Jacobsen for the SAS Royal Hotel in Denmark is one of the most innovative cutlery designs, and was featured in films such as 2001: A Space Odyssey, and I, Robot.
georgjensen.com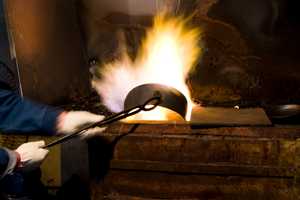 01.
Raw materials
Lee's bowls are made of 78 per cent copper and 22 per cent tin. The workshop consumed seven and a half tons of tin ingots last year.
02.
Shaping
In semi-darkness, the utensils are fired to a glow to reveal any flaws. Some of the metalworking tools weigh 20kg.
03.
Shining
The bowls are buffed by hand in the final stages of production to give a luxurious, white-gold sheen.
04.
Decoration
Some of the dishes are engraved with intricate patterns, drawn on by hand, such as Korean symbols. The word for Korean bronzeware is bangjja.