Sankara / Yakushima
Forest wisdom
Sankara Hotel & Spa is a new eco-friendly island hideaway surrounded by ancient forests and mountains off the coast of Kyushu. It offers detached villas and a cultural blend of Balinese design and impeccable Japanese hospitality.
Standing on a mountainside vegetable patch, chef Chiharu Takei – wearing his kitchen whites beneath an anorak and wellies – pulls a clump of carrots from the soil and says: "Dinner!" Several hours later, in the hotel restaurant, the vegetables reappear sliced on square black-slate plates served alongside red Kagoshima beef. Forget supermarket shopping. Local produce grown in the surrounding countryside is what you'll find at the new Sankara Hotel & Spa on southern Japan's Yakushima island. Home to the world's oldest cedar forests, the mountainous island is a draw for nature lovers but until now has lacked a five-star establishment.
The man behind Sankara is Jiro Sato, former industrial designer and founder of hotel management company Five Works, whose previous projects include Arcana on the Izu Peninsula. Sipping a glass of Sankara-branded Yakushima spring water in the glass-walled library, Sato says, "Yakushima is one of the few places in the world that has mountains, rainforests and ocean. But this hotel is not just about creating beauty. It is about protecting the environment and supporting the community." A rainforest road lined with mango farms (and home to the odd monkey) leads to the entrance – a curved wooden wall that slides open to reveal villas linked by lantern-lit paths facing the Pacific Ocean.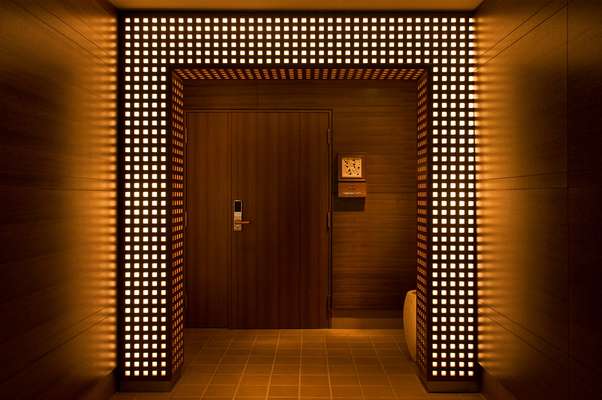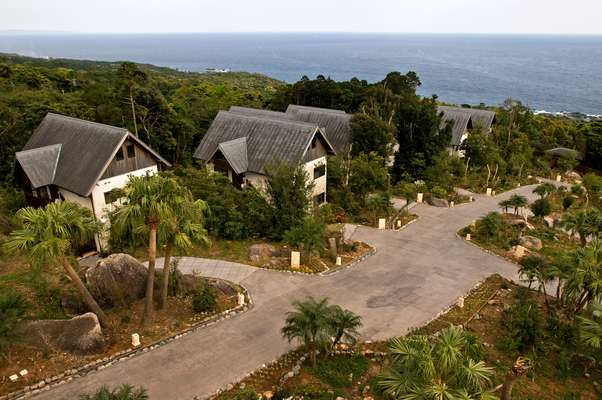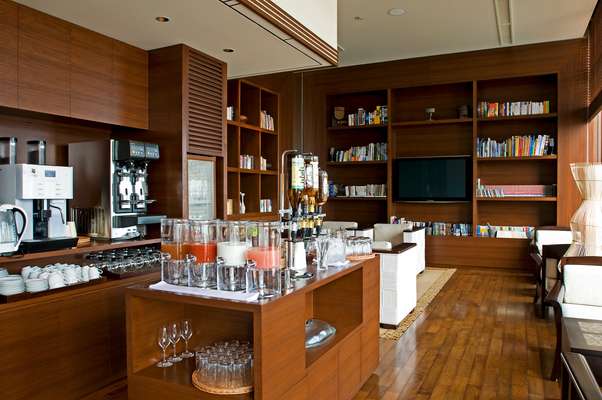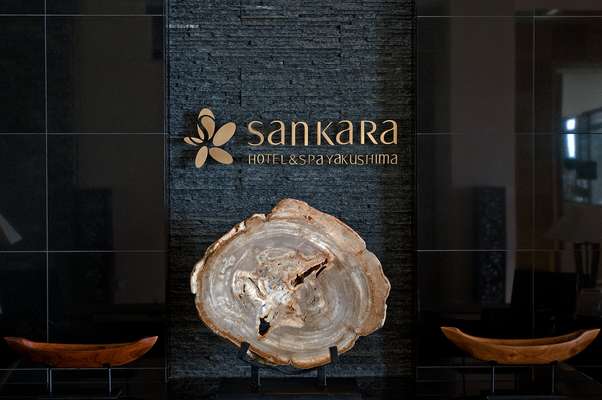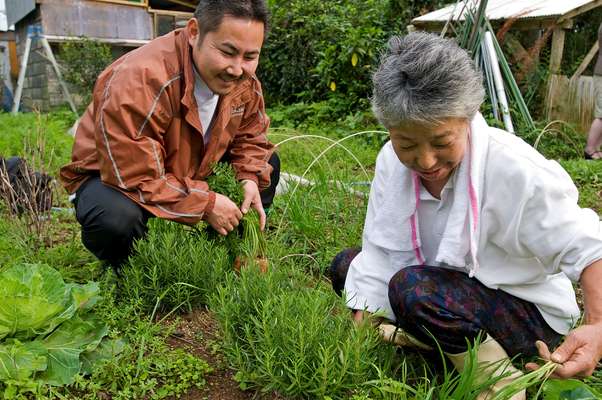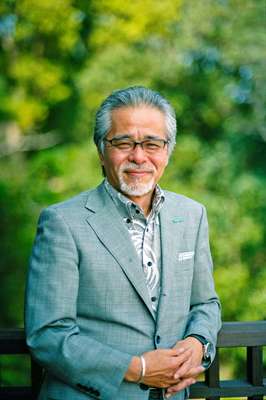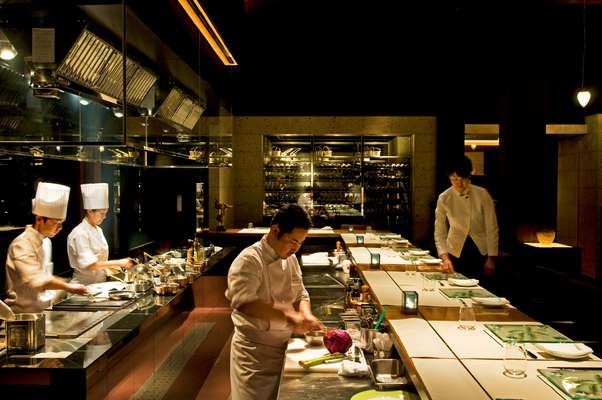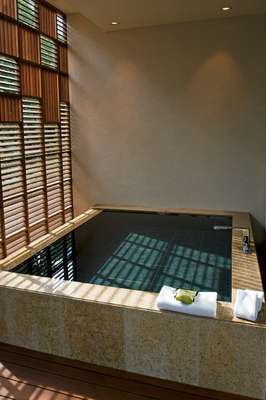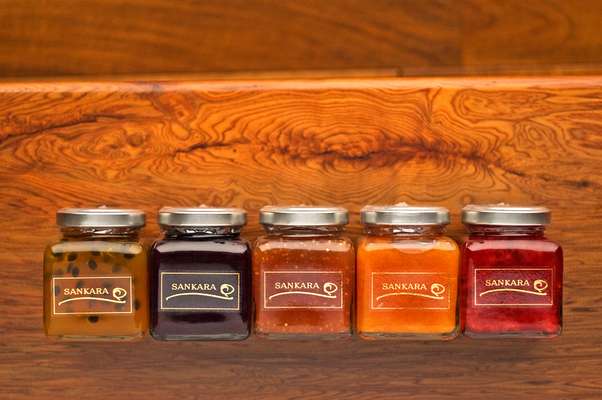 An Indonesian theme prevails in the 29 rooms: beneath wooden fans, there are day beds, teak stools and rattan lamps designed by Sato and custom-built by Balinese craftsmen. But hints of Japan can be found – such as sliding wooden screens and white aritayaki ceramic teacups from Kyoto's Oku café. On the hilltop, a double-height entrance leads to a decked infinity pool with ocean views. Japan's first Bangkok-based Asian Herb Association spa also offers Thai treatments using herbs (such as lemongrass and citronella, wrapped in cotton balls, which are steamed and used for massage), and organic oils.
Service is key. The front-desk has been binned in favour of butlers who play the role of a ­traditional ryokan "okami" manager and are assigned to each guest. Executive chef Takei, whose extensive experience ranges from Joël Robuchon in Paris to Mikuni in Marunouchi, will even tailor dishes to suit guest's tastes and moods. The airy, casual ground-floor Ayana restaurant serves French cuisine, while the first-floor Okas offers more formal dining with low lighting and dramatic black "pod" seating looking out to sea.
Takei collaborates with eight local farmers, has designed a range of Sankara jams and is planning his own organic farm at the hotel to join his completed herb garden. An eco theme at Sankara – Sanskrit for "bounty from heaven" – ­prevails. A car-sharing service enables guests to rent one of five white Prius ­hybrids by the hour, while the property is entirely powered by hydraulic energy provided by island authorities in the region. Guests are also given biodegradable toothbrushes with boar bristles and natural bamboo toothpaste as well as ­decomposable rubbish bags. And they are asked to donate ¥500 (€4) to an ­environmental fund.
Meanwhile, all 59 staff are registered as tax-paying island residents – contributing to planned projects including rubbish collecting and forest path building. And the concept of Sankara, owned by Osakan company Hirakawa Shoji, is not confined to Yakushima: there are plans to open three more hotels in Japan, one in Southeast Asia and one in New York. "But Yakushima is home for now," says Sato.
01 A butler for each guest.
02 The same impeccable level of personalised service as a ryokan inn.
03 Eco car-sharing with hybrid Prius cars.
04 The chef tailors food to each guest – from portion sizes to ingredients.
05 Staff registered as residents and local taxpayers.
From tangled roots to cloud-brushing canopies, the ancient "yakisugi" cedars of Yakushima are among the most revered trees in the world – around a fifth of the island is a World Heritage Site. One must-see is Jomon Sugi, which is believed to be one of the world's oldest trees, dating back thousands of years. Getting there involves a hike and a 10-hour round trip. The island is also dubbed the "Alps of the Ocean" due to its lofty mountain peaks, while the lush green landscape is the result of its rainy climate.