Dexter / Moscow
Hail the sky taxi
There's now a more reliable and affordable way to get between Russia's far-flung regional capitals – a zippy Swiss Air taxi.
Eduard Yevtyukhin hops out of his taxi and strolls across the tarmac. He works for Dexter, a company that runs a taxi service across European Russia with a fixed per-km rate and easy online ordering. But there's one big difference between Dexter and other Russian taxi companies: Yevtyukhin is a qualified pilot and his taxi, which travels at 9,000m above the ground, is a bright orange Pilatus PC-12, one of eight of the Swiss-made turboprops in Dexter's fleet.
The company describes itself as Russia's first air taxi service and the principles are just the same as for terrestrial taxis, says Dexter's founder and head, Eugene Andrachnikov, at the company's small offices in a Moscow suburb. They charge a flat rate of RUB160 (just under €4) per km flown and a plane can usually be ready within three hours of an order being placed. It's a business model that seems perfectly suited to Russia, given the large numbers of businessmen who can't afford to charter private jets but who want to avoid the nightmare of scheduled Russian air transport.
There is no other country like Russia when it comes to the vast distances involved and the poor transport infrastructure. Some airports are simply not served by scheduled services. Between many cities, ground transport is not an option and point-to-point air travel within the regions is almost unheard of – most flights connect via Moscow.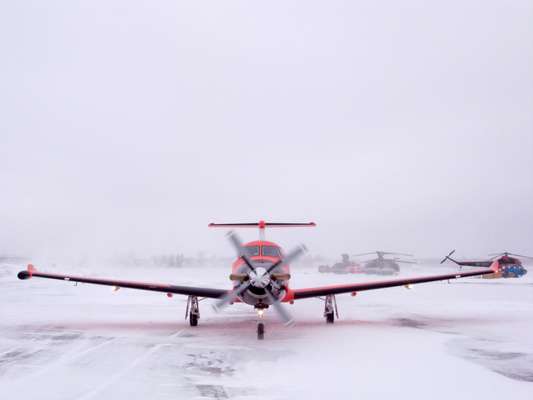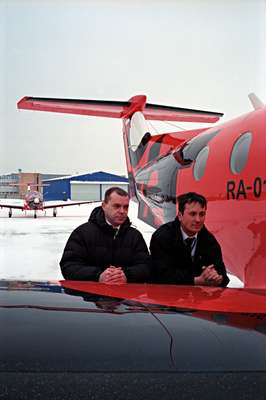 "Ninety per cent of air traffic in Russia goes through Moscow," says the 41-year-old Andrachnikov, who lived for 10 years in the US. "For point-to-point travel within the regions or multi-stop trips originating in Moscow, we're the only sensible choice." Anyone who has ever tried to make their way around Russia's regional capitals will appreciate this point; connections – where they exist – are exorbitantly expensive and frequently unreliable. Fares for a two-hour business class ticket in rickety planes with poor service can exceed €1,000.
"Business aviation is only an option for the privileged few; what we wanted to do was create a low-cost model that would be affordable for a significantly broader group of users," says Andrachnikov.
Despite the scantily clad woman who greets visitors on Dexter's website, there are no glamorous stewardesses aboard the planes – indeed, there is almost nothing in the way of inflight service, and barely room to stand up once on board. The company's focus is overwhelmingly on functionality not luxury. Take the Moscow hub for Dexter's planes – Bykovo Airport. The terminal is falling to pieces, and the airport is a tiresome drive of up to two hours from Moscow. A typical Soviet 1970s concrete box construction, it used to service over a million passengers a year but today it handles no scheduled flights.
For a fledgling airline the main upside of using Bykovo lies in cost and timing considerations. If meetings overrun or plans change and clients need to postpone their trips by a few hours, at Bykovo there is no need for a long wait for a new takeoff slot; the plane can be off the ground within 10 minutes of passengers arriving.
"They are very easy to control and the navigation equipment is excellent," says the 37-year-old pilot Yevtyukhin of the Pilatus PC-12, shortly after touching down one of the planes at Bykovo on a snowy February morning. Before working for Dexter, he spent 10 years piloting Antonov passenger planes for a Russian regional airline but after a training course he now feels happy behind the controls of the Pilatus. "I've landed them on gravel runways; I've landed in Novy Urengoi [in northern Russia] in minus 43C, and I've had absolutely no problems."
It hasn't been all smooth flying. An initial order of 25 planes was delayed – the firm currently has eight. While it clocked 2,000 flying hours in 2008 with four planes, last year with double the number of planes the flying hours increased only slightly. Although the concept seems to make a lot of financial sense, the growth of the firm has been disappointing. But Dexter still hopes that within five years it will be operating 50 planes and will have craft on standby at most major airports.
"If firms consider the real cost of their logistics – plane tickets for inconvenient routes, extra overnights, opportunity costs of the lost time – we think we'll often be cheaper than travelling by scheduled flight," says Andrachnikov. "Unfortunately, Russians aren't trained to make calculations in this way. It's a learning curve, and we need to teach people to start thinking more broadly."
Range of Pilatus PC-12: 2,000km
Top speed: 519km/h
Distance of average order: 800km
Percentage of foreign clients: 5 per cent
Price to hire Dexter plane from Moscow to Nizhny Novgorod: RUB70,560 (€1,750)
Price for one passenger one-way business class Moscow to Nizhny Novgorod on s7 Airlines in March: RUB26,665 (€646)
How to fly commercial in Russia and stay sane
Don't rely on the internet: many smaller airlines don't even have their own website.
Put documents in order: airport officials love to shake down foreigners for bribes.
Fly Aeroflot where possible: we can't quite believe we're endorsing Aeroflot but small airlines are less safe and less reliable.
Bring a sense of humour: if you can't laugh at the bad service, you may go mad.
Be prepared to wait: especially in winter, flights can be delayed for hours – or days.
Leave your manners at home: if you ever want to get to the front of that queue, push.
Take a booze onboard: calming when that 1960s Soviet plane hits turbulence.
Save your baggage tag: or the angry babushka at the other end will never let you out of the airport with your suitcase.
01
Engines
Plane is powered by a single Pratt & Whitney Canada PT6 turboprop engine.
02
Speed
Has a cruise speed of 500km an hour and can carry a payload of 1,500kg.
03
Cabins
Can take nine passengers but many corporate planes carry just six.
04
Distance
Capable of flying up to 4,149km (with just pilot), 2,804km with nine passengers.