Issue 33 / London
Observation
In our drive to extend our remit, Monocle has been constantly remixing itself – much of it prompted by public demand. Our adventures behind the mic are now coming to fruition and we will soon be launching an ambitious global audio project for your listening pleasure, writes Tyler Brûlé.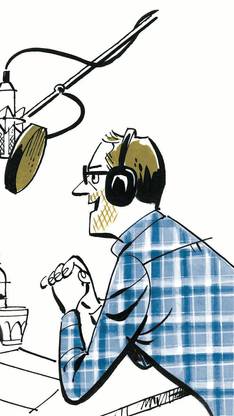 You might have noticed that the microphone has become an increasingly important part of Monocle's editorial arsenal – and no, I'm not just referring to late-night karaoke sessions in Shinjuku Ni-Chome belting out "Superstar".
A little over a year ago we started to think of new ways to expand our reach and promote our print edition. We huddled around our conference table and started firing ideas around. Should we launch an elaborate ad campaign at airports around the world? Mmmmmm… a good idea but rather expensive. What about newspapers instead? Ditto. A focused PR campaign in our key markets? Too predictable. What about an audio programme to promote the current and upcoming issues? Great idea!
Two weeks later myself, editor Andrew Tuck, culture editor Robert Bound, our producer Gillian Dobias and my assistant Alexander Mills crowded into a small studio in London's Fitzrovia, printed out our scripts, uncorked a bottle of wine (or two), settled into the studio, waited for the on-air light to flash green and recorded the pilot for the Monocle Weekly. A few ­musical tweaks with the help of frontman Verbal from m-flo and some lower lighting helped shape the mood and before long we ­secured a sponsor and went on air. In the weeks that followed we not only found we had a new and slightly different following from our print edition (believe it or not, but some listeners didn't even know we were a magazine at our core), we also ­discovered there was a strong appetite for Rob's take on the latest music finds and the jingles that were engineered at a studio in Shibuya.
In the hours before closing this issue we made our way to our studio to record our 52nd edition of the Monocle Weekly and kick off a new season for the programme. To mark the anniversary we not only remixed the sound of the show, reshuffled the line-up and put Alexander in the producer's chair, but also added a sexy intro voice-over from the BBC World Service's Gaenor Howells and also let slip "officially" that audio will become an even bigger part of what we offer under the Monocle banner.
Keen followers of our online activities will be familiar with our "Summer Series" we launched last June and the "Winter Series" that ran over this past Christmas period. These programmes were a direct response to a request for more music as part of the Monocle diet and saw the likes of Titiyo, bird, Quiet Nights Orchestra, Bryan Adams and Emilia de Poret grace our studio floor. In the coming months we'll be back with more live music acts and clever contributors when we launch a new summer initiative that will also involve a special print edition. I'd like to tell you more but you'll have to wait until you're ready to embark on your August holidays to experience the entire package.
On a more ambitious note we're laying the foundation for the launch of an audio project that goes beyond downloads and operates as a "live", round-the-clock audio service anchored out of London – with segments from our bureaux in New York, Tokyo and Hong Kong. As soon as we manage to find that additional real estate (yes, we're still looking) we'll start sharing more information about schedules and a launch date for the service.
By the time you read this we'll most likely be clinking glasses and searching for a good karaoke bar to mark the launch of our seasonal in-store shop at Lane Crawford in Hong Kong. Shortly after we'll be off to Tokyo to prep for the launch of our new store on Aoyama-dori. If you happen to be close to Tokyo around 20 May, then do drop us a note and we'll arrange an invite for you to our party.
In between all of that we'll be working on our June issue featuring our special survey on the transport sector in all its forms. From the most ambitious infrastructure projects to the challenges for electric vehicles to the best bikes for summer, our survey will be a complete overview on how to improve your journey from A to B.
As we work towards the debut of our round-the-clock service you can get a daily jolt from us in the form of our Monocolumn on our home page, watch the films we post weekly and also tune into the Monocle Weekly every Sunday at 12.00 CET. Story tips and feedback are always welcome either on my screen (tb@monocle.com) or my assistant Alexander's (ajm@monocle.com).
For more from our editor-in-chief, read his column in the FT Weekend