Swisslog tube systems / Bremen
Up the tubes
Email looked to have made obsolete the process of transporting data by pneumatic tubes, but logistics firm Swisslog saw a potential growth market: healthcare. Now, every new hospital has a network to carry drugs and samples.
Back in the 19th century, pneumatic tubes were brand-new and all the rage. Department stores, banks, even cities were linked via vacuum-driven post systems. These networks transported documents or money in capsules travelling through tubes of compressed air winding up and down and around all sorts of buildings. But by the late 20th century, such systems had become increasingly rare, made nearly obsolete by modern technology such as email.
However, the past 10 years has seen a renaissance in pneumatic tube technology. This is in part due to the recognition that, while messages and transactions can be done electronically, there's no better way to transport drugs, lab samples and other objects quickly and easily around large, complicated networks such as hospitals.
One industry leader is Swisslog, which makes the Rohrpostsystem ("tube postal system") in a community near Bremen, Germany, for clients in over 60 countries. "The possibilities of pneumatic post systems are endless," says deputy director Sabine Schünemann.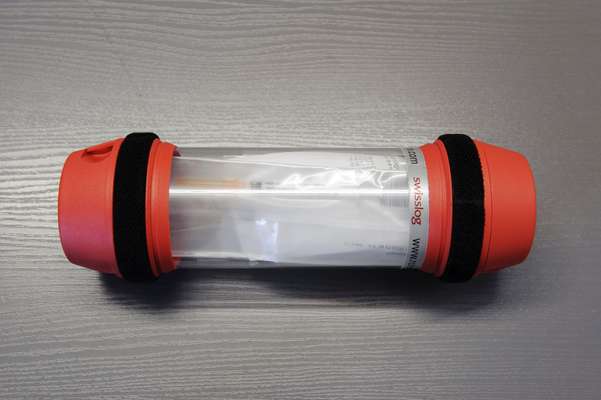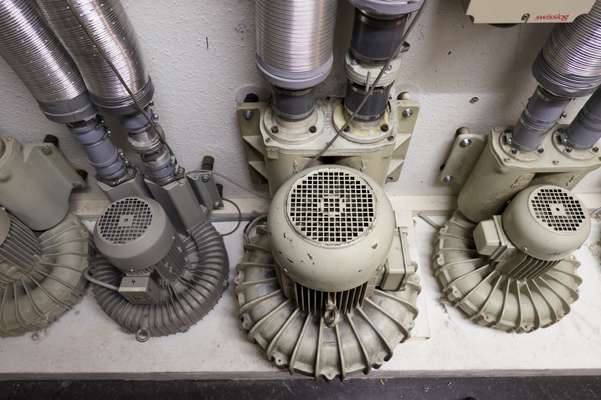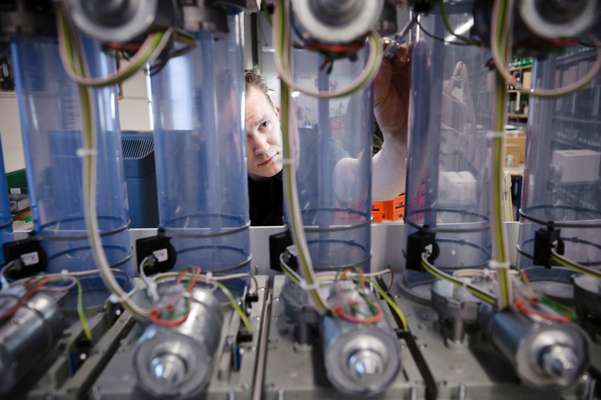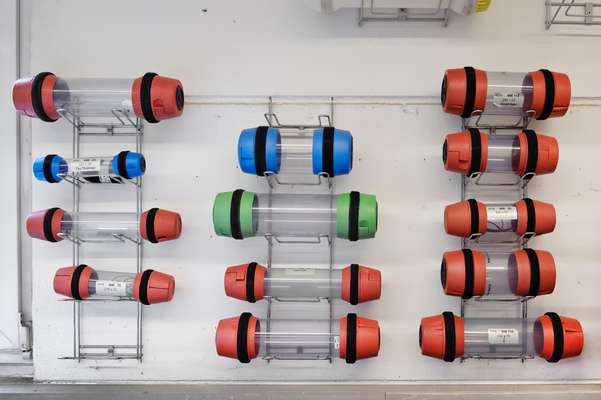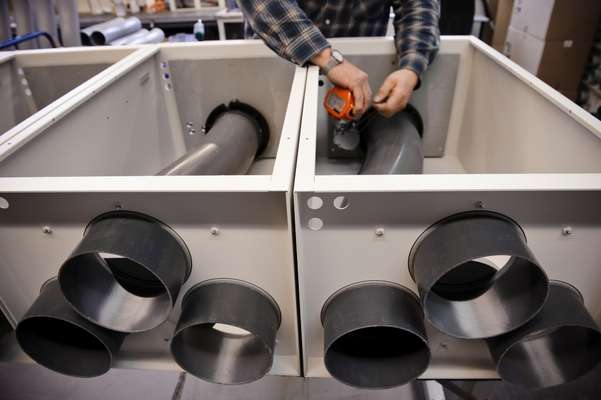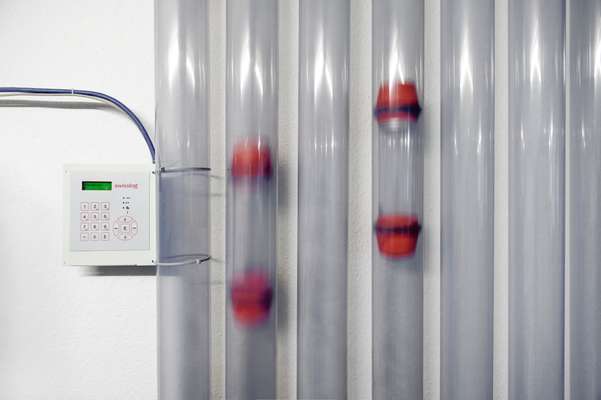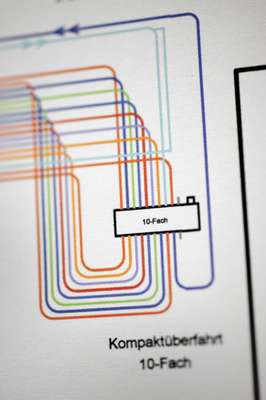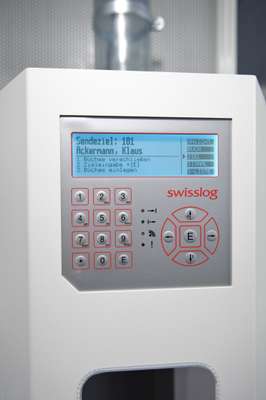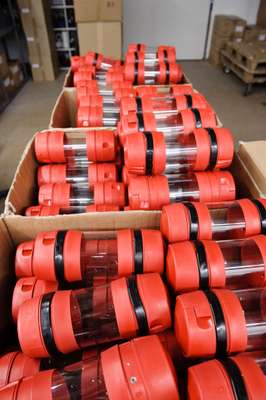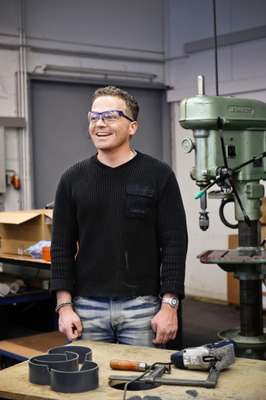 ---
Swisslog's technicians, R+D department and CAD operators are always on the lookout for better ways to do things. They not only design complex routes for pneumatic tubes and stations within buildings but also write the software that keeps the systems running. Once operated via relay systems or microprocessors, tube networks are now controlled using PCs.
---
02.
Technology
Smart shipments
Intelligent software and a hub system of diverters ensure urgent shipments reach their destinations faster than non-priority items. In some systems, transponders are installed on capsules to allow tracking. The same transponders direct empty capsules back to their "home stations" at the end of a shift or work day.
---
The unique thing about this operation is that it retains its roots as a family-run, rural business (it started life as Walther Rohrposttechnik in 1977) with all the expertise and attention to detail you'd expect from a small firm, but is now a subsidiary of a big multinational, Swisslog, which has a reputation as the world leader in all sorts of logistics from building warehouses to moving cash around department stores.
---
04.
Quality control
Testing matters
Swisslog tests each component – user station, diverter circuit, PVC tube and capsule carrier – before it leaves Germany for destinations including Turkey and Iran. The company has clients in 60 countries who depend on high quality and reliability. Recent clients include St Olavs hospital in Trondheim and the Rechts der Isar clinical center, Munich.
---
05.
Family business
First-name basis
Co-founder Hermann Ewertowski started the company in this small German village based on his telecommunications engineering background. His son Jens is the current CEO and many of the staff watched him growing up as a little boy.
---
06.
Customer service
Long-term relationships
Swisslog runs training programmes for users and has a worldwide network of distributors that manage projects. Around 12,000 systems have been installed around the world for customers who trust in the notions of German reliability and Swiss precision.
---
07.
Employees
Loyalty counts
The 65 employees at Swisslog Westerstede have been in their jobs for an average of 13 years. A few members of the workforce, including the technical manager Alrich Hellmers, have been with the company for more than 30 years. This loyalty and know-how translate into the ability to come up quickly with solutions to difficult logistics challenges.
---
08.
Tailored products
Close collaboration
Every system is tailored to the client's requirements – whether the user is a multi-ward hospital in Norway or a small clinic in Germany. Swisslog works out everything in close collaboration with the client throughout the system-building process, which might take two to three years. Important factors include where to place the tubes in a new build, whether capsules need to be leakproof, trackable or especially large, and whether users require front-loading or horizontally oriented send-and-receive stations.
1977: Jürgen Walter and Hermann Ewertowski launch Walther Rohrposttechnik in Westerstede, Germany.
1991: The firm takes over the client base of Siemens Tube System Division of Thyssen Aufzüge. The number of employees doubles.
2000: Becomes a full subsidiary of Swisslog, a world leader in hospital logistics, with Jens Ewertowski as CEO.
2009: A new building opens to accommodate expansion.
1. Mittal Steel Galati, Romania  
2. Carrefour, Taiwan  
3. Deutsche Bank, Singapore  
4. Schiphol Airport, Netherlands  
5. Bundeskanzleramt (the Chancellery), Berlin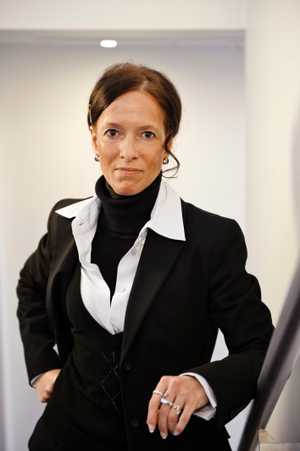 Q&A
Sabine Schünemann
Deputy director
Why is there so much interest now in such old technology?
About 15 years ago it became clear tube systems were no longer needed to transport documents, but rather materials. Where is material transport and safety important? In hospitals. We recognised a decade ago that the renaissance of the pneumatic tube system lies in healthcare, so we went into hospitals to optimise their logistics.
Is this market open?
Yes. Nowadays, no new hospital is built or planned without a pneumatic tube system. We're proud to say that we've contributed to this development.
What makes you different from the competition?
Swisslog is a comprehensive logistics company and pneumatic tube systems represent just part of what we offer. The ability to supply comprehensive logistics solutions is our primary advantage. We're also very fast and flexible.
Are there limits?
I don't think so! There are physical limits, such as a heavy load that can only go so fast. But we are visionary. Over the years, we've developed and collated our know-how. The employees are so connected to pneumatic tube technology that they are used to coming up with creative solutions. We work on things until things work.