Bernard Pivot / Paris
Word champion
He made serious literature popular and if he liked a new book the nation ran out and bought it. He even made a televised spelling test appointment viewing. The talk-show host and TV producer Bernard Pivot is a peculiarly French hero.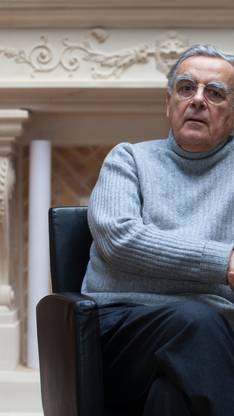 For nearly 30 years, millions of French viewers tuned in religiously on Friday nights to watch one man talk about literature. The man responsible for this uniquely French weekly rendezvous was Bernard Pivot, a 74-year-old journalist who is affectionately thought of as France's literary Everyman.
Over the course of three successive TV programmes from 1973 to 2001 – Ouvrez les Guillemets (Open Quotes), Apostrophes and Bouillon de Culture (Culture Soup) – the wavy-haired and bushy-eyebrowed Pivot peered over the trademark bifocals perched on the end of his nose and discussed books and ideas with his panel of guests, a mix of novelists, historians, sociologists and philosophers. In the French talk-show tradition, they were more than happy to spar verbally in front of the cameras.
Last year, a survey was conducted by national radio station RMC and Metro, the daily freesheet, asking the French public to nominate a dream-team government. Pivot was favourite for minister of culture. This is testament to the high regard the French still hold him in, even though it's almost a decade since his last broadcast.
Now semi-retired (he writes a regular column in the weekly newspaper Journal du Dimanche), Pivot speaks to Monocle in his flat in Paris's 17th arrondissement, sitting in a room lined with books. He agrees that there is something about the French psyche that has always revered writers. "France is probably the only country where the Great Writer has a special status and where we look to him like we do to an oracle," he says. "France invented the intellectual, as in the writer who has ideas and gives his opinion on the world and society in particular."
However, it is precisely because he didn't come across as an intellectual that the French are so fond of Pivot. He attributes his popularity to his decision to take culture, particularly literature, out of its perceived elitist world and serve it up without jargon and without talking down to his audience. Pivot's broadcasting style was self-effacing, spontaneous but always informed, like an enthusiastic schoolboy. His success, especially with an audience who were not big readers, came from the sense he imparted that if he could read all these books and remember them so well, then anybody could.
Over his long television career, Pivot introduced the public to big-name writers, both French and foreign, from Vladimir Nabokov to Albert Camus to Alexander Solzhenitsyn. He also helped many a young author by hosting specials dedicated to those just starting out.
Some of his shows are legendary, ­including when the American poet Charles Bukowski drank several bottles of Sancerre during a show instead of the fizzy water and staggered off the set drunkenly halfway through the discussion. Others are funny. For Bouillon de Culture, whose scope broadened beyond books, Pivot devised his famous questionnaire, which included questions such as "What is your favourite swear word?" "What sound or noise do you love?" or "What profession other than your own would you like to attempt?" to quiz his guests with at the end of the show. This added a light-hearted and often comical insight into guests' personalities. (When Pivot asked Woody Allen what he'd like to be reincarnated as, the actor deadpanned: "A sponge. Because they're lovable.")
His shows' success stems from Pivot being a good teacher. His easy charm, curiosity and boyish enthusiasm introduced generations of French people to the pleasures of reading. Much like Oprah Winfrey does today, if Pivot recommended a book it became an instant bestseller. It is these pedagogic qualities that allowed him to spearhead another idiosyncratic French cultural institution – televised dictation.
In 1985, he created the Championnats de France d'Orthographe, or spelling championships, an annual contest open to the public, which culminated in a difficult dictation full of grammatical tricks and complicated words. During the primetime final, Pivot read the dictation while contestants, as well as entire families in front of their television sets, put pen to paper. The championships were held for 20 years. "There is nothing less telegenic than a bunch of people sitting down and writing, and me repeating sentences from a text over and over again. But the French are strange and it had extraordinary success. It reflects the almost carnal attachment the French have to their language," says Pivot.
Two of Pivot's 11 books are dedicated to French words and expressions that have fallen into disuse and that he thinks should be saved. He calls it the ecology of language. "We protect animals, insects, plants from extinction so why can't we do it for words and expressions?"
Literary life
Bernard Pivot's CV
1935 Born in Lyon, France
1958 Joins the editorial staff at Le Figaro
1959 Publishes his first book, L'Amour en Vogue, a novel
1973 Produces and hosts Ouvrez les Guillemets
1975 Produces and hosts Apostrophes; co-founds Lire magazine
1985 Creates and hosts the Championnats de France d'Orthographe, a national spelling and grammar competition
1991 Produces and hosts Bouillon de Culture
2004 Elected a member of the Académie Goncourt, a prestigious organisation that awards literary prizes every year
2008 Publishes his 11th book 100 Mots à Sauver (100 expressions to save)