Takeshi Kitano / Tokyo
Acting funny
Takeshi Kitano AKA "Beat Takeshi" is a big-league comedian and film director who emerged from working-class roots and rose to fame with his TV programmes and gangster films. This year, he's published his autobiography.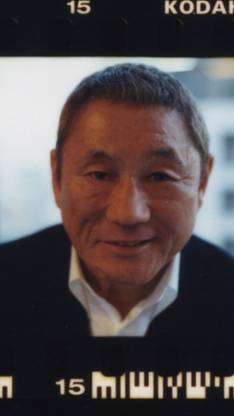 Suite 3010 at the ANA InterContinental Tokyo is as nondescript as hotel rooms come. There is an oatmeal leather sofa and bland imitation impressionist paintings. But Takeshi Kitano's effect on the room is transformative. Because he is there, the atmosphere is electric. A team of aides and fixers buzz busily around him. And in the eye of the storm, he sits in his signature black suit (white shirt, no tie) sipping Perrier.
Kitano is a unique cultural figure. He is not only Japan's best-known contemporary filmmaker – he is also a much-loved and admired ­comedian. And as if that wasn't enough, he is ­a prolific and respected poet, critic, fiction writer and the host of such raucous television programmes as koko ga hendayo, nihonjin (Strange Japanese Habits), a look at Japan as seen through the eyes of an ­excitable audience of Japanese-speaking foreigners.
The sheer scale of his output is staggering. He has directed more than 15 films (with his most recent Outrage set for a June release), acted in nearly 30 movies and written the same number of books. Still he finds time to do eight primetime shows a week.
"When I look back on my endeavours, what most often comes to my mind is what a damn ass I am," says Kitano. For someone who thinks of himself first and foremost a comedian, that's hardly a putdown. To others, "genius" seems a more apt description. He has led a new wave of cinema that has made him the global face of Japanese film today. The French government recently awarded him its top cultural award – Commander of the Order of the Arts and Letters, to coincide with a film retrospective and a major art show at the Fondation Cartier in Paris.
Kitano's films are often about the dark side of Japanese society but tackle the grittiest subjects with a sense of humour. And his own story is deeply entwined in his success. The 63-year-old grew up in a rough Tokyo neighbourhood and managed to combine being a keen boxer with top grades in maths. His childhood gave him first-hand experience of crime and low life – and those early years are the source of some of the most powerful material in his work. He studied engineering at Meiji University but soon dropped out and took odd jobs in his childhood home of Asakusa. This included working as a lift operator at a striptease joint, where one night he ended up standing in for a no-show comedian. What he calls a "lucky accident" steered him into celebrity as Japan's man of comedy.
In the early 1970s, Kitano started the manzai comedy duo programme Two Beat with his friend Kiyoshi Kaneko. The show thrilled audiences with a cascade of vulgarities and cultural ironies. And the duo gathered such a cult following that, in Japan, Kitano is best known by his stage name "Beat Takeshi".
His celebrity grew with his television ­appearances and he began acting. In ­another lucky accident, he took over as director of gangster film Violent Cop when director Kinji Fukasaku fell ill. The 1989 film – in which Kitano also played a key character – was an immediate hit.
Through his films the untouchable mafia and life as a policeman tackling the underbelly of urban Japan have become accessible to audiences as never before. His screen appearances – often inspired by his childhood experiences – struck ­audiences in a way that's credited with reinvigorating national cinema. And throughout, Kitano has proved to audiences that humour can open up even the most taboo of topics.
"I include laughter or a comedic scene during the most intense situations because it has a strange effect. Laughter relieves the impossibility of the situation." He adds that while visiting a friend with terminal cancer in hospital, they laughed about death. "It's not a funny situation, but it is a laughing matter," he says. "We can't live through it if we are unable to laugh about it. The more unlikely the situation, the funnier the joke becomes."
A test of his own strength came in 1994, when Kitano crashed his motorbike and suffered a head injury that paralysed the right side of his face. Doctors recommended surgery but Kitano refused, believing the injury would allow his creative talents to flourish. In a way it did. He started painting and his filmmaking changed direction.
"I wondered whether [the injury] would cause me to think outrageous things. Genius artists are often a bit crazy," he says. "I thought maybe I could become the next Picasso or Van Gogh, so I bought a sunflower and painted it. It looked like the drawings of a six-year-old." His sunflower may not have come out as well as his films but for many fans Kitano is as much a genius and a reflection of his times as those European artists ever were.
A different Beat: Takeshi Kitano's CV
1947
Born in Tokyo's Shitamachi (downtown) district to working-class parents
1974
Debuts as Beat Takeshi with his Two Beat manzai comedy duo
1989
Makes his directorial debut with Sono otoko, kyôbô ni tsuki (Violent Cop)
1994
Crashes in a motorbike accident that changes his life and his filmmaking
1997
Wins the Golden Lion Award at the Venice International Film Festival for Hana-bi
2003
Wins award for Special Director at the Venice Film Festival with Zatoichi
2010
Launches his autobiography Kitano Par Kitano during a Kitano festival in Paris. Awarded France's highest cultural honour, Commander of the Order of Arts and Letters