Property prospectus / Seville
Alameda
This parkside district in Spain's fourth city is a perfect place for a second home thanks to its excellent transport links, abundance of sunshine and famous cocktail bars. If that wasn't enough, there are plenty of old-world townhouse apartments – often with roof terraces – available at great prices.
Much bigger than you expect, this well-connected and superbly located ancient Moorish city is currently stoking a ­surprisingly fiery contemporary scene. Thanks largely to the city's high-speed rail link, younger residents are now doing business in Madrid and Barcelona while maintaining a base in their beloved Seville.
Outsiders forget that the Andalusian capital is the fourth largest city in Spain, with more than 700,000 inhabitants, and is far enough removed from its increasingly crass coastal cousins in the east to attract an astute set who are buying up semi-ruined old-world apartments and transforming them into elegantly appointed two and three-bedroom abodes. Alameda, the location of Europe's oldest public park and just steps from the river, is the neighbourhood where shrewd Sevillanos are settling for its affordable properties, attractive residents and countless bars serving copas (local cocktails).
Just 50km from the coast, 100km from Cádiz to the south and another 100km from Portugal to the west, Seville is the ideal spot to buy a second home from which to enjoy this often-overlooked corner of the Iberian peninsula.
In such a scorching city – the average annual temperature is 19C, with summer highs of 35C – Sevillanos are an alfresco folk and the majority of city dwellings are topped with roof terraces. Everyone in Alameda has access to one and during the warmest months the whole neighbourhood is found four storeys up in the sun hosting barbecues well into the night.
Alameda itself dates back to the late 16th century when four Roman pillars were discovered and raised to cordon off a 200m-long public park, around which the current neighbourhood grew (the area is named after the Alameda de Hércules promenade where the residents spend much of their time).
The local architecture is a mix of grand old townhouses and low-rise, balconied houses that have been divided into comfortably sized apartments.
Arrivals
Flights to Seville
From Madrid
Iberia – up to five times daily
Vueling – once daily
Air Berlin – up to three times daily
Shop
Mercado calle Feria
Calle Feria
With a characteristically Spanish lack of supermarkets, residents choose to shop for fresh produce in the morning and socialise at the corner bar at every hour of the day. This is the best place to buy seafood in Seville.
Mercado Jueves
Calle Feria
Every Thursday (hence the name), local traders gather along the length of calle Feria to display their wares at this popular flea market, located off the tourist trail. Expect to find furniture, leather goods and Andalusian craftwork – some tat, but many treasures.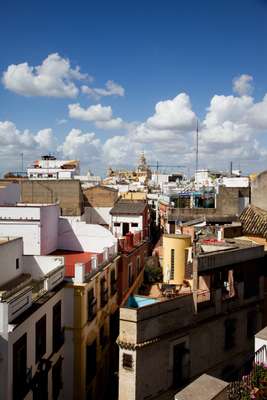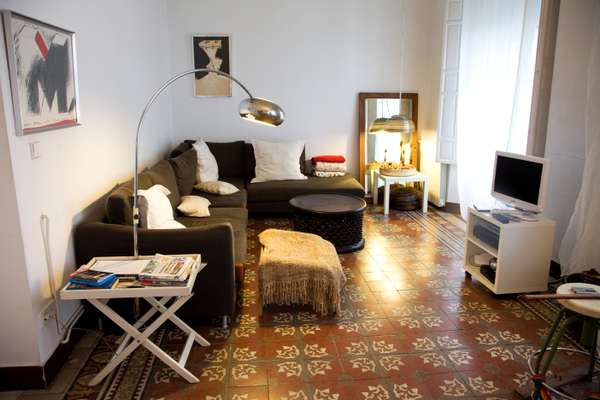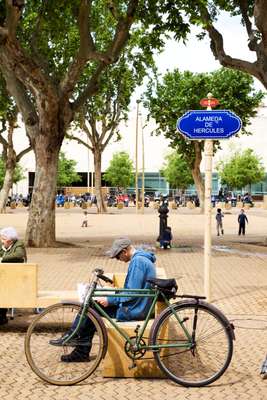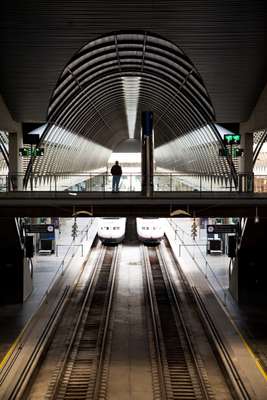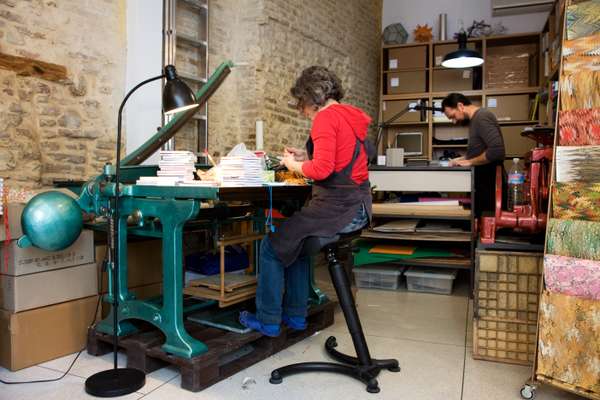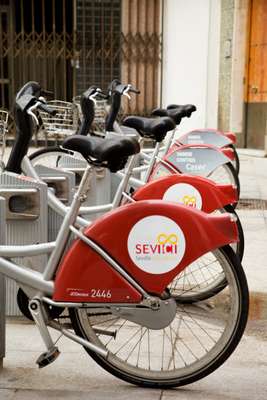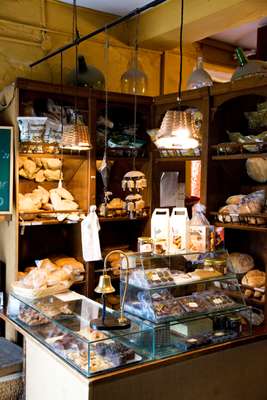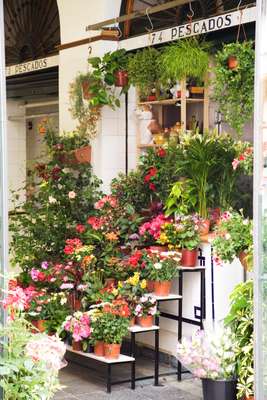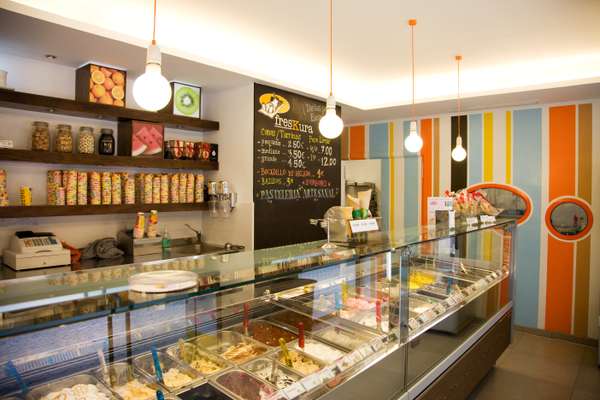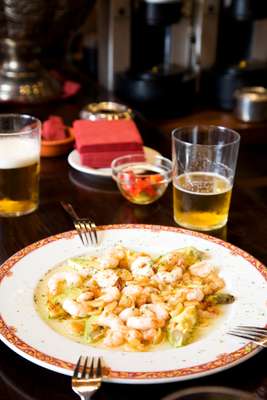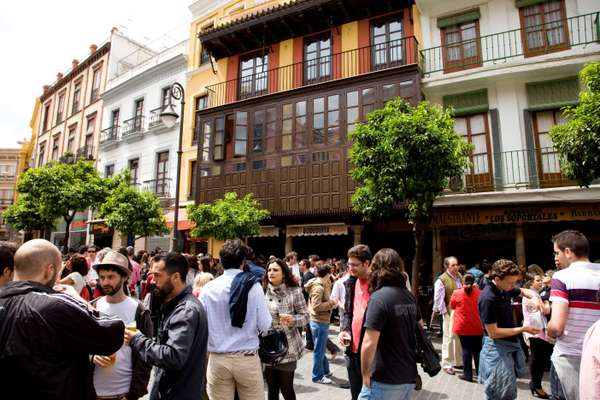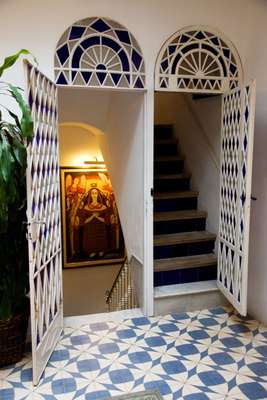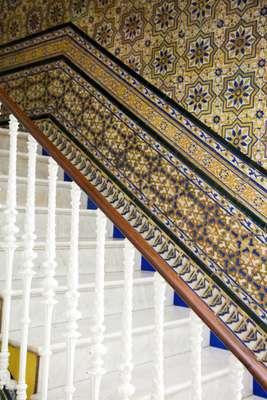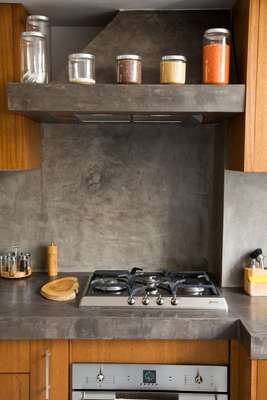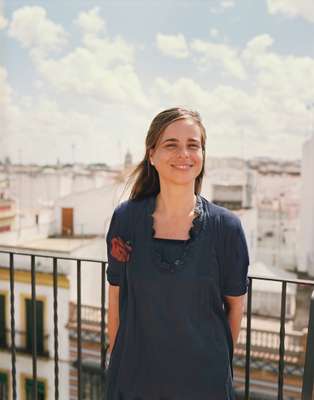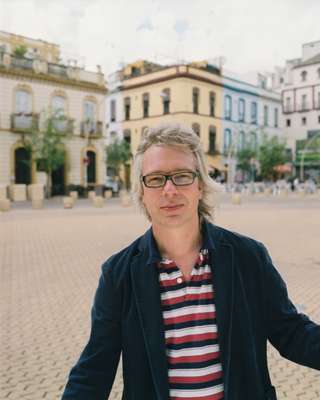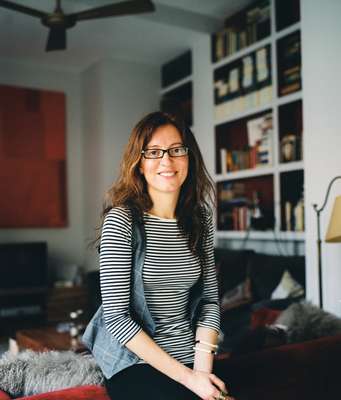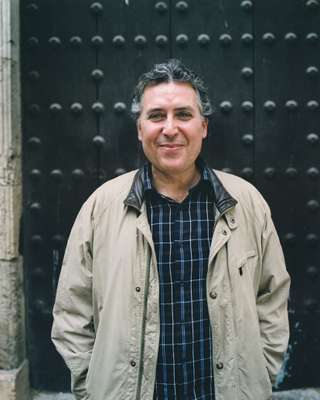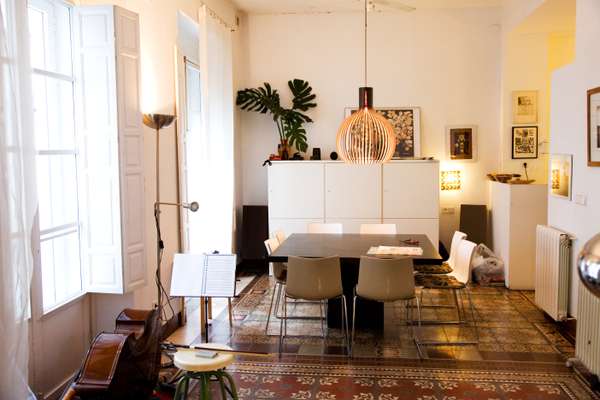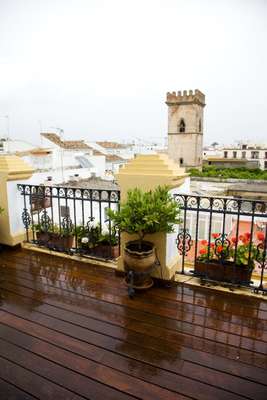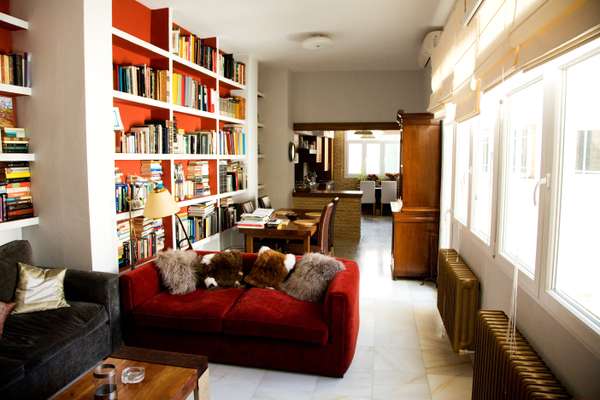 Poliedra
Calle Mata, 16, + 34 954 905 260
Sitting at their desks in the rear of their open-plan shop, this papermaking pair carefully bind their own notebooks, diaries and sketchpads, which they then stack and sell from the printmakers' shelves at the front.
Francisco Pavón
Calle Sauceda, 2, + 34 954 221 830
Sevillano Pavón sells men's cotton shirts, polos, ties, underwear and mid-thigh swimming shorts from several locations in Seville. Produced in Spain, this affordable brand is a simple menswear concept for under-suit staples.
franciscopavon.es
Emilio García Ortiz
Calle Antillano Campos, 10
Seville is bedecked with ceramics: walls, floors, rooftops and any empty corner is tiled with intricately worked earthenware and the best place to buy it is on the opposite side of the Guadalquivir river in the Triana district where it is produced. Emilio García Ortiz's workshop turns out traditional examples and more progressive naïve designs.
Eat + Drink
Antigua Abacería de San Lorenzo
Calle Teodosio, 53, + 34 954 380 067
Abacería is best for brunch, but the dining room is busy all day long for excellent tapas and tostadas. With its own bakery, deli and wine shop tacked onto the front of the restaurant and bar, this cosy destination oozes taste.
Freskura
Calle Vulcano, 4, + 34 954 373 089
It always amazes us that a country bathed in sunshine and sweltering heat for much of the year isn't better at making ice cream. Freskura takes an Italian turn and knocks out some of the best helados we've tasted on any side of the Med. Its tiny-portioned yabaninis are tongue-blowing.
freskura.com
La Isla
Calle del Amor de Dios, 56
Tucked into the south-eastern corner of the Alameda de Hércules plaza, La Isla doesn't run up its shutters until late. Serving crisp fried seafood such as calamares and bacalao, the tiny window receives tiddly Alamedans in need of a soak-up after a night out. This is a new pre-hangover, homeward-bound snack-joint favourite. Every city needs one.
Eslava
Calle Eslava, 3-5, + 34 954 906 568
One of the busiest tapas bars in Seville, Eslava attracts residents from all across the city looking for traditional Andalusian dishes, such as solomillo and coctail de mariscos, who wash them down with Cruzcampo beer. Friendly bar staff make the wait worthwhile.
Café Habanilla
Alameda de Hércules, 63, + 34 954 902 718
Sevillanos are famed for their copious consumption of copas and Habanilla is where Alamedans come to quaff. While northern Europeans are content to bloat up with beer, Sevillanos prefer to sip these well-mixed, strong concoctions upstairs, downstairs or on Habanilla's plaza-front patio, where live music is often played.
Taberna de Corto Maltés
Alameda de Hércules, 66, + 34 954 380 471
Next door to Habanilla with its tiled bar and sexy regulars, Corto Maltés is always packed and is most fun on a sunny evening when kids and adults alike dance in the nearby mist fountains that spray up from under the paving.
Stay
EME Hotel
Calle Alemanes, 27, + 34 954 560 000
Without a hotel to choose from in Alameda itself, the best and closest option is the EME. Having opened in 2008, the EME quickly became the proud city's advert for a newly discerning local customer. Its impressive rooftop bar and pool are so popular with Sevillanos that numbers are often restricted, with priority going to residents.
emecatedralhotel.com
Pioneer
Mirentxu Ormatxea
Architect
Ormatxea moved in 12 years ago, long before the area's renaissance. The park was less salubrious with street-walkers and drug dealers but she saw the potential. "We just loved this house. Come and see the back garden, it's like a jungle. We even have a treehouse," enthuses Ormatxea.
€2,500 per sq m
€750 per month for 75 sq m
As long as you take good, independent advice – don't use a lawyer recommended by your estate agent – buying property in Spain should be a hassle-free experience. Anyone, including non-EU citizens, can buy in Spain. Do not go ahead with the purchase before every inaccuracy in the title deeds is sorted out, and make sure that this is done at the seller's expense.
Legal fees: 1 per cent of purchase price plus VAT.
Purchase tax for resale: 7 per cent.
Purchase tax for new buy: 7 per cent VAT, plus 1 per cent purchase tax.
Registry and notary fees around 1 per cent of purchase price. Bank and notary charges for mortgages 2 to 3 per cent of purchase price. Estate agent fees 4 to 8 per cent.
Residents
Maria Aya
Photographer
"I inherited this house and I love the area. Things are really happening around here. For instance, a large building at the top of my street was just sold to be used as a company HQ for close to €1m. There are still many opportunities – we could do with a bit more independent retail and a good hotel."
Begoña Barquín Molero
Restaurateur
"I live in a building that was used as a hospital during the Great Plague in 1649. There is a central courtyard and I have a two-tier double roof terrace. I can see the whole city from the top."
"There is a great mix of old and new. My wife's parents always lived here. My father-in-law claimed that his first loves were the statues of the sirens in the plaza whose breasts he would fondle. They have now been raised onto plinths far from the wandering hands of little boys."
"It never occurred to me to move from Seville. All my painting is done here. All my inspiration is here. I have tried painting in other places but that was always going to be temporary. Most of my work is sold abroad in places like Paris and New York so it is a great luxury to be able to still live in my favourite city."