Indian residence / Alibaug
Bombay mix
India's new elite is investing in architecture that eases gently into its surroundings by using local building traditions and even a bit of ancient science. A weekend retreat from Mumbai, by Bijoy Jain, shows the trend at its modest best.
"My only brief to the architect was to construct a house based on Vaastu and to make sure it was low-maintenance," says Sundeep Bhatia. The architect in question was Bijoy Jain from Studio Mumbai who then spent 15 months sketching and planning while adhering to Vaastu, the ancient Indian science of architecture that uses a system of guidelines said to ensure positive energy. And the result of all the deliberations is Utsav House in ­Alibaug, an area roughly an hour from Mumbai that functions as a sort of Indian Hamptons.
The main walls of the 372 sq m house are made from black basalt from a local quarry. Using local materials is paramount in Jain's work. "Everything I use is from within a radius of 50km and my team are fully involved in every aspect in the development of a property," says Jain, whose 100-strong workforce really does take care of everything – from the door handles to furniture, plumbing to plants.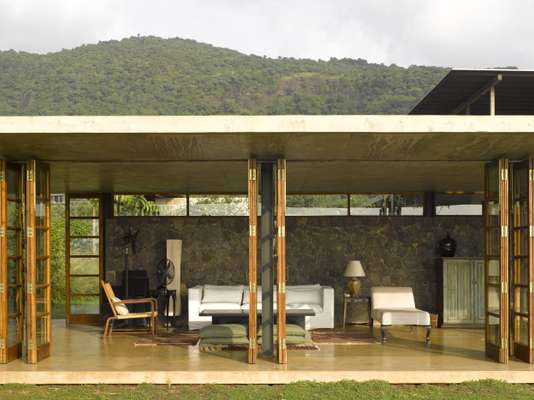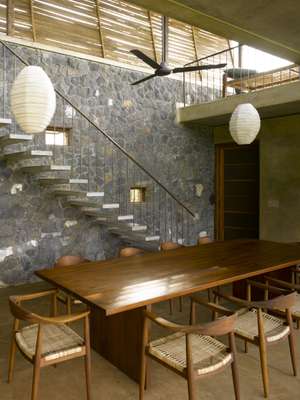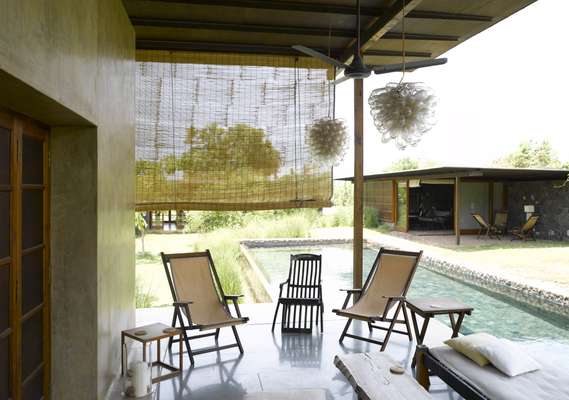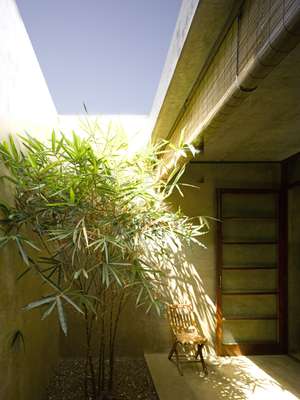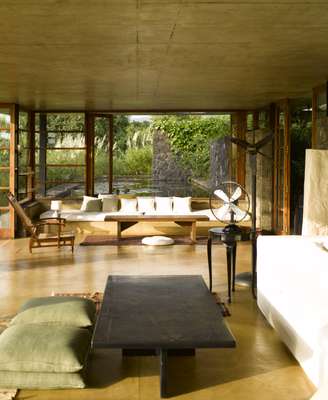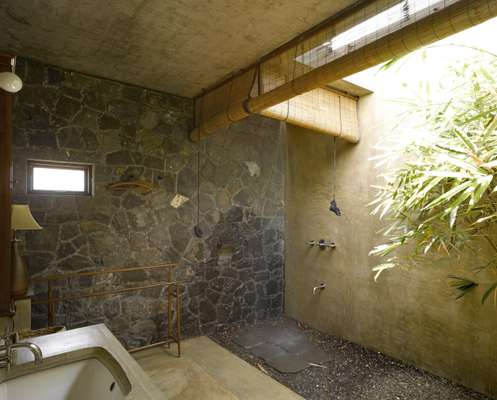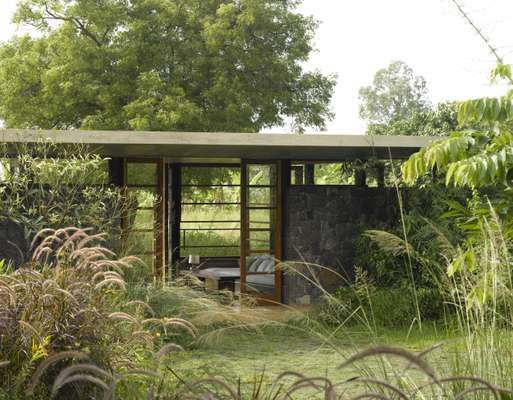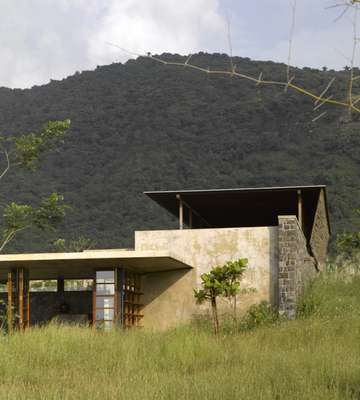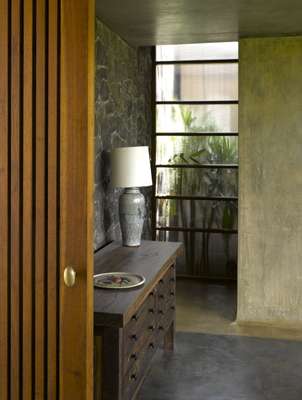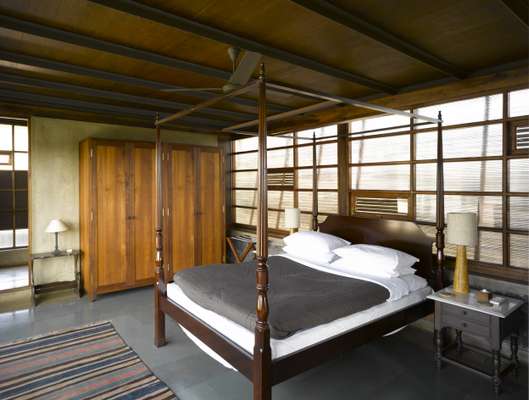 "We used IPS [Indian Patent Stone], a hand-trowelled cement, coloured with pigments to coat the inside walls," says Jain. For Utsav he chose an ochre inspired by the dry grasses outside to help tie the house into its surroundings. IPS lends a rustic dimension to the walls, changing with time, developing slight cracks and an ever richer texture.
It's one of the things Bhatia enjoys most, this gathering of character in his home, and Jain is fascinated with how his buildings age naturally as they interact with people and their care (or neglect). "Core to this project was a condition of erosion," says Jain. He's referring to the barrenness of the land and maybe also to the second part of his brief to ensure that the building is low-maintenance for Bhatia and his wife, who use it as a weekend bolthole from Mumbai.
The home is built around a rich green courtyard. A corridor to the left leads to a bedroom via a wet room with outdoor shower. A passage to the right takes you to the open-plan kitchen, dining and lounge area by the pool. A vast living room has a row of doors that open to give an uninterrupted view of the rugged local landscape beyond.
All rooms are intimately furnished with cabinetry and designs by Studio Mumbai combined with pieces Bhatia has collected from Mumbai and Goa. Privacy is maintained with slatted betel-nut wood screens that cut out the sun and heat from the south. Power points are recessed into walls and concealed with coloured plaster flaps – obscuring the uglier aspects of modern living adds an earthy, organic feel to the house.
"I think of this house as a collection of spaces designed for different times of the day," Bhatia says. As the scent of frangipani sweeps in with the evening breeze, with the tree's white flowers floating on the pool, it's easy to forget you're just an hour away from the madness of Mumbai. studiomumbai.com
Architect's CV
1990 Receives Master of Architecture from Washington University, St Louis
1996 Forms Bijoy Jain + Associates in Mumbai
2005 Founds Studio Mumbai
2007 Completes Palmyra House and Leti 360 Resort, both in India. Leti wins him the Hong Kong Design Center Design for Asia Design Excellence Award 
2009 Receives Hong Kong Design Center Design for Asia Design Excellence Award for Palmyra House. Starts on installation for the V&A Museum's 1:1 Architects Build Small Spaces
Forts and ferries – around Alibaug  
The easiest (and fastest) way to get to Alibaug is by ferry, from the Gateway of India. Travel takes 45 minutes and air-conditioned ferries are available. Ferry services are closed during the monsoon. By road, it's two hours from Mumbai.
1.
Bijoy Jain's studio: 
The architect lives and works in Alibaug. His studio and home are perfect examples of his aesthetic.
2.
Murud-Janjira: 
Around 42km from Alibaug, this forbidding sea fortress was never conquered by the Marathas, Dutch or English. 
3.
Kulaba Fort: 
Walk across (or take a boat during the monsoon) to the ruins of Shivaji's last fort.
4.
Kanakeshwar Temple: 
You have to climb 700 steps to get to the top of this Shiva temple. The view is worth it.
5.
Sanman Restaurant: 
Prawns, crabs, oysters, bombil, plump pomfrets – the freshest seafood, cooked Konkan-style.