Travel edits / Global
Monocle travel guide
Our favourites from around the world this month include a sushi spot in London, a lovers' retreat in Greece and a Taipei hotel full of Warhol and Dalí originals. We also profile Norwegian airline Widerøe.
Down in Yokohama, customers queue every day for the food of Australian chef Bill Granger, whose most recent restaurant in Japan (his second) opened this March in a refurbished pre-First World War warehouse on the docks. The new branch of Bills continues the theme set by its enormously popular predecessor beside the beach near Kamakura: casual and elegant, with a modern-Australian tinged menu of wholesome dishes covering breakfast through to dinner. Service that's professional and relaxed feels straight out of Sydney, and as we daydream across the bay we wonder, when Granger finally hits Tokyo, which waterside spot will he choose?
Bills, Yokohama, Red Brick Warehouse Building 2, 1-1-2 Shinko, Naka-ku, + 045 650 1266
bills-jp.net
Cream-loaded scrambled eggs and the berry-butter-heavy "berry berry pancakes" sate more reckless urges, while the sweet and peppery fettuccine with pork and fennel seeds is a comfort-food classic.
---
Torri e Merli hotel
Paxos, Greece
According to general manager Anna Sourbati (and ancient mythology), the 19 sq km sliver of land that is Paxos was chipped off the mainland during an amorous tussle between two gods. No wonder the island is seen as a place for romance. Entrepreneur Anastassios Zenembissis lovingly restored this early 17th-century manor house and opened the Torri e Merli hotel. "What we do here is authentically Paxos, but with a twist and a little more refinement," says Sourbati.
torriemerli.com
Anna Sourbati's Paxos picks:
Favourite café: Ben's Monodendri Beach Bar is right on the beach and ideal for a moonlit drink.
Favourite restaurant: Vassilis in Loggos village. The food is excellent with modern takes on traditional dishes.
Favourite bar: Taxidi (meaning travel) in Loggos village is by the waterfront and serves smoothies, fruit cocktails and jazz music.
Favourite spot: Erimitis Sunset View Bar, on the west coast of Paxos, offers views over the sea and the white rock of Erimitis.
Best-kept local secret: The tiny, pebbled coves of Paxos are off the tourist trail and have some of the finest clear blue seas for swimming and snorkelling.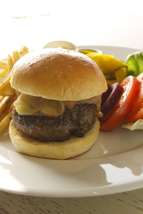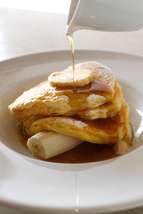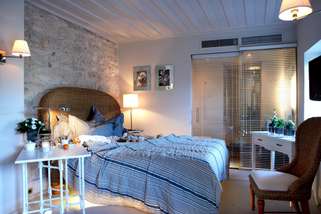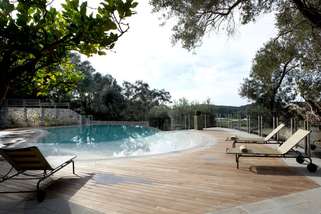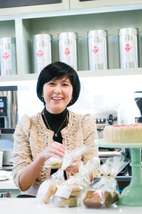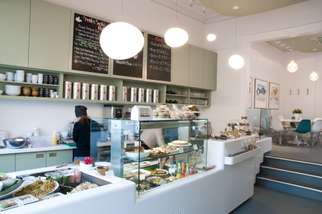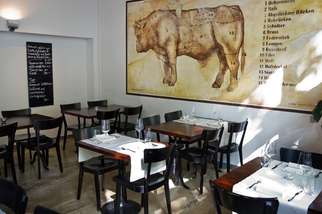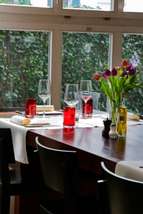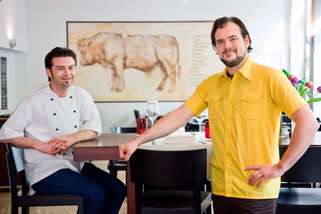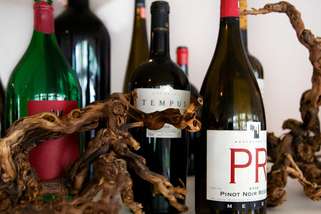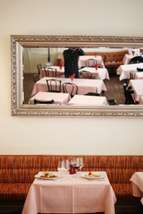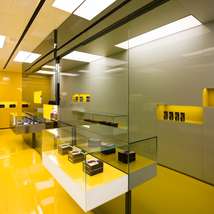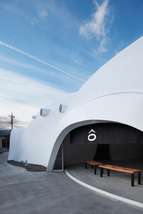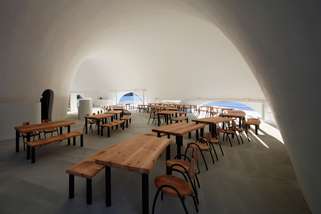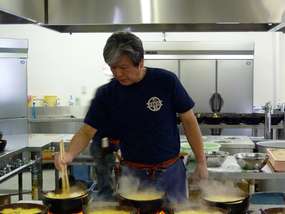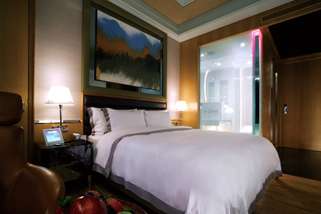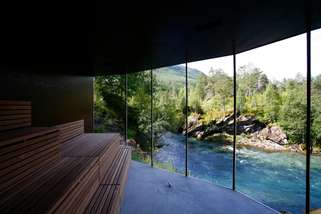 Local speciality dish: Bianco fish is an exquisite local dish made with garlic cloves, lemon, white pepper and herbs.
---
A great place to linger over lunch or impeccable coffees and cakes.
11-13 Exmouth Market, EC1, + 44 020 7833 8115
---
Toyomitsu Nakayama serves Japanese-French fusion in his new Montparnasse restaurant, including whelk bouillon with shimeji and matcha tiramisu.
17 rue Jules Chaplain, 75006, + 33 01 43 54 28 03
---
Opened in February by Colin and Manami Sloley, the founders of London's Tokio clothing boutique, Tombo is a homely Japanese restaurant and deli in South Kensington. Offering food "that Japanese people would take home from the amazing delis that fill the basements of Japanese department stores", the Tombo experience is thankfully not quite as dizzying as Isetan's food hall at 18.00. With a large communal dining table and art by Natsko Seki on the walls, the restaurant is a welcome respite from the busy streets.
29 Thurloe Place, SW7, + 44 207 589 0018
tombodeliandcafe.com
Maki sushi rolls, donburi and bento boxes that can be filled at the deli counter, cakes made using green tea and matcha latte.
---
The original restaurateurs behind Zürich's popular Zentraleck have transformed a 1930s coffee house in the Sihlfeld quarter into the city's latest culinary gem. With its neighbourhood feel, Cafe Boy serves up seasonal local and national favourites from deer sausages and gitzi (baby goat) to the catch of the day from Lake Constance. "My cooking style is purist and draws from local producers who I know personally and trust to deliver the best quality available," says co-founder Jann Hoffmann. "I take a less-is-more approach to create a modern Swiss cuisine."
Kochstrasse 2, 8004, + 41 44 240 40 24
cafeboy.ch
Hacktätschli vom Bachsaibling – brook trout patties on a salad of blue potatoes with herb vinaigrette, accompanied by Pinot Gris 2008, Urs Pircher, from nearby Eglisau.
---
Pomme Sucre
Oviedo and Madrid, Spain
Spanish master baker Julio Blanco hired Catalan architect Francesc Rifé to redesign his Pomme Sucre patisserie chain. His Oviedo bakery was the first to get the new look and the Madrid store opened last month. "I wanted to represent the three key ingredients used at the bakery – flour, eggs and cocoa – through the materials of white opal, yellow resin and smoked mirror," says Rifé. Glass display cabinets enhance the presentation of the houses specialities. "It's a look that represents my high-end bakery philosophy," Blanco adds.
Covadonga 21, Oviedo 33002; Calle Barquillo 49, Madrid 28004
"10 grams in a bite" chocolates
Orange and chocolate Italian panettone
Caramelised millefeuille
---
Blink, and you might miss this restaurant. Hebenstreit has no sign outside and is not even visible from ground level. One half-storey up, however, is a comfortable, cosy – dare we say romantic – eatery that attracts locals of all ages with an expert mix of Austrian and international (leaning toward Italian) cuisine. The fare is prepared, and sometimes served, by the affable chef Peter Dörre, who keeps his 17 tables happy with a rotating, seasonal and often local menu. The wine list features excellent Austrian whites and a small bar area offers a great corner for intimate conversations.
Rockhgasse 1, 1010 Vienna, + 43 1 533 76 87
Beef tartare or chicken-liver parfait with cranberries followed by homemade ravioli, with vanilla parfait for dessert.
---
Hoto Fudo
Yamanashi, Japan
Yamanashi prefecture in Japan's central Honshu is famous for its hoto noodles. Resembling thick udon, the dish was cooked only at home until 25 years ago when Noboru Furuya decided to give visitors to the area a chance to experience the taste by opening a small chain of restaurants. For his fourth branch, which opened earlier this year, Furuya decided to go for a radically different look from the traditional architecture in his other establishments and consulted architect Takeshi Hosaka. The result is a white, igloo-like structure at the base of Mount Fuji, serving just one dish, fudo hoto – spongy noodles cooked with 10 freshly harvested vegetables including pumpkins and mushrooms and served in a secret-recipe miso broth.
2458, Funatu, Fujikawaguchiko-machi, Minamisturu-gun, Yamanashi
---
Taipei's Da-An district has a new gallery in the shape of Hotel Éclat. Crammed with owner George Wong's art collection – which includes original Salvador Dalí sculptures and Andy Warhols – high tea in the Éclat Lounge has become a destination for those wanting to peruse art over a cup of assam. No detail has been overlooked and the hotel's 60 rooms have Mont Blanc pens if you need to jot something down, while the complimentary mini-bar is stocked with Riedel glasses. Continuing on the art theme, watch out for Wong's new hotel in Nanjing's Parkview Green development, set to open at the end of the year.
eclathotels.com/taipei
Footnote: toto toilets in all guestrooms, plus toto baths in six of them, make japanese visitors feel at home.
---
Juvet Spa
Valldall, Norway
The Juvet Hotel's spa will open this month, with glass-walled saunas and steam rooms offering views of the Gudbrandsjuvet ravine and Valldølla river just 10m below. Weary guests returning from long hikes can have a welcome soak in the outdoor hot-tub. "Because the windows are so large, it feels like you are participating with the surrounding nature," says architect Jan Olav Jensen.
juvet.com