Mohamed Nasheed / The Maldives
Sink or swim
After suffering exile and imprisonment under the previous dictatorship, President Mohamed Nasheed brought democracy to the Maldives in 2008. But can this British-educated leader keep his nation afloat?
Spread over nearly 1,200 tropical islands in the Indian Ocean, income from beach-bound tourists represents 30 per cent of GDP for the Maldives, making it one of the wealthiest nations in the region. But its multitude of luxury resorts, along with the modest local population of 396,000, are under threat. Reaching at most 1.8m above sea level, rising waters due to climate change top the agenda.
The burden to save the Maldives falls on the shoulders of Mohamed Nasheed, 43, who became the first democratically elected president of the Maldives in October 2008. Following a 30-year rule by autocrat Maumoon Gayoom, President Nasheed has a fresh take on how to mobilise an all-too-idle international community.
A cabinet meeting held underwater and the opening of the presidential palace for an evening screening of British docu-drama The Age of Stupid attest to Nasheed's willingness to be openly critical. He was arrested 13 times under Gayoom, the first time after co-founding the country's first opposition political journal, Sangu, in 1990.
As the activist-turned-president helps to galvanise one of the world's few majority-Muslim democracies, Monocle talks to him about what it means to be Maldivian today and why they're not about to let their spirits sink.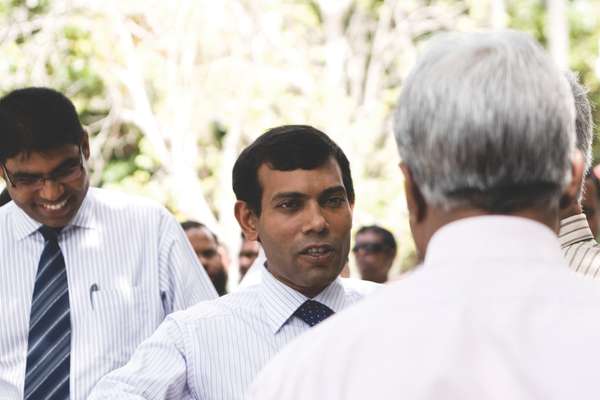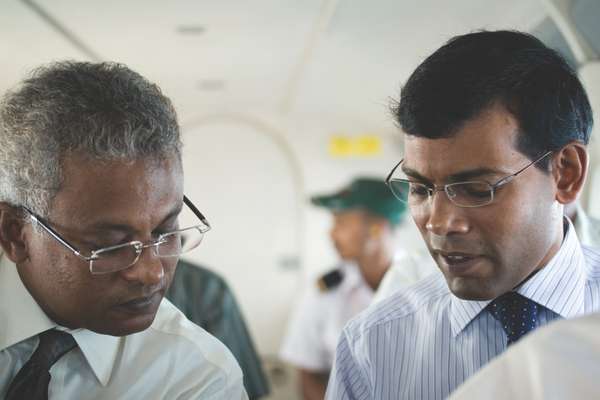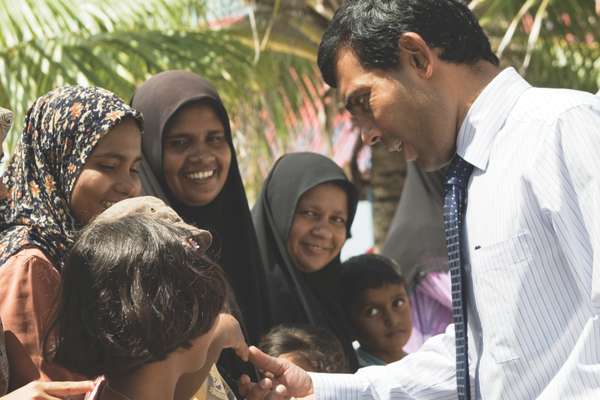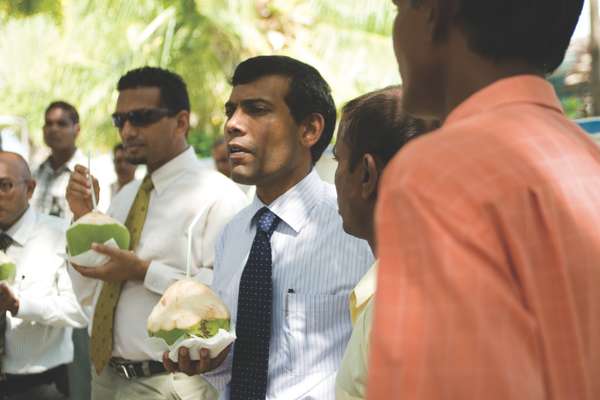 ---
Monocle: What do the Maldives represent to the world?
Mohamed Nasheed: Hope and the delicate balance of nature. We should also represent a nation trying to survive, and let the rest of the world know that we have ­serious issues.
M: One of the options you've set for the future of the Maldives is moving the population somewhere else – this is something that other small island nations, such as Kiribati, are considering. You've mentioned India, Sri Lanka or Australia as possible ­locations. Have there been any invitations?
MN: What I suggested was that the bottom line is dry land. There have been people living in this country, in the middle of the Indian Ocean, for the past 2,000 years. I really can't imagine how we could move from here. What I'm saying is if we can't find solutions to safeguard our homeland, there have to be other programmes to bear in mind. For that eventuality, we must now start saving. That is the idea, and the policy is also that we don't want to move tomorrow. The Maldives is a very viable small state.
M: In what way?
MN: There are not many Muslim democracies in the world. This is a Muslim country that has been able to come up with a political party, have multi-party elections and galvanise the people to political activism. I think people should understand that governing methods can be transformed peacefully. You don't have to bomb a city to change a regime. We don't have a debt issue. Our GDP is more than $1.6bn [€1bn].
M: Tourism has become a foundation of your economy. Given your concern about climate change, how do you square this reliance with the environmental impact of air travel?
MN: Well, to be honest, we can't square it. Air travel is very, very polluting – and it's very, very unfortunate. We would like to see more investment in alternative aviation fuel. During the past 10 years, more developments in that technology have happened than at any other time. We feel that if we keep the momentum going, there'll be more scientific progress and people will be able to come up with a solution in the very near future. I think we are at the threshold of an amazing ­scientific breakthrough in many of these things, simply because so much has been invested in it.
M: Is there a way of weaning the Maldives off a reliance on tourism?
MN: One of our biggest foreign currency-earning industries is fisheries. And we have more than 40 per cent of the population working in fisheries. So actually tourism is just one of the industries.
M: But aren't fisheries also suffering because of climate change?
MN: Of course they are suffering, that is why we should be more mindful about finding ways to adapt.
M: You moved from an entrenched dictatorship to a democracy. A year and a half into that, how democratic is society in the Maldives?
MN: There has to be a lot of experimentation and people crossing boundaries. But I think, as responsible leaders, we should understand that when you start walking, like a baby, you fall. You have teething problems. For instance, the media here is very free – inciting violence on public TV, calling upon people to change the regime, to change the government publicly through TV and radio channels. Calling each other names. Anything and everything – on the air. I have a lot of pressure from many people who say that the media is misusing its freedom… I just think that people will settle down with the proper system, with proper ideas.
M: How are the people of the Maldives coping with the environmental threat?
MN: I think people understand that the world is taking notice of what the Maldives says about the environment. But there is much here to be optimistic about. Funnily enough, last year we won so many international sports competitions in the region. It shows that we've come out with confidence. Our school results this year have been 30 per cent better than previous years and pregnancy rates have gone up – so I have a feeling people are happy and confident and we can move forward.