Instrument makers / Global
Stage craft
As the summer festival season approaches we visited the factories of three musical instrument makers who are world leaders for their attention to craft and superior sound quality.
In the last 10 years, live music – from ­supergroups rocking world-famous festivals to kids thrashing it out in dive bar basements – has grown to replace the CD as the dominant force in making money from melodies.
Besides the headliners what do you see at your Sonar, your Fuji Rock? An array of familiar but foreign names on guitars, keyboards and drum kits that aren't the same names that make your stereo, TV or laptop but must be huge in their field. And what about the horn ­section and the lights and mics? Monocle investigates the multi-million dollar businesses that make live music live – the brands behind the bands – and strikes a chord with three of the leading manufacturers. 1, 2; 1, 2, 3, 4…
Zildjian deserves to be introduced with a cymbal crash. It's the oldest family-run firm in the US and is the world leader in its market.
Off the motorway from Boston to Cape Cod in Norwell, Massachusetts sits the Zildjian factory. This nondescript unit is Mecca for drummers, the site of bitter family feuds and home to an explosive family secret that has been passed down through four centuries and 14 generations of Zildjians. Avedis Zildjian Company has been making the world's leading brand of cymbals since 1623. The Zildjians have made cymbals for Wagner's orchestras in the 1800s, The Beatles in the 1960s and legendary drummers of our time.
"When I came here 16 years ago, of 100 cymbals made, 70 were good. Now 98.5 of 100 are good," says vice president of operations Paul Struble. Zildjian's commitment to manufacturing in the US has forced it to continually streamline and update the process. It still makes a cymbal in the same way as 400 years ago but Struble has added robotic arms to the process to enhance safety, speed and consistency.
With 132 employees, Zildjian's estimated revenues in 2007 were $56m (€42m). To understand how Zildjian has survived the recession (and, before that, the Great Depression) and has also thrived in the midst of music's digital revolution is to understand what makes a good cymbal.
So, what does make a good cymbal? "It's the shape, the weight and the cold working processes that finish each cymbal," says Struble. He takes us past bins of copper and tin and "the secret room", outside which a red warning light flashes. No one is allowed to enter except Debbie and Craigie Zildjian and four other employees. Even Struble can't go in. He says, "If you go in and are not supposed to, we will terminate you."
Only four employees have a contract with the Zildjians and they are sworn to secrecy. The secret is not in the materials – copper, tin and traces of silver – but in how Zildjian puts them together. Struble drops a disc on the grey cement floor. It bounces and makes a zinging sound. Normally copper and tin do not bounce. Whatever happens in the foundry room to make the casting bounce is the key.
Avedis's alchemist's secret has been handed down to the first son in every generation. This strategy worked well up until this generation when Avedis Zildjian III passed the secret to both his sons, Armand and Robert. Soon after, Robert rebelled and started rival company Sabian (the number two maker of cymbals in the world) and for 20 years the companies have fought it out for dominance – using the same secret formula.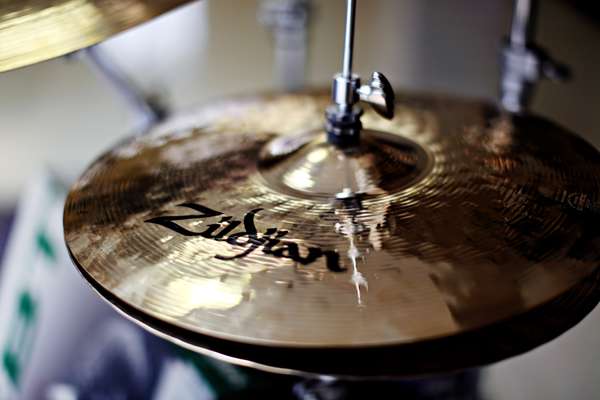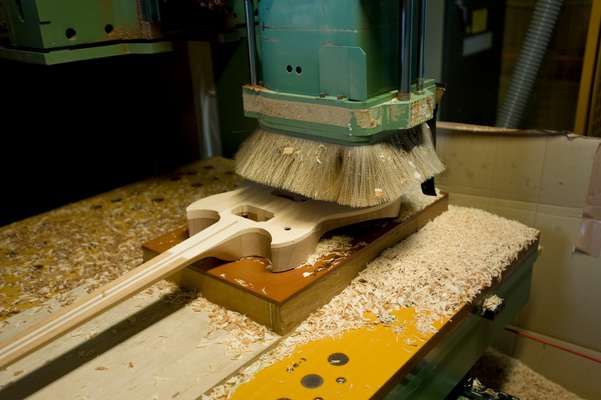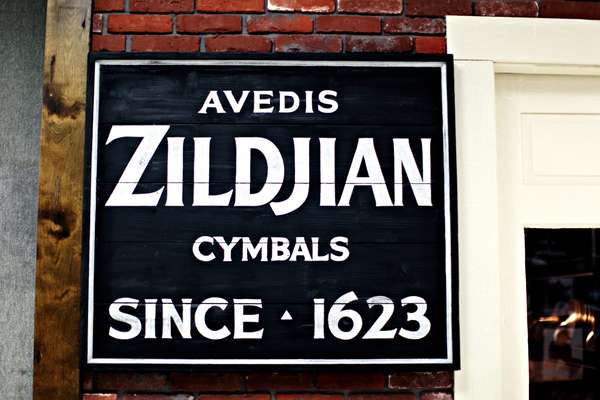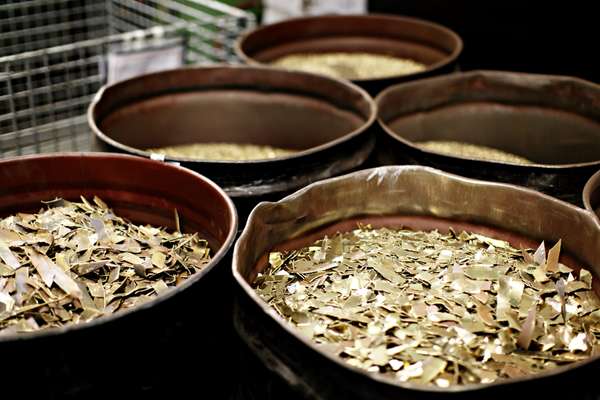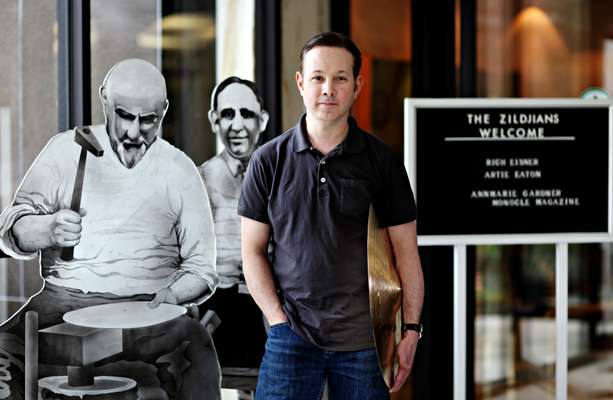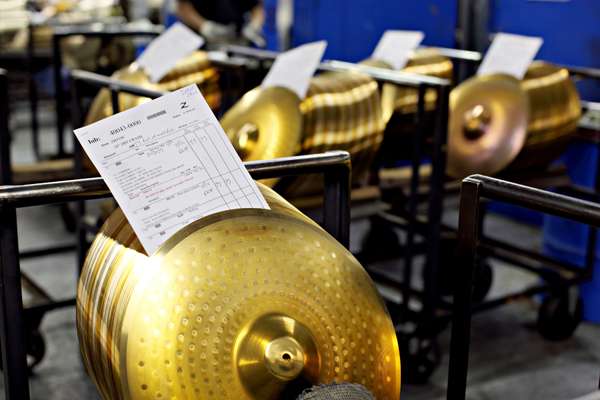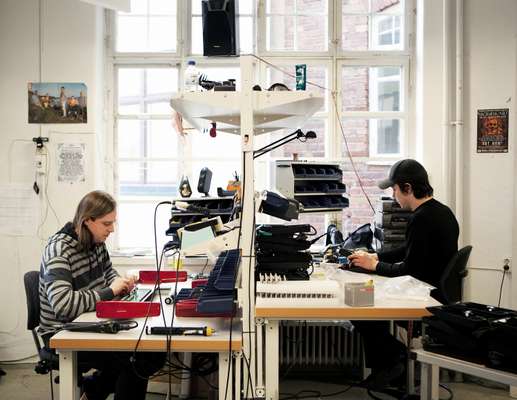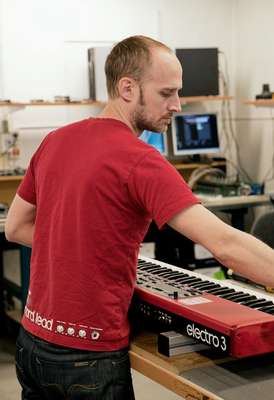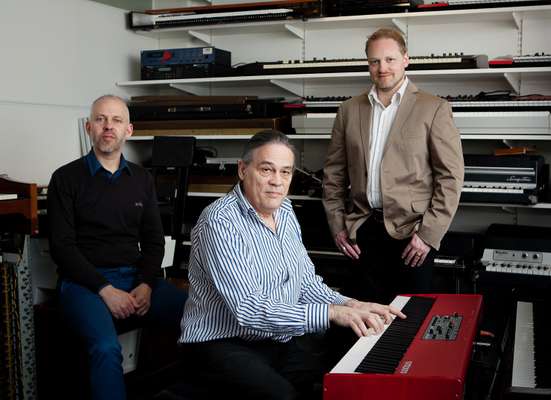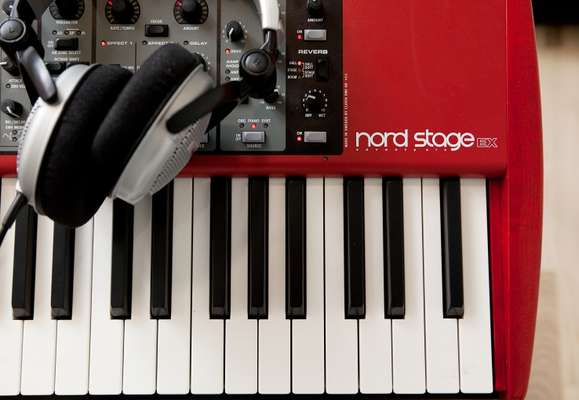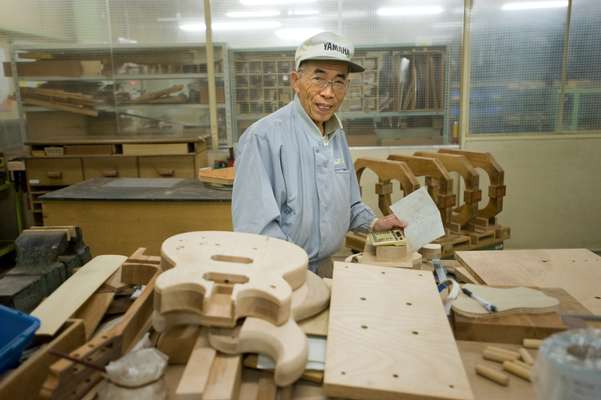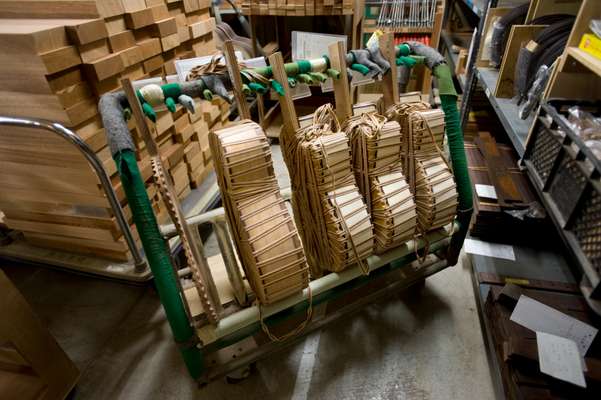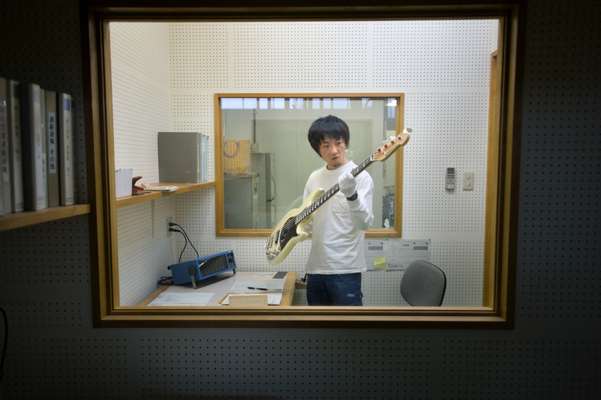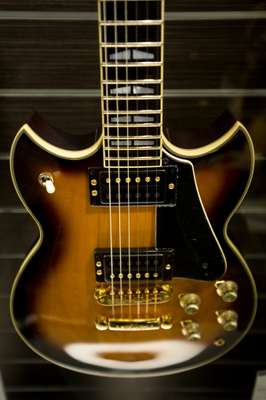 The one constant in all of this, however, is the cymbal. In the testing room, Leon Chiappini tests 1,000 cymbals a day. He says, "When you play time on big cymbals, you're taking someone for a nice ride. A smooth ride. It bounces when you play." He hits one with a drumstick and it clangs but that is clearly the wrong terminology to use here. Ride. Crash. Sizzle. Dirty. That is the language of the cymbal.
Each year Zildjian introduces 10 to 20 new cymbals, but musicians who want to make their own sound and cymbal go to Zildjian's director of research and design, Paul Francis. "My job is about sound. Every cymbal is a little different. A cymbal is alive in a sense and there is still nothing about it that can be reproduced on the computer." Francis, who has worked here for 20 years, doesn't know the secret, nor does he recommend trying to find out. "There's a story about one relative in Turkey who snuck in to steal the secret then went off to try to make cymbals in Mexico and blew himself up."
Evoking Falu-red Swedish summer houses, Nord keyboards have been handmade in Stockholm since the 1980s.
Over a light lunch of Swedish reindeer meatballs, lingonberries and pickled ­cucumber, Hans Nordelius, the man behind Nord keyboards, explains why his Stockholm-based company won't be outsourcing to East Asia anytime soon.
"We make musical instruments not electronic devices, so the staff need to have that appreciation and passion. Everyone here has a musical background. If we put a company band together, we'd probably get signed." They work out of a single building in Stockholm's creative district of Södermalm.
Having built his first synthesizer from mail-order parts when he was 13, Nordelius went on to study sonic booms for the Swedish military before becoming a pioneer of digitising sounds in the late 1970s. Using this technical background and working with local Swedish suppliers wherever possible, he values keeping total control over a high-quality manufacturing process above cutting costs. "A few years ago everyone was saying you have to change your philosophy, hardware is dead and it's all about operating systems now," recalls Magnus Kjellander, Nord's head of software development. "But this wasn't a future we wanted to be part of, so we just kept making the best instruments we could".
This uncompromising approach certainly seems to be paying off, with sales of Nord keyboards increasing 25 per cent last year. "I don't think our 2009 success was about a temporary 'flight to quality' during the recession though," explains Björn Leander, Nord's head developer. "I think what we're seeing is a more long-term return to quality manufacturing now that people have experienced the limitations of digital music."
Seeing every Nord instrument as a brand ambassador ("they're our sales guys out there touring the festival circuit"), Nordelius oversees a demanding production process that starts with him scribbling a sketch in Windows Paint. A prototype is made for musicians to test out and it's run through a technical analysis that includes a slow-motion recording of the keyboard being played at 1,200 frames per second.
Each instrument is then assembled by hand in ­Södermalm and digitally recalibrated by a unique software programme developed by Kjellander before spending 48 hours in a kind of keyboard sauna, heated to almost 50C "to take them outside their comfort zone and try to provoke problems". Only then can the keyboard leave the building. Nord's latest product, the Nord Piano, was heralded as one of the most innovative instruments of 2010 at Frankfurt's Musikmesse in March.
So what next for Nord? "We want people to see the synthesizer as an instrument again, rather than a machine, and for them to say 'I play the Nord' rather than 'I play the keyboard'," says Nordelius. "Investors hate it when he says things like that," says Kjellander, "but that's ok because we don't really need them."
One in five guitars sold in the US last year was made by Yamaha. We visit to find out why.
Tetsuya Samejima may soon be celebrating his 73rd birthday but Yamaha's most experienced guitar maker shows no signs of slowing down. "One thing hasn't changed since I made my first guitar at 19: the fact that a guitar is a product created for art, not industrial purposes," he says. "A good craftsman must always ­remember this."
Since Yamaha launched in 1887 making reed organs, the Japanese company has become synonymous with ­musical instruments and motorbikes. Among its most iconic products are the handcrafted guitars. With high-profile devotees ranging from Carlos Santana to Bruce Springsteen, their popularity has blossomed over the past 70 years.
Last year, Yamaha sold one in five guitars in America, claiming the number one market share in the US with $300m (€225m) worth of sales. The company has come a long way since 1941, when Yamaha first launched a guitar subdivision within the piano department.
At Yamaha Music Craft (YMC) in Hamamatsu in Shizuoka prefecture, 35 of the 100 staff create high-end acoustic, electric and electro-acoustic guitars, while other factories produce more mainstream models in Indonesia and China.
"Our mission is to create high quality instruments and hand down production skills to a new generation of craftsmen," says Mitsuo Nakano, YMC's president. "More than 200 steps go into making every guitar. The average acoustic guitar takes one and half months to create."
Materials include Japanese spruce for the top, Honduran mahogany for the sides and Brazilian rosewood for the fingerboards. YMC workers then cut, assemble, spray and tune guitars in a series of workshops headed by guitar-shaped signs. Samejima says: "A good craftsman must understand the whole process. We are helped by the fact that Yamaha purchases quality materials."
A different atmosphere prevails in the nearby product design laboratory. Here, huddled over computers are 25 in-house designers creating around 300 products a year relating to instruments.
Manabu Kawada, general manager, says: "We observe the relationship between instrument and musician. For a guitarist singing along to an acoustic guitar, this can be like friends chatting to one another. But on stage, the guitar can become like a weapon."
Yamaha The launch pad of musical mega-corporation Yamaha back in 1887 (when the son of a Samurai warrior, Torakusu Yamaha, was called in to repair a school's reed organ), the Japanese giant is unsurprisingly still a major player in the keyboard market. Major competitors include Roland, Korg and Casio.

Vari-Lite Automated multicoloured lighting and retina-scorching laser displays are now as much a part of live concerts as the music itself, and pioneer Vari-Lite was developed with investment from the British rock band Genesis in the early 1980s.

Allen & Heath No mixer comes in higher esteem than Allen & Heath, which started out in a tiny London factory hand-making machines for the likes of Pink Floyd in the 1970s. Other brand names worth knowing include Mackie, Midas, Phonic and Peavey.

Technics Technics may be the first name you reach for when you think of decks, with the now discontinued Technics 1200s becoming a nightclub stable, but there are plenty of big producers still making decks including Pro-Ject, Sony, Newark and Denon.

Gibson v. Fender The big playoff in the world of electric guitars is fought between Gibson and Fender. Although often pitted against the iconic Fender Stratocaster, Gibson's Les Paul is the electric guitar's longest-made production model.

Fender Designed in 1951– the same year as the prototype for the solid-body Telecaster electric guitar – Leo Fender's Precision Bass transformed live bass music.

Shure Shure is a dominant name in the live mic market – wiring up everyone from Frank Sinatra through to JFK's presidential podium and police radio systems. Other leading live mics include AKG, Audio Technica and Beyerdynamic.

Marshall Somewhat synonymous with legendary rock performances of the sixties, British-based Marshall Amps is a national treasure, having received the Queens Award for Export Achievement in 1984.

Pearl Drums & Zildjian Emerging from the ashes of post-war Japan, Pearl Drums was founded in Tokyo in 1946 to provide affordable instruments to a new generation of musicians influenced by American jazz music from across the Pacific. Beginning with two employees, it now rubs shoulders with competitors such as Zildjian, Sabian and Paiste.

Conn-Selmer Based in Indiana but with roots back to 18th-century France, Conn-Selmer is one of the market leaders in brass instruments. Founded in 2002 after the merger of the Selmer Company and C.G. Conn, its main competitor is Japanese conglomerate Yamaha.