Le Louis XV / Monaco
Alain Ducasse
For Alain Ducasse's 'last meal', the Michelin-starred chef and famed restauranteur pays tribute to Monaco and the restaurant that sealed his reputation. He's also used to contemplating his demise. In 1984 he survived a plane crash that killed the five people with him.
"This final meal is a joyous one for me. You see, I was the only survivor of an aeroplane crash many years ago. I left this earth and then came back, so I think of my entire life as one great gift. I appreciate every moment. At market this morning buying vegetables for this meal, for instance, I was happy to speak with the men and women who grow, fish, pick, and collect the simple flavours that I love. I think of my life as a remarkable mix of all of these many simple things.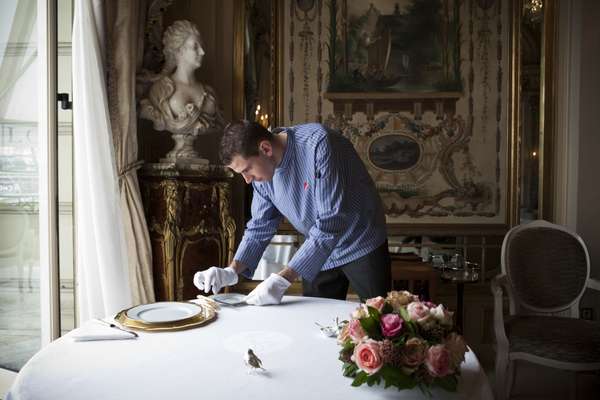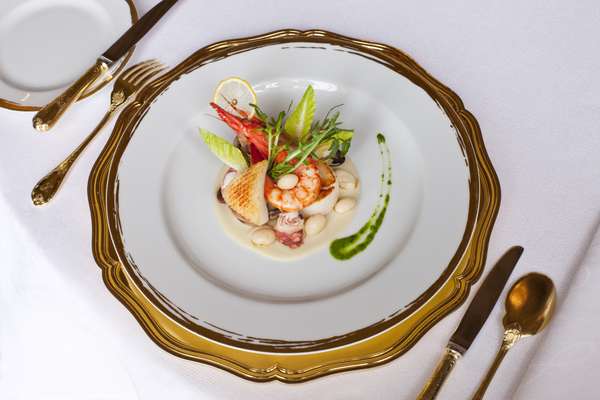 After all of the sophistication of high gastronomy, this is what I prefer. This assortment of vegetables is a combination of everything I have, everything I've done and everything I love: a raw asparagus, an extraordinary artichoke, a radish, fennel, a zucchini flower; all served with organic olives from the back country of Menton. It represents all that is essential to me – things that are simple and luxurious at the same time. I love that we know the story behind the people who have grown each ingredient. I discovered the Mediterranean by visiting the traditional village markets and talking to the producers. That was 35 years ago in Mougins when I was only 19 years old. When I became the chef here at Le Louis XV in 1987 I wanted to create a homage to the land and sea of this region. This restaurant is my story of buying, preparing and offering these ­natural gifts.
My DNA comes from the south-west of France, but my culinary consciousness was formed here in Monaco. The baby lamb is the one dish that comes from my birthplace, but the rest of the meal consists of dishes from my mental homeland, the Mediterranean. What's most important to me is preserving the original flavours of the ingredients and shortening the time and distance between the living product and final dish. Everything we serve here is local. We have been ­'locavore' for 25 years.
Even the ice cream is made with fresh milk from Prince Albert's cows. He has three cows on his property in the mountains nearby. Every morning we buy the milk to make ice cream for the lunch and dinner services that day. The first thing we do is reduce the milk by half, then we add a little bit of raw sugar, put it in the machine, and when it's done we add a touch of fleur de sel. There are no eggs, no vanilla, nothing else.We are sitting in the Aquarium ­because it's the heart of the culinary body. I would rather be inside here than upstairs on stage. This kitchen is the cradle of my enterprise. It has the most history, and it's where we've trained the most people. All of my chefs in the world have worked in this kitchen at some point in their lives. I'd like to share this last meal with nature and the horizon – the destination yet to come – and the idea that there is something awaiting me in the realm of the unknown – new ideas, new people, and a new sense of curiosity."
Alain Ducasse left his family's farm in south-west France at the age of 16. In the 40-odd years since, he has become one of the world's most famous chefs with 21 restaurants in seven countries (cities include Paris, London, Tokyo and Hong Kong), three of which have tripleMichelin stars.
The Aquarium is a four-seat private chef's table in the kitchen beneath the dining room of Le Louis XV, Ducasse's three-star restaurant in Monaco's Hôtel de Paris. The tiny room got its nickname because of its glass doors. Le Louis XV-Alain Ducasse, Hotel de Paris Place Du Casino, Monaco.
Tel: + 377 980 68 864
The six course seasonal meal began with a raw, rural vegetable medley served with a Niçoise olive dipping sauce followed by a warm seafood and coco bean salad with a bitter herb dressing (see picture below); grilled sea bass studded with olives in basil and lemon juice; stockfish tripe, salt cod and Perugina sausage stew and Pyrenean baby lamb cooked "in the fireplace" with fennel and offal "alla Romana". The meal ended with mascarpone sorbet and wild strawberries with ice cream made with milk from Prince Albert of Monaco's cows.
In addition to operating a constellation of multi-starred restaurants, Alain Ducasse is attaching social responsibility to his curriculum vitae. As a member of the Clinton Global Initiative (CGI), the Alain Ducasse Enterprise has recently launched "15 Women of the Future". The goal of the programme is to give 15 disadvantaged French women a better future by reintroducing them into the job market. Beginning this September, the women from the city of Sarcelles, one of the poorest conurbations in France, will begin a one-year training programme. The curriculum involves time spent in class and being coached in Ducasse's kitchens, which will lead to a CAP ­culinary degree. "Each of my 11 Parisian restaurants will welcome one or two women. There, they will have a personal mentor at the company who will help guide them through the experience," says Ducasse. The women will also ­receive financial and social assistance from the government during the course. "I really hope this initiative will encourage other chefs to start similar schemes," he says.