Club Monocle / Global
In good health
A country club doesn't need to be an exclusive haven for the super-rich – in fact, it doesn't even need to be in the country. Here, we outline our dream for a perfect health club: open to all, accessible by bicycle and offering only the finest service.
Much as we love our morning laps of London's Regent's Park, the sporting sessions on the green lawns of Sydney's Centennial Park and those picnics in Stockholm's Djurgården, there's something about the service and the spotlessness of the tennis courts at São Paulo's Hebraica Club (see issue 34) and the community spirit at Toronto's Granite Club that goes above and beyond. As summer kicks into gear, there are times when we long for an urban playground on the edge of Manhattan, at the heart of London or in Tokyo's harbour – one which allows residents to escape the city without having to abandon their bikes; a place where kids can splash and frolic (in their own separate pool and playground), where the gym is open to the sun and to the breeze, where sun loungers can be reserved and where salons are arranged for reading, card-playing and evening quizzes.
Having surveyed our favourite public and private sporting institutions, we've developed a new take on the urban country club – owned by the city but operated by a company that understands service and design. From 05.00 till midnight, this sporting and cultural hub is open to all (as long as members obey a code that calls for no mobile phone conversations around the pool and a respect for privacy). It offers a range of dining options and a clinic focused on preventative medicine. As our editors will be intimately involved in the launch, there will of course be an excellent lending library and a kiosk bursting with the best selection of periodicals in town.
---
1.


Extending an invitation
Members are urged to leave their blacked-out BMWs at home in favour of peddling to the site on their Jan Herskind two-wheelers. Underground cycle stations encourage card-holders to take advantage of the open-door policy – our club is not hidden behind high walls and manned gatehouses and exists without prohibitive membership policies and excessive annual fees.
---
We'd prefer to perform our lunges in the great outdoors rather than doing sweaty stretches in a carpeted Bikram studio any day. There is something wholesome about sucking in gulps of fresh air when you're out of breath that cannot be replicated in the grim environs of a weights room of a chain started by its private equity owners.
---
Friendly cabana boys and gamely pool girls meet and greet our clubfolk, tending to their every need. Never overbearing and always available, this École Hôtelière de Lausanne-trained troop not only serve snacks and replace and fluff towels but are able to advise on exercise regimes and nutrition and will gladly apply lotion to those parts one's own hands won't reach.
---
In France there's pétanque, Americans play bridge and in Japan they break out the igo. Spirited oldies are a valued group at the Club Monocolo. Always there to cheer on the young athlete and cast an owl's eye over the tensest tennis matches, our more mature members arrive earlier than anyone and are last to leave the luncheon lounge.
---
Our lending library in the media block is open to all, with a hand-picked assortment of old, new, entertaining and educational material for all ages. With the library doors opening directly onto the grass, readers are invited to take a tome and head to a shady spot to catch up on their quiet time. Members may also take their volumes home to finish at their leisure.
---
Tucked amid the rolling lawns and thickets of sugi trees, Club Monocolo has a lake for diving, rowing and for taking a refreshing morning dip – year round. Instead of fake sandy beaches, there are smooth rocks at the water's edge and floating wooden rafts for tanning and chatting.
---
The playground at Club Monocolo has been engineered to keep children busy. There are forts for waging battles, slides with tummy-tickling drops and plenty of sandboxes for creating castles, serpents and anything else that can be made using a bit of water and a lot of imagination. At its heart, a climbing and rolling hill ensures those nippers will be begging for nap-time.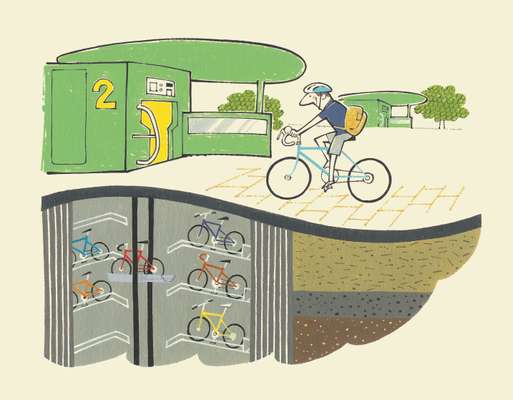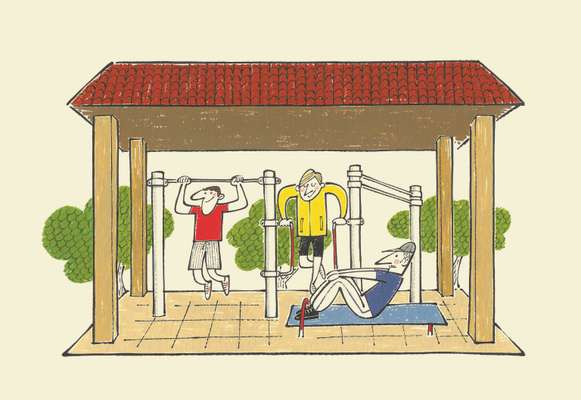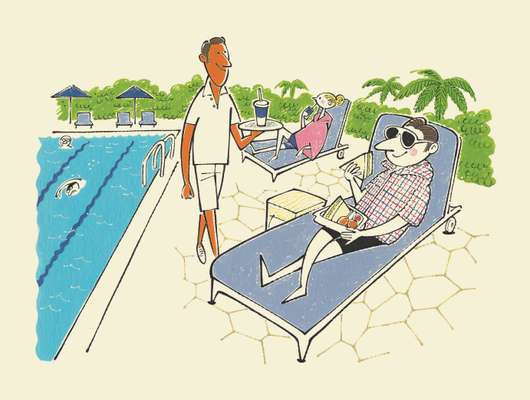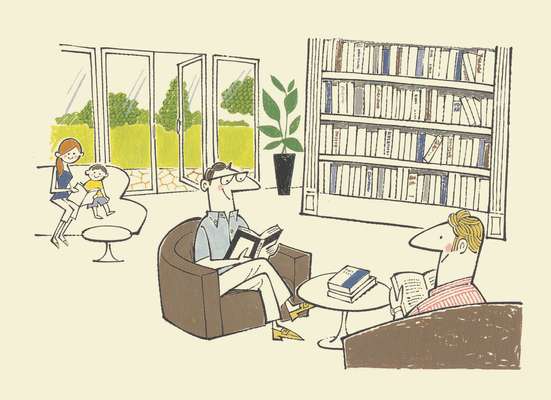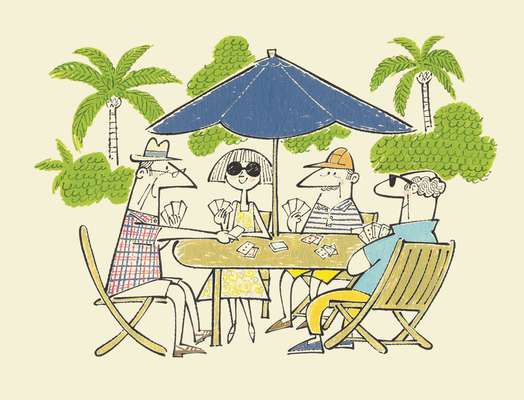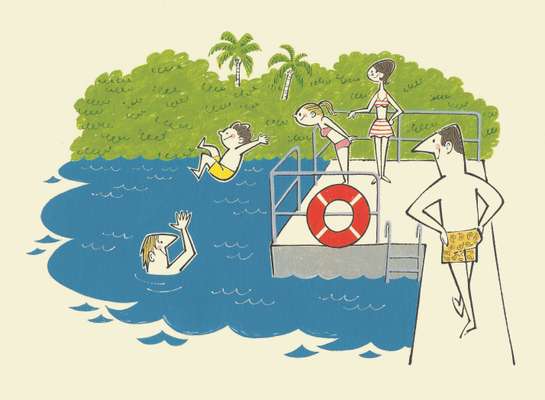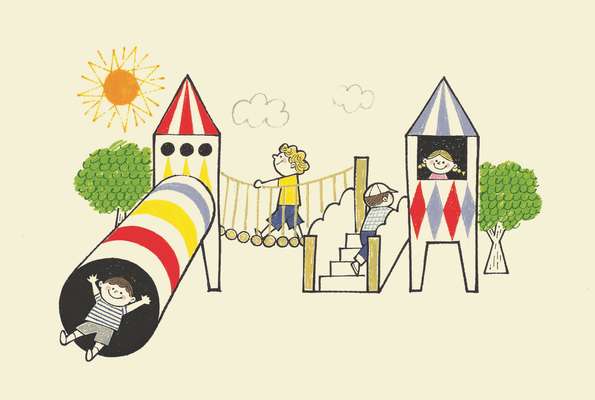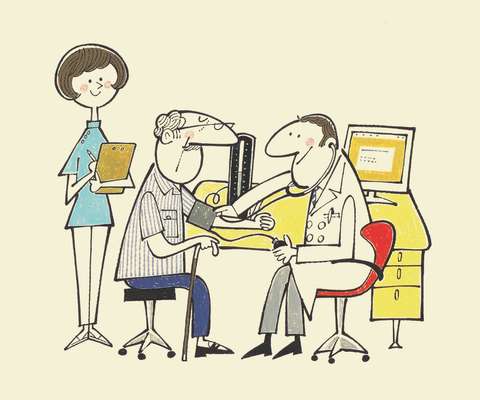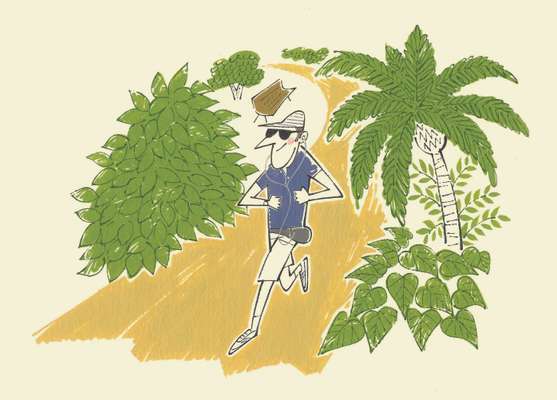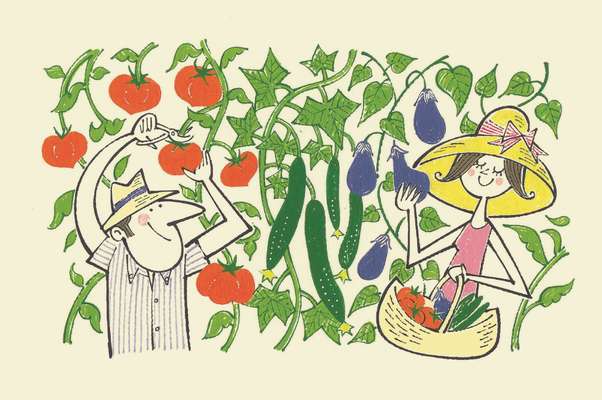 ---
One of the key features of Club Monocolo is its clinic for preventative medicine. Set in the heart of the grounds, members can drop by to check in and tune up with our team of GPs, therapists and technicians. Linked to a global network of other medical centres, the club can refer patients to the best hospitals around town or across the world. At the same time, they're in close collaboration with all dining facilities – so if you've pledged to consume no alcohol in the month of July, you won't be served your late-afternoon sprtizer.
---
9.
A running trail – not a track
Snaking around the grounds is a 2.5km running trail full of dips, humps and passing lanes to keep heart-rates up and faster runners on a clear path. Shaded in parts to keep it cool even on the hottest days, the running/walking direction alternates daily to ensure a change of scenery – just to keep things interesting.
---
Young and old members can sign up to tend to the club's fruit and vegetable gardens and also apply to "own" one of 50 available plots. Produce ends up on the club table and is also sold at a small kiosk offering a range of prepared dishes to take away. One-bedroom cottages are also available for rent so that, amid all this clean living, things can still get a little dirty if desired.
---
Preface
Berlin? Paris? Osaka? Melbourne? Every city needs a Club Monocolo for keeping fit, informed and in perfect working order. For summer 2010, we have two new baristas running an espresso stand by the tennis courts and a fresh set of Gandia Blasco loungers on the lawn, and we've also recruited a handsome shiatsu therapist who used to knead the weariest muscles at the Imperial Household.
1.
Welcome
Membership at Club Monocolo comes with a special discount for local residents but is also open to those who just want to tone and tan for the day. With full access to facilities from 05.00 to 24.00, we think €25 is a fair price.
2.
Beat a path
While the club has at least 50 treadmills, it encourages members to walk, jog and run around its lusciously landscaped 2.5 km super-soft trail.
3.
The playground
Mount Monocolo is a beacon for children arriving at the club, as they clamour to reach its peak first and then roll all the way to the bottom at dizzying speeds. Parents appreciate the fact that that the playground area is fully supervised.
4.
Bearing fruit
Where possible, all dishes prepared by the club use fruit and vegetables from the gardens dotted around the property. All our peaches, basil, tomatoes and aubergines are personally tended by members of the garden party committee.
5.
Culinary collective
Rather than trying to master myriad cuisines, the club's management has invited top small-scale operators to run stands around the club. We especially like the granitas from the Gelato Boys, panini from Club Sandwicheria and pork cutlets from Tonkatsu To Go.
6.
A team effort
Club Monocolo puts an emphasis on team sports and the arena has leagues for bandy, basketball, badminton and volleyball. The space also houses a massive, Technogym-equipped gym facility.
7.
A pool of resources
The club's pool is a social hub for young and old, from early morning till closing time. Cabana boys in Orlebar Brown uniforms serve super-chilled mugs of Kirin beer and dainty salads.
8.
Hit the books
At the centre of the property is a pavilion housing the best books, CDs and vinyl – all available to borrow. Inside, there are inter-connecting reading rooms with cosy corners for getting lost with favourite authors. Outside there's a verandah with rocking chairs for lazy afternoons and on the roof an outdoor cinema for evening screenings.
9.
Locked up
Club Monocolo's locker facilities have been designed by John Morford and boast hammams, Finnish saunas, ice-cold plunge pools and Japanese-style shower facilities. Our friends at Toto have looked after all the plumbing and Shiseido has developed a special range of soaps and shampoos in a signature scent. Please note that shoes are not allowed beyond the threshold – please check them in at the door.
10.
Easy, breezy workout
For days when the skies are calm and the breezes warm there's a covered outdoor gym for morning routines, special classes and private training sessions with your PT.
11.
Still waters
Club Monocolo's lake is a favourite for those who want to strip off after their morning run and cool down along its shady shoreline. Close to the water's edge there are plenty of loungers and chairs to spend the day, and members can rent their own personal patch of grass for the entire season.
12.
Supreme courts
Tennis is a key feature at the club and a mix of clay and grass surfaces is on offer for everyone from the casual player to the semi-pro. Open from first light right up until lights out, there are also a handful of indoor courts for those chillier days during the winter months.
13.
Sound mind, sound body
Club Monocolo's well-stocked kiosk is the place to pick up your copy of Bloomberg Businessweek, the FT, New York Magazine and any other title you think essential for an afternoon under a parasol.
14.
Automated bike parking
Here, bike parking doesn't involve locks or a tiresome hunt for a spot. Just push your Skeppshult into a parking slot, swipe your card and away it slides into an underground lot. When you want it back, just produce you card again and it will reappear from the depths in less than 60 seconds.