Property prospectus / Liguria
Camogli
Set on the spectacular Ligurian coast against a backdrop of olive-groved mountains, the traditional fishing town of Camogli, about 20km from Genoa, is now attracting writers, artists and intellectuals escaping from the city for the weekend.
Portofino may be Liguria's most illustrious escape but there is a more authentic scene on the opposite side of the promontorio at Camogli. Weathered old fishermen can still be found repairing nets along the harbour and behind them tall narrow houses rise in a multitude of colours. For the past decade, Camogli has been attracting a different crowd and now fishermen share the village with some of Italy's top writers, artists, politicians and industrialists who weekend from the big cities in the north.
This crowd tends toward the Boschetto neighbourhood, a peaceful conservation area covered with fig trees and agave plants on Mount Portofino. Boschetto is a short drive to the centre of the town but if you feel like walking, there is a narrow path and steep steps characteristic of the towns along the precipitous Ligurian coast. New residents are also investing in the faded country houses that dot the area. Some have been magnificently restored and offer stunning views onto the Paradiso gulf that stretches from Savona to Portofino.
---
Camogli is known for its warmly hued houses, which were built during the 17th and 19th centuries and often reach as high as 10 floors. The Boschetto neighbourhood is home to an ancient Ligurian palace, replete with trompe l'oeils and frescos inside and out. The houses in the area were once the country homes of sea captains, later turned into villas for the bourgeoisie. The mansions are often surrounded by fasce (land terraced for olive groves) and gardens with swimming pools. Boschetto is always a little cooler than the waterfront, so it's comfortable all year round.
---
Arrivals
Flights to Genoa (45 mins' drive to Camogli)
BA – one flight daily
Lufthansa/Air Dolomiti – up to four flights daily
Air France – up to three flights daily
---
Pescheria Martini
Via al Porto 19 + 39 0185 771 179
Fresh fish is sold from early in the morning with the catch of the day arriving directly from the sea in front of the shop. Shellfish and other seafood is also available from the Adriatic. Lobster on request.
Pasta Fresca Fiorella
Via Garibaldi 189/191 + 39 0185 771 096
Every kind of Ligurian pasta, all hand-made in the back of the shop, including trofie, gnocchi, pansoti and ravioli with boraggini. They also prepare ragu, pesto and walnut sauce to toss with the pasta every day.
La Bottega dei Piaceri
Via via della repubblica 87 + 39 0185 771 520­
Local produce for your own pot including extra virgin olive oil, taggiasche olives, wines, vegetables preserved in olive oil and a variety of dried herbs.
I Gatti del Borgo
Via al porto 16 + 39 0185 771 105 igattidelborgo.it
"The Cats of the Village" is located under the arches in the centre of town and sells modish Med threads for kids and adults.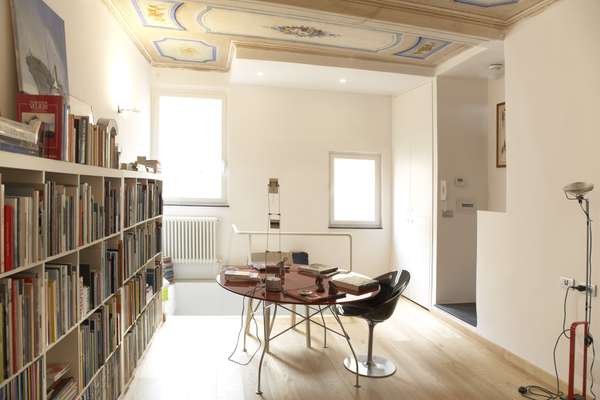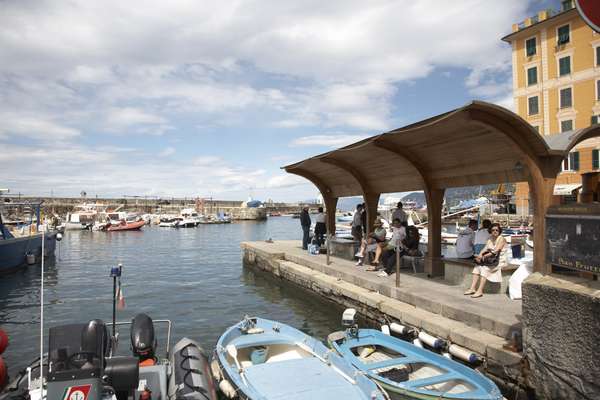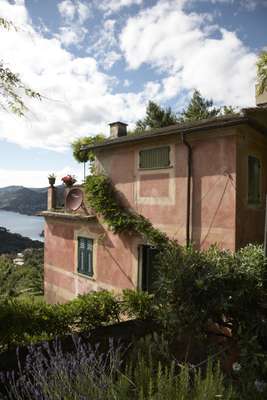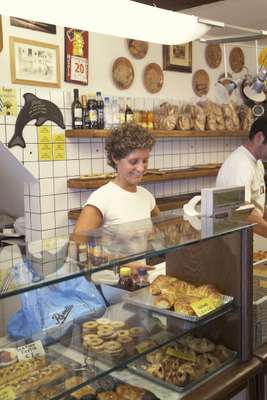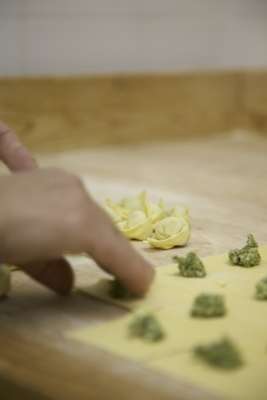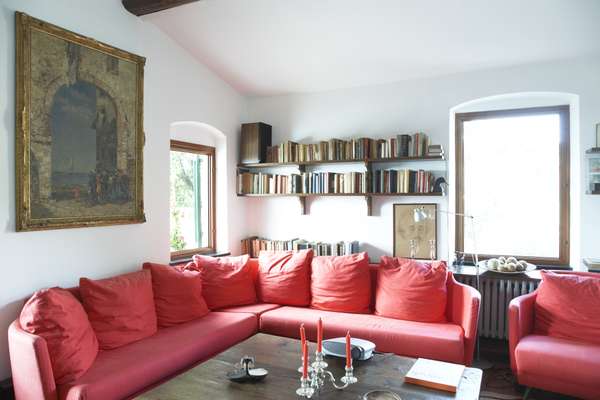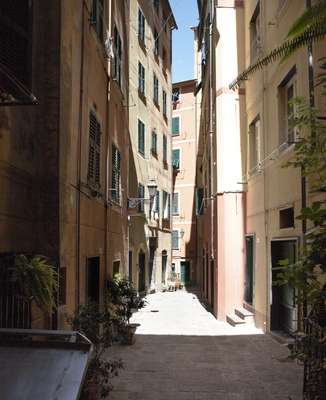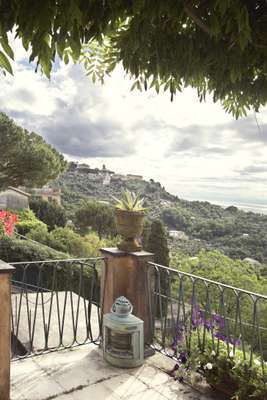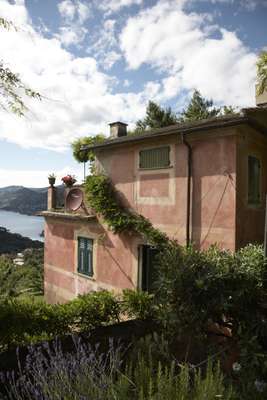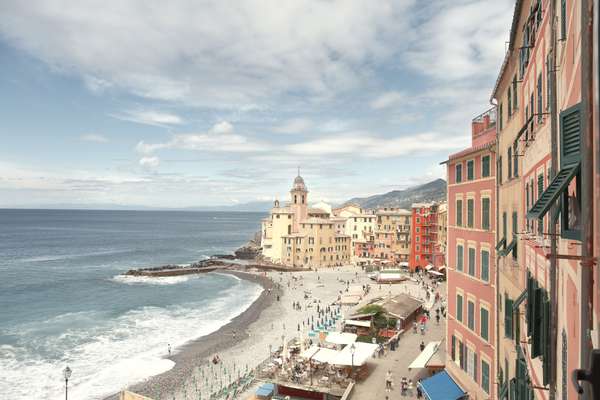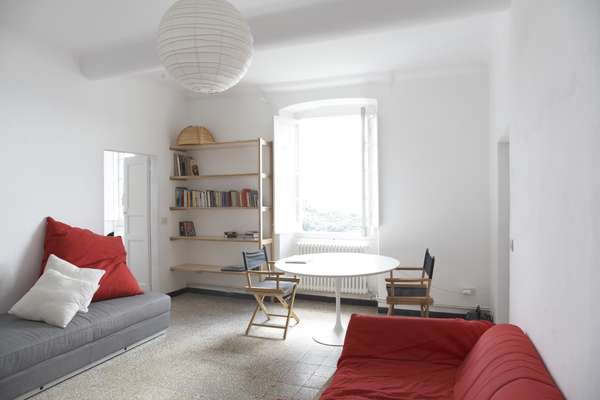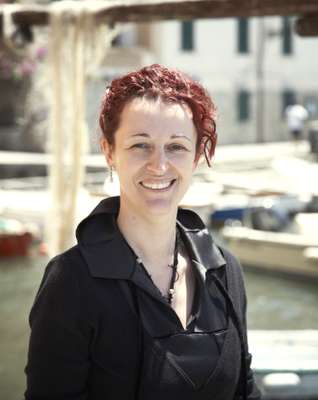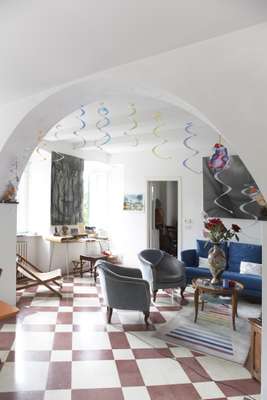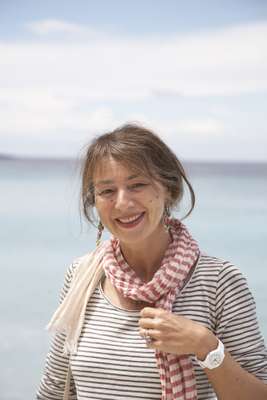 ---
Water Taxi
Camogli harbour and Punta Chiappa + 39 334 254 9868
Water transportation for small groups (maximum 10) on a rubber dingy from Camogli to Punta Chiappa, San Fruttuoso or Portofino and Santa Margherita.
Architect
Guido Risicato, risiguido@virgilio.it
Born in Camogli, young architect Guido Risicato has been making a name for himself locally for his airy sympathetic renovations in town  By mixing design with traditional style.
---
Trattoria Da Spadin
Via San Nicolò Capodimonte 55, Punta Chiappa, + 39 0185 770 624
Connoisseurs come on foot or by boat to this trattoria to eat freshly caught seafood, including tuna from the nearby tonnara.
Focacceria e Pasticceria Revello
Via Garibaldi 183, + 39 0185 770 777, revellocamogli.com
Not only can you find the best focaccia and focaccia al formaggio in Camogli here but its Camogliesi rum cake with dark chocolate is not to be missed. It has just one other shop, in Tokyo, which gives you an idea of just how good this place is.
Ristorante Da Paolo
Via San Fortunato 14, + 39 0185 773595
Opened in 1984, the place is now run by Paolo's wife Teresa, his chef son Angelo and his wife, Angela. They will cook only local fish and during the summer they have a small outdoor dining area with room for five tables.
La cucina di Nonna Nina
San Rocco di Camogli, + 39 0185 773 835, nonnanina.it
If you aren't in a hurry and you enjoy trying traditional Ligurian dishes, ask for the garden terrace of this old classic house in San Rocco which has been transformed into a restaurant a few kilometres from the centre of Camogli.
Pub La Cage aux Folles
Piazza Colombo 8, + 39 0185 772 357
Residents and tourists share tables on two small squares, one on the harbour and the other overlooking the beach. Nice snacks and excellent coffee.
Gelato & Dintorni
Via Garibaldi 104, + 39 339 655 3007
A small bottega perfectly situated on the waterfront. The best home-made gelato in town. You can choose from a list of 20 flavours – the speciality is the granite di frutta fresca.
Locanda I Tre merli 
Via scalo 5, + 39 0185 776 752
Located in front of the small harbour where fishermen and the boats for San Fruttuoso and Punta Ciappa depart. This quaint hotel has just five rooms.
Villa Rosmarino 
Via Figari 38, + 39 0185 776 752, villarosmarino.com
Modernist interiors and Murano glass on Mount Portofino – a must for a more secluded stay.
---
Buying a house with sea view at Boschetto
€4,000 – €7,000 a sq m
Buying an apartment on the water front
€9,000 – €12,000 a sq m
---
"The procedure is the same for both Italians and foreigners," says Rita Ogno of agency Immobiliare Memmo, "and it takes roughly one to two months to reach completion." If you use an agency you will have to pay 3 per cent of the price. Buy directly from the homeowner and you'll avoid this cost but in both cases you need to hire a notary. You also need to sign a preliminary contract with the notary present. Tax on purchase of a second house is 10 per cent of the value. If you make the home your primary residence this tax can be avoided.
---
Mario Pietraccetta
 42, Owner of maison de charme Villa Rosmarino
"I decided to move here because it's a very traditional fishing village only an hour and a half from Milan. Lately, it has become a refuge for international intellectuals and connoisseurs while remaining true to its authentic seafaring roots. People here respect your private life and newcomers are always welcome."
Eleonora Bozzi
38, owner of Locanda Tre Merli
"I love Camogli. Here you can escape from the stress of city life and you are surround by tranquillity and the beauty of Monte di Portofino. A true pleasure is going to the small harbour and taking a gozzo – a traditional fishing boat – to a special swimming spot in front of Abbazia di San Fruttuoso."
Rosanna Massarenti
48, editor
"It's a small village with a very active and respectful social life. We almost never go to restaurants but instead to friends' homes. Camogli is at the heart of Ligurian cultural and artistic scene which is attracting a growing number of professionals looking for a simpler seaside holiday."
Augusto Bianchi
69, attorney and author
"The same families have been living here for centuries and this preserves the authenticity. The place permits you to live a very special informal life that is easily shared with friends every weekend. There's an intellectual and stimulating atmosphere."
Natalina Remotti
65, art collector
"My husband and I liked the intellectual atmosphere in Camogli, that's why we started our foundation (fondazioneremotti.it). We asked the architect Alberto Garutti to restore the 19th-century Sconsacrata church of Giannelline in the Boschetto neighbourhood. Artists such as Gilberto Zorio, Michelangelo Pistoletto, Tobia Rehberger and A12 all took part in the restoration."