Defence / Global
Defence
Briefing
The french army's new laser dubbed "the finger of death" and Spain's flight school for Afghan pilots.
Hip hooray
Afghanistan — 
FLIGHT SCHOOL
Spain is setting up a training facility to certify aircrews from the fledgling Afghan National Army Air Corps (ANAAC) flying the Soviet-era Mil Mi-8/17 "Hip" helicopter workhorse (pictured). The facility is set to open in Herat, near Afghanistan's border with Iran, before the end of the year and will concentrate on cross-country navigation and tactical flying at low level.
It will be staffed by 15 instructors, five each from Spain and Lithuania, with the remaining five posted from Latvia and Ukraine. This is despite the centre notionally being run under the auspices of Nato's International Security Assistance Force (ISAF) and Ukraine having formally withdrawn from the Nato membership path on 16 July. The rugged charms of the Hip ­helicopter have proved ideally suited to Afghanistan's altitude – just as they did during the Soviet occupation in the 1980s – and the type forms the core of the ANAAC, which ­currently flies 25 transport ­versions and a small force of attack helicopters. It also boasts a small handful of Russian fixed-wing transports.
---
1. 
Britain:
The UK's Project "Curium" came to an end in March 2010, having trained 27 Afghan aircrew in England to fly the Hip since February 2008.
2.
Czech Republic:
The ANAAC's attack capability rests solely on nine ex-Czech Republic Mi-35 "Hinds", which are operated with the mentoring and supervision of Czech and Hungarian aircrews.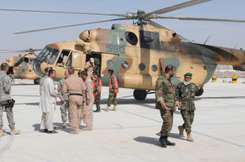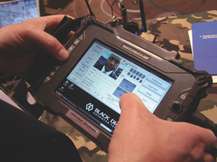 3.
Nato:
According to Nato figures, 85 per cent of the Afghan National Army is currently undergoing some form of training with ISAF.
---
Mark of death
Afghanistan — 
EQUIPMENT
French Army pilots flying in Afghanistan have begun to use a new system called the LD120HLA but nicknamed the "doigt de la mort" (finger of death) to point out potential targets to each other or ensure they're looking at the same target as a soldier on the ground. It uses a small infrared laser pointer strapped onto the pilot's hand to shine a straight laser beam at the target, which can only be seen through night-vision goggles.
---
Ship shape
Japan — 
MARITIME
Mitsubishi Heavy Industries began construction of the Japan Maritime Self Defence Force's (JMSDF's) second 19DD destroyer during Monocle's summer break, continuing the fleet's relentless recapitalisation, despite the country's troubled economy.
The first 19DD is well down the slipway and set to be named and launched in October, with the next two 5,000-tonne sister ships laid down next year. The first of two new improved Hirashima-class minesweepers will also be launched in October, aiming for delivery in 2012, while the service's second 18,000-tonne Hyuga-class baby aircraft carrier is set to join the fleet in March 2011. The only potential speed humps are in the submarine fleet, which the JMSDF plans to keep at 16 hulls, but has yet to order enough to replace the Harushio-class when they leave service. That said, the production line is still hot, with new Souryu-class boats in production.
---
Nowhere to hide
USA —
 TECHNOLOGY
Two US defence firms – Northrop Grumman and Black Diamond Advanced Technology – have begun production of the new BioTRAC, a system for "human terrain" information gathering.
It collects, stores and cross-references iris data and facial and voice recognition, and does handwriting and signature checks. Data can be transmitted from a road block or patrol to HQ – invaluable when looking for known insurgents.
---
Spy in the sky
UK — 
HYBRID AIRSHIP
UK-based Hybrid Air Vehicles (HAV) has scored its first sale of the ground-breaking hybrid airship design, securing an order for the US Army's new Long Endurance Multi-intelligence Vehicle (LEMV) programme. The order is initially for up to three airships and could usher in a new era for lighter-than-air flight if the 91m-long aircraft perform as advertised. As well as the gas lift produced by the airship's envelope, it is shaped to produce up to 40 per cent of total lift aerodynamically from the air passing over and under the wing-profiled gas bag, making it an incredibly efficient way of flying.
LEMV will be flown into a theatre by a crew aboard the aircraft but once there, it would carry a package of just over a tonne of surveillance sensors up to around 20,000ft and lurk there for up to 21 days, keeping a 24-hour watch over a battlefield or city looking for insurgents. It is due to make its maiden flight by July 2011 and deploy to Afghanistan by early 2012.
---
Indonesia joined South Korea's KFX future fighter aircraft programme in mid-July, agreeing to foot up to 20 per cent of the development costs (more than €784m) for the next 10 years in exchange for technical know-how and an option to buy up to 50 fighters.