National icon / Rio de Janeiro
Face Maker
Plastic surgeon Ivo Pitanguy has earned legendary status in Brazil, with his philosophy that good looks should be available to all, regardless of wealth or social standing. His pioneering techniques are still admired by surgeons all over the world.
With some 74,300 operations performed in a career spanning six decades, Dr Ivo Pitanguy, the world's most famous plastic surgeon, is revered in his native Brazil as the guru of his art. He is especially legendary in Rio de Janeiro, the city whose plastic assets owe so much to him. In Rio's dazzling 1999 carnival parade he was honoured with a life-sized replica of himself manning The Universe of Beauty, a huge white three-tiered float, led by women in feathers, dancing the samba.
Pitanguy is hailed as the "Michelangelo of the Scalpel" and his scalpel has worked its magic on people from all over the world. His patients have included film stars and presidents; his surgery work ranges from birth defects to buttock lifts.
Aged 84, he still lectures and supervises surgeons four days a week in Rio, where he is director of the prestigious Clínica Ivo Pitanguy and the 38th Infirmary ward that he founded at the General Hospital Santa Casa da Misericordia to offer very low-cost operations to his poorest patients.
Chair and head professor of plastic surgery at the Post-Graduate Medical School at Pontifical Catholic University, Pitanguy is also a member of both the National Academy of Medicine and the National Academy of Letters and was, for 11 years, the director of MAM, the Modern Art Museum. He spends his time between his houses in Rio and his private island, Porcos Grande, a sanctuary for endangered species.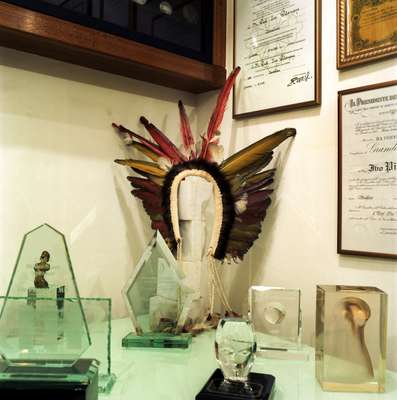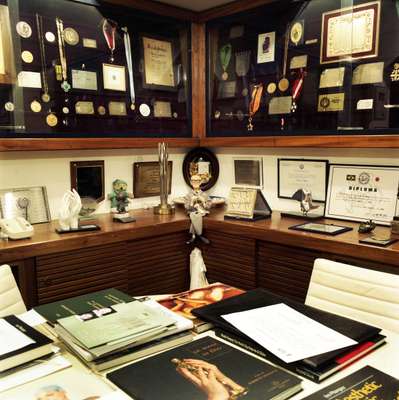 Sitting in an office in his clinic, surrounded by surrealist paintings and sculptures and aquariums filled with fish and birds in cages, he tells Monocle about his passion for art. "I have always been in love with creativity in all its aspects. All the pictures you see here were gifts – this one opposite is by my friend, Salvador Dalí. The art I have bought is in my house. I like the surrealists. I admired Dalí, Chagal, Picasso. I am quite eclectic. But I didn't like what Damien Hirst did with that enormous shark, cut in the middle. He's creative but I think he's just forcing it."
The art he seems to value most in the room are the aquarella illustrations detailing his techniques for classic operations that were printed in his book, Plastic Surgery of the Head and Body. Published in 1981, it is still a handbook for plastic surgeons. The meticulous drawings are vivid, often showing close-ups of bright red flesh, with surgeons' hands beneath. "My wish was to bring all of this to other plastic surgeons, as opposed to hiding it."
Pitanguy says he has never opted for an operation himself. "Of course I could be much better if I had, but I tolerate myself. My ego is transcended." His face shows age but he looks younger than his years and he has a glimmer in his eye.
If there's one thing that annoys Dr Pitanguy, it's what he sees as the "banalisation" of plastic surgery – "looking at it like it's a beauty parlour. It is something that I think has done [the profession] a lot of harm." In his clinic, he insists, "everything is very academic". And Pitanguy does not make any distinction between the reconstructive and the cosmetic: "Both are important psychologically," he says. He promotes his work as a service to beauty, health and wellbeing.
Pitanguy earned his early reputation in the 1940s, by helping casualties deformed by war in France and England where he trained. This was followed by burns surgery in Brazil, notably in 1961 after a fire in a circus tent in Niterói left 1,200 survivors with burns.
In the 1970s Pitanguy became better known for his rhinoplasty (some 10,000 operations) and face and body lifts, perfecting body contouring techniques. Today his theatres operate on women – and increasingly men – of all ages. Ear correction is the most common procedure for children, nose jobs are the most popular for youngsters, breast surgery and face lifts respectively for adult women and men.
What makes Brazil so much more receptive to plastic surgery than other countries? "People here are more exposed to the sun than in countries in Europe, for instance, where people's bodies have to be covered up more because of the climate," says Pitanguy. "And it's probably because they are more exposed to nature that Brazilians are more extroverted."
Dr Pitanguy's success comes down to his mission to make plastic surgery accessible across society, a principle that also drove him to create his school of trainees. "The whole country is now covered with well-trained plastic surgeons. In most countries aesthetic surgery was considered something for artists or high-profile people, people of certain social levels. But what I learned in dealing with people was that their anxieties and wishes are the same. We all have the right to be well, not just the elite.
"We tried not to make plastic surgery a luxury or something to which you do not have the right. It ought to be your human right to have a face like your god." And looking down the beach in Rio de Janeiro, the gods seem to be out in full force.
Beautiful life
Ivo Pitanguy's CV
1926
Born in Belo Horizonte, Brazil
1946
Graduates from Federal University of Rio de Janeiro School of Medicine
1954
Founds 38th Infirmary ward at General Hospital Santa Casa da Misericordia, Rio de Janeiro
1960
Assumes chair and professorship at Post-Graduate Medical School of Pontifical Catholic University, Rio
1961
Attends to burns victims of Niterói Circus fire
1963
Opens Clínica Ivo Pitanguy, Rio
1974
Directs Rio's Modern Art Museum
1981
Publishes Plastic Surgery of the Head and Body
1999
Honoured by a float called The Universe Of Beauty in Rio's carnival
2009
Publishes his memoirs, Letters to a Young Surgeon