Fashion / Global
Fashion
Briefing
Everything that's new and noteworthy in fashion, including a sportswear line from Japanese brand Tools, and ties with a twist from UK label An English Hand.
Don't get tied down
UK — 
AN ENGLISH HAND
Although handmade in the UK with traditional materials and techniques, Jonathan Lloyd-Platt's year-old tie label strives to step away from orthodox styles. "We want these ties to show a healthy disrespect for the slimy car salesman who has to wear a tie to work," says Lloyd-Platt. Using English wool suiting and shirt fabrics, the designs cut across the grain of cloth to create horizontal stripes and allows the selvedge to form the tip of the tie, emphasising the hand-crafted nature of each piece.
anenglishhand.co.uk
---
Shoe on the other foot
USA — 
COMMON PROJECT
After launching a much-lauded men's line in 2004, New York-based designers Prathan Poopat and Flavio Girolami introduced a women's collection this spring. This pair of women's nappa leather "Achilles Raw", made in Italy and modelled on deck shoes, are from the autumn collection.
commonprojects.com
---
Changing sides
Japan — 
LEVI
Two of Japan's most influential designers, Takahiro Miyashita and Kazuki Kuraishi, have collaborated on the Levi's Lefty Jean. They moved the red label to the left on a selection of products – a first in the company's near 160-year history.
levi.jp
---
Spreading the net
USA — 
HOLLANDER & LEXER
Brian Cousins and Hicham Benmira run four Brooklyn shops: two Hollander & Lexer menswear stores and two furniture and found-object emporiums called Darr. Now the pair are focusing on their own label. Made in NY's Garment district, the collection is available in London's Matches, Tokyo's Isetan and the new Santa Monica Bloomingdale's.
hollanderandlexer.net
---
Little brown bag
Spain —
 LOEWE
Loewe's paper bag-inspired Papelle was previewed in last season's women's line as a stylish alternative to the eco-friendly canvas tote. The bag (available in three sizes) has been brought into the men's collection for autumn. Made from nappa leather and available in tan and a dark grey, the bags have a zip pocket and a protective leather flap.
loewe.com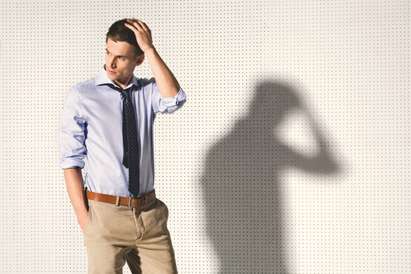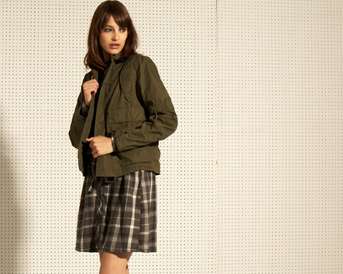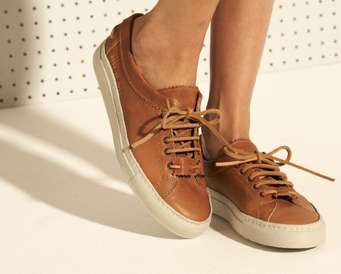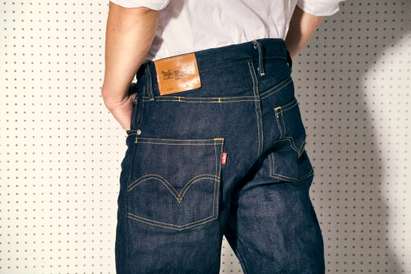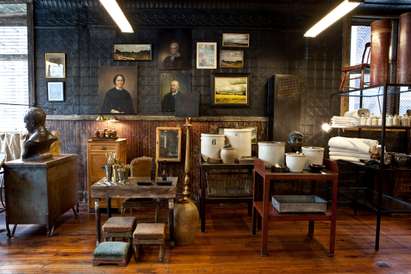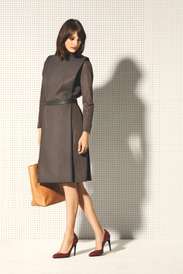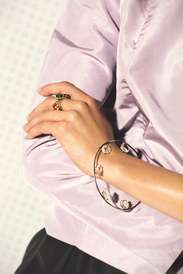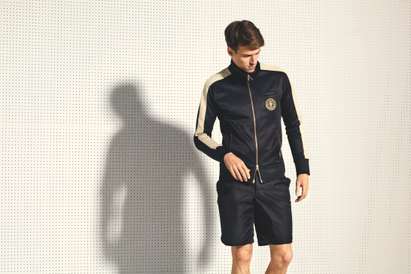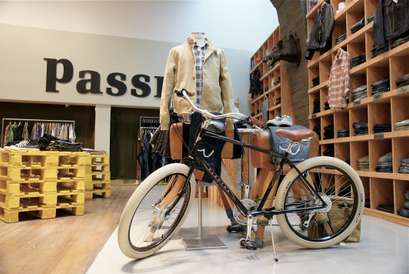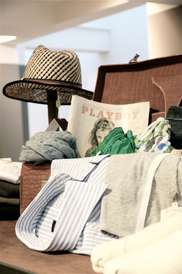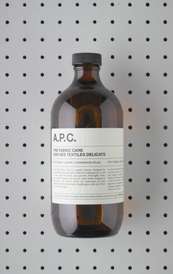 ---
New recruit
Japan — 
NEPENTHES
Starting out as a distributor in 1988 and moving into retail a year later, Japanese company Nepenthes (the firm behind brands such as Engineered Garments and Needles) opened the womenswear shop Lyla in Tokyo's Shibuya this February. This light jacket for autumn was made in Japan from US Army deadstock cargo pants. Each jacket is cut and sewn differently, repurposing deep pockets and seams to produce a series of unique pieces.
nepenthes.co.jp
---
Material girl
Spain —
 JOAQUIN TRIAS
Focusing on structure and innovation, Joaquin Trias mixes high-quality Italian fabrics with state-of-the-art materials from Switzerland for his Madrid-based womenswear line. The autumn collection focuses on "vertical strength", playing with the strong pleats and overlapping as in this faille and wool dress.
joaquintrias.com
---
Crystal clear
Beirut — 
DAILA BARKACHE
With Moroccan origins, a Parisian upbringing and now a Beirut-based business, it's no surprise that Dalila Barkache cites multi-culturalism as an influence for her jewellery line, launched in 2006. This 18-carat yellow gold ring is set with oval-shaped tourmaline while the gold and patina bracelet holds a series of rose-cut rock crystals.
dalilabarkache.com
---
"We've made a line of sportswear stylish enough to be worn on the street," says Masaru Kondo, owner of Japanese fashion brand Tools. Kondo teamed up with Jun Hashimoto, the designer behind the WJK brand to launch this nylon jersey top and matching shorts that double as tennis or golf-wear. The shoulders are designed to allow maximum movement and detachable Velcro badges made from chenille and Swarovski crystals sport different logos for the corresponding sport you are playing. The line will be available on Zozotown (see issue 34) in September.
zozo.jp
---
Keeping it cool
Germany — 
FELDENKIRCHEN
Andreas Feldenkirchen's mix of established European brands and younger American casual wear and denim labels has proved a retail success. Having co-founded a women's store in 1999 in Hamburg, he opened his first men's shop in the city in 2002 and five years later launched the Speakeasy Denim bar. This March, Andreas expanded into a two-storey men's store that stocks Incotex, Aglini and Woolrich. "We work with a lot of specialists who have their own brand heritage. By combining these with up-and-coming brands, we create a unique portfolio," he says. Double RL and Incotex's Red line will be introduced for autumn.
+ 49 40 3571 5227
---
Q&A
Greg Chapman
Designer
USA
At almost a century old, Schott NYC is launching a new men's brand for spring 2011. Headed by a new creative director, the UK's Greg Chapman, the Perfecto Brand pays homage to Schott's long clothing legacy.
Tell us about Perfecto
The Perfecto Brand was the name of the original collection Schott produced in the 1920s.
What are the key pieces?
We have 12 outerwear pieces in the first collection that I hope to expand for autumn. The carney jacket features horsehide because of its authenticity and durability.
Is Made in America essential?
It is ingrained in the brand history and we are very lucky to be able to produce in our own factory in New Jersey. We will keep Perfecto as authentic as possible.
schottnyc.com
---
Plant one on me
Australia — 
APC X AESOP
An alternative to environmentally damaging dry-cleaning, this Fine Fabric Care cleanser is by Australian grooming company Aesop in collaboration with APC. Known for its plant-based products, this fabric cleaner – the company's first – is made with extracts of pettigrain, lemon and cedarwood and is available at APC and Aesop stores.
aesop.net.eu; apc.fr