Seattle / Seattle
Heir Ways
A thriving family-run airline, Kenmore Air has flown to the islands of the Pacific Northwest since it was founded in 1946.
Three generations of Todd Banks' family have been at Kenmore Air. The current president works alongside his mother Leslie (she's on front line reservations), and he says that other staff are treated like family. "We are pretty flat organisationally," he says, "and not particularly formal with job descriptions; we all pitch in and do whatever it takes to make the day work well."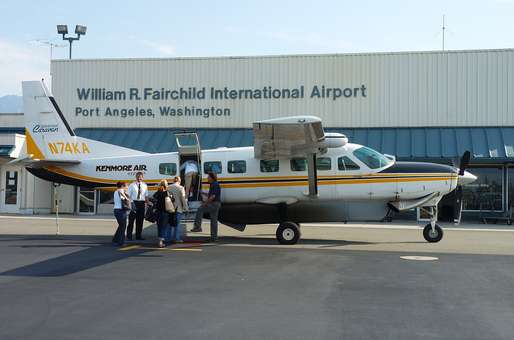 Kenmore's first scheduled service was launched in 1986 when demand for its charter flights to islands on the Pacific coast became high. Now, 90 per cent of flights are scheduled with Kenmore flying 115,000 passengers a year on its fleet of 24 planes. Kenmore began as a maintenance workshop, an operation that still makes up about a third of its business.
The airline's ambition is hardly world domination – most clients are local – but rather to respond to demand with local code-shares so that journeys can connect easily. In June, it became possible for clients to book Kenmore destinations through Alaska Airlines as a result of a new partnership. "A lot of our customers are customers of theirs, so we want to make it easier for people to book," says Banks.
Strengthening its online presence is central to Kenmore's future plans. A new website is being built and the plan is to forge links with online travel agents. In October, Kenmore is also launching Harbors, a quarterly inflight magazine, featuring destination guides and information on local wildlife. According to Banks: "When you fly around the islands to all our destinations you see whales and boats, in fact the other day when I was out, I saw several killer whales and a humpback."
Kenmore facts
Fleet
6 x de Havilland Turbine Otters
2 x de Havilland Turbine Beavers
6 x de Havilland Beavers
2 x Cessna 180s
2 x Piper Super Cubs (flight training only)
4 x Cessna Caravans
2 x Piper Chieftains
Staff
There are 223 employees, with five members from the founding families still involved in the business. The longest standing employee is Gregg Munro, whose father Bob founded the airline. Gregg has been around the firm since his childhood but officially joined the payroll in 1968. Two other employees, seaplane captain Bill Whitney and engineer Gordon Barnes, have been with Kenmore Air since 1971.
Uniform
There are no air stewards because the aeroplanes are too small, but pilots are allowed to remove their ties if it's above 27C.
Catering
Bring your own granola.