Media / Global
Media
Briefing
TV screens at US petrol pumps, Iceland's PM-turned-newspaper editor and Australia vinyl resurgence.
Top-drawer tile
Seoul —
 MAGAZINE
With more than 500 photos spread over 368 pages, the first issue of Cabinet sets the bar high, surpassing the general conception of biannual magazines.
Written in both English and Korean, the main theme of the debut issue is "trees", focusing on evolution and growth. It features 20 curators, designers and craftsmen including Armand Hadida, the founder of Paris fashion house L'eclaireur; Axel Bruchhäuser of German furniture maker Tecta; Fujimoto Yasushi who is the art director of Vogue Nippon and GQ Japan; and Monocle's favourite gallerist, Rossana Orlandi.
---
News from the pumps
USA —
 TELEVISION
US road trips are becoming even more American – now there's no need ever to leave our beloved televisions. Gas Station TV (GSTV) is a fast-growing network of screens built into the top of petrol pumps to "enhance the fueling experience". The TVs play a continuous four-and-a-half-minute loop of NBC news, weather and ESPN sport.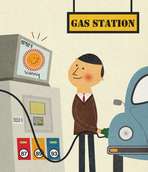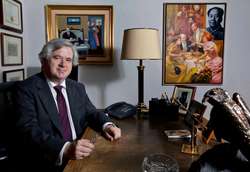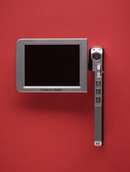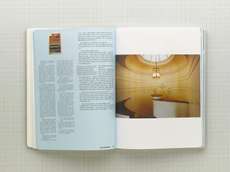 GSTV has expanded to more than 8,000 screens at 1,100 petrol stations and delivers more than 27 million "pump views" per month. In the last year, GSTV has doubled sales, increased staff by 30 per cent and tripled its office space at its headquarters in Birmingham, Michigan. PepsiCo has just signed a multi-year, multi-brand deal with GSTV.
---
Toshiba's Camileo S20 high-definition camcorder is proof of the growing convergence, in design terms at least, between digital cameras and mobile phones. It can only be a few years before the idea of a phone without a built-in camcorder is anachronistic – until then slip this into your carry-on bag.
toshiba.com
---
Rough edit
Iceland — 
NEWSPAPERS
Iceland's former prime minister and central bank director Davíd Oddsson (right), who had refused to leave his post at the bank after the country's financial collapse, now edits the daily newspaper Morgunbladid. He uses the op-ed page to air his views against current prime minister Jóhanna Sigurdardóttir's efforts to join the EU and increase fishing quotas (she fired him from the central bank when she took office).
Despite a loss of 10,000 subscriptions when Oddsson took over, 50 per cent of the population say they trust Morgunbladid. Former journalist Gísli Marteinn, now a city councilman, says: "It is fascinating that this huge figure in Icelandic public life is airing his opinions through this old and respected newspaper. But that is not uncommon in Scandinavia any more. The question is if the new leader of the conservative party can bloom in the shadow of the huge oak that is Mr Oddsson."
---
Arvakur group
You know who. Oddsson earns 3.8m (€24,000) a month (€15,000 more than former editor Stephensen made).
50,000 to 55,000
The paper has always had strong ties to the country's Independence party, sitting just to the right of the centre-right Conservative party.
---
Vinyl frontier
Sydney — 
VINYL
Australia's vinyl resurgence – what do you mean you haven't heard of it? – has been helped by The Vinyl Factory UK's (see issue 29) new plant in Marrickville, Sydney. At the close of 2009 vinyl sales were in excess of two million, up 25 per cent from 2008. Retail has been quick to take the initiative with stores springing up along the east coast of Oz.
---
War, politics, and pop picks
USA
If you're a news anchor with a penchant for pop and feel like self-rebrand, follow NBC anchor Brian Williams whose online music show, called… drumroll please… BriTunes, has found a bit of form. But we want better interviews; maybe a bit of Paxman 'n' drugs 'n' rock 'n' roll on Letterman FM?