Asia / Global
Asia
Briefing
Badly equipped and under-trained, India's police force needs more than just investment. We also report on the Burmese elections, Vietnam's unlikely new friend, and a former Chinese politician speaking out against the government.
During the Mumbai terrorist attacks of 26 November 2008, images were broadcast of police armed with First World War-era rifles facing up to heavily armed terrorists. Nearly two years after the attacks, in which 184 people were killed, experts fear not much has changed.
"The bulk of the police still rely on the old Lee-Enfield .303 bolt-action rifle, for which ammunition is no longer made and is in short supply," says Dr Ajai Sahni of the New Delhi-based Institute for Conflict Management.
When it comes to arming Mumbai, money isn't the issue. The 2009-2010 budget for the city police department stands at around R10.3bn (€170m). "As India's economy grows, so does its desire to spend more on weaponry," says Sunil Dasgupta, co-author of Arming Without Aiming: India's Military Modernization, which was published by the Brookings Institution this year. But where money ends up is not always in the right places: defence procurement is one of the most corrupt areas of Indian governance, Dasgupta says.
There has been some improvement; Dasgupta highlights better surveillance and rapid response teams. His co-author, Stephen Cohen, points to the a new nationwide police force and better coordination between the Indian Coast Guard and Navy. Still, unless adequate training regimes are instituted and police corruption stemmed, the police could be out-gunned.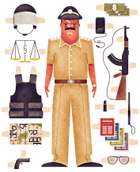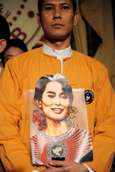 ---
1.
Central planning:
Security policies should be made centrally. Reforms made at the individual state level have not been successes.
2.
Expand the powers of the mayor:
Mumbai should have a mayor with executive powers who can lead in a time of crisis.
3.
Coordination:
Define a coherent defence strategy and give police units the wireless technology to coordinate with each other.
4.
Training:
Police must be properly trained to use the weapons they have.
5.
Transparency:
Until corruption is reined in any reforms or weaponry acquisitions would be futile.
---
Unlikely friends
Vietnam —
TRADE
They may be miles apart but Morocco and Vietnam are forging diplomatic, economic and cultural ties. Since Vietnam opened up to international trade in the 1980s it has prioritised links with rich countries. Now the focus is on untapped developing markets in Africa – trade between Vietnam and Africa reached $2bn (€1.6bn) last year, up from $360m in 2003.
Rabat now wants to build a joint fertiliser plant in Morocco and the two countries have initiated a student exchange programme to foster greater cultural ties. Morocco's PM Abbas el Fassi was also spotted meeting with Vietnam's premier Nguyen Tan Dung at a nuclear security summit in Washington in April.
---
And the winner is
Burma — 
ELECTIONS
Burma's elections will take place on 7 November, only the second since military rule began in 1962. The last time Burma went to the polls in 1990, the overwhelming victory of Aung San Suu Kyi and her party, the National League for Democracy, was ignored by the junta. She is still under house arrest and barred from taking part. The NLD will boycott the elections.
---
Sticky situation
Japan — 
MOTORING
Some thought it resembled a dead leaf. Others were bothered by its teardrop shape. Almost from the day Japan's National Police Agency introduced the momiji maaku (maple leaf mark) in 1997, the yellow-and-orange car sticker for elderly drivers (70 years old and up) has been the target of criticism. Now the NPA plans to ditch the old badge for a new clover-shape design, chosen from among 14,000 entries in a public contest. The new sticker, which will be in use later this year, is part of police efforts to reduce road deaths. Roughly half of the 4,914 people who died in traffic-related accidents in Japan last year were 65 years old or more.
---
Key signature
China — 
POLITICS
A career in Chinese bureaucracy doesn't come without figuring out the tricks of the trade. Jiang Zongfu, former vice-mayor of Linxiang, Hunan, was doing OK until his online criticism of local government forced him from office in May.
He's even less popular among his ex-peers now that he's trying to publish a book about the unwritten rules of Chinese officialdom, including how bureaucrats sign for documents – a circle indicates "it's useless even if I sign it", a full stop after means "spare no effort on this project" and a horizontal signature means "put it on the back burner". Zongfu is waiting to see if his book will get past the censors.
---
Mongolia's capital Ulaanbaatar has seen money pour in after the country's mineral deposits were opened up to foreign investors following the election of a pro-business government in May 2009. The luxury goods brands have arrived, too: Ermenegildo Zegna, Louis Vuitton and Armani have all opened shops in the city.