New offices / Global
Home at the office
Bosses are wising up to the benefits of creating a more humane workplace. Not only does this give staff a sense of pride and belonging but it also expresses a company's ethos to clients. Welcome to the anti-office.
There's a quiet revolution taking place in the way offices are being designed. The scale and nature of work is changing in an increasingly globalised business environment. Successful businesses are working across time zones, 24/7, enabling their staff to connect with foreign bureaux and clients as needed, not just in local working hours. Such a change calls for a new working environment – some way between the frenetic ballet of the trading floor and the crèche-like gimmickry of Silicon Valley. Open-plan, strip-lit spaces no longer seem appealing but nor do spacehopper races at lunchtime.
More grown-up, considered and ­individual, the best new offices feel domestic. They are inspired by bosses wanting their staff to feel at home while at work – it helps bring comfort when the pressure is on and hours are long.
These new offices are being created by a growing breed of architects and ­designers who know how to interpret the meeting point between corporate identity and humane environment and build something that's good both for profits and for the mind.
Beyond impressing visiting clients (though there's clear financial potential here too), investing in the design of an office that promotes genuine employee satisfaction cuts the cost of staff turnover and absenteeism and ensures optimum loyalty, pride and production that comes from working in a happy environment. To help with inspiration we've investigated four case studies, interrogated key industry voices and cited the best firms that can convert your office from soulless call centre into cosy HQ.
---
The elegant loft
André Balazs Properties, New York
"We aim to offer everyone working here the same as we offer guests visiting our hotels," says André Balazs. "We want this office to feel like a home." With high-profile hotels such as Los Angeles' Chateau Marmont, New York's The Mercer and the expanding Standard brand under his property empire, Balazs knows how to make a space hospitable.
Housed since 2008 on the fifth floor of an old printing works on Noho's busy Lafayette street, the offices of André Balazs Properties feel more like a well-appointed apartment than a corporate space. Where you'd expect a company logo there are photographs of the personalities that have stayed at the hotels instead. So it comes as no surprise that Balazs invited local architects Bonetti/Kozerski Studio – the duo that has worked on his Soho apartment since 2003 – to collaborate on his global headquarters. "A lot of the challenges that André gave us at his apartment, he's given to us here too," says Dominic Kozerski. Enrico Bonetti elaborates, "We all wanted to warm the place up so that it didn't feel like a corporate environment."
The fully equipped kitchen offers an informal gathering space and the largest boardroom feels more like a dining room, with walls covered in photographs and a display cabinet of some of the company's most iconic branding and products.
Balazs' private office is surprisingly open to the main space, divided only by a hand-laid glass wall. "A good office is a reflection of the culture that you wish to work in and we're in a very collaborative business," says Balazs. "This office is more about the people who work here than a simple corporate face. We spend a lot of our time trying to make people feel good so I think it makes sense to try and make ourselves feel good as well."
andrebalazsproperties.com
---
1.
Decoration
There is no bare surface in sight. Walls are upholstered in Kvadrat fabrics, deep-grouted tiles and dark wood panelling.
2.
Crossing paths
The main open-plan workspace fosters the company's collaborative spirit with flexibility for the teams to work together or separately.
3.
Facilities
Like any good home, the office has a fully stocked kitchen.
4.
Under foot
Even the carpeted floor takes into account employees' taste for well-heeled (and occasionally noisy) footwear.
---
Humanity at work
By Ilse Crawford, creative director and founder of Studioilse
In our London studio we have a terrace that acts as our summer sitting room. We try to grow tomatoes and some of us can tell the difference between starlings and sparrows. We never find our corporate clients complain if we offer lunch al fresco instead of in the meeting room – decisions, ideas and solutions seem to flow more freely out there.
This is not just a creative whim. The Well-being Institute, a think tank at the University of Cambridge, has been using its research on the workplace to develop wellbeing programmes for workers, particularly those in high-stress occupations. Their conclusions are that "techniques which encourage the mindful awareness of one's sensations, thoughts, and feelings, or techniques which increase the frequency of positive emotions can have beneficial effects on wellbeing, health, ­relationships and productivity."
The notion that the perfectly lit, ­climate-controlled office is the route to productivity at work denies our humanity, and at its core is still connected to the 19th-century tenets of Frederick Taylor, who was the high priest of the Industrial Age: "In the past the Man has been first, in the future the System must be first," he thundered. At the Ford Motor Company in the 1940s laughter was a disciplinary offence, and humming, whistling and smiling were evidence of insubordination. Henry Ford said, "When we are at work we ought to be at work. When we are at play we ought to be at play. There is no use trying to mix the two." This idea that work should be hard is still latent in the corporate consciousness and is visible in the aesthetics of a lot of offices.
"Commingling work and play has become more common and more necessary," says Daniel Pink in his book A Whole New Mind. He says that to do well in business we should be masters of empathy, team work and communication.
That's why we are designing an office for an advertising company. One floor will be a common room and a large ­terrace will have plants and a bar. There will be outdoor movies, pizza and parties. This is no conceit. People rarely succeed at anything unless they have had some fun along the way.
studioilse.com
---
The garden house
Simplicity, Tokyo
When Shinichiro Ogata was looking for a new office for his growing company he knew that he didn't want a conventional work space. Ogata owns a small group of Japanese restaurants and tea shops and an interiors business that all seamlessly express his distinctive blend of traditional and modern Japanese design. Ogata's stock-in-trade style is craft-made and low-lit – fluorescent tubes and linoleum wouldn't do at all. "I wanted to show Simplicity's perception of the world, so an office building was never an option," he says.
The perfect place appeared when a friend moved out of a house Ogata had long admired. Built in the late 1960s in a residential neighbourhood in Meguro, the house was big enough for the 18-strong Simplicity team with the added bonus of an unusually large garden and a garage that could be converted into a showroom. Ogata has changed as little as possible of the warm, wooden interior. The panelling and shoji screens were left in situ and Ogata has added pieces he has been collecting over the years. "Just things I like," he says. "Reference points – mostly old Japanese pieces – that might also be useful for the designers."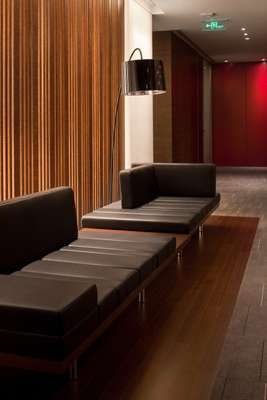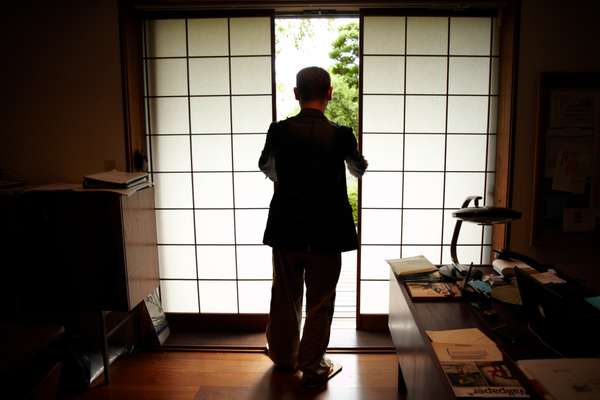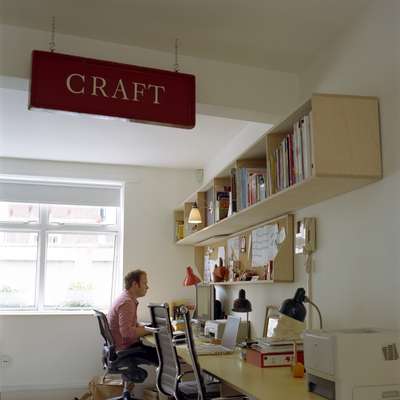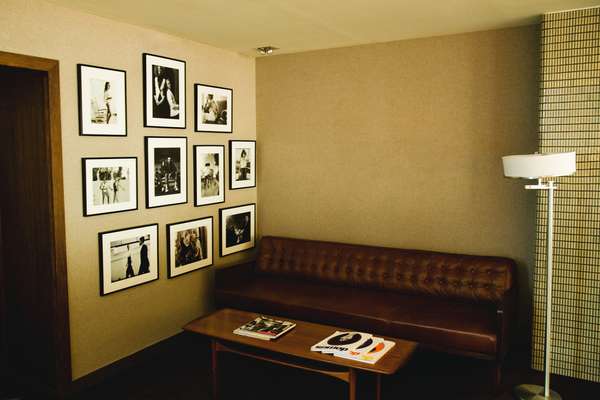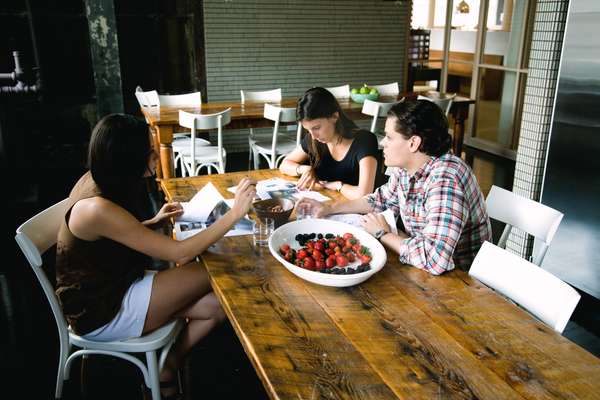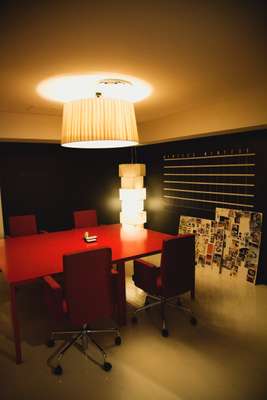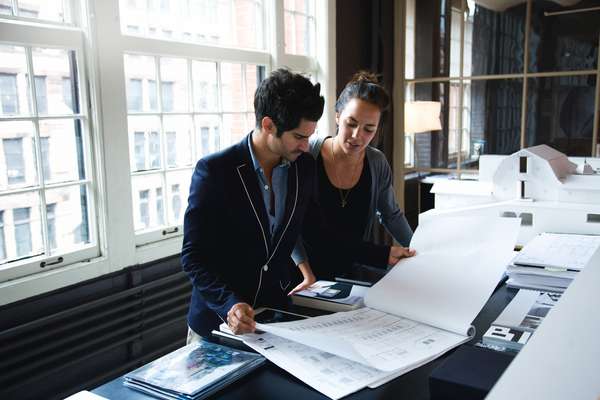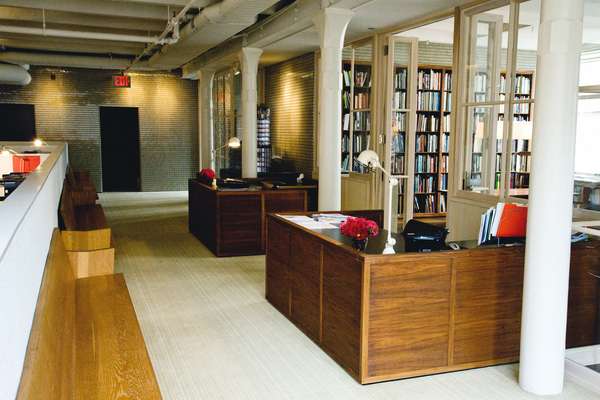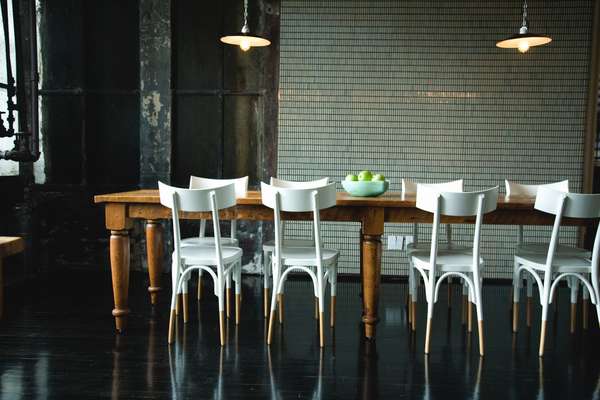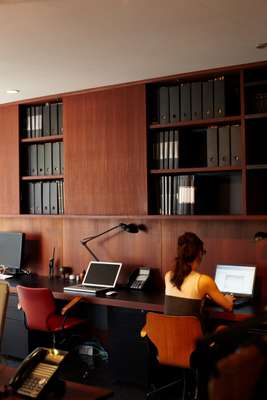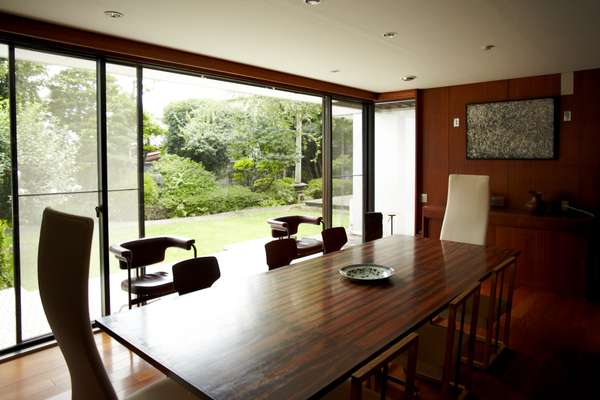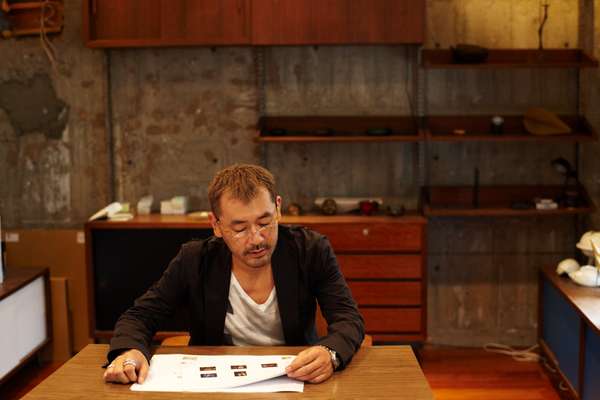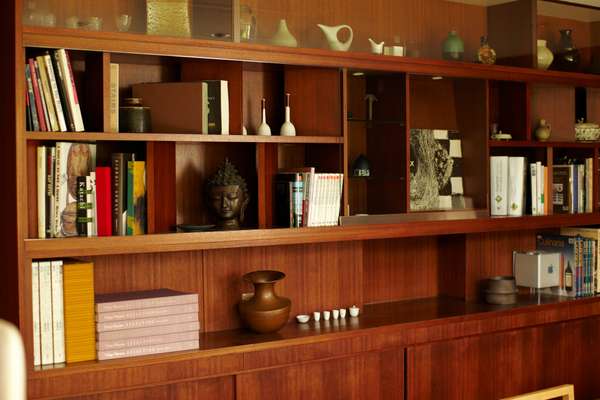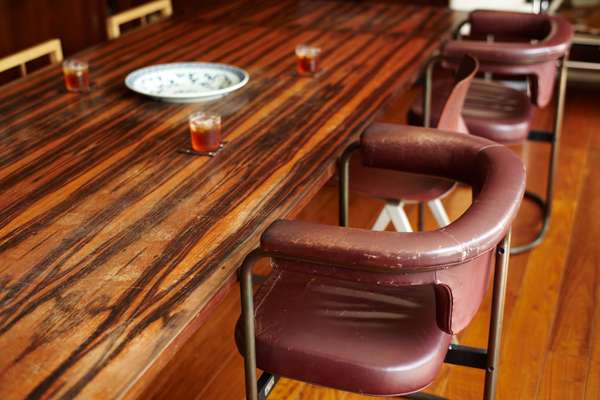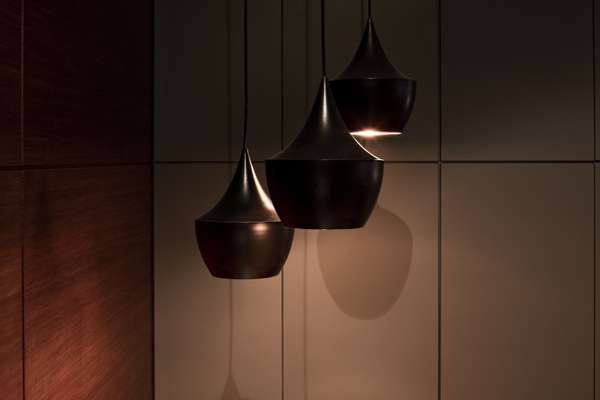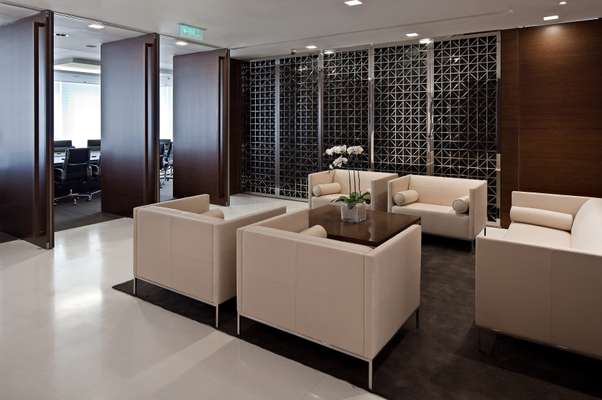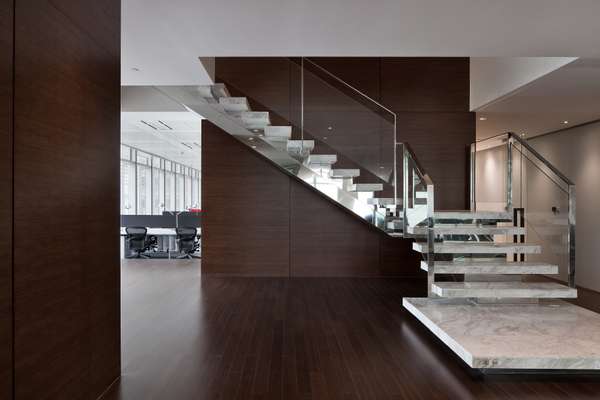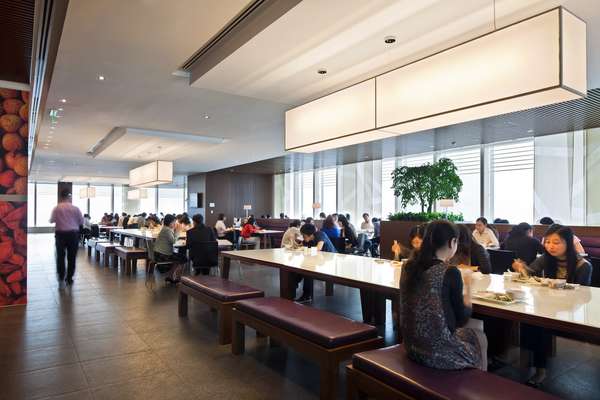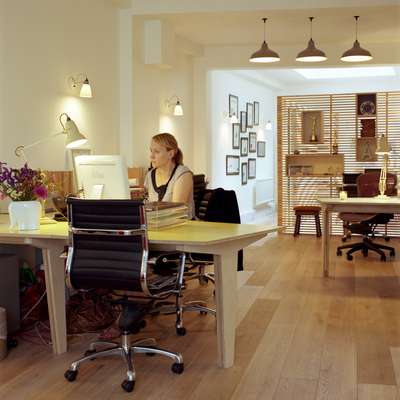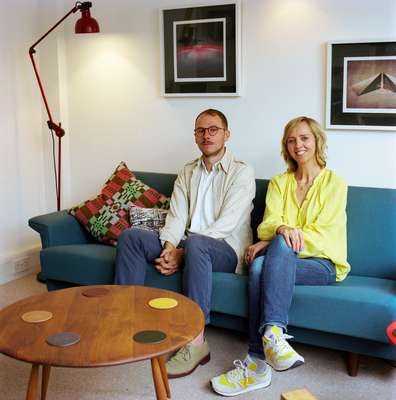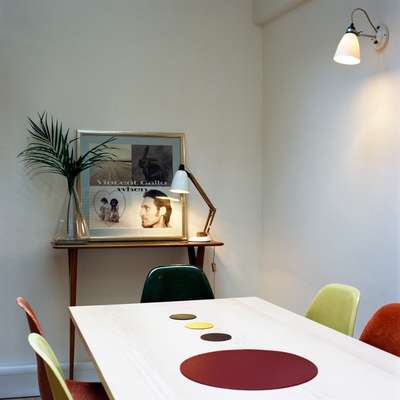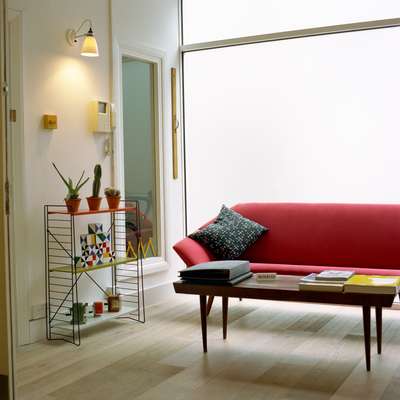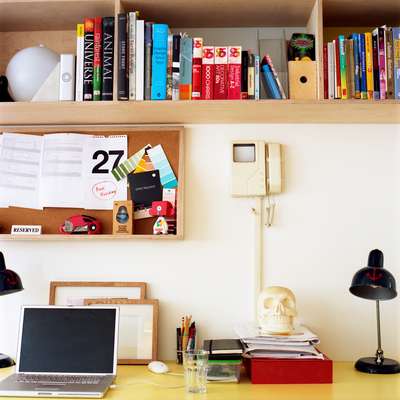 Modern office appliances sit happily alongside vintage Japanese and European furniture. The shelves are filled with ceramics and pieces of Japanese craftware. The dining room, which looks on to the garden, was turned into a boardroom, while Ogata's office occupies a quiet room at the back with a private bathroom. There are books, magazines and auction catalogues everywhere. The Simplicity office feels more like a home than an office and the mood is established as soon as you walk through the door. Everyone removes their shoes and puts on a pair of leather slippers.
simplicity.co.jp
---
1. 
Talking point
Visitors to the Simplicity office become acquisitive – they want to know where Ogata bought the chairs, lamps and ceramics.
2.
Brand values
Even if you knew nothing about Simplicity as a brand you would get a good sense from coming here – the mix of old and new informs everything from Simplicity's tableware to the interior of its restaurants.
3. 
Company ethos
Simplicity has a family feel so the home environment of the office makes sense.
4. 
Time well spent
The atmosphere is easy-going but hard working. The long hours staff work don't seem quite so brutal here in this garden house.
---
The welcoming bank
HSBC, Shanghai
It may seem odd that the world's biggest bank makes an effort to make its offices less corporate but HSBC's 16-floor Shanghai office, which opened in June, is focused on making its staff of over 2,000 feel at home.
It's part and parcel of what Adam Robarts, director of Beijing and Shanghai-based Robarts Interiors and Architecture, says is a cultural shift at HSBC where "a very hierarchical community of people is broken down."
The workspace has been democratised; everybody from management down sits on the same Herman Miller Aeron chairs, 90 per cent of staff work by the windows and the 30,000 sq m space has been broken up into little islets of communal areas (cafés, restaurants, meeting rooms) and groups of work-stations. "We had to make things more intimate so that there would be a sense of community rather than just a sea of people. It's part of recognising the people who are working very hard to make the bank a success," says Robarts.
Streamlining the interiors was helped by HSBC moving from the Mori tower to a new building (by US practice Cesar Pelli & Associates) also located in Lujiaziu, the city's financial district. Here, staff and clients are greeted by a neutral colour scheme and natural materials, which are repeated throughout the building. It doesn't just create an elegant, sophisticated environment, it also helps make a vast office seem less imposing.
robartsinteriors.com
---
1. 
Breaking barriers
The egalitarian approach to design makes both clients and staff feel at home.
2. 
Responsible design
A nod to HSBC's commitment to sustainability, the building is LEED Gold certified and the majority of materials are natural and locally sourced.
3. 
Good PR
In a time when banks in particular are keen to show off their austerity credentials, Shanghai's HSBC offices may be brand new but the emphasis is very clearly on keeping things simple. On the work floors Eames chairs, bamboo worktops and custom-made lighting create a warmth that is non-corporate.
---
Better design means better business
By Ken Baker, Managing Principal (EMEA Markets), Gensler
In 2005, Gensler launched its Workplace Survey. Gensler's measurement tool, the Workplace Performance Index (WPI), ­introduced last year, analyses the four work modes in a workplace that allow the creative and innovative power of employees to be fully realised: focus, collaboration, learning and socialising.
Success in a knowledge economy means working differently. We found that top companies in the US spend 23 per cent more time collaborating than average companies, 40 per cent more time learning and 16 per cent more time socialising.
The most important find from the surveys is that effective workplace design directly correlates to better business performance. We assessed the relationships between work modes, workplace effectiveness and key business performance metrics by asking if the top-performing companies in our WPI survey are also the most financially successful.
The results show that as a company's WPI rises, their scores on multiple business metrics also rise, including profit, market position, innovation capabilities, employee engagement and brand. For profit alone, the higher WPI scores of top-performing companies translated to 7 to 14 percentage point higher profits.
The findings all point to the fact that it makes good business sense to use good design as a key factor for a company's success. We have seen that companies with a higher WPI have a better bottom-line financial performance.
As WPI scores rise, the three-year ­average profit growth of US companies ­increases, hitting 28.2 per cent at the highest levels – almost twice as high as those with the lowest WPI scores.
When a company invests in excellent design that focuses on their employees' needs and their work modes, they will be accomplishing a successful attribute towards financial success and profitability. It is not just about aesthetics but understanding what employees need to do their jobs successfully.
gensler.com
---
The mid-century townhouse
Not To Scale, London
Not To Scale is a young animation and post-production company in London. Founder Daniel O'Rourke felt after five years it was due a second chapter and a new office. "I looked at 30 places before I found this," he says of its new home in a four-storey 1960s Soho townhouse.
Home is the operative word. It is furnished with a mine of vintage (predominantly mid-century) designs and lighting, tied together by slatted birch screens and desks by London architect Andrew Wong. O'Rourke recruited interior designer Sarah Thomas to furnish the interior.
"I wanted an atmosphere that encourages open management. We don't have meetings to solve a problem, we chat about them in the corridor with a cup of tea – if these 'happenings' don't occur naturally, they don't occur at all."
O'Rourke's informal approach to office structure is matched by a philanthropic attitude to his employees. "Our success isn't my achievement, it's everyone's. Investing in your office design fosters a sense of loyalty and creativity throughout the team."
It may be unusual to furnish the office of a cutting-edge digital animation company with vintage designs but it's a juxtaposition that works very well. It feels informal without being gimmicky, a homely environment that encourages openness rather than a traditional open-plan office where the sterility hinders natural interaction.
It's all very well designing an office that suits the boss's personal taste but how do his employees and clients find it? "I kept everyone out while it was coming together," says O'Rourke. "When they saw it for the first time it was emotional and overwhelming. I hope it shows that I care and I'm investing in my staff. Clients love it too. They always want to have meetings here rather than in their offices. For me, it makes me feel like we're really going somewhere."
nottoscale.tv
---
1. 
Interiors
The long, narrow ground floor is home to a reception, numerous desks, a meeting room and a kitchen. Wong's birch slatted screens divide the space up but keep it open too. The panelled meeting room spawned the "slotting" desks and "plug-in" shelving system. Everything can be removed to open the space up for events.
2.
Small touches
Details such as leather-covered dimmer switches by Spooner & Watts, models from company advertisements and bric-à-brac sourced by Thomas add a homely charm.
3. 
Bedding down
The top floor is carpeted and has a mid-century Danish sofa bed for when deadlines stretch into the night.
---
Office services
Ten tricks to get your office up to scratch
01
Lighting
Overhead lighting bleaches the life out of your office. Wastberg is a young Swedish company that commissions lights from the very best designers who understand people, such as Studioilse, Jean-Marie Massaud, Inga Sempe and Claesson Koivisto Rune. Chipperfield's elegant brass w102 task lamp is perfect for the desk, while Ilse's w093 wall-attached, adjustable pendant will warm up meeting rooms.
wastberg.com
02
Bins
Invest in bins from Swedish firm Lundqvist. They are sculptural but practical and available in a range of colours. They'll also encourage staff to recycle.
lundqvistinredningar.se
03
Sofas
A few sofas in an office instantly add an air of homeliness. Getting the right one is crucial. Opt for a material upholstery – Finn Juhl and Jens Risom combine a handsome look with a lounge feel.
onecollection.com, ralphpucci.net
04
Carpentry
Get the help of a local, small-scale architect, joiner or carpenter. Divide open spaces into partitioned areas that encourage different environments and interactions. Russell Pinch or Blumer Schreinerei will do the job.
pinchdesign.com, blumer-schreinerei.ch
05
Bicycle street storage
Nola has a good range of bicycle furniture including these hoops by Broberg and Ridderstrale, which are bold, graphic and smart. Impress clients with the fitness of your staff and their tidy bicycle storage too.
nola.se
06
Chairs
Jean-Marie Massaud is the current designer to head to. His family for Arper this year is neat and refined, but the best bet was last year's Flow range for MDF Italia. Flow comes in black or white, soft or hard upholstery, with or without arms and with five wheels or four sturdy oak legs.
mdfitalia.it
07
Desk accessories
Providing your staff with a neat set of desk accessories doesn't just encourage tidiness and order, it shows you see them as more than just a cog in a wheel. Singaporean company D-Lab makes everything from wooden pencil holders and copper pots to fine glass carafes, cups and wooden trays.
designincubationcentre.com
08
Conference room table
A statement conference room table shows you mean business. Angelo Mangiarotti's Eccentrico in black marble, reissued by AgapeCasa this year, has a perfect mix of confidence and character. Brokering a deal feels better on marble than veneer.
agapecasa.it
09
Shelving
Don't head straight to the contract market. Either commission your carpenter to create a system that's tailored to your space or buy domestic shelving. Naoto Fukasawa's laddered lacquered birch system for Artek is modular, sophisticated and affordable. A perfect example of Finnish-Nippon skill at combining manufacturing with craft and function with clean looks.
artek.fi
10
Flooring
Carpets hold dirt, dust, stains and don't improve with age. As anyone who's walked through Copenhagen's Kastrup airport will vouch, a solid wooden floor feels smart and smells wonderful. Historic Danish company Dinesen sources wood throughout Europe and are the best floor layers in the business. Choose oak.
dinesen.com
Q&A       
John Rushworth
Pentagram Partner
Pentagram is a global, multi-disciplinary design firm with a renowned, forward-thinking approach to its company and office structure.
How is Pentagram's structure reflected in the design of its London office?
Pentagram is a cooperative – all the partners own the company and the building, the desks, the nuts and bolts. We are paid the same and receive the same bonuses. This democracy is replicated in our office design. It's like a working studio. All the partners sit back to back in a row and all the design teams for each partner sit on the open floor. Everyone has the same desk and computer, and partners get given an Eames chair when they arrive, which stays with them until they leave.
How does the structure affect the way you work?
The office design drives the culture of Pentagram. We walk around constantly and see what everyone else is working on. This means everyone contributes their ideas and expertise to everyone else's projects. Each partner's team is a profit centre. All partners share the profits and losses equally. The office is constantly evolving in its design and everyone gets involved.
What about lunch?
[One of our founder's firms] was featured as a pioneering company in an article about free lunches in The Sunday Times in 1968. At Pentagram every day we sit in long rows to break it up and avoid cliques. Three chefs come and cook for us on rotation. It's the epitome of a collegiate, open culture.
pentagram.com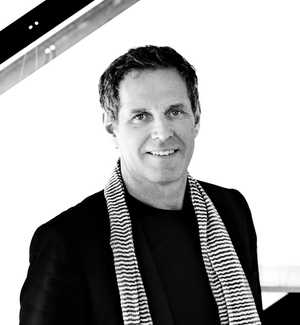 Q&A
Kim Herforth Nielsen
Founder and principal of 3XN architects
Danish architecture firm 3XN has been responsible for some of the most forward-thinking office designs of recent times, including the Saxo bank HQ in Copenhagen and the Middelfart Savings Bank.
Do you notice a change in the way companies want their offices to be built and structured?
Most companies are bringing their employees' wellbeing and job satisfaction into focus. This is clearly reflected in the way they want their physical surroundings to be and often leads to open, learning environments with plenty of room for informal meetings, social lunch rooms and more private areas.
Why do you think this is?
Obviously the recession is part of the reason. Also the physical appearance of a company's office is increasingly considered a mirror of the company. In this way, the image of the head office is often an integrated part of the company's branding, marketing and recruitment strategy, and thus highly prioritised.
Is there a direct correlation between office design and a company's success?
Yes, I am convinced that a good working environment and the team spirit it creates contributes directly to a company's success in terms of increased efficiency and productivity. Not to mention fewer issues with absenteeism, sick days or staff turnover.
Why do you think Scandinavia has been ahead of the game in creating humane work environments?
Our 'form follows function' tradition promotes the use of natural materials, plenty of daylight etc. Also Scandinavian culture is characterised by equality and democracy. I believe that these flat hierarchies have influenced how we design our work environments.
3xn.dk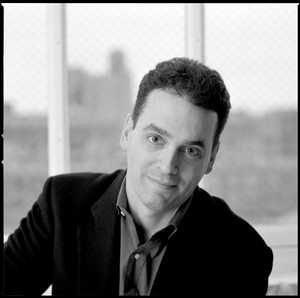 The former speechwriter for Al Gore has written four books about the changing nature of work.
Why are work places changing?
White collar offices until recently were governed by the principle that in order to function everyone needed to be visibly present. Now everyone is connected and the tools people need in order to work can be accessed from anywhere at any time.
How has that changed the role of the office?
The office is now somewhere that should encourage employees to interact in a way that makes them do their job better.
How is this done?
Enhancing a work environment to make employees more efficient at working together. You don't have to go as far as Google but it's the same principle; adopting a humane design approach that encourages natural interaction like you'd have in a home.
Why are companies slow to embrace these ideas?
Such a shift doesn't happen quickly – look how long it took to go from blue collar to white collar. The case studies you're showing are early adopters but they'll be reaping rewards – attracting new business and the best employees and getting the most out of them.
What's the core message that CEOs need to understand?
That the design of an office today isn't just ornamentation, it's vital strategy.
danpink.com
Q&A
Ian Drummond
Director, Indoor Garden Design
Indoor Garden Design is a pioneering London-based indoor landscaping company that specialises in introducing plants to offices.
What is Indoor Garden Design's mission?
To bring nature into the workplace.
Why do you think there's a rise in office planting?
Increasingly, architects, designers and clients are appreciating the benefits of a more 'domestic' work environment, and the many positive attributes that a well-designed planting scheme can provide for a workforce. By choice, most people would prefer to sit beside a tree than a photocopier.
What are the most significant effects of introducing plants into an office?
The physical and psychological health benefits are enormous. Recent research by the Flower and Plants Association, Plants for People and the European Federation of Interior Landscape Groups [eFIG] proves that they remove carbon monoxide from the air, reduce anxiety and combat fatigue. As well as improving people's concentration and memory retention, plants help relaxation, calm and wellbeing.
What is the value of the office plant market in the UK?
Approximately £200m.
What's next?
We're in the process of creating a White Paper on the many benefits to be derived from a 'living office'. We're lobbying government with the UK Green Building Council to recognise the importance of interior landscaping in creating positive work environments. In the future we hope a 'living office' philosophy will be adopted on a larger scale.
igd.uk.com
Office services
Ten tricks to get your office up to scratch
1.
Lighting
Overhead lighting bleaches the life out of your office. Wastberg is a young Swedish company that commissions lights from the very best designers who understand people, such as Studioilse, Jean-Marie Massaud, Inga Sempe and Claesson Koivisto Rune. Chipperfield's elegant brass w102 task lamp is perfect for the desk, while Ilse's w093 wall-attached, adjustable pendant will warm up meeting rooms.
wastberg.com
2. 
Bins
Invest in bins from Swedish firm Lundqvist. They are sculptural but practical and available in a range of colours. They'll also encourage staff to recycle.
lundqvistinredningar.se
3.
Sofas
A few sofas in an office instantly add an air of homeliness. Getting the right one is crucial. Opt for a material upholstery – Finn Juhl and Jens Risom combine a handsome look with a lounge feel.
onecollection.com, ralphpucci.net
4. 
Carpentry
Get the help of a local, small-scale architect, joiner or carpenter. Divide open spaces into partitioned areas that encourage different environments and interactions. Russell Pinch or Blumer Schreinerei will do the job.
pinchdesign.com, blumer-schreinerei.ch
5.
Bicycle street storage
Nola has a good range of bicycle furniture including these hoops by Broberg and Ridderstrale, which are bold, graphic and smart. Impress clients with the fitness of your staff and their tidy bicycle storage too.
nola.se
6.
Chairs
Jean-Marie Massaud is the current designer to head to. His family for Arper this year is neat and refined, but the best bet was last year's Flow range for MDF Italia. Flow comes in black or white, soft or hard upholstery, with or without arms and with five wheels or four sturdy oak legs.
mdfitalia.it
7.
Desk accessories
Providing your staff with a neat set of desk accessories doesn't just encourage tidiness and order, it shows you see them as more than just a cog in a wheel. Singaporean company D-Lab makes everything from wooden pencil holders and copper pots to fine glass carafes, cups and wooden trays.
designincubationcentre.com
8. 
Conference room table
A statement conference room table shows you mean business. Angelo Mangiarotti's Eccentrico in black marble, reissued by AgapeCasa this year, has a perfect mix of confidence and character. Brokering a deal feels better on marble than veneer.
agapecasa.it
9.
Shelving
Don't head straight to the contract market. Either commission your carpenter to create a system that's tailored to your space or buy domestic shelving. Naoto Fukasawa's laddered lacquered birch system for Artek is modular, sophisticated and affordable. A perfect example of Finnish-Nippon skill at combining manufacturing with craft and function with clean looks.
artek.fi
10. 
Flooring
Carpets hold dirt, dust, stains and don't improve with age. As anyone who's walked through Copenhagen's Kastrup airport will vouch, a solid wooden floor feels smart and smells wonderful. Historic Danish company Dinesen sources wood throughout Europe and are the best floor layers in the business. Choose oak.
dinesen.com