Ethical fashion / Global
Moral fibres
Unreliable labelling, products made in questionable factories – are luxury brands about to face Foxconn-style scandals? We look at the firms leading a provenance revival from LA to Helsinki.
Are you one of those shoppers? You know the sort. They worry about whether the hen that laid their eggs got to stretch its wings but they never ask whether the seamstress who made their jacket lived in a factory that housed 10,000 workers in Dickensian conditions. Well thankfully there's a growing clamour from customers to know the story behind their every fashion buy and some brands are reinvesting in a manufacturing world that's truly ethical – for humans. And the ones that aren't are heading for a PR disaster.
Christopher Raeburn has reinvented the label. The tall, flaxen-haired designer, who makes his collections using deadstock military fabric, insists on listing the full provenance of his items. He waves a patchwork Inuit coat with its hand-stitched inventory. "This is ex-army wool, this is RAF leather," he says. Orders to Raeburn's atelier – a converted peanut factory near London's Olympic site – have quadrupled in the last year as buyers from Isetan in Tokyo, London's Browns Focus and Corso Como in Milan, have snapped up his parachute parkas and battledress wool coats. "I'm stubborn," he says. " people constantly tell me to outsource [abroad]. But I won't. I've always loved English stuff, it's part of who I am. There's something really nice about keeping skill and craft in England." In today's globalised fashion industry, it takes Raeburn's patriotic zeal to keep production on home turf. As companies from Milan to Melbourne seek to reduce costs, up profit and increase output, it has become ­standard to farm out production to Bangladesh, China and beyond.
Fashion manufacturing has become dizzyingly international. "If you delve into the supply chain of a garment it's frightening to see how far it might travel," says Alex McIntosh, a business manager at the London College of Fashion's Centre for Sustainability. "Companies mix up locations, so they might source a bit in China, India and the UK. It's an ­incredibly complicated global process." But not everyone is folding their tents and heading for low-cost Asian hubs. Some brands have held fast in their home nations and others, improbably, are bringing production back to Europe.
Mark Walker, co-founder of the shoemaker Skive, manufactured his first two seasons in China but has since upped sticks to a factory in Spain. "We had to develop in China because that's where the technology was," he tells Monocle from his office in London's Hoxton Street. "All our leathers are sourced from tanneries in Europe, mostly the UK. It just didn't make sense flying stuff around the world to make shoes. It wasn't an ethical decision as such, but morally it feels good – we're supporting a small, beautiful factory that frankly needs all the business it can get in this economic climate."
Walker does not tout the move as an altruistic snub of the Hu regime. He's a shoemaker. Since his father's Northamptonshire-based golf shoe factory shut down in the early 1990s he has seen his fair share of Chinese production lines. But, like it or not, his decision to move production from a country with very few labour laws to a European nation where years of union struggle (and high EU standards) have established holiday pay, health and safety and a decent minimum wage, has ethical benefits.
"In the developed world, minimum International Labour Organization standards are assured so there are obvious ethical benefits," says Tamsin Lejeune, managing director of the London-based Ethical Fashion Forum, "Another big issue is carbon footprint. The idea of 'fashion miles' is starting to motivate producers. There are brands with 500 sources of supply in different parts of the world. Some producers are starting to see that it's just not sustainable."
Outsourcing's moral issues are to some extent down to distance. As the spate of recent suicides in Apple's Chinese manufacturing hub Foxconn have so chillingly illustrated – it is impossible to guarantee the welfare of workers far from sight. Without a tight rein on production, even brands with the very best of intentions cannot exert total control over who is making their products.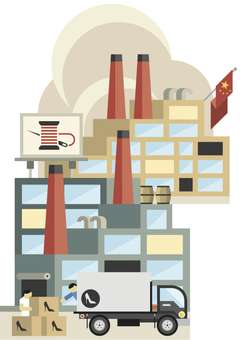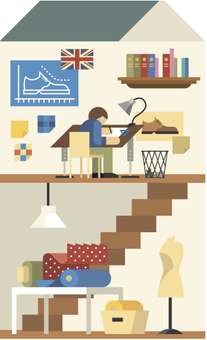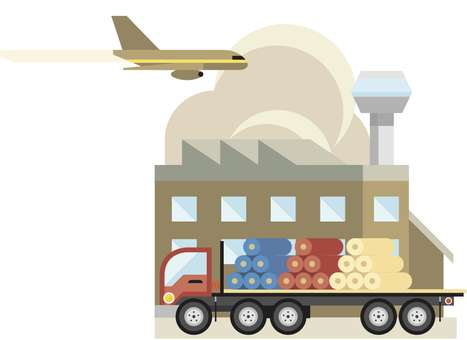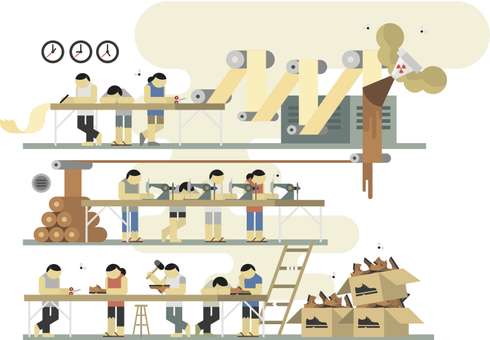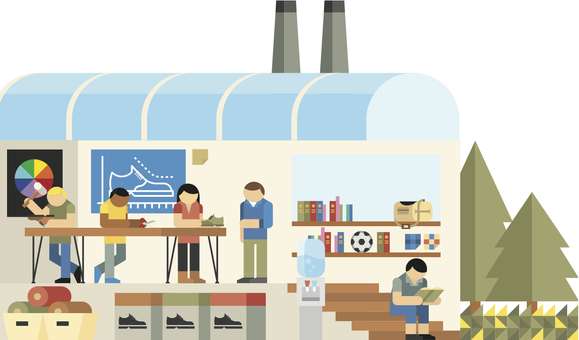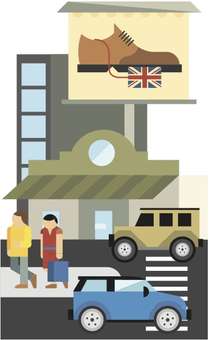 "It's about oversight," says Dana Thomas whose bestselling book Deluxe exposes the production short-cuts in the fashion luxury industry. "Often if you're just subcontracting you have no idea what's going on."
Some fashion brands are determined to keep their supply chains short and local. In Los Angeles, the garment district has come back to life after producers decided to base their production in the city once again. One new boutique in Echo Park, EPIC, only stocks LA-made wares.
Downtown there's more than a dash of fashion-fuelled patriotism in the air. Despite being a Kiwi, Simon Miller, who uses local machinists to stitch his jeans, wants to support the domestic economy. "It seems very strange to me that brands would trade on an Americana aesthetic but produce in the East," he says. "There's a manufacturing ­industry in the US and as a responsible American company it makes sense to support the economy and create jobs here, not out East." Often it is national pride that's driving homespun production. In New York's Garment District in Midtown Manhattan the Fashion Centre Business Improvement District is calling for the city government to ratchet up special zoning powers that restrict building owners from converting factory space to offices. Another scheme by the Council of Fashion Designers of America has established a fashion business incubator for young producers in the area.
The movement is having considerable success – designer Nanette Lepore now produces 80 per cent of her collections in the area. And it's not just the patriots who are buying. American-made apparel has gathered a loyal fashion following. "There's a specific characteristic that comes out of New York," says Angelo Urrutia, sales manager at the New York-produced label Engineered Garments. "Here, everything is a little imperfect, but there's purity in it. There are people who try and recreate it elsewhere but the result is just contrived."
It seems the fashion world has become increasingly prone to geopolitical wrangling. And the "Made in" label is now the cause célèbre of the industry. However reductive the nation-specific labelling may be, consumers have started to respond to provenance. "People are starting to study labels," says Rosalind Bown, who own owns a boutique in Cambridge, England. "I have seen customers flinch at certain 'Made in' tags. They are taken aback when they see a quintessentially European brand being produced in China. But they're also looking at quality. They know that Italian finishing is the most impeccable so they don't mind if say [British company] Westwood manufactures there."
Some nations care more than others. In Japan, industry analysts say shifting consumer-spending patterns haven't dented the nation's penchant for imported craftsmanship – an authentic Made in England tag can easily make or break a sale. In Europe, however, a recent TNS Sofres survey showed that 41 per cent of French consumers prioritised brand over quality (as opposed to the British where the opposite was the case).
"Historically in France the brand is the guarantor of these things. It was a package of trust," says Guy Salter, deputy head of the Walpole institute for British luxury. "What you see now is a reappraisal of things. People are less interested in the glamour of the brand name, even in France. They want transparency – and in my view, companies that don't deliver it are riding for a fall. That's why British-made goods can command such a premium."
Some experts think increasing emphasis on where a garment is made is ­fuelling a kind of fashion xenophobia. Alessandro Bedeschi, secretary general of the European Association of Fashion Retailers, considers "Made in" labelling on certain products outdated and is lobbying against EU proposals to make origin marking mandatory (as it is in the US.) "This type of labelling says nothing [about] the quality, safety, social and environmental aspects of products," he insists. "Creating an artificial link between the label and such issues risks leading to anachronistic forms of trade discrimination."
Others think the tag has lost all meaning – brands can easily circumvent the rules. "Companies routinely make the majority of an item in the developing world and ship it to Italy or France to sew on the buttons and attach the critical 'Made in' label," says Dana Thomas, who has identified another outsourcing trend in manufacturing towns such as Prato in Tuscany, which is now Europe's second-largest Chinese population outside Paris. "Here's what's going down now: brands, or more accurately their subcontractors, are importing workers from China – so they're legitimately having products made in Europe but they're paying workers €2 an hour rather than €18."
Ultimately, heritage companies who kept their production close to home have found themselves on the ethical high ground. The John Smedley knitwear factory in Derbyshire employs 350 people at its HQ and has built up an identity based on quality and good practice. John Smedley's Aussie CEO, Andrew Caughey, doesn't need to foist ethical virtues on his consumers. "We certainly look after our employees well," he says. "We take responsibility at every stage of production, right back to source. So, what you have is a safe purchase. We don't need to sell on ethics. There's great trust in the product."
Robert Ettinger, who employs 30 skilled workers in a North Midlands leather factory, says he has never considered moving to China. "Apart from anything else, my staff are like family, some of them joined us when they were 16," he says. "Part of our success is in the spirit of what we do. The things we make in England have a uniquely British look about them. It's in the blood."
Fashion's allure is in its intangibles. And, in many ways, it's no surprise that fair trade, organic and biodiverse are difficult concepts to sell. Consumers don't want to confront an ethical conundrum every time they splash out, or meet the gran who knitted their cashmere cardigan (as the model Lily Cole's new label North Circular invites them to do online).
Ultimately, the ethical integrity of an item is bound in its quality. Where it's made is part of this, explains Belinda Earl, chief executive of Aquascutum, which has plans to increase production in the firm's factory in Corby, England. "The benefits of producing in the UK are invaluable to our business," she says. "Our customers know they are investing in a trenchcoat that is authentically British, made by skilled craftsmen and women."
Back in London, Christopher Raeburn pops in on his neighbour, a printer of 16 years, to check on next season's snow camouflage-inspired motif. He is reticent to push his ethical credentials, as, he insists, they are beside the point. His garments are made on site, and he happens to have one of London's best screen printers next door. He uses recycled fabrics – but for their unique characters, rather than their moral fibres. Raeburn has transcended the ethical debate. "I've always collected military fabrics," he says as he strides across a bike-cluttered courtyard, "It's just a happy coincidence they're ethical."
There used to be a time – 30, 40 years ago – when the Nordic countries had large textile industries and most clothes had "Made in Sweden" or "Made in Finland" labels. These days, this is no longer the case.
Although Swedish fashion has become popular over the past decade – brands such as Acne and Cheap Monday enjoy international success – hardly any of them manufacture in Sweden.
But because of consumer awareness about working conditions and environmental concerns, the "Made in" label has seen a small revival. Ivana Helsinki, founded in 1998, has made Finnishness a key part of its brand and makes its clothes in Helsinki and Lapland. Marimekko has also kept a large part of its production in Finland.
In Norway, designers such as Arne & Carlos have contributed to the increased interest in locally sourced materials. The Nordic fashion industry has also set up a scheme called NICE, short for Nordic Initiative, Clean and Ethical, with the object of taking the lead on environmental and social issues.
Earlier this year a grassroots movement of textile producers in Italy helped to push the passage of the Reguzzoni-Versace Law through parliament (Santo Versace, a parliamentarian and president of the eponymous fashion house is one of the bill's authors).
Set to go into effect this month, the legislation states that businesses making clothing, leather goods and footwear can only write "Made in Italy" on the tag if at least two of the principal manufacturing phases are done on national soil.
However, as it stands the law falls foul of EU rules, since Brussels has jurisdiction in such matters. Cue Italian attempts to find a compromise by lobbying member states, notably France and Spain, who are also keen to protect local craft industries.
Havaianas: Brazilian sole
Havaianas didn't realise how important its flip-flop factory in North Eastern Brazil really was until it looked at the consequences of outsourcing abroad.
"We did some research in Italy, Brazil, the US and the UK to find out what effect our Brazilian-based production has on consumer behaviour," says the company's CEO, Carla Schmitzberger, from her office in São Paulo. "The purchase incentive dropped between 15 and 30 points."
Havaianas had become synonymous with caipirinhas, the Ipanema lifestyle and the nation's joie de vivre. That the product is made by a staff of 5,000 Brazilian workers in a factory near the Equator is very much part of the brand's allure. The company quickly abandoned any ideas about offshore production.
"This is such a strong point of our heritage," says Schmitzberger, "Our brand has very strong links with Brazilian spirit, with Brazilian sensibilities. We're part of Brazil's DNA."