Issue 37 / Global
Observation
Monocle is still in the market for a new London HQ and our feature on the perfect modern workplace has got editor-in-chief Tyler Brûlé dreaming of what it might look like. Anyone for karaoke?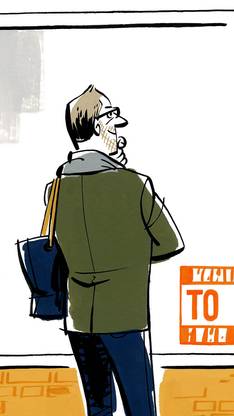 We take back everything we said about the perfect London summer on this page in the previous issue as we're now all huddled together here at Boston Place trying to stay warm in weather that feels more mid-November than late-August. Fortunately, it's not goose-bumps and shivers for all of us, as it's still toasty in the Hong Kong bureau, the AC is on high in Tokyo and team New York are in their shorts for the launch of our shop on Hudson Street.
We're hoping summer puts in one last appearance in the UK before autumn properly settles in, but if not we can always decamp to Beirut where we've just taken a new apartment for operations in the region, cocktail parties overlooking Ashrafieh and late autumn strategy ­sessions on the terrace. If you ask nicely (email Alex Mills below) we might even let you use it – the weather's wonderful pretty much year round. Failing that, the boys in the office can take a stroll down to Trunk Clothiers (a little venture one of our parents has taken an interest in) to stock up on Hiroshi Tsubouchi footwear, Sunspel underwear, MCR shirts, Mackintosh rain gear and special-edition Porter bags.
On the topic of new residences and spaces, we're still on the hunt for bigger digs in London, and while we've done plenty of plotting about how we'd like to re-think our work environment, we're still on a mission to find the perfect space in and around W1.
If our pockets were deeper, we'd snap up a plot of land and build a slender tower and make it a mixed-use development with sturdy apartments (offered first to our subscribers and fitted with kitchens by Forster, floors by Bauwerk, bathrooms by Toto, appliances from V-Zug); a selection of favourite shops (Tabio socks, Kitsuné, Bonjour Records, Casa News, Daunt Books); and restaurants (Cocomaya, Dinings, Golden Brown burgers, Diwan); a private club (a woody bar, a tiny dancefloor and a karaoke salon); an outstanding gym with plenty of outdoor swimming and sunning space; and of course an easy yet elegant work environment with balconies for meetings and client lunches, windows that open, seductive lighting and lots of nooks for quiet writing and research sessions.
For the moment we can't stretch our budgets to purchase anything but if you're aware of something in the 10,000 sq ft region with its own front door, decent ceiling heights and a central London location, then we're all ears and would like to move sooner rather than later.
In the feature by our design editor Hugo Macdonald on the trend towards more domestic workplaces (see page 97), we've found plenty of inspiration for the moment we get the keys to a new building. We'd happily take a few cues from the offices of Simplicity and André Balazs and then engineer a space that would work well around the clock, fitted with custom pieces from BarberOsgerby, Novex, USM Haller, Vitsoe, Seiko (we want a massive wall map of the world, like they have at Narita airport), Dinesen and Roda.
If you're working your way backward through this issue, a couple of other favourite features include the story immediately before this by our Washington correspondent Sasha Issenberg (Expo, see page 191) that looks at some of DC's lesser-known power players; fashion director Takeharu Sato's story on page 159 and Sophie Grove's feature on some of the moral dilemmas facing the fashion and luxury goods industry (page 63).
My favourite piece of all, however, is our new foreign editor Steve Bloomfield's My Last Meal interview with Italian newspaperman Gianni Riotta – editor of the financial daily Il Sole 24 Ore. Aside from inviting us to a favourite restaurant in Palermo, Riotta offers a warm, human interview that is as much a ­tutorial on the state of modern media as it is a commentary on Sicilian culinary sensibilities.
As we're now moving into party season, friends and subscribers will soon be receiving invitations to events in Tokyo, Brussels, Sydney (a first!) and London. At the same time, we are also gearing up for the launch of a series of new retail ventures in the run-up to Christmas.
By the time this issue gets squeezed through the letterbox, we will have started our new season of the Monocle Weekly (tune in to hear some new tweaks and ­additions to the line-up) and dropped in on Paris, Helsinki, Washington, New York, Tokyo, Hong Kong and Singapore. As ever, feel free to drop us any leads and story tips to me at tb@monocle.com or Alexander Mills at ajm@monocle.com. All other offers (flattering or otherwise) can be directed to yet another Alexander (Matthews) at alm@monocle.com. More soon.
For more from our editor-in-chief, read his column in the FT Weekend.