My last meal / Pezenas
Alain Robert
Skyscraper climber Alain Robert, aka the 'Real Spiderman', would like to live a life of uncertainty right up until his dying breath, with a surprise menu at his local restaurant.
"Every meal before I climb could be my last. The night before an ascent I go for some pasta with salt and pepper, maybe some cheese – something very simple. Carbohydrate is good before a climb. And maybe I might go for a glass of champagne. And then I just want to sleep, I sleep very soundly before a big day.
In the morning I have some black coffee and an orange juice. I don't eat immediately before I climb. Then I'll just have an energy drink. I'll be totally focused. I take my passport (to give to the cops at the top), some chalk for my hands and an energy drink in a small bottle.
Sometimes I don't tell my sons when I'm doing a tough climb; I don't want to worry them. I don't feel I have the right to tell my wife, 'This could be the last meal we have together.' I just wouldn't say that.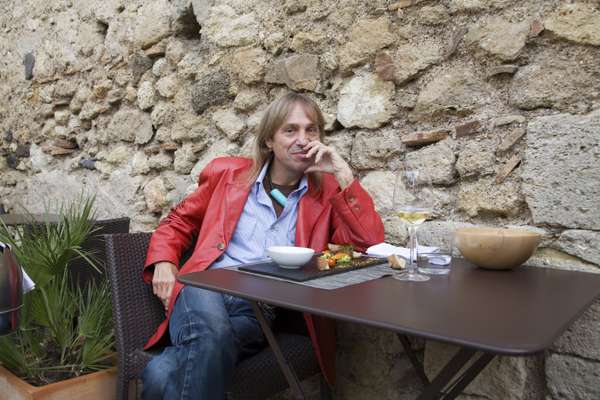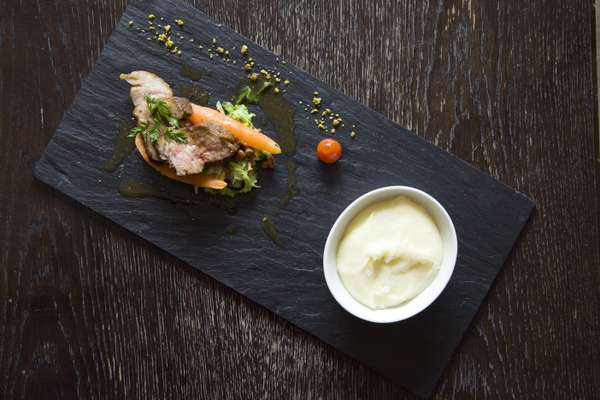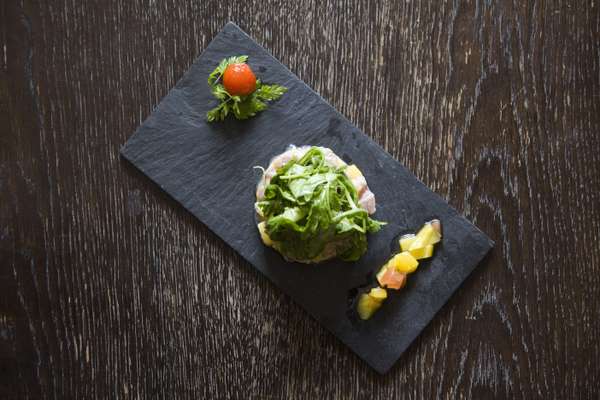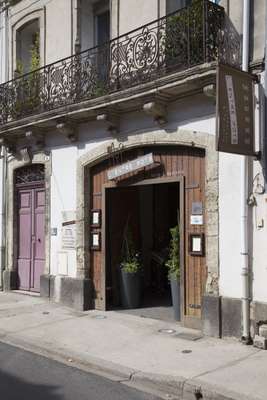 But this meal would be different. It would be fun. For my last meal I'd get together my wife, kids and a few friends. I'd have my friend Claude – he's the guy who sorts out the cops after an ascent, and calls my wife to say it's OK. Oh, and Olivier, he's my webmaster, a good guy. I might ask my lawyers; they're the guys who get me out of jail when the police arrest me for trespassing. I just got arrested last week on the Lumière building in Sydney.
We would all come to L'Entre Pots, just down the road from my place in Pézenas, in the south of France. The owner, Lionel, is a friend of mine and I'd ask him to choose the menu so there would be lots of surprises. This is the way I do things. He will ask the head chef to do something special for me. We'd eat lots of fish, some tuna tartare, and some local specialities. I like the very small portions; I need to be fast and stay light.
There would be lots of Krug champagne. I drink champagne on a daily basis. I've tasted a few top bottles but I have decided Krug is the best. At L'Entre Pots they serve it in a wine glass, to enhance the aroma, which I like. At my last meal there would be lots of conversation; I've realised that if there is lots of good food and wine I can keep chatting for hours – I'm a very chirpy bird.
I wasn't always like this. As a boy I was afraid of everything. So I started to climb. I dreamt of being as courageous as Zorro or d'Artagnan. I wanted to be brave. That was the No 1 priority in my life. I knew it when I was six or seven years old. That's how I changed; if you're afraid and you confront it, you evolve. Food is similar. Years ago I didn't think I would eat an oyster. But now I love them. Still, I wouldn't be able to eat cockroach, like they do in Thailand. I have my limits.
There is a point of no return in climbing – when you do a climbing move that could never be done in reverse so you have to keep going up. It's a fantastic feeling because then you are completely alone. Only you are in control of whether you live or die.
At the end of a climb I don't have the chance to enjoy the moment, because of the cops. So I climb for freedom, for human rights. It's kicking the ass of society. I feel that somewhere society is becoming too tight. The space for freedom is smaller and smaller every day.
My next climb will be in Russia. The last time I was there I drank vodka with the head of the Moscow police. We're friends now, so I'm not worried about that. Still, I'm always afraid before an ascent. But during the climb I am fearless and totally focused on making it. It's a very human instinct – nobody wants to die. Not yet.
So truly, if I knew it was my last meal my mood wouldn't be so much about celebration. I might just have some rice. How can you appreciate a fancy meal if you knew in a few hours you might be dead? Still, I think I would keep the Krug. There's always time for a glass of champagne.
L'Entre Pots attracts gastronomes to the sleepy town of Pézenas in France's Languedoc-Roussillon region. (When Monocle arrives the Mayor and half the Hotel de Ville are there.) Owners Lionel Albano and chef Paul Courtaux, serve modern French fare using local ingredients.
8 av Louis-Montagne F, 34120 Pézenas, + 33 4 67 90 00 00
Digoin-born Alain Robert is known as the "the human spider". The audacious free-climber has scaled some of the world's tallest buildings. Robert's first urban climb was Citibank in Chicago in 1994 and he has since gone on to climb more than 100 skyscrapers and monuments, including the Jin Mao Tower in Shanghai, London's Canary Wharf Tower, the Empire State Building in New York and the Petronas Towers in Kuala Lumpur. Often climbing without permission from building owners or municipal authorities, he's also a natural showman, garnering crowds as big as 100,000.
Aperitif: Samoussa de Pézenas; cooked foie gras stuffed with nuts; coffee and cassonade sugar; spicy meatballs; oyster en croute
Main course: Tartare of tuna with coriander and mango; sea bream with cabbage and local Pézenas mushrooms; grilled veal with aligot
Dessert: Strawberry and rhubarb sorbet, salad and macaroon