Cottage hideaway / Potanga
Rough and ready
At this beach house holiday rental outside Sydney, all the furniture and equipment is for sale at the owners' interior design company and they haven't been afraid to leave a few rough edges. It's a small house and a small business.
"It's only an hour and a quarter from Sydney, but you feel like you're a million miles away." It has the air of a phoney, tourism slogan, but these are the honest words of Sasha Titchkosky, co-founder – along with her husband, Russel Koskela – of interior-design firm Koskela. She's talking about the 1930s weatherboard cottage in the Central Coast fishing village of Patonga that, five years ago, the two of them turned into the ultimate bolthole beach house.
"We were tired of renting places that had three knives and six cups," says Titchkosky. "So," says Koskela, "we decided to fill the house with furniture and products that you can buy in our showroom in Sydney. You can use all the equipment and furniture, then buy it at our showroom if you like it."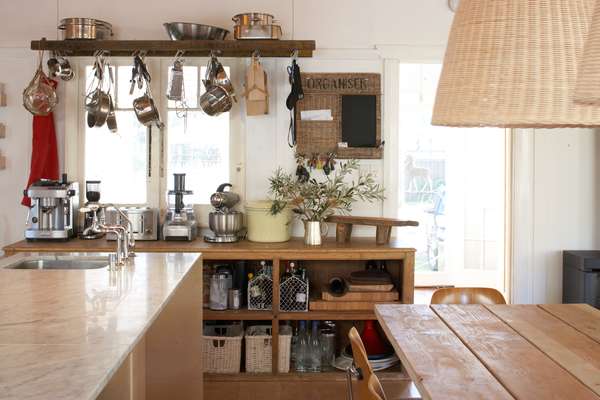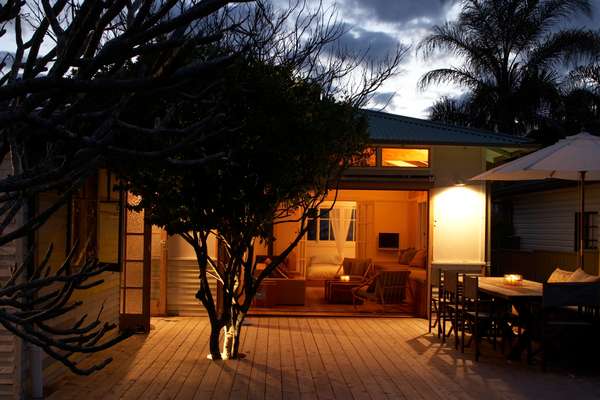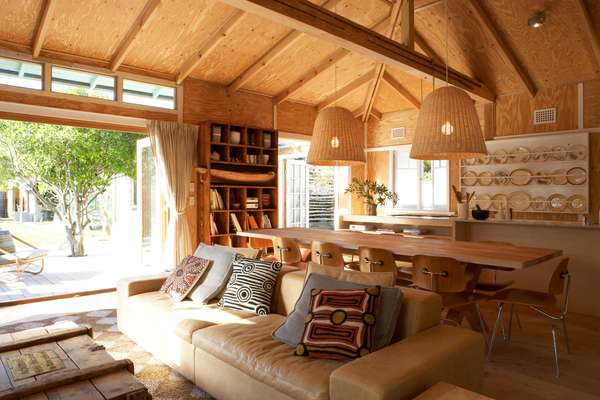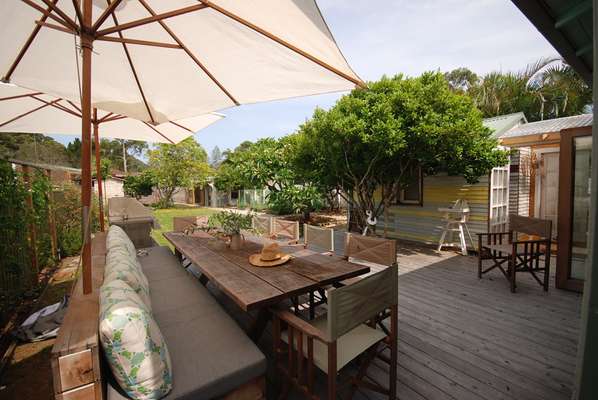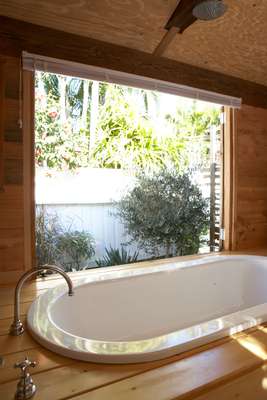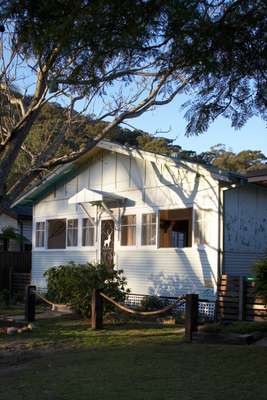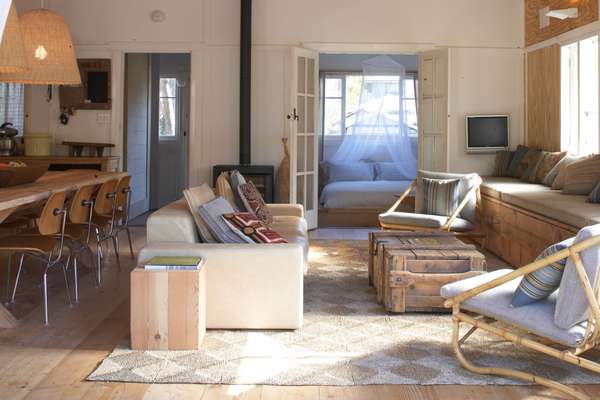 With its national park setting it may be an oasis of calm now but securing the property was a nail-biting experience. "A friend of ours had always talked about this particular place with a beach and a creek," says Koskela.
"It didn't sound like our sort of thing but we decided to visit," continues Titchkosky. "It was like walking round a film set with all these perfect, rundown little cottages. A few weeks later it was coming up on the market and we managed to get it after a heart-stopping auction."
Koskela sent his plans for the property to his uncle in the UK, a builder versed in restoring 200-year-old buildings. He took six months off work to help the couple see the project through; eight months later it was ready to rent.
The furniture is a mix of Koskela-­designed items and restored pieces. "Our idea behind the feel and the design was that it was the antithesis of the city house, so it's got a lot of natural timbers and textures," says Titchkosky.
An open-plan layout means visiting cooks can rustle up a dish – using vegetables and herbs from the garden – while holding court with fellow guests in the dining and living areas. "It's not too precious," says Koskela. "Everyone loves the hot outdoor shower that's on a deck under the frangipani trees." You have to book seven months in advance to stay – one lady has already booked it out one weekend a month for the next year.
Visitors might be surprised at first by the exterior. "We were thinking of doing a really good paint job on the outside but a couple of architect friends of ours said, 'This is what people love. They want a bit of peeling paint, they want something rustic.'" The house had some Swiss visitors who didn't think it was the right place when they arrived. "Then they opened the door and their jaws dropped. In a good way."
Russel Koskela and Sasha Titchkosky met 10 years ago, and founded Koskela a few months later. Russel is from an interior design background while Sasha worked in law and accounting. Tired of the corporate life, they decided to combine their skills and go it alone. With an "over-arching Scandinavian aesthetic", the company caters for residential and commercial clients and works with indigenous communities on art projects. Next year the firm will move to a new, larger complex, featuring a retail studio, restaurant and garden. koskela.com.au
All the timber is recycled and sourced in Australia. The wide floorboards are bleached to get a Scandinavian feel. The bathroom walls are Oregon wood and the floors are yellow cedar.
---
Koskela designed furniture pieces for the house, including the dining table and beds. The two hand-made wicker-woven lights that look like traditional fishing baskets set the scene over the dining table.
---
There are orange, fig, lemon and mango trees and an extensive herb garden and an oyster farm a little way up the creek. In keeping with the back-to-nature vibe, there's also no mobile phone reception.
---
Though very close to Sydney it feels like a world away. Surrounded by a national park, the house is at the end of the road – you can't go any further – so there's no passing traffic to disturb the peace.