Milton Glaser / New York
Heart Food
Milton Glaser is best known for creating the I <3 NY logo, but his 50-year career has included much more. He founded New York magazine, and has designed record covers, posters, restaurant interiors, packaging and, most recently, a college curriculum. Glaser chose to eat dim sum in New York's Chinatown for his notional last meal.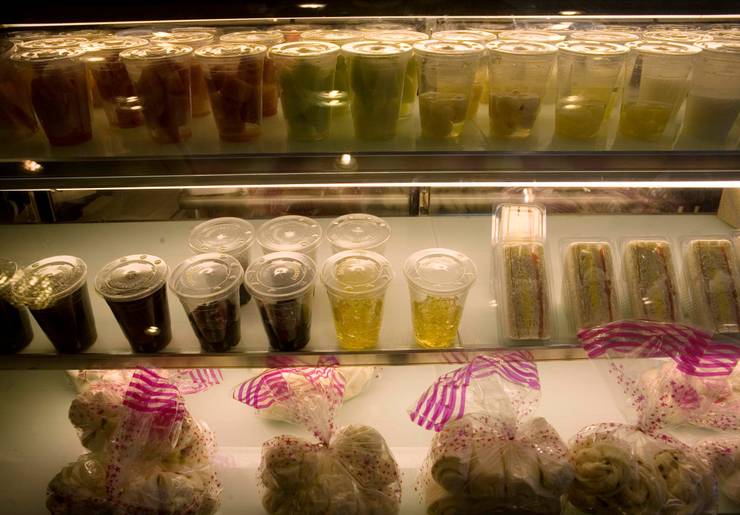 "We're going to HSF Restaurant, on the Bowery right below Canal. This place had a branch a block away from my studio on 2nd Avenue. Unfortunately, it folded some years ago. So I come downtown now, to eat here. Uptown dim sum restaurants really don't feel authentic to me. See? What wonderfully tacky surroundings!
Dim sum is one of my favourite forms of eating, where you have a lot of things to eat and eat a little bit of everything. We often do that at home for dinner; I really like being able to sequence the kind of foods you're eating, taking separate pieces and putting them together. I love the repertoire and the taste of ginger and garlic, salt and soy, hard and soft.
But we're making this up right? It's not really my last meal? Still, if one were going to die afterwards, you'd want to have had the greatest variety of experiences at one time that you could have had. Here, you have a nice opportunity to design something sequentially. I'm a designer to the end!
The conceptual development part of design is the most fun. The idea of having something that exists only in your mind and then it becomes material, that's where the pleasure is. Every once in a while, you do something that has the 'I Love NY' effect; that you could not have anticipated. How in the world did that happen? What were people looking for, you ask yourself?
Well, first, iconography is a puzzle that has to be solved by the viewer. 'I' is a word. The heart is a symbol for feeling. New York is a place. Three shapes are a vernacular; a puzzle that everybody can solve. And in communication when you create difficulty in perception, you arouse interest. One of the principles of communication is to structure problems so that you have to figure out what the meaning is. But the difference between seeing and understanding has to be very short – otherwise, you lose your audience. 'I Love NY' was a very easy puzzle to solve.
The only way you can accomplish things, professionally or otherwise, is to have a good relationships. I've worked with marvellous people – restaurateur Joe Baum on Windows on the World, Shirley Kenny at Stony Brook University, Sir James Goldsmith, who I worked with for years designing Grand Union supermarkets. I did 2,500 packages for Grand Union, it was a big, big project and Goldsmith was so much fun to work with. He was sort of a monstrous right-wing fellow who I developed a great affection for. It surprised me. I didn't know I could like a guy that reactionary. But he was wonderful; brilliant and intimidating.
I don't come here often. I don't do anything often. I'm working! Right now, I'm working on a curriculum for Southampton College, an independent college devoted to the study of sustainability. I'm in the middle of a Darfur initiative. All you can do is hope that consciousness is changing. If consciousness changes, then the possibility for change exists. I think you do your work and you don't measure it by your previous success. If you went to a banquet last night, would you then appreciate this meal less? 'I Love NY' happened and you go on. Imagine if you had one success in your life? Then you're doomed to feel you never equalled that? What you hope is that you work for the joy of working even more than for the consequences of what you do.
I worked on the original Monocle, you know, I did illustrations for them. The publisher was a guy named Victor Navasky, also publisher of The Nation, another magazine I did work for. In fact, I redesigned The Nation last week.
But that's where the circularity of everything comes in. It all comes around again and if you live long enough, it comes around again several times."
---
HSF Restaurant on the Bowery in New York's Chinatown is so brightly lit inside that many of the regulars never bother to take off their sunglasses. This classic Chinese dim sum joint attempts modern décor à la 1970s wood panelling and silver lighting fixtures but fades into a classic Hong Kong temple theme in the back dining room. Here you must shout to be heard above the boisterous groups having dim sum and the Asian teens playing their mobile musical ringtones to each other.
Chinatown, 46 Bowery, New York, NY 10013, + 1 212 374 1319
---
The menu
Milton Glaser's last meal
First course
Turnip cake with a spicy brown Hoisin sauce on the side and fried spring rolls
Second course
Steamed vegetable dumplings, fried dumplings and steamed meat dumplings with hot sauce dip
Third course
Spare ribs, sticky rice steamed in a lotus leaf, sweet rice dough wrapped around bean paste, rice noodle roll in soy sauce
Fourth course
Steamed bun with pork filling
Drink
Jasmine tea
Milton Glaser's advice
"You don't have to finish everything"