Basel World watch fair / Basel
Second to none
Once a year, the top watchmakers gather in Basel to reveal their newest creations – and the world comes to buy. Monocle was there to discover the leading trends and take the pulse of the market.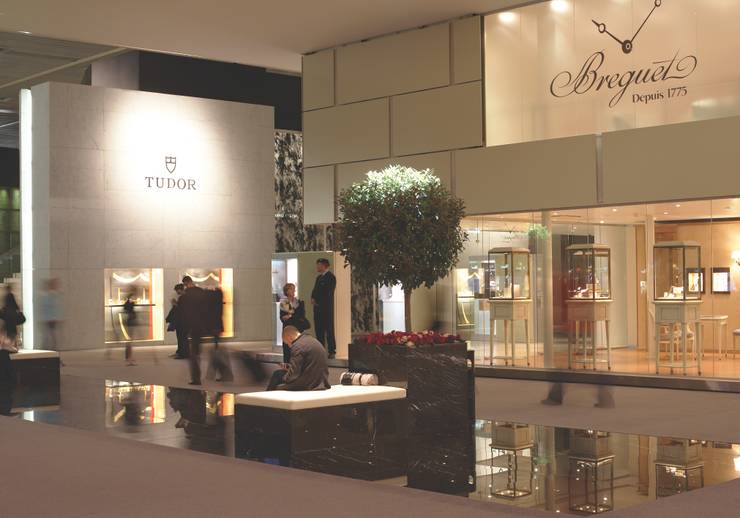 "A man with one watch knows what time it is," says the oft-quoted Segal's Law. "A man with two watches is never quite sure." Segal, however, would have eaten his words at this year's BaselWorld, the planet's largest watch fair and capstone in the industry calendar, held annually in Basel. Here everyone was convinced of one fact: that it's impossible to own too many luxury timepieces.
Timekeeping, everyone told me, is no longer the reason people invest in watches. "The boom in the internet and mobile phones means 'the time' is now everywhere," said Marc Schlund, CEO of Swiss watchmakers Xemex. "But this has been very good for us. Now everyone wants to own a nice design. Watch-buying has become like buying a painting. We are in that market." Schlund was by no means the only exhibitor proffering this opinion. Proving he and his colleagues were on to something, the 2007 fair turned out to be a record-breaker.
Buoyed by the accessories boom, fed by emerging new markets (China, Eastern Europe) and fuelled by some misguided consumers' abiding subscription to the equation that "bigger x flashier = better", the focus at the fair was on the bells and whistles – or number of "complications" – some brands could offer.
"Does it keep good time? I guess so," was the puzzled response from H Moser & Cie's Fabien Burnier, after spending 10 minutes demonstrating to Monocle the double-pull crown, see-through sapphire glass back and "perpetual flash calendar" (a date display that automatically changes at the end of every month and never shows an invalid day; a world first for mechanical watches) of the admittedly gorgeous €37,300 Moser Perpetual 1.
In a climate characterised by double-digit growth, in which exports of Swiss watches have reached €8bn, with premium lines accounting for 80 per cent of this figure, even a relative newcomer to this tier like Hublot was able to shift several of its literally named One Million Dollar Big Bang watches ("on a par with Fabergé's egg") in the first 24 hours of the fair. In 2004, Hublot's entry-level price was €1,500. Now it's over €10,000.
"The demand out there is just unbelievable," says Hublot's Amr Sindi. "Emerging markets like the Far East, China, the ex-USSR nations… they've never had the opportunity to purchase such luxury items. Our One Million Dollar Big Bang Diamond is a smash hit. With its fully invisible setting, it's a 493 baguette diamond watch for people who don't even like diamond watches."
Since 1917, when the Schweizer Mustermesse Basel Fair first dedicated a modest area to watches and jewellery, BaselWorld has blossomed. In 2007, it provided brisk business opportunities for 2,109 exhibitors from 45 countries over six halls and 160,000 sq m. Many of the stands along First Avenue – a sort of indoor Bond Street, housing Rolex, Gucci and Chanel – rivalled those brand's city stores. Commissioned from top architects and often comprising three storeys, rococo ironwork and, in Breitling's case, an aquarium with 2,500 yellowtail kingfish, some had taken weeks to erect.
"A couple of the stands alone cost CHF 1m [€610,000]," says Nicole Stalder, of Basel's tourist board. "But the fair is incredible for the city. Every year, the exhibition space houses BaselWorld and [international art fair] Art Basel and that's all. It is enough."
Luxury aside, BaselWorld provided its 90,000 visitors from more than 100 nations with something for every price range and every taste – from Lego's Darth Vader kids' line to Matthias Naeschke's Le Cage D'or, a baroque, gilded brass birdcage, where time is marked by an automaton of a canary. "I'm surprised how many brands are now doing watches," said Swatch Group's Marc Lauper, perhaps referring to the presence of Lacoste, Jaguar and Timberland, among many market newcomers.
Anyone keeping one eye out for trends had to note the continued vogue for outsized pieces (Zenith's new Elite features a 46.5mm case – and it's a ladies' watch) while Icelink's six-time-zone Senator line had half a dozen stacked faces and winders and was less wristwatch, more bicep-watch; unconventional time displays – Blu-source du temps' penchant for a tourbillon (a mechanical escapement designed to counter the effects of gravity) within a tourbillon within a tourbillon, so that the hour marker appears to orbit around the dial of the watch – and ever more team-ups between car and watch manufacturers.
Edox's stand drew crowds for its Koenigsegg CCX, a Batmobile of a car that, with a top speed of 400km/h, is one of the fastest vehicles ever made. Edox was set to design speedometers for Koenigsegg and had produced a limited series of chronographs incorporating the car's gull-winged design.
Of course, the other surefire way to sell watches remains celebrity endorsement. Images of singer J-Lo, footballer Michael Owen and actress Emily Procter loomed large, though their collective thunder was stolen on the first night when socialite Paris Hilton stopped traffic by launching her debut watch collection, with its "creative designs", "sensual cases" and "colourful straps". Striding into the press conference in a thigh-skimming black dress, she may have thought she was on to a winner with: "It is my first time in Zürich and it is a beautiful city." Until the audience pointed out her mistake.
So maybe Segal was right; sometimes those with more than one watch are never quite sure.
---
Rolex
The Swiss legend unveiled half a dozen designs, the biggest hit proving to be the Oyster Perpetual Milgauss, launched in the 1950s, but discontinued in the 1970s – until now. "With research and production under one roof, Rolex has real autonomy," said representative Virginie Chevailler.

Hublot
"Anyone can make a watch with a price tag of a million dollars," says Hublot's Amr Sindi. "What is special about this watch is the amount of work and craftsmanship." Its Big Bang Diamond took 2,000 man-hours to construct.

Chanel
Chanel celebrated 20 years of timeless watches with a 600 sq m stand designed by architect Peter Marino. Its J12 line is now almost as well-regarded as its classic No 5 perfume. BaselWorld saw that collection augmented by Intemporelles and Joaillerie, new pieces from the Chanel workshops at La Chaux-de-Fonds.

Bell & Ross
Dons of the limited edition, Bell & Ross has produced two limited series of 150 watches designed for aerial navigation. The Bell & Ross Type Aéronavale comes in the colours of the French Naval Air Force and is, naturally, magnifique.

H Moser & Cie
Dating back to the 1730s, this brand is steeped in tradition, its pieces often handed down through generations. The exteriors of its latest watches retained a requisite "less-is-more" gentlemen's club asceticism.
Urwerk
Too often, good taste gets sacrificed on the altar of innovation: not so with Urwerk's 201. Here, telescopic minute hands poke out of three revolving hour satellites. Available in red gold, white gold and platinum, Unwerk's watches proved the toast of the fair for many.

Ebel
La Chaux-de-Fonds-based Ebel is pursuing an aggressive strategy to build its men's business by offering more technical pieces at one end of its range and slightly oversized, sculpted classic watches at the other. A surefire hit will be its Classic Hexagon that will debut in October with a starting price just under €3,000.

Tudor
Rolex's sister line used BaselWorld to present a realignment of the collection, one that would put a real distance between Tudor and its better-known relation. The Chronograph Hydronaut II and Aeronaut, new models in the range, attracted strong word-of-mouth feedback.

Azimuth
Founded in 2003, the Swiss company from Bienne has wasted no time in shaking up the market with new displays. Its Mecha-1 evoked vintage racing cars with a dashboard-style face, perfect for business types always driving between appointments.

Porsche Design
Launched at the fair and already shaping up to be another winner, was the Worldtimer GMT, encased in titanium, that allows wearers to keep track of two time zones.
---
Down the motorway from Basel, Geneva's Salon International de la Haute Horlogerie (SIHH) is an altogether more subdued experience, even if the camel- and cream-coloured exhibition space can have a numbing, disorienting effect on visitors and exhibitors. Anchored by the Richemont group's main brands (Cartier, Panerai, Piaget, IWC and Van Cleef & Arpels), the SIHH offers a more focused view on key industry trends. Among the key currents were some blatant attempts to attract more buyers from the wealthier enclaves of Beijing and Dalian with elaborate Chinese flourishes and a lot of rose gold.
Cartier's substantial Santos 100 was one of the best models, employing rose gold on the case and with a complementing matte chocolate-brown crocodile strap. IWC did a better a job by day with its Double Chronograph Edition Pilot's Watch with ceramic than it did with its party, a baffling event featuring everything from a Tuscan village theme to Kevin Spacey. Like Basel, brands showing in Geneva reported that 2007 was set to be another record year for the top end of the sector.
---
Is that a Tag in your pocket?
For an increasing number of consumers their timepiece of choice is likely to be a Nokia or Samsung rather than an Oris or Omega. With more people getting their time from network-synched mobile handsets it's surprising that a major watch brand hasn't got into the mobile phone handset business earlier. Come October, Tag looks likely to be the first with a device that will challenge the likes of Vertu and force the Richemont group into the game.
Monocle's sources in Helsinki and Osaka tell us that at least five top-end brands are developing premium handsets. The biggest challenge will be preventing brand erosion due to poor coverage and bad customer service from providers.
---
If we had to leave Basel with just one timepiece it would have been Patek Philippe's shapely Aquanaut. Discreet while still speaking volumes with its 1970s-style silhouette, it's the ideal all-rounder with a starting price in the €10,000 range.
---
Blancpain
Famous for one of the most complicated watches ever, the Blancpain 1735, this company continued to flex its muscles with the Villeret Tourbillon skeleton watch, a masterpiece taking five months to construct.

Jacob & Co
Formerly the concern of rappers and fashion bunnies, US company Jacob & Co showed off its Crystal Tourbillon and Quadra pieces – the latter with quadruple tourbillons connected by one large steel bridge spanning the diameter of the 55mm case.

Girard-Perregaux
The Vintage 1945 Jackpot Tourbillon has a slot-machine face with a striking mechanism housed in a vintage 1945 case. Three reels offer 125 combinations at the spin of a side-handle: only one wins the jackpot.

Seiko
Having already claimed the 2006 Grand Prix d'Horlogerie de Genève prize for its men's version, Seiko unveiled the Electronic Ink Women's Watch. Combining electrophoresis technology with a silver bracelet, the display can be manipulated to suit your mood.

Daniel Roth
The Perpetual Calendar Equation of Time watch has a double-elliptic case of white gold and sapphire crystal, plus a layered dial made of gold and mother of pearl. A single movement combines moon phases, perpetual calendar and leap-year display.