National icon / Melbourne
Aussie ruler
It was almost 60 years ago that Ron Barassi first started playing as a top Aussie Rules football player. But he is still recognised and celebrated everywhere in his homeland, not just as a great sportsman, but also as the archetypal Australian.
The Melbourne Cricket Ground is, as the name suggests, a cricket ground – one of the most famous, a crucible of cricketing mythology since hosting the very first Test match between Australia and England in 1877. To Melburnians, however, the venerable stadium is something else, and more besides. What the world calls the MCG, they know as "The G", and they throng here during the winter to watch a game that utterly consumes this city – and, to varying extents, this country – but that is played professionally nowhere else in the world: Australian Rules football.
Outside the ground are statues of a few heroes of the indigenous code. One of them is captured in the weirdly balletic follow-through of a full-blooded punt, his face a rictus of determination. It's the image of a player at the peak of his power, which for this player would have been the mid-1950s – but nobody who has followed Australian Rules football in the decades since would need to look at the inscription on the base.
"People smile," says Ron Barassi, now 74, who can't have walked a block of Melbourne unrecognised for more than half a century. "They're usually pretty relaxed. I keep my head down." Barassi is the dominant figure of modern Australian Rules – indeed, the divide between the majority of his homeland and the north-eastern regions of Australia, which historically prefer Rugby League, is sometimes known as the Barassi Line.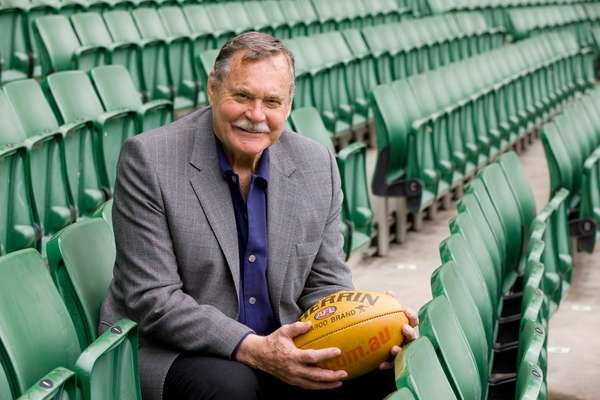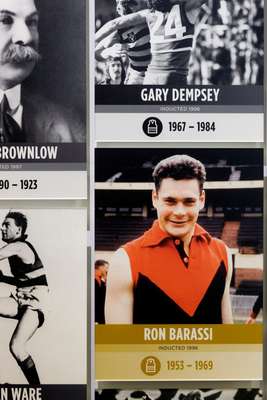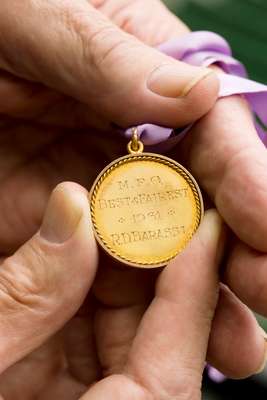 "It's quite a difficult game to play," says Barassi, asked to account for the enduring popularity of Australia's homegrown sport. "If you compare it to other types of football, it's played on the biggest arena, and it requires lots of skill, lots of pace, lots of courage." Between his debut as a player in 1953 and retirement as a coach in 1995, Barassi featured in 17 of the 44 Grand Finals, the match that decides each season's champions. Along the way, Barassi became an archetype of how Australians prefer to see themselves, certainly in a sporting context: uncompromisingly competitive yet essentially fair, the kind of person who'd grind you cheerfully into the turf all afternoon, then buy you a drink after the siren sounds.
This reputation was burnished further early in 2009, when Barassi intervened in a violent dispute between a young couple on New Year's Eve, across the street from the café in which we're talking, in the Melbourne suburb of St Kilda. Barassi suffered head injuries, but his response at the time demonstrated that these had not disturbed his inner balance unduly. "If you see a woman being belted up, you step in," he told newspapers.
When the teenage Barassi began playing Australian Rules at the top level almost 60 years ago, 11 of the 12 professional clubs were in Melbourne. It is now a truly national sport, with 16 teams in five Australian states and two more teams due to join in the next two years, but is still battling for attention with the internationally recognised codes, soccer and rugby. "I've always been confident but worried," says Barassi. "The modern game has gotten too speedy in my opinion. There are things which are peculiar to our game, like the long kicking, the one-on-one duels, the high mark [a player who catches a kick is awarded a "mark", and receives a free kick – the game's iconography is dominated by images of airborne players climbing a pack of opponents to snatch the ball from the sky]. They've almost dropped out of our game, and they're real spectator- winners, especially to newcomers."
This last point is astute. Australian Rules has been a formidable engine of acceptance for waves of immigrants (and, not without hiccups, Australian aboriginals). Barassi's ancestors left Italy in the 1840s. His father, Ron Barassi Sr, was a promising footballer with Melbourne in the late 1930s, but was killed serving in the Australian Army at Tobruk in 1941. Barassi was adopted, to an extent, by his father's team: in his late teens he lived in an outbuilding in the garden of legendary Melbourne coach Norm Smith. "I had," he says, "the best football upbringing. And I think you can learn from a team outlook. I always encourage young parents to get their kids into a team game. It's how you learn to think of other people."
Unusually for someone who has been so famous so long, Barassi has acquired few critics – even Melbourne fans have forgiven his 1965 move to Carlton, which was received at the time akin to the Pope announcing he'd had a better offer from the Methodists. Even his late-life travels – cycling in Mongolia, hiking the Kokoda Track in New Guinea – are widely admired, and his views on the sport he dominated for so long are still sought. Barassi thinks that age has mellowed him a little but, when he craves a few seconds more of interview to intone what he calls "his mantra", there's a zephyr of the certitude that terrorised and inspired generations of footballers.
"I have no respect for natural ability," he says. "You were born with that. This applies to looks, build, brain, maybe even health. If you were born with it, you've been lucky, and you can't respect luck. I only respect the effort you put in with the time you've got. That's why I was always tough on my superstars."
The punter
Ron Barassi's CV
1936 Born in Castlemaine, Victoria
1953 Debuts for Melbourne Football Club
1965 Transfers to Carlton Football Club as captain-coach
1973 Joins North Melbourne Football Club as coach
1981 Joins Melbourne Football Club as coach
1993 Joins Sydney Swans as coach
1995 Retires
1.
The first laws for what would become Australian Rules were drawn up in 1859. The Victorian Football League – now the Australian Football League – formed in 1897.
2.
The game is played with an oval ball on an oval field.
3.
Each team has 18 players on the field at any given moment.
4.
A goal (kicked between the central two of the four goalposts) is worth six points, a behind (between one of the central and outer posts) worth one.
5.
The AFL championship is decided by the Grand Final, traditionally held at the MCG on the last Saturday in September and drawing a crowd of about 100,000.
6.
The two most successful AFL clubs are the Melbourne-based Essendon and Carlton, with 16 premierships each.