Concept store / Stockholm
Breaking the chains
A concept store featuring fashion, interiors and art has been set up by five entrepreneurs to challenge the might of the multiples with their unique take on the retail experience.
An old stable in Stockholm from 1898 has returned to life, albeit without the horses. Today, Snickarbacken 7 is a concept store housing a café, an interiors and clothing shop and an art gallery. The transformation began last summer when a group of five entrepreneurs took over the space from an IT company. Their vision was to restore the building to its former glory and open it to the public, providing Stockholm with a new kind of retail experience.
"I saw an ad in the paper, and it didn't even have pictures," says Ulrika Halvardsson, owner of the bathroom boutique Badrummet, who initiated the project. "But just based on the description, my gut feeling was that this was something extraordinary."
Halvardsson's instinct was right. But it took a lot of work to reveal the true character of the space. The previous tenants used it as an office and, given the generous height of the rooms – five metres – they built an additional floor, hiding the original, church-like vaults. The stone floors were covered with a grey carpet and the impressive entrance was obscured by parking spaces.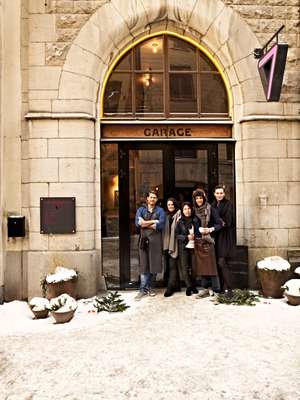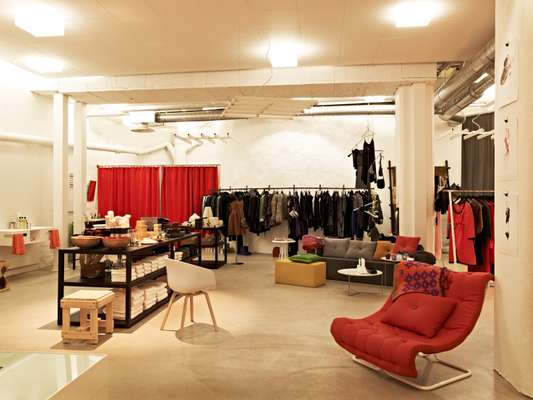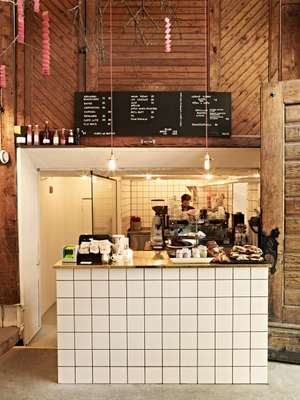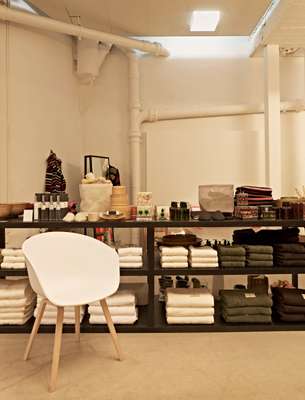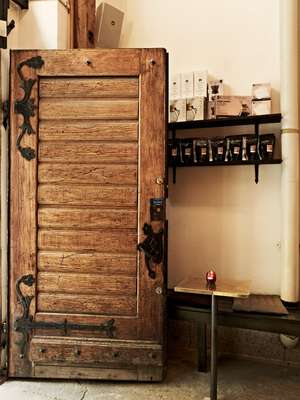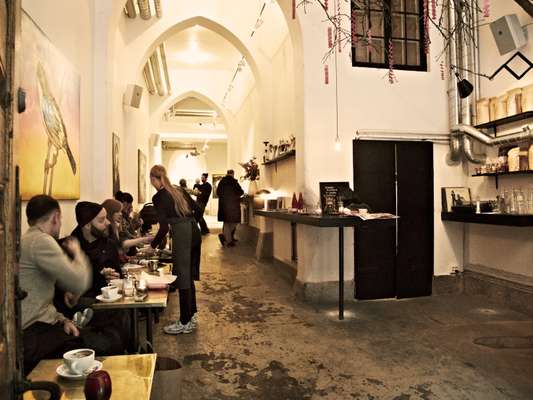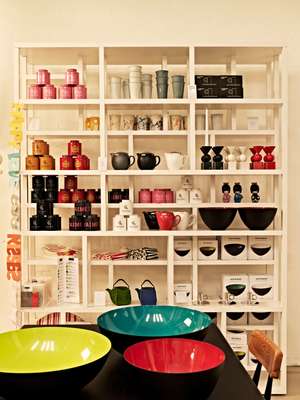 "Still, I fell in love and thought that if we clean this up, it will be fantastic," says Halvardsson. The 350 sq m space was too big for her company to fill on its own, hence she had the idea of creating a concept store with four other shopkeepers. She approached friends she knew would understand her mission. Some of them were sceptical at first but changed their minds when they saw the building. "For me, it was like a hallelujah moment. All five of us took a shared responsibility and invested our money in the building," says Susanne Beskow, who runs the fashion store, van Deurs et al, featuring her own brand, van Deurs, and other independent Swedish designers.
The building is round the corner from Stureplan, Stockholm's main retail area and was originally designed by Isak Gustaf Clason, the architect behind many of the capital's most prestigious buildings, including Östermalm's Market Hall and the Hallwyl Palace. In the 1800s, the building housed a Catholic girls' school, and the bottom floor, which Snickarbacken 7 occupies, was a stable for the monks' horses.
When they began renovating, the task was to peel away the layers, add as little as possible and return the original quality and atmosphere to the rooms. "We wanted to keep as much of the original design as possible and not renovate everything to death," says Halvardsson.
Over a few intensive months – the owners did much of the work themselves – the top floor was torn down and the old vaults revealed. The original window frames were painted black and the old wooden doors by the entrance were tidied up. The concrete floor in the café was left as it is and the other rooms got a concrete coating. The result is a space that feels peaceful and grand with a pleasant roughness to it. You can feel the history and yet it is contemporary too.
"It's not so formal, which makes it easier for people to approach than the traditional white cube," says Eric Andersson, the resident art gallerist. In addition to Andersson and Beskow, Halvardsson also invited Minna Gunner, head of the Swedish design company David Design, together with Jonas Findell and Annika Santunione, owners of the Kaffeverket café in Stockholm's Vasastan, to join the group. She wanted a unique mix and a commitment to quality. It was also important that the products on sale were ethically produced.
"We didn't want to compromise on anything," says Jonas Findell. Places such as Snickarbacken 7 are a rarity in Stockholm, where the retail and café scene is generally dominated by chains. "H&M are good at what they do, and they're needed. But we felt we shouldn't have to travel abroad to get a retail kick. There's so much potential retail talent in Sweden but we're stuck with chains," says Beskow, who believes that there's an undersupply of smaller fashion brands now that the economy has picked up again. "Many smaller boutiques went bankrupt and disappeared when the financial crisis hit," she says.
The founders also want the collective to be a living space that is constantly changing, somewhere you can come back to and always find something new, a place to spend a long afternoon taking in the art, drinking coffee, browsing magazines and shopping. Plans include lectures, furniture releases and vinyl breakfasts with a resident dj. The concept has already proved a popular brand in its own right and the collective is capitalising on the potential to take it further. "We might even launch our own Snickarbacken 7 collection. That's in the starting stages," says Minna Gunner. Watch this space.
Five resident retailers
1.
Van Deurs et al
Fashion designer Susanne Beskow runs the shop, which sells her own brand van Deurs as well as other small brands, such as Sweden's Patouf and Noir & Blanc. "I only work with pleated fabrics. I never buy anything ready-made; everything is pleated by hand," says Beskow, whose collection features everything from bags and scarves to full-length dresses.
2.
David Design
The Swedish furniture producer was founded in 2002 and features designers such as Matti Klenell and Inga Sempé. In addition to its own collection, David Design also sells products from the Danish Hay and the Finnish Tikau, among others. 
3.
Badrummet
This bathroom shop sells the finest perfumes, towels, washbasins and accessories. Founder Ulrika Halvardsson has been in the business for 25 years. 
4.
Galleri S7
Gallerist Eric Andersson has 30 years' experience of organising art exhibitions, but had not been running his own gallery since 1998, until he found the perfect location at Snickarbacken 7. Upcoming names include the Swedish painter Samira Englund and sculptor Peter Jonsson.
5.
Kaffeverket
A coffee bar specialising in locally produced food, traceable coffee and the latest brewing methods. "The bread is organic, all sweets are baked in-house and the strawberry juice is bought from a small farm in Asby, which more or less sells all its production to us," says co-owner Jonas Findell.