My last meal / Global
Don and Mera Rubell
Influential art collectors Don and Mera Rubell have always dared to sample untested artists – and they have the same fearless attitude to food. But there's only one dish they could possibly put on the menu for their final repast, and they would cook it themselves at their famous home.
"There's something about food cooking in the house that's very cool and creative; art and food certainly go together because you can't really do art without a social environment. Although the dining room table sometimes becomes so alien to us because we're all so busy. We run and eat, but the dining room table is a source of great social pleasure; maybe it's where you should start your day and finish your day… when our son and daughter were kids we desperately tried to have breakfast and dinner with them.
Actually for a lot of artists, their first memory of us is always in the kitchen here. And when we travel – which seems to be all the time – we always eat whatever's cooked… we always eat locally and want to try the local food – even if it's eating live lobster or something. The one difficult incident happened when we were travelling through China. We were served this huge seafood soup topped-off with floating seahorses – they might even have been alive, too; we just couldn't eat it. Other than that, we've always eaten whatever has been served to us in the spirit of hospitality.
So many decisions about the art get made at the table. The decisions get made over food but we don't just talk about art; half the time we'll be talking about the cooking, too.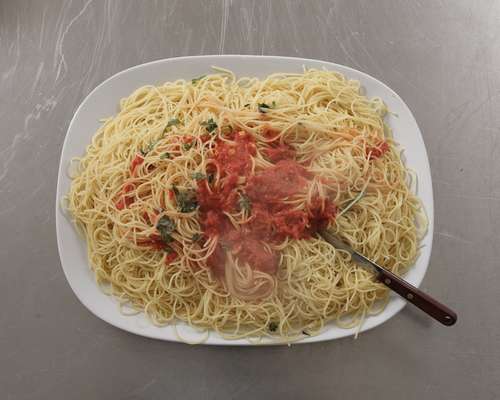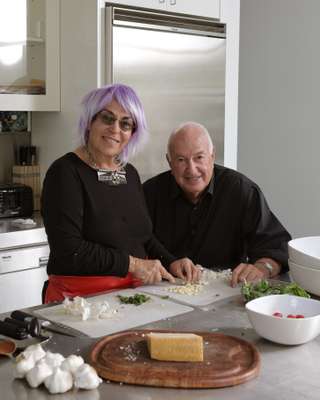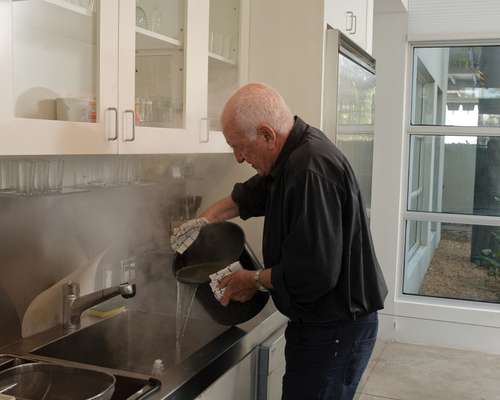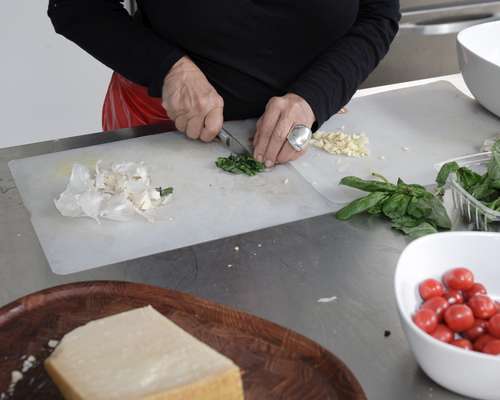 When it comes to looking at new works we don't believe in our eye so much as we believe in the art. It's not like we're looking for artists to make art that is satisfying. We're looking for art that is important to the artist; we have to keep our minds and ourselves open to what it is that the artist is making and the issues that the artist is taking on. That's important, but the other thing is having our kids participate from a very early age [their son Jason is co-curator of the Rubell Family Collection, and their daughter Jennifer is an artist] and making it a kind of democracy, where they really participate in the decisions. They have always brought fresh eyes to the process, because the biggest problem with continuing to collect contemporary art is that in a way it's like music – you get stuck on the songs you heard when you were really young, the pictures you saw; you get fixated on your own generation and a new generation feels very alien and you can almost feel hostile to something, you feel almost like an outsider. And that can be wonderful.
In art you have to watch out for things that seduce you immediately; you always have to look for something you haven't seen, something that hasn't been tried in this culture. You have to pay attention to disturbances, when you look at something and you find yourself 'offended'. That can be a very useful reaction.
When people dislike something, nine times out of 10 it probably deserves to be disliked. The one time out of 10 that you're disliking something out of a lack of familiarity elicits the same emotion in you. The worst thing you can do is think you're right.
But then here we are eating 'spaghetti alla Mera' again. It's a dish we eat at least twice a week if we're here at home, if we can. There's something wonderful about this dish – with its familiarity and also about finessing it a little every time you do it; so as you drain the pasta you pour a little oil onto it. We learned this trick from an art dealer in Naples one night when we banged on their door at three in the morning to try and buy a painting; that's a good way to do it – food and art. Naples? Now there's a city for food, but don't try to drive around it – they don't pay any attention to traffic lights.
So we travel; we seek things out, we're working people, we work for a living. And how do we afford all this? We buy very, very young art. We always have done. For the first 10 years Jeff Koons couldn't sell anything; we bought from every single show. We met Damien Hirst at his Freeze show [a show Hirst curated when a student] with the severed head and bought very early – actually we felt bad for him because his studio didn't have any heating and we were sitting there with gloves on.
That point when we're buying and they're selling really means a lot to both parties and it's affordable to us, doable to us, and it means the world to the artist to find a collector who is going to be devoted and take care of that precious object. And we'll travel and look and eat what's put in front of us and we'll continue to buy for as long as we can."
Profile, venue and menu
Don and Mera Rubell have spent a lifetime "getting there early", as Mera says. Championing young artists has led to a world-class collection. Founded in a former Drug Enforcement Agency confiscated-goods facility in 1993, the Rubell Family Collection has transformed Miami's formerly sketchy Wynwood district into an arts hub.
The Rubell's home was extended in order to incorporate the open-plan kitchen and dining room in which they chose to prepare and eat their Last Meal. It sits next to the Rubell Family Collection – their extensive library links the two.
95 Northwest 29th Street, Miami,
+1 305 573 6090
rfc.museum
Main course:
Spaghetti alla Mera. "I always try to use the best ingredients I can," says Mera Rubell. These are: Nina Italian canned tomatoes, De Cecco No.11 spaghetti, Colavita extra virgin olive oil, garlic, basil, crushed chillies and kosher salt.
Dinner with the Harings
Brooklyn, New York
The Rubells have become well known for their low-key, family-style entertaining of artists at their Miami home, but before Miami and before their collection required a Collection it was the Rubell dining table in Brooklyn that acted as an accidental artist's salon.
"I remember the night of Keith Haring's first show," explains Mera Rubell. "It was this crazy event but he just asked Don and I if we could invite him and his parents for dinner – we were like, sure, but what about the party and all the people? Don't you have better things to do on your opening night?"
Haring's stock had risen considerably since the Rubells had bought his first figurative and Pop-inspired works (the Rubells were his first buyers).
"Keith said no way, he just wanted to come for dinner. His parents never believed he could be an artist and he remembered that we had one of his first pieces hanging in our dining room – he knew that for his parents to see one of his paintings hanging in a domestic set-up would convince them he made proper art," says Mera.
"We were sort of normal people that loved his work, and that made it OK." Mera made the same spaghetti with tomato sauce for the Harings. It's kind of stuck.