Sauerbruch Hutton / Berlin
Green rooms
Sauerbruch Hutton was one of the first architecture firms to promote the value of sustainable building. Now it's in demand across Europe, expanding into furniture and pushing developers to think bigger.
Since founding their office in 1989, Matthias Sauerbruch and Louisa Hutton have built careers out of creating ­buildings that are as integrated as they are individual, as striking as they are sustainable. The firm is one of the most successful "green" practices in the industry. And it's little surprise it is also one of the most sought after.
Sauerbruch and Hutton were thinking about sustainability long before it was on the general agenda. In 1991, just a few years out of university, the pair, who met at the Architectural Association in London, won a competition for the headquarters of Berlin property firm GSW. In the brief the client wanted natural ­ventilation. "They didn't expect a tower but we took it as a challenge to make a large building work with natural ventilation and found ourselves some good engineers (which happened to be Arup)," says Hutton.
The finished structure includes a 22-storey high-rise slab near Checkpoint Charlie. Its polychromatic western façade and slightly bowed shape quickly made it a modern city landmark. The slab's triple-glazed shell moves air to ventilate and conserve heat and an unusual cantilevered roof covering makes use of natural thermal currents.
When the building was completed in 1999 Sauerbruch Hutton found itself a pioneer in what was a burgeoning new field. "This project brought sustainability on to the agenda," says Sauerbruch. "It was one of the first in Europe – maybe the world – to combine low-energy sustainable technologies and philosophies with a very urban aspiration."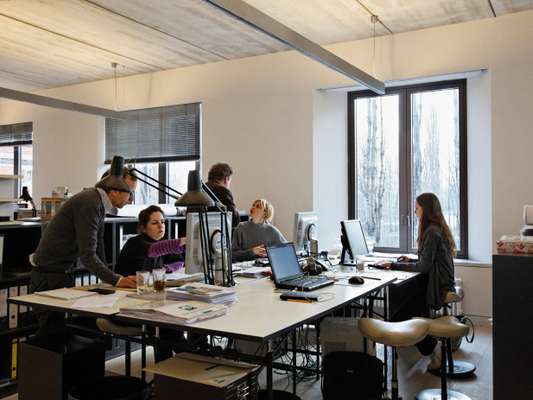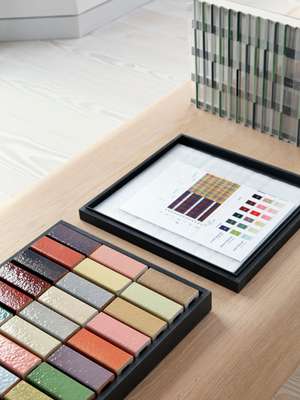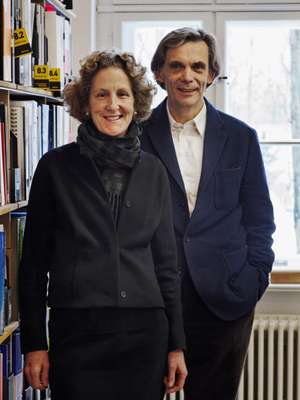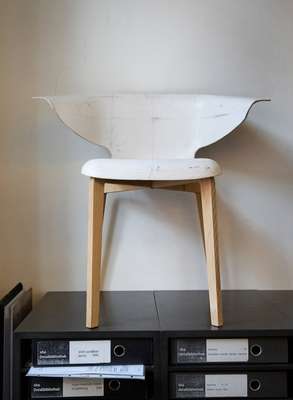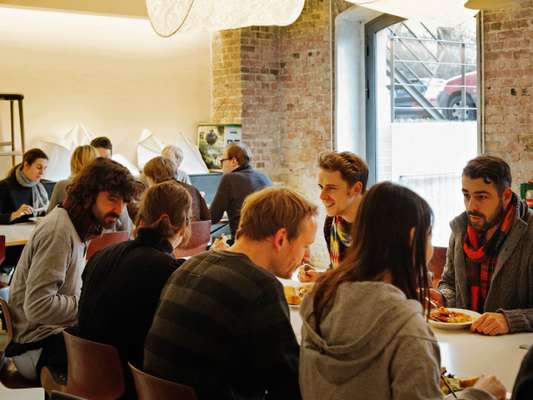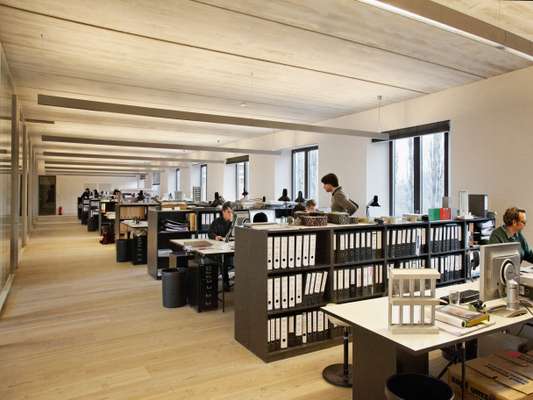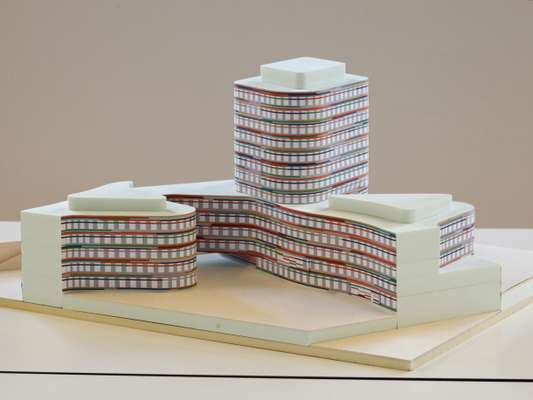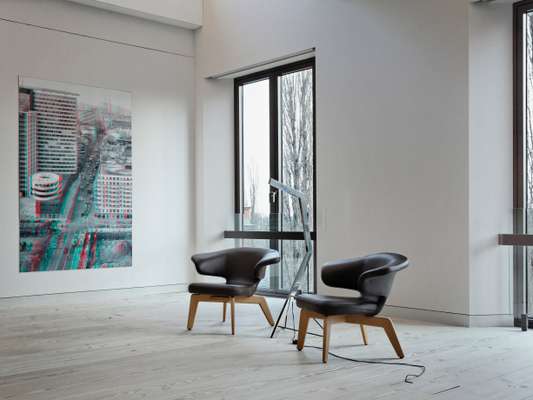 Other major commissions followed, such as the Federal Environmental Agency headquarters in Dessau, another environmental building benchmark. It uses a geothermal heat-exchange system and thermal and photovoltaic solar panels. Then there is the Jessup West Building at the University of Sheffield, which is naturally ventilated throughout and has a green roof. In Munich, the Museum Brandhorst uses groundwater-based heating and as much natural light as possible.
"Green" architecture is only half the story for Sauerbruch Hutton though. They are also pioneers in their use of colour, which has become a signature of their work. It's daring – colour and architecture aren't often natural bedfellows – but Sauerbruch Hutton's work strikes a balance between being statement and fitting into the urban fabric.
More work means more staff and Sauerbruch Hutton recently added an extension to its own office, atop an existing red brick building constructed in 1902 by the Prussian Army. Damaged in the war, it was given a new top floor in the 1970s with a temporary roof that was in dire need of replacement.
The firm removed the roof, revamped what had been the top floor and added a higher floor. The top floor now has a vast workroom flanked by an outdoor terrace. A new zigzagged roof has 16 ceiling windows that flood the space with light. The entire extension, which has a grey skin that contrasts with the older brick, is engineered to optimise passive energy use.
The older sections of the office reveal details typical of industrial lofts, such as cast-iron pillars, parquet floors and open-plan workstations. On the lowest floor, the head model-builder and the furniture design team sit surrounded by exposed brick.
The separate but connected spaces epitomise the company's relaxed yet professional culture. "Half the building is old, half is new. It's less an extension than two things sitting on top of each other. That has to do with Berlin's historical layers," says Hutton.
The company's activities are diversifying and its green credentials are putting it in high demand. There is furniture design: the chairs and tables the firm designed for Museum Brandhorst are now produced as a series by Classicon. Also new is the exhibition design for a show of Picasso's art books in the museum, on view until 6 March. New buildings are nearing completion in Cologne, Paris, London, Munich, Geneva and further afield. On the boards is a radically sustainable project in Helsinki called Low2No (see the Monocle Finland survey, issue 39), which aims for carbon negativity. And in September 2010, the company scored a groundbreaking win over heavy-hitters including David Chipperfield to land the contract to build the new M9 Museum in Venice.
What is the long-term outlook? "Architecture and urban interventions that are truly sustainable and appropriate for each location," says Hutton.
The future of sustainable architecture would do well to take note of Sauerbruch Hutton's understanding of the bigger picture. "A lot of developers just want the boxes ticked and a certificate on the building," says Hutton. "Ten years ago, the measurement was purely about co2 emissions but the change in outlook to looking at the whole building's life cycle is now more standard. We have a more holistic view – we like to look at the city and the place of the building in as wide a framework as possible."
She is right – one green building is a good start but solutions on a bigger, urban scale are the next step.
sauerbruchhutton.com
Five projects in the pipeline:
M9 Museum
Venice
In September 2010, Sauerbruch Hutton won the competition for the Fondazione di Venezia's M9 contemporary art museum in Venice's Mestre district. Using the firm's typical eye for integrative urban planning and designed with its signature colourful façade, the museum will connect existing elements of the city's fabric using a diagonal public outdoor space as well as allowing for generous exhibition space within. The building is slated to be finished in 2014.
Low2No
Helsinki
This project – a competition held by Finnish innovation fund Sitra and won by Sauerbruch Hutton in 2009 in cooperation with Arup and Italian interface company Experientia – aims to create an entirely carbon-negative neighbourhood on Helsinki's 40-hectare Jätkäsaari peninsula by 2023. Sauerbruch Hutton's mixed-use buildings combine office, retail and residential spaces using renewable energy, low-to-no-impact building materials and more.
BSU
Hamburg
The result of a competition win in Hamburg, this office for the Behörde für Stadtentwicklung und Umwelt/BSU (Office for Urban Development and Environment) consists of one high-rise and two wing structures. Earmarked as a catalyst in upgrading this low-income, high-immigrant district on an island in the river Elbe, the colourful, curvy project includes public areas as well as office space, and will be a key project in the city's 2013 International Building Expo.
St Georges Centre
Geneva
Nearly complete, this office building is a partial conversion of a 1960s structure that wraps around an entire city block in the heart of Geneva. Portions of the structure are in the form of a glass and aluminium façade. In warm tones of red, orange and pink, it allows for solar shading.
Zac Claude Bernard
Paris
This office building, situated on the Périphérique highway in northern Paris, makes the best of its difficult location. At six storeys, it's sculpted to both shield its occupants from air and noise pollution and reflect the smaller buildings. The bottom two storeys have a transparent façade to maximise natural light. And the whole building has an intelligent skin, which responds to outdoor conditions.