Briefing / Americas
Americas
Briefing
Cricket in the US, a possible Obama challenger, and Argentina's cash crisis
View from Washington
Barack Obama's envoy to Beijing is making noises about running against his boss next year. Is he serious?
By Sasha Issenberg
On New Year's morning, Washington awoke to a surprising new entrant in the who's-running-for-president guessing game: Jon Huntsman Junior. In the spring of 2009, the then Utah governor had left the US to be Barack Obama's ambassador to China in what seemed like a clever White House move to keep a potentially formidable Republican rival out of the mix. "Keep your friends close and your enemies in China," former George W Bush adviser Mark McKinnon quipped at the time.
But when Huntsman decided to show off his new Washington mansion to a Newsweek reporter – whose story broke the quiet of 1 January – it confirmed his eagerness for a return to US politics. Huntsman, the Mandarin-speaking former company executive, happily fed the magazine the memorable suggestion that he could emerge as a "Manchurian Candidate" for the presidency next year.
Obama seems a good deal weaker politically than he did almost two years ago when Huntsman toured the country blaming the McCain-Palin debacle on the fact that Republicans had moved too far to the right. From Beijing, Huntsman watched closely as the far more conservative senator Robert Bennett, a fellow Utah Mormon, was purged in a Republican primary last year.
"The debate that is playing out is a healthy one for the Republican party," he told MONOCLE last spring. "But I think it's going to take a while – a period of debate and deliberation – and the kinds of activities you're seeing in the United States, I think, are all part of the reworking of a political party." Thus far, the party seems to have reworked itself by moving away from Hunstman's brand of moderate politics. Few Republican voters seem eager for his inclusive rhetoric, especially towards immigrants and gays, and environmental concern.
Huntsman also looks a lot worse off now as a 2012 candidate than he was before accepting his current post: a CV with Obama administration service could be instantly disqualifying for a Republican challenger. Not only can Huntsman claim few victories in the US-China relationship, but an ambassadorship might also not be as politically anodyne as it was when George H W Bush served as envoy to China before seeking the presidency. Who, after all, knows what lurks on WikiLeaks' hard drives?
It is unlikely that the Republican party will wind itself back to the centre before 2012. And if it does, it has a readily available nominee: Mitt Romney, another Mormon ex-CEO more interested in economic growth than cultural battles. But if the Republicans lose next year's election because they pick a leader seen in retrospect as too conservative and not serious enough – Sarah Palin and Mike Huckabee come to mind – a leftward reckoning might then follow.
In that scenario, Hunstman is just now starting a long march to 2016, reminding Republicans that when the time comes he will be on their team and not Obama's. The only question is whether he waits it out in Beijing, Washington or Salt Lake City.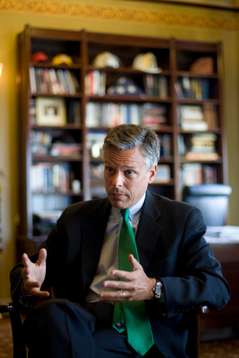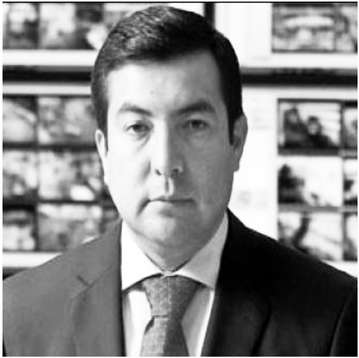 Three Republicans likely to run on foreign policy platforms in 2012
1. Newt Gingrich: The one-time House speaker was an early booster of the Iraq war but dismissed the effort as a "failure" prior to the 2007 surge.
2. John R Bolton: George W Bush's UN ambassador said that if the organisation's secretariat "lost 10 storeys, it wouldn't make a bit of difference".
3. Mitt Romney: Since his 2008 loss, the former Massachusetts governor has tried to retool himself as a foreign-affairs expert.
The third annual American College Cricket Championship kicks off in Florida on 15 March, marking cricket's arrival as one of the fastest-growing sports on US university campuses. Traditional "American-football-first" schools such as Penn State, Ohio State, and national champions Auburn have all begun fielding teams in recent years and increased national interest has swelled the number of entrants in this year's tournament – 32 teams, up from 20 last year. The line-ups, though, are a little less than local: club ranks have been boosted by an influx of Indian studentswhose numbers at American universities have doubled over the past decade.
Essential repairs USA [IRANIAN EMBASSY]
The chancery of Iran's long-abandoned Washington embassy is getting a makeover. The US State Department has been responsible for the 1959 building on Massachusetts Avenue's Embassy Row since the countries severed diplomatic ties during the 1980 hostage crisis (Iran now keeps an interest section at the Pakistani embassy.) The State Department recently determined the building needs at least $10m (€7m) of maintenance and repairs. The Americans are paying for the repairs with rental income from Iranian government-owned homes it seized in Houston, New York, Washington, Chicago and San Francisco.
You're most welcome
Canada
According to the International Organization for Migration's 2010 report, Canada is the only country among the top 10 migrant destinations that considers its intake "too low" (it had 7.2 million people classed as migrants in 2010). Only nine other governments in the world say they have the same issue.
Q&A- Fausto Lugo García
Director, Emergency Command Centre
Mexico City
Mexico has one of the highest crime rates in Latin America but the country is embracing new law-enforcing technology, including a vast network of more than 8,000 surveillance cameras throughout the capital, Mexico City. The director of the city's Emergency Command Centre explains what the system will do.
Mexico City has invested $460m (€340m) in a new "safe city" network of surveillance cameras. How does it work?
Apart from the cameras, there are five command centres throughout the city: one for each region and a main building for the coordination of the centres and disaster management. So it's not just for matters of security, but civil protection as well. There is also infrastructure on the streets, along with the cameras, such as help buttons and loudspeakers for seismic alerts.
Mexico City's network has been called the world's most sophisticated. How does it compare with other cities?
London, Chicago and Singapore have taken a decade to implement their security and surveillance systems. We're doing it in practically three years.
But Mexico stands out for well-documented problems with its police force. Are you making adjustments there?
We work closely with the prosecutor's office and the public security office to change the models for patrol coverage and special operations – all the processes and procedures that historically have never been modified in Mexico City. One of the biggest mistakes other cities make is not changing their operations so they end up pushing the technology aside.
Cashed out
Argentina [ECONOMICS]
Despite a booming economy – a 9 per cent growth rate in 2010, according to some figures – Argentina is beset by cash flow problems. In the past few years coins have been in constant shortage, making life in Buenos Aires an ongoing struggle to secure change from shopkeepers or scrape together enough money for bus fares. Over the Christmas holidays, cash machines throughout the country ran out of banknotes, leading to long queues. Why is Argentina unable to manage its cash flow?
Although government statistics claim inflation is 10.9 per cent, economists estimate the real figure at around 25 per cent. Changing the printing and minting order – with, say, fewer low-value coins and more higher-denomination notes – could look like a concession that inflation is a bigger problem than acknowledged previously and could be used for political gain by the opposition.
Argentineans remain distrustful of the banking system after the 2001 economic crash, when a lot of people saw their life savings disappear. Many in the country avoid card payments and bank transfers, sticking to cash, which puts a large burden on a struggling system. There's also widespread tax evasion – a vast black economy – with Argentineans preferring cash to avoid leaving financial traces. This makes it increasingly difficult for monetary authorities to judge how many coins and notes to circulate.
Although wider questions need to be asked about the Central Bank's planning, Argentina's minting authority, the Casa de la Moneda, is currently forced to rely on outdated machines from the 1970s that lack the capacity to print enough money to feed the national cash thirst. A share of peso production has even been farmed out to neighbouring Brazil.
Up in smoke
Latin America [TOBACCO]
The region already has some of the world's most successful anti-tobacco policies, but several Latin American nations are now going further. In January, Peru banned smoking in all public buildings, and the World Health Organization recently met in Uruguay – where president José Mujica has sparred with cigarette giant Philip Morris – to push greater regulation over flavoured tobacco additives. Other items on the WHO docket this year: sustainable alternatives to tobacco farming and an international protocol designed to limit illicit trade in tobacco products.
The US is the top destination for migrants in the world: some 42.8 million people in the US were classed as migrants in 2010, up from 34.8 million in 2000. But in the Americas, Bermuda has the highest percentage of migrants – over 30 per cent of its population.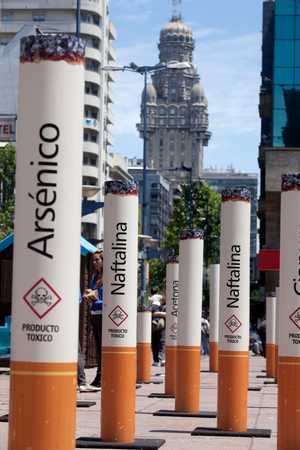 Adult tobacco usage in the Americas as a percentage of population:
Panama 9%
Bolivia 14%
Mexico 16%
Brazil 17%
Peru 18%
Barbados 20%
Canada 21%
United States 22%
Uruguay 25%
Argentina 31%
Cuba 36%
Chile 38%
Source: The Pan American Health Organization, Tobacco Control Report for the Region Of the Americas (2010).