My last meal / Kiev
Andrey Kurkov
Master of dark comedies and tales of the absurd, Andrey Kurkov is the Ukrainian author of 'Death And The Penguin' and 'A Matter of Death and Life'. For his last meal, he takes us to his local haunt, Jungle Cat, for some traditional Georgian cuisine.
"I enjoy cosy places more than luxury restaurants. If you are paying a lot of money you expect to be excited, and most food offered in elite restaurants is not exciting, it's just expensive. So I prefer to come somewhere where I'm thrilled by the atmosphere. In the warmer months I come here with friends and we eat outside; sometimes we go swimming in the river too. And every year on 19 ­January [the Russian Orthodox date of the Epiphany] we come to cut holes in the ice, swim in the river and then return inside to have some brandy.
For my last meal, I'd be happy to invite Ernest Hemingway as I like his anti-militarism – like him, I am a ­militant pacifist. Hemingway went to Spain during the Civil War and I made a trip to Croatia during the Balkan War. The days I spent on the front line near Sisak on the border with Bosnia confirmed my pacifist convictions. I like his novels, ­especially A Farewell To Arms. His radicalism and romanticism would make for great conversation, and he loves cocktails.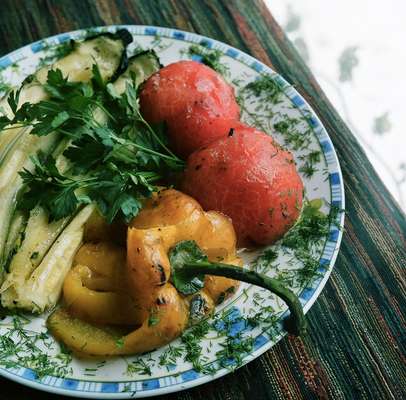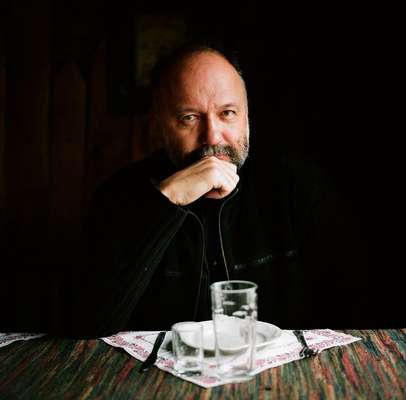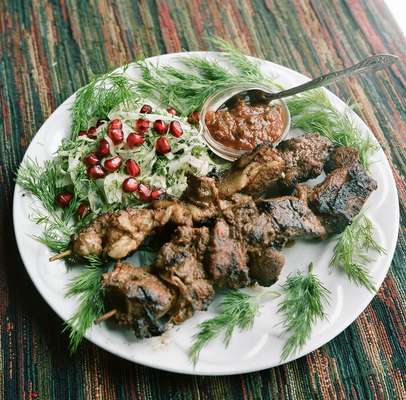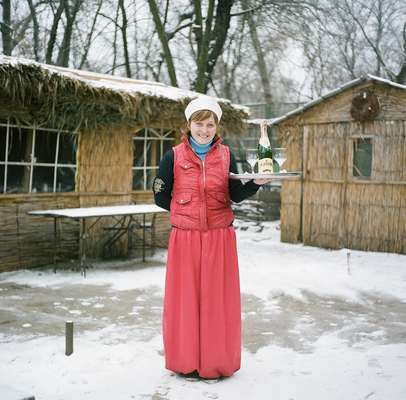 I've always loved languages. My first foreign language was botanical Latin. When I was a child I fell in love with cacti, so I started collecting them at home and covered our tiny apartment with them. By the age of 10 I had 1,500 different types so I started learning their Latin names. Then I learnt German and Polish, as you could buy books in these languages that weren't available in Russian. I was taught English by a friend of my elder brother who had returned from exile. He had spent 11 years in Siberia and had learnt 12 or 13 dictionaries of different languages by heart. I spent about two years learning English from the dictionary, just like he did. But when I first met some British students in 1979 and spoke to them in English they were puzzled by the vocabulary – the dictionary had been published in the 1930s.
At one point I could speak 11 languages with reasonable fluency but now it's down to seven. At the translation academy I learned Japanese. I met my Japanese translator, who was sent here before translating one of my books, so I got the chance to practise the language for a week. I've never been there, though I do like Japanese food. I travel a lot and I like the food in France and Belgium – whenever I'm in Paris I know where I will eat, which is a small, cosy place in the Latin Quarter. Like here, it's also simple and charming.
I had a very good friend when I was in my twenties – we would have feasts that would go on for hours. We'd buy several kilos of meat in the market and fry steaks, trying to see how many we could eat – maybe five or six each, washing it down with vodka or wine. I still love meat, which is why I chose this place where they make kebabs on an open fire outside. Back then we were trying to enjoy life to the full and discuss different projects and ideas at the same time. There is a saying that a poet should always be hungry – I always say that a prose writer should always be well fed. When it comes to the actual process of writing though, it's different. I don't eat or drink anything in the morning, I just wake up and start working. Before my kids were born I would work from 05.00 until 11.00 and then I would take a break and work on articles or film scripts during the afternoon. Now it's still the same routine but it happens later as I have to take the kids to school.
As for drinking, I used to drink a lot but I rarely drink neat vodka now. I like to mix vodka with orange juice – I always like it to be brought to me separately and then I mix it myself. I think for my last meal I'd have that, and maybe also a good Scotch, like Laphroaig. My Kiev publisher produces a homemade cranberry vodka, which I also like.
I enjoy eating at home and I like to cook. We often have exhibitions or book launches at our Kiev house and invite 40 to 60 people. I make food, usually pumpkin soup, pies and meat. We grow our own pumpkins and other vegetables at our country house outside Kiev, where we have quite a bit of land.
I feel nostalgia for Soviet-era kitchen culture, though strangely enough it's coming back. People still like to get ­together not in the dining room but in the kitchen – it's the cosiest place in the apartment, where you can drink wine and tell jokes or discuss plans."
Profile, venue and menu
Profile
Kurkov was born in St Petersburg and moved to Kiev aged two. He started publishing in samizdat (underground literature in the former Soviet Union) in the late 1980s and had his first book published in 1991. The 49-year-old has become the most popular contemporary Russian-language author in the world.
Jungle Cat is a wooden shack on the side of the Dnieper river, with a view across the water to central Kiev and the iconic domes of the Caves Monastery. In summer, visitors sit outside on hand-carved wooden furniture, while in the winter a log fire keeps diners warm inside.
Hydropark, Predmostnaya Slobodka, 8, Kiev
Spicy tomato soup with mushrooms; lobio – Georgian-style stewed spicy kidney beans; khachapuri – Georgian-style cheese bread; shashlyk – lamb kebab with onions, pomegranate, dill and spicy-sour sauce; grilled vegetables; Khortytsya – Ukrainian vodka with orange juice; Turkish coffee.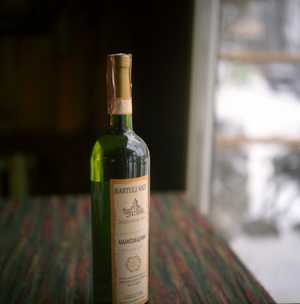 Drinks
Never tasted so sweet
Georgia
In the post-Soviet countries, Georgia is not only renowned for its food but also its wine. Unlike in neighbouring Russia, where a political dispute means that wine imports from Georgia have been banned for years, most restaurants in Ukraine will stock bottles of Georgian wine. The Jungle Cat has a couple of offerings – a bottle of red or white that are both semi-sweet and the cheapest on the menu.
The Russian ban has meant that Georgia has reoriented itself towards western markets, and is focusing on the higher-quality grapes, such as the dry white Tsinandali or the red Saperavi. "There is increasing interest in western Europe for Georgian wine, and some of the top wines are as good as the best stuff from France but at half the price," says Chris Bowling, founder of the UK's Georgian Wine Society. There are over 500 grape ­varieties in Georgia.
In Ukraine the desire for sweet Georgian wines is gradually being eroded by the new availability of ­reasonably priced European and New World ones, but in 2010 the country still imported over seven million bottles of Georgian wine.