Briefing / Asia
Asia
Briefing
Hong Kong chief executive Donald Tsang's motorcade and India's embrace of ID cards
ME AND MY MOTORCADE NO. 21
Honk! Honk!
Hong Kong [DONALD TSANG]
With a territory that covers only 1,104 sq km, it's no surprise that the motorcade used to get Hong Kong chief executive Sir Donald Tsang around the island is much more modest than most political premiers'.
The CE, with his famous penchant for bow ties, worked for almost 50 years in the civil service before assuming office as the region's second chief executive in 2005. Tsang's first major public role was as financial secretary in 1995 – he was the first Chinese person to hold the position following a century and a half of British rule – and in his six-year tenure he helped steer the Hong Kong economy towards independence and through the recession that followed. In 1997, before handing back sovereignty to China, Queen Elizabeth II awarded Tsang a knighthood for his services at the tail end of British control.
The son of a Hong Kong police officer, the chief executive's financial acumen is evident in his modest motorcade, which is limited to just four cars. Tsang lists his hobbies as hiking and swimming, and it's perhaps because of his love of the outdoors that three out of the four vehicles are either hybrid or fully electric. But with air pollution in Hong Kong three times that of New York, his noble attempt at emmission saving in this part of the world sadly amounts to a very small gesture.
Despite Hong Kong being an island, the CE does not have any planes or boats of his own. In the past, Tsang has utilised the Hong Kong Marine Department's fleet, which lends passenger catamarans and boats to him for any destinations around Hong Kong. Tsang only uses these boats occasionally: for visiting surrounding islands or attending the New Year countdown ceremonies at Victoria Harbour.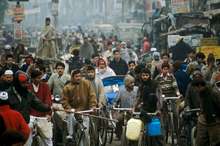 When he travels abroad, Tsang checks onto commercial flights. Locally though, he'll make use of the Government Flying Service's helicopters to nip around the skyscrapers of Hong Kong although it doesn't keep one for Tsang's exclusive use.
The car is the CE's preferred mode of transport. Tsang has just four vehicles under his control, choosing whichever suits the distance and nature of the journey. Normally, he will use the Lexus LS600hL VIP Saloon for most official functions, or the electric Mitsubishi iMiEV, which he's owned since late 2009, for shorter journeys. The CE permits official staff at Government House in Hong Kong to share the fleet "to make the best use of resources", according to his office.
Get counted
India [ID CARDS]
Never shy of tackling an enormous bureaucratic task, India is attempting to issue identification numbers to some 600 million undocumented or under-documented Indians, be they migrant workers, homeless, without a permanent residence or lacking any official papers to prove their existence. Government officials will use iris scans, fingerprints and photographs to create the database. The 12-digit number – called Aadhaar which loosely translates as "the source of everything" – will help Indians access healthcare, register to vote, get legal representation, apply for a jobs and – crucially – get paid.
Q&A- Emilia Pires
Finance minister
Timor-Leste
With Timor-Leste's government about to start spending its biggest ever budget, work has already begun on Prime Minister Xanana Gusmao's 20-year Strategic Development Plan. Finance minister Emilia Pires talks about what 2011 has in store for the nation, which has broken the cycle of violence that dogged it since formal independence in 2002.
What are your hopes for development in Timor-Leste?
People have said that the first decade of the 21st century was dominated by China, but I feel that the second decade will be for Timor-Leste. Our Strategic Development Plan outlines how we can achieve double-digit growth for the next 10 years and I don't think many countries can do that.
What's the biggest challenge?
Infrastructure. We are pushing infrastructure together with the private sector to ensure they get all the support they need.
With two-thirds of the population reliant on agriculture, will the country's poorest notice a difference?
In 2011 we will provide five houses for every hamlet, with electricity, water and sanitation for the most vulnerable families. This is just the beginning.
More babies please
Singapore
It's predicted that within 10 years the majority of Singapore's population will be foreigners with permanent residence status – nationals will make up 46 per cent. Singapore has been raising immigration partly because of its low fertility rate of 1.28 children per woman (the world average is 2.48).